Homes for Sale in Ballantree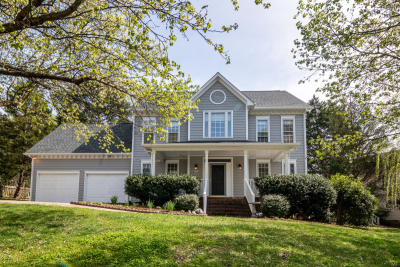 The charming neighborhood of Ballantree is conveniently located in South Asheville, only 15 minutes from downtown Asheville and five minutes from historic Biltmore Village. Easily accessible via highway 25A, also known as Sweeten Creek Road, this safe and family-friendly neighborhood is made up of 171 homes. Ground was broken for the first homes in the community in 1968, and the rest were completed over the following twenty years. Today, the Ballantree neighborhood is an established community that is welcoming to all, complete with a homeowner's association and park.
Wide streets wind through the Ballantree neighborhood, making this community perfect for walking and running. Ballantree is great for families with kids and pets, as it's full of spacious one- and two-story homes with lawns that provide plenty of room to play. Throughout the neighborhood, you'll find homes with a variety of generous features, such as three, four or more bedrooms, garages, screened porches, gas or wood fireplaces and fenced backyards. Plus, many homeowners are treated to breathtaking views of the surrounding Blue Ridge Mountains from their Ballantree homes.
Residents of this community also enjoy easy access to shopping, restaurants and attractions along nearby Hendersonville Road and Sweeten Creek Road. If work takes you to Hendersonville, NC rather than Asheville, Ballantree is a great place to live, as you'll have convenient access to both towns and your commute will be just 25 minutes. When it's time to relax, Biltmore Park, a mixed-use community that features a movie theater, a YMCA, local and chain restaurants and more, is just 10 minutes away. If you fly frequently for work or pleasure, you'll only have to drive 15 minutes to get to Asheville Regional Airport. Plus, with downtown Asheville close by, you'll always have something exciting to do (or eat, or drink, or listen to) in this growing, unique city.
Ready to make this South Asheville neighborhood your new home? We're thrilled to hear it. Take a look at the current homes for sale in Ballantree (Asheville, NC) below.