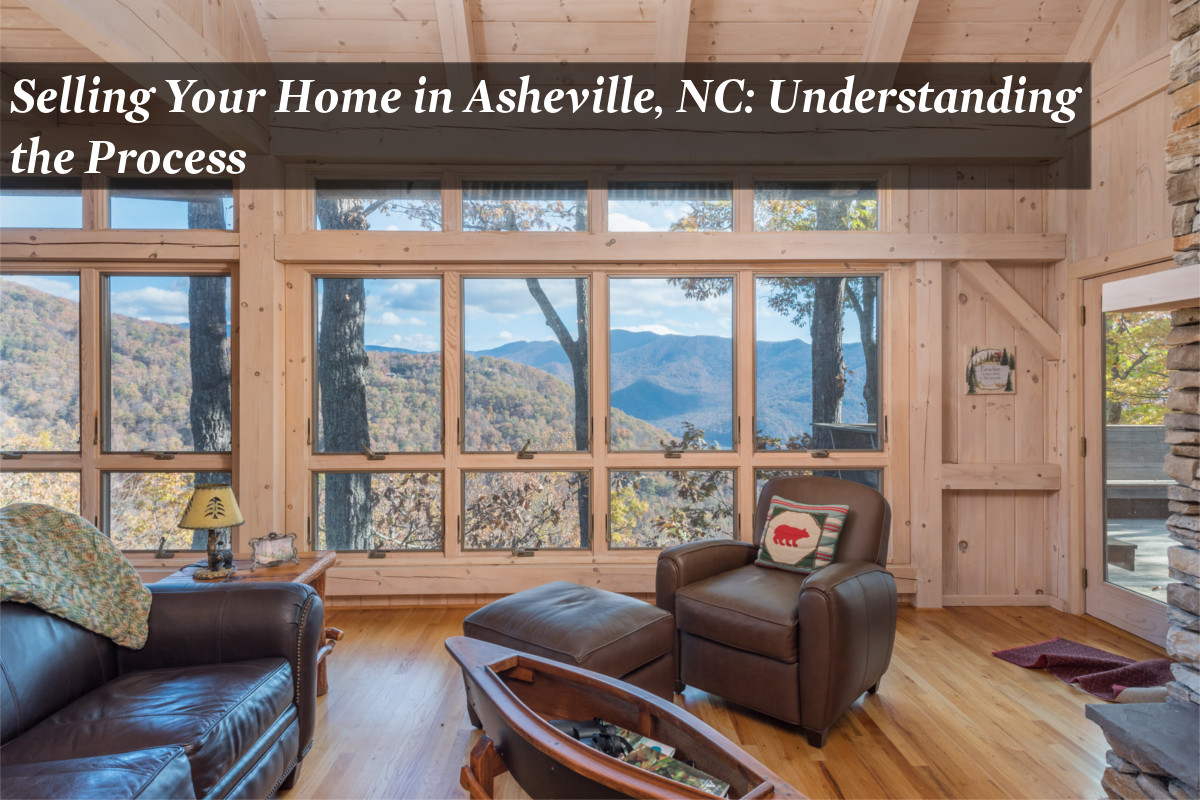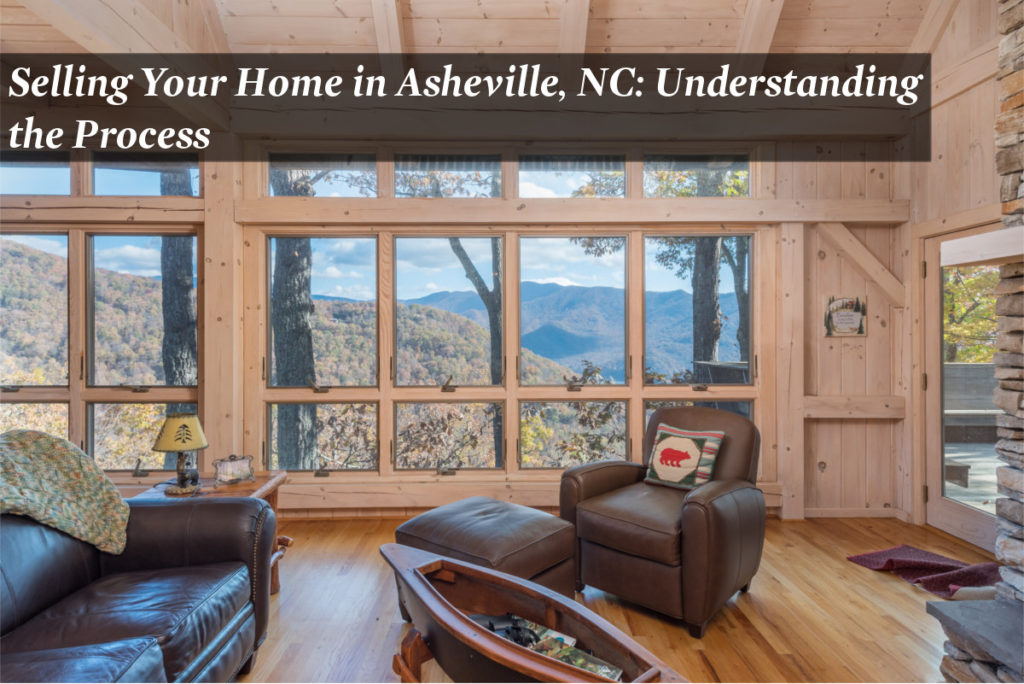 Selling a home in the Asheville, NC real estate market is often very different than in other parts of the country. There are several key features of our real estate market that significantly affect the selling process. In this article, we'll discuss these market characteristics, as well as the unique features of the North Carolina purchase contract, and also the best months to sell your home in Asheville. There are 6 main steps to selling your home, and we'll break them each down in detail.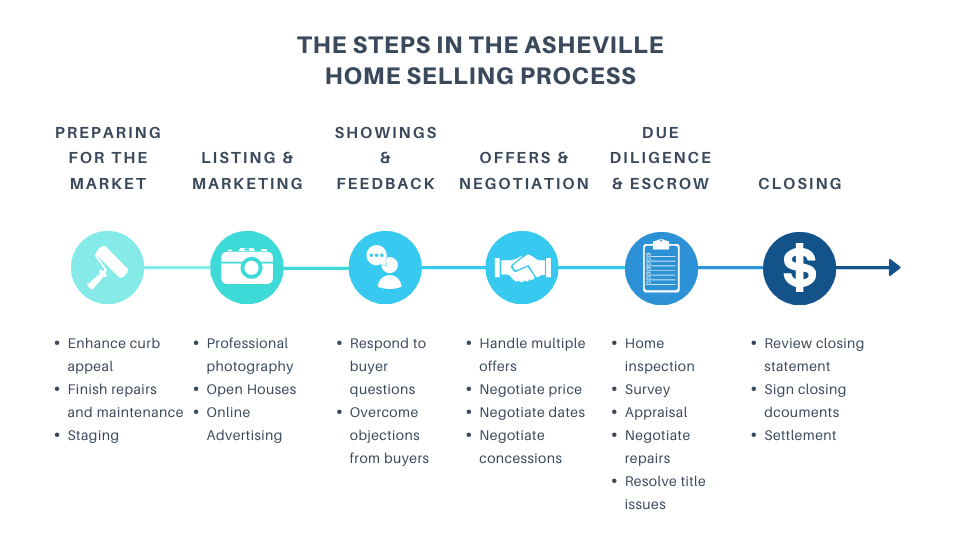 Preparing your Home for Full Market Value
Let's start with the preliminary steps. In order to sell your house for full market value, it's imperative to have your home ready for the market. This includes addressing necessary repairs and deferred maintenance, adding curb appeal, and even staging.
Repairs and Maintenance
Buyers are always looking for flaws in any house, so it's important that sellers address these before putting the house on the market. Whenever possible, a seller should remove any barrier that might prevent a buyer from making an offer. If the buyer does make an offer, unaddressed repairs will lead the buyer to make a lower offer in order to have the money available to address the repairs after closing.
There are frequently repairs that need to be done that the seller doesn't know about. Things like incorrect electrical wiring, roofing defects, and the presence of radon may not be obvious. For this reason, it's a good idea to have your home inspected by a professional home inspector before listing it for sale. This will give you time to address these items. The home inspector can even come back to the house for a follow-up inspection and update the inspection report. Then, the report can be shared with potential buyers. Now the inspection report is an asset that will show buyers that this is a home in good repair that will not become a headache for the new owners.
Of course, home buyers can still perform their own inspection, but we have found that it's common for buyers to accept the seller's report as sufficient and not spend the money or time on a second inspection. This can speed the selling process along and reduce the likelihood that any repair negotiations take place.
Improving Curb Appeal
Other than price, there may be no more important factor in preparing your home for sale than maximizing curb appeal. The very first thing buyers see is the outside of your home, and if it doesn't grab them immediately, they'll likely just move on. This goes for photography of your house as well, as buyers (and their agents) usually find the home they eventually buy online (or in MLS).
Cleaning up the front yard, trimming shrubs, putting out mulch and sod, and even planting a few flowers can be done quickly and inexpensively, but can completely transform the curb appeal of a home. You could also re-paint the front door or the exterior of the home. This gets a little more expensive, but a freshly painted home can make the entire home seem like it has been well-maintained.
Home Staging
Staging is one of those marketing tools that isn't used nearly as much as it should be. This is because it can be expensive, but it can also work wonders. Staging helps a buyer get a great idea for how the house will feel when it's being lived in, and also creates a sense of the size and function of each room.
Home staging is best used with homes that are in excellent condition, cosmetically updated, and priced correctly. It is not a good use of time or money to stage a home that needs significant updating or repairs, or that is priced too high for a buyer to consider making an offer.
Staging also works very well in new construction (spec homes). In the photos below you can see how cavernous the living room feels in the first photos, yet how stylish and inviting it feels after being staged.
Are There Top Months to Sell in Asheville? When to Sell?
Sellers frequently ask us what the the top months are to sell a house in Asheville, NC. Most people think spring and summer are the best months to sell, and to some extent they are correct. But there are opportunities to sell throughout the year, including fall and winter. Fall brings leaf season, which means lots of tourists and real estate buyers are in town. And winter means much less competition, as many competing homes have been sold or withdrawn from the market. Check out our more detailed look at the best times of year to sell your home in the Asheville area.
Choosing a Realtor
Most people only sell a home a few times in their lifetime, so choosing a listing agent is not something they do regularly. But considering your home is probably your biggest asset, it's vitally important to choose a Realtor that is competent, trustworthy, and experienced.
One of the best ways to learn about real estate agents is to read online reviews. Google and Facebook are great resources for this, as well as reviews like these posted on our website.
You could also ask trusted friends and colleagues who have recently sold a home for feedback about their experience with their agent. Would they hire that same agent again? What did they like about their agent? Did their agent help them overcome specific challenges to getting their home sold?
Pricing your Home
This is the most important step to get right. When homes are priced right (and already prepared for the market), they often sell quickly and sometimes even receive multiple offers. To help you price your home, your listing agent should provide a Comparative Market Analysis (CMA) that will show you the sale prices of similar homes, the ratio of sale prices to listing prices, and other factors that will help you price your home correctly.
It's common for some sellers to want to price their home based on non-market factors, such as what they plan to do with their proceeds. For example, a seller may take the correct market value of the home then add things to it, such as their outstanding credit card balance! This is a bad idea, because overpricing a house drastically reduces the number of buyers interested in a home. It can also deter buyers from making an offer. Pricing a home this way ignores what is happening in the market and will likely lead to an overpriced home that will languish on the market.
Photography, Listing, and Marketing
Now that your home is ready for the market, you have chosen an agent, and the house is priced correctly, it's time to begin marketing. Almost every marketing effort that agents do requires photography, so that's the first step.
Real Estate Photography
With the exception of homes in rough shape, such as fixer-uppers and foreclosures, high-quality photography is a must! Many Realtors still use their cell phones to take listing photos, and they lack the skill to use correct lighting and depth of field. It has been proven that hiring a professional real estate photographer can result in a higher sale price, so why not use one?
In addition to still photography, some homes can benefit from drone photography. Drone photos are especially helpful in the mountains of Western NC, where it can be difficult to get a good shot of a house due to the terrain.
As a side note, discretion should be used when marketing your home with drone photos. Some real estate agents will use drone photos to show incredible mountain views, but often these photos are taken from 100 feet or more above the property. Every property in Western NC has amazing views from that vantage point, and these views are not representative of the views from the home. This will only frustrate buyers who visit the property and find that they have been misled.
One of our favorite technologies is a virtual floorplan, also known as a 3D walk-through. These tours are especially useful for larger homes. Just as with home staging, 3D tours are best used with homes that are clean, updated, and in good repair. Here's an example of a 3D tour we did for a beautiful NC Green Built home.
Open Houses
In the Asheville market, open houses are still common practice. Agents will host public open houses and broker open houses. Broker open houses are advertised directly to other real estate agents, with the goal of getting the word out among local agents. Broker open houses can be helpful when agents who frequently work in that area attend the open house. The open house can help to jog the agent's memory, and they may think of a buyer they know that might be interested in scheduling a showing.
Public open houses are the traditional open house where anyone can come tour your home. In the past, these open houses were a very effective tool for selling homes. Today, they are less effective, and agents do them for two reasons, but neither are very likely to actually sell your home. One is to generate a way to meet new buyers, but these buyers will almost always buy a different home than the one where they attended the open house. The second reason is to satisfy the seller's desire for an open house. But in reality, public open houses are not likely to sell your home. Your buyer is much more likely to see your home online, or their agent will find it in MLS, and then they will schedule a showing to tour the home privately.
The exception to this is an open house held immediately when the home is new on the market. In a hot market, or with a very desirable property, an open house to kick off the listing can generate excitement among buyers and the perception that the home will sell quickly.
Home Showings and Responding to Feedback
Once your home is on the market, it's time to prepare for showings and evaluate feedback from buyers and buyers' agents. A good listing agent will ensure that you receive feedback from each and every showing. If the same criticism comes up repeatedly, your agent should help figure out a way to overcome it. It could be a simple price reduction or minor repair. But some objections, such as concerns about location, are not as easy to overcome. This usually means continuing to market the home for the right buyer, and it could be a matter of timing more than anything else.
Buyers' agents will also ask lots of questions when showing homes to their clients. Prompt and thorough follow-up by the listing agent is critical to moving the buyer from a showing to making an offer.
How Long Should my Home be on the Market?
The number of days your home should be on the market will vary depending on the type of home, the condition, the location, the price range, etc. An updated craftsman bungalow in West Asheville may sell in a week, while a 4000 square foot vacation home in a rural gated community may take several months. When your list agent prepares your CMA, they should also be able to show you how long other similar homes have taken to sell.
Offers and Negotiations
So now after your home has been effectively marketed and shown to buyers, an offer has come in. Negotiating an offer can take anywhere from just a few minutes to several days. In the case of multiple offers, sellers often set a deadline and call for "highest and best" offers from all buyers. In any case, there are several key terms to address, including price, dates, and other terms. A good listing agent will help you sell for the most favorable terms possible, while also strategically working to find common ground with the buyer to ensure the offer becomes a contract.
The North Carolina Real Estate Contract
The standard North Carolina contract used by Realtors is called the "Offer to Purchase and Contract." What sets the NC contract apart from many other states is the North Carolina Due Diligence Period. This is very similar to an option contract, and the buyer can back out of the contract for any or no reason during this time.
As compensation to the seller for this period of time, the parties can agree to a Due Diligence Fee, which is non-refundable but credited to the buyer at closing. This is in addition to the buyer's Earnest Money Deposit, which is refundable during the Due Diligence Period.
It's important to note that the only thing that changes at the end of Due Diligence is the buyer's Earnest Money is no longer refundable. The buyer could still back out, but would lose not only the Due Diligence Fee, but the Earnest Money as well.
Navigating the Buyer's Due Diligence Period
How Long is the Due Diligence Process?
This is always negotiable, but 30 days or so is a common amount of time for Due Diligence. If financing is involved, it may take every bit of 30 days to get full loan approval, which includes getting an appraisal. For cash deals, the Due Diligence Period could be significantly shorter, since no appraisal is required. For land deals, Due Diligence can be longer, especially if a new survey is needed.
What Happens During the Due Diligence Process?
During the buyer's Due Diligence Period, a buyer can order inspections and an appraisal, request that the seller make repairs, and even try to renegotiate the terms of the contract. The seller is under no obligation to renegotiate, but new information or material facts discovered by a home inspection or a survey can certainly make this necessary.
The buyer's attorney usually performs a title examination during this time. The seller is obligated by the contract to provide "fee simple marketable and insurable title." If title defects are discovered, the seller's attorney typically steps in to assist in clearing up the title.
Preparing to Close
After the end of Due Diligence, the parties prepare to close the sale. For sellers, this typically means signing a few documents and moving out of the house. For buyers, they'll need to move their closing funds to their closing attorney's office. Depending on the law firm's policies, this can be done by wire transfer or a certified check. If a mortgage is involved, the lender will use this time to send loan documents to the buyer's closing attorney. Also, the closing statement is prepared for both parties to review prior to closing.
How much will my Closing Costs Be?
The typical closing costs paid by the seller are as follows:
Seller's closing attorney fee. This is the fee to prepare a deed and other documents. This expense is much less than the buyer's attorney fees.
Excise tax paid to the State of North Carolina ($2 per $1000 of sale price)
Real estate commissions
Prorated taxes if the tax bill for the year hasn't been paid. If it has been paid, the seller will receive a prorated refund.
Owners' Association Dues (if applicable) if the association bill hasn't been paid. If it has been paid, the seller will receive a prorated refund.
Miscellaneous fees, such as wire fees to pay off the seller's mortgage or to wire the seller's proceeds.
Selling with Freestone Properties
Why You Need an Agent
Hiring a Realtor to sell a home, a lot, or a commercial building is an important decision. At Freestone Properties, we understand that you're not just hiring an agent to get your property in MLS. You need an advocate to present your property in the best possible light, to market it aggressively to a targeted audience, to attract qualified buyers, and ultimately to sell your home fast.
Once your property is under contract with a buyer, there are still many potential obstacles to overcome to get your contract to closing. Knowing how to deal with appraisals, inspection issues, and title problems are just a few. This is why you need an experienced local agent with the knowledge and contacts to overcome these issues.
Why We're Different
We believe there is something to learn in every transaction. So with over 20 years in combined experience and hundreds of sales around Asheville and Black Mountain, we've learned a lot. You can rely on our experience to find buyers and help address obstacles to closing. We've learned a lot over the years about what works, as well as what doesn't. This means a more efficient, results-driven listing and closing process for our clients. Let our market knowledge and ability to navigate the process work to make your sale a smooth one.
Flexibility Means Innovation
Sure, there are larger firms, and there are older firms. But one of the great things about a small firm is flexibility. We don't practice business as usual, and we don't do something just because that's "the way we've always done it." We believe in doing something because it works. For example, gone are the days of the Sunday afternoon open house (in most markets), but there are always new opportunities for marketing real estate listings. When we identify a new marketing medium that could help give your property maximum exposure, you can bet we'll try it and evaluate the results.
We Use Technology to Make Selling Easier
Statistically, there is a very high probability that your buyer (or their buyer's agent) is going to find your property through an online search. Shouldn't your listing agent know how to market your property on the internet and make it appeal to online shoppers?
In the Asheville and Black Mountain markets, many real estate sellers don't live locally. This means potential headaches with processing listing and purchase contract paperwork, staying on top of buyer feedback, and keeping up with market trends. We use electronic signature software, offer an automated buyer feedback program, and provide real-time market stats and analysis to keep our clients informed and to make paperwork a breeze. But if you're not tech-savvy, don't worry…we have a fax machine and know where the post office is, too!
What Our Clients Say About Us
We pride ourselves on customer service over everything else, but don't take out word for it. See what our clients have to say. There is no better way to evaluate an agent than based on what previous clients say about them.
When you're ready to discuss the possibility of selling your property, contact us. We can help you get started immediately. But we also understand that sometimes you just need someone to listen and answer your questions, and that maybe now isn't the right time for you to sell. Either way, we consider it a privilege to have that conversation and we look forward to helping you.
Contact Us to Sell a Home in Asheville!
If you're thinking about selling your home, land, or commercial property, we would love to help you. Many people simply want a better understanding of how much their property is worth, what it will cost them to sell, or what improvements they should start making to their property. We would love to discuss those topics with you.