This article is being updating as new developments take place and new information becomes available. This article was most recently updated on May 23, 2020.
Since the COVID-19 pandemic started, we have been asked numerous times what we think COVID-19 will mean for the Asheville area, including the real estate market. In this post, we discuss the latest developments and what we've seen so far in terms of impact on the Asheville real estate market.
What are the Latest COVID-19 Developments in Asheville?
As of May 22 at 5pm, the governor's Stay at Home Order is lifted and the state is now under a "Safer at Home" Recommendation. Phase 2 of the North Carolina re-opening plan has begun. The biggest changes in Phase 2 are:
Restaurants can open for on-premises dining with limits on occupancy, specific
requirements for disinfection of common spaces, and six feet between each table;
Allows child care businesses to open to serve all children
Allows overnight camps to operate, following specific public health requirements and
guidance;
Allows personal care, grooming, massage, and tattoo businesses to open with specific
requirements for disinfection of equipment, face coverings for the service providers, six
feet of distance between customers, and at 50 percent reduced occupancy;
Allows indoor and outdoor pools to open with 50 percent reduced occupancy;
Allows people to gather together for social purposes, as long as they do not exceed the
mass gathering limit of 10 people indoors and 25 people outdoors;
Allows sporting and entertainment events to occur in large venues for broadcast to the
public. Events must occur in large venues and spectators are limited to the
mass gathering limit of 10 people indoors and 25 people outdoors.
It's important to note that breweries and wineries have been classified differently than bars and nightclubs and are allowed to open.
Restrictions that remain in place from Phase 1 are as follows:
Public playgrounds remain closed;
Bars and nightclubs remain closed;
Movie theaters, museums, bowling alleys, amusement parks, arcades, and skating rinks remain closed;
Bingo parlors and other gaming establishments remain closed;
Teleworking continues to be encouraged whenever possible;
Visitation at long-term care facilities remains restricted, except for certain compassionate care situations;
Facilities that operate within an indoor space remain closed: spas, exercise facilities, gyms, fitness studios, martial arts facilities, dance studios, trampoline and rock-climbing facilities, roller skating rinks, ice staking rinks, and basketball courts.
Highlights of North Carolina's Phase 2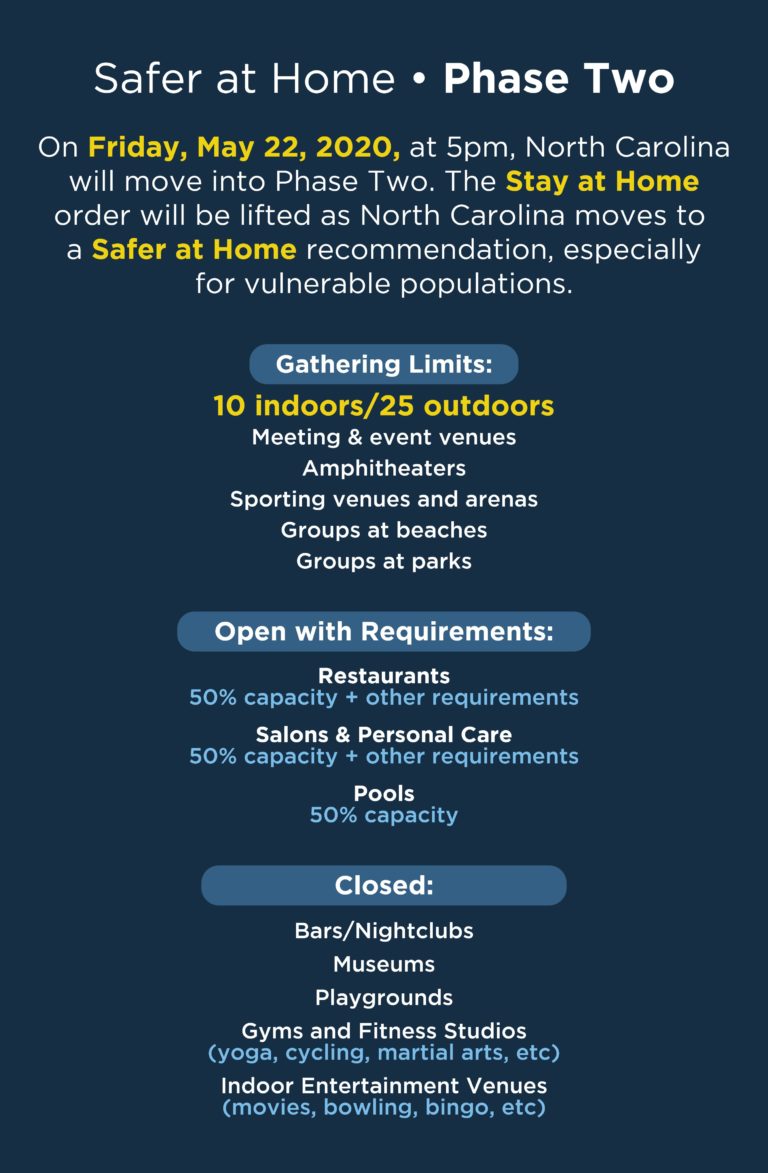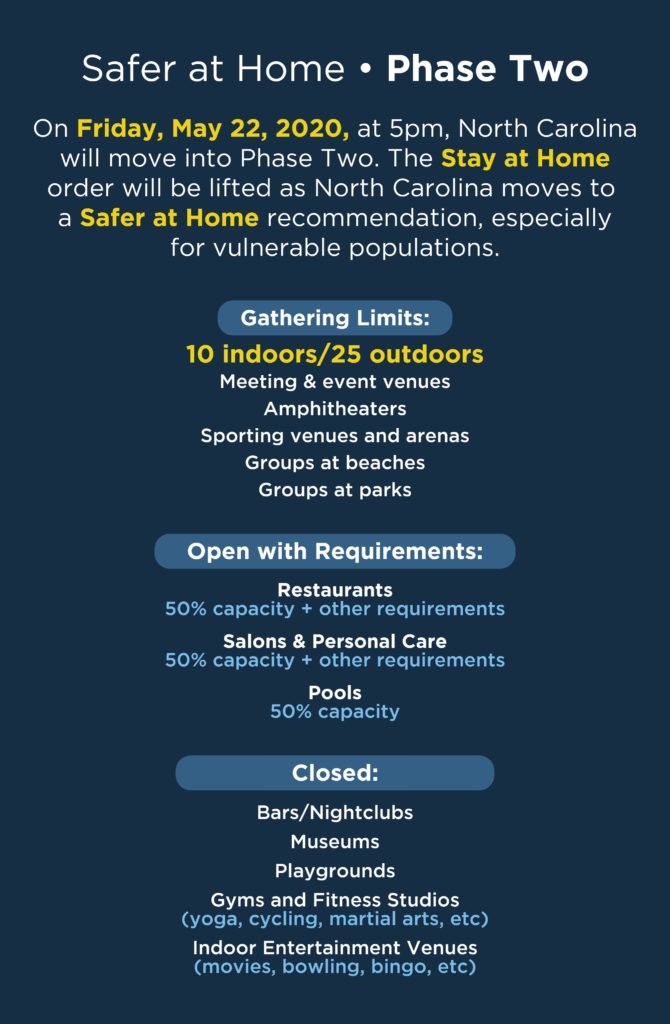 Buncombe County Has Relaxed Restrictions on Short-Term Lodging
Buncombe County has issued a new Stay Home Stay Smart order that relaxes certain restrictions. This order permits short-term leisure lodging (AirBnb's, homestays, bed and breakfasts, campgrounds, and hotel rooms).
It also requires that people wear masks at commercial establishments. This does not apply in the Town of Biltmore Forest, Town of Black Mountain, Town of Montreat, or the Town of Weaverville.
The full Buncombe County order is available here:
How are we Conducting Real Estate Brokerage?
Virtual Showings
We are still scheduling in-person real estate showings, but we are also doing lots of virtual showings. If you're from out of town or would prefer not to schedule an in-person viewing, please let us know. We can do live virtual showings with  Zoom, Facetime, Skype, or Google Duo.
Sometimes, we tour homes or land that don't have good cell service. In this case, we can take a video of the property and upload it to Vimeo or YouTube for you to view remotely.
For our company's real estate listings, we are using 3D tours as much as possible.
Safety Measures for In-Person Real Estate Showings
We are also providing hand sanitizer and gloves for real estate showings. We do recommend that all clients wear masks while visiting homes for sale.
We are driving separately from our clients for now. For our vacant listings, we are turning on lights prior to showings and requesting that buyer's agents leave them on. We also open all interior doors prior to showings. This ensures minimal touching of interior services.
We are also listed by the Land of the Sky Association of REALTORS as a COVID-Compliant firm.
How is the Asheville Economy being Affected by COVID-19?
We know the Asheville economy has already been hit hard by the coronavirus. Our economy is driven by 2 main industries – hospitality/tourism and healthcare. Ecommerce site Volusion notes that 28% of Asheville's workforce is in the retail/leisure/hospitality sector, which is above the national average of 21%. These businesses were not considered essential, and therefore have been really hit hard. Fortunately, retail began re-opening in Phase 1 and Phase 2 has allowed restaurants, breweries, wineries, and salons to re-open.
How is the Coronavirus Affecting the Asheville Real Estate Market?
In mid-February we wrote an article detailing several reasons the Asheville market might soften. We discussed that if there was a slowdown in the real estate market, it would likely be due to an outside factor, such as a correction in the stock market, a terror attack, or some other event that caused an overall economic slowdown. At that time, a global pandemic wasn't something on most people's radar. But it certainly fits the bill of an "outside factor."
As I write this, it's still impossible to say exactly what will happen to the Asheville housing market, but we are monitoring the market daily, and the latest statistics may actually surprise you. Here are a few data points to help show where the market is now.
The most obvious effect of the coronavirus has been a significant slow-down in inventory during what is normally the listing season. Note the significant drop in April new listings compared to the prior 3 years in Buncombe County.
New listings in April 2020: 364
New listings in April 2019: 602
New listings in April 2018: 500
New listings in April 2017: 546

Combine a downturn in new listings in April with strong demand in the first quarter of the year, and the total number of homes for sale is way down.
The decrease in new inventory isn't surprising. Many homeowners simply aren't willing to let the general public into their homes right now. And the lack of inventory has resulted in a corresponding lack of pending sales. Every real estate transaction needs a buyer and a seller, and we simply don't have the number of sellers that we normally have in the spring.
This has made an already tight market even more difficult for buyers. Buyers that are here and actively looking at homes (or buying sight unseen) are having to act fast. The median time on market for a home is only 13 days!
And sellers aren't negotiating much off of their list price. The median Sale-to-Original-List Price Ratio in April was 97.6%, which is the highest figure since May 2018.
It's hard to measure the number of buyers in the market, because buyers can be active without actually entering into purchase contracts. At Freestone Properties, we can say that our website traffic data is at all time-highs, and we can track much of it to larger cities and metro areas across the country. Perhaps some of this is just because people are at home and have more time to surf the internet. Or, according to USA Today, it could be due to a coming trend of buyers leaving urban areas for suburban and rural areas.
Buying or Selling a Home under COVID-19 Restrictions
If you're in the market to buy right now, keep in mind that some of the logistics of buying a home may be different while coronavirus restrictions are in place. Most of this has to do with actually touring a property.
As we have continued to write purchase contracts and list homes for sale, we have found that our industry partners (photographers, appraisers, lenders, home inspectors, surveyors, attorneys, etc.) are still working and scheduling pretty much as they were before the social distancing measures went into effect.
But in the case that we do run into a delay while working to meet our clients' obligations in a contract, the North Carolina Association of REALTORS has provided a "COVID-19 Addendum." This document allows buyers and sellers to agree up-front to an extension of the contract dates if circumstances arise related to coronavirus that make it "unduly burdensome or impossible for Buyer or Seller to exercise their rights and/or perform their obligations under the Contract."
The good news is that since real estate brokerage has been deemed "essential," we are seeing very few delays. The main differences we see are with showings (wearing gloves and masks) and with closings. Closings are now being done remotely if possible, or even outdoors such as with our friends at GRCC Law in Asheville (see video here).
Let us Help you Navigate the Market During COVID-19
If you're wondering what buying or selling real estate would look like for you right now, give us a call or contact us below. We are happy to help discuss your options and how you can still make real estate plans in 2020.
If you want to sell your home soon, this is a great time to work on sprucing up your yard, repainting, and taking care of deferred maintenance so your home will show well when the time is right to list it for sale. It's also a great time to re-finance. Our Asheville lender friends are very busy with re-finances. If you're considering re-financing to take advantage of great interest rates, ask us for recommendations for local lenders.
If you're considering buying, now is a good time to get pre-approved. Home sellers will only consider showing their home to or entering a contract with a buyer that they know can get a mortgage.