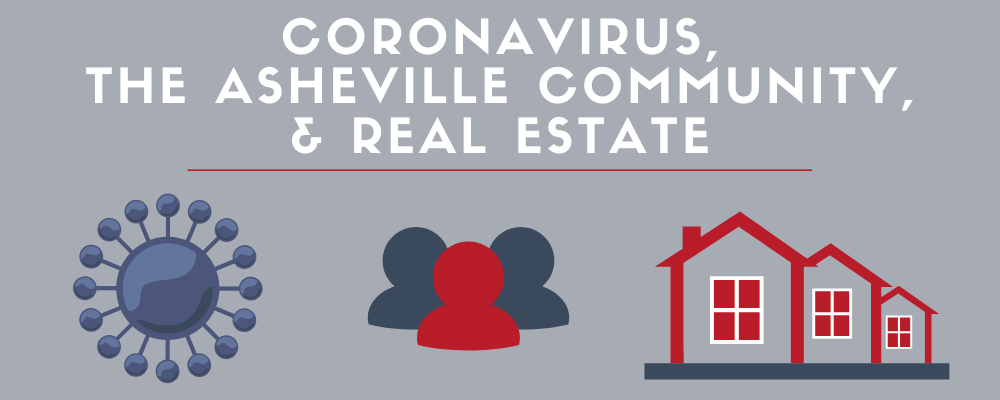 This article was originally posted on March 26, 2020, but we are updating it as new developments take place and new information becomes available. This article was most recently updated on April 9, 2020.
To say that 2020 has been a strange year would be quite an understatement. Never in our lifetime have we seen such an event as the worldwide coronavirus pandemic. Over the last few weeks, we have been asked numerous times what we think this will mean for the Asheville area, including the real estate market. It's obviously impossible to accurately predict exactly what will happen, but here are some things that we have already seen happening in the Asheville community, as well as some thoughts on what could happen throughout the rest of the year in our real estate market.
What is Happening in Asheville with the Coronavirus?
UPDATE 4/9/2020: Buncombe County has issued a new Stay Home, Stay Safe Order that now defines real estate brokerage as an essential business. Buncombe County has issued further clarification that states this regarding Realtors:
This order relaxes previous Buncombe County restrictions and allows for full real estate
services on the condition that they are complying with CDC guidance and Buncombe
County Public Health orders regarding physical distancing, and hygiene and sanitation
practices.
This includes all cities and townships in Buncombe County. The measure "shall remain in effect until such time as it is repealed, replaced, or rescinded." This is not the same as a shelter-in-place order, but that certainly remains a possibility in the near future.
Regarding real estate, the previous order from Buncombe County that ran from March 26 – April 9 did not permit real estate showings, so we were only working remotely for a while. Of course, our website was always available for real estate buyers to browse homes for sale, learn about local neighborhoods, or to reach out to us with questions about properties for sale. But now we can get back to showing homes and land!
All Buncombe County Schools have been closed until at least May 15. Asheville City Schools are currently closed until May 18th.
Just north of Buncombe County, Madison County is already under a shelter-in-place "recommendation."
Restaurants are permitted to stay open, but only for delivery, take-out, and curbside orders. Pharmacies, grocery stores, and other essential businesses will remain open. But even many of these businesses have reduced their hours.
How is the Asheville Economy being Affected by COVID-19?
Of course, we don't have statistics yet, but we know the Asheville economy has already been hit hard by the coronavirus. Our economy is driven by 2 main industries – hospitality/tourism and healthcare. Even though restaurants are open for curbside orders, their volume is certainly down and employees who depend on tips are not making anywhere near the income they are used to. This includes servers, bartenders, bellhops, and others. The many Asheville area spas and salons are also completely closed.
Additionally, Stay Home, Stay Safe order requires that all lodging facilities, including hotels & motels, campgrounds, and short-term rentals must close if their leases are for less than a month.
How is the Asheville Community Supporting each other?
Despite all the negative news, there are some good stories to report. There are stories every day about people in the community uniting to help each other make it through these tough times. There are young people going to the grocery store and pharmacy for older, at-risk citizens. Public schools are still providing free breakfast and lunch for students (curbside, of course). Grocery stores have even implemented dedicated shopping hours for seniors only, to help protect the most susceptible people from infection.
And there seems to be a renewed importance on supporting local and small businesses, even though it seems difficult to do so right now. Side note: to see how you can help support local restaurants in the Asheville and Black Mountain areas, check out this Facebook post:
How is the Coronavirus Affecting the Asheville Real Estate Market?
Just about 5 weeks ago we wrote an article detailing several reasons the Asheville market might soften. We discussed that if there was a slowdown in the real estate market, it would likely be due to an outside force, such as a correction in the stock market, a terror attack, or some other event that caused an overall economic slowdown. At that time, a global pandemic wasn't something on most people's radar.
As I write this, it's still impossible to say exactly what will happen to the Asheville housing market, but we do know this will certainly cause a slowdown in terms of sales volume.
Here are a few data points to help show where the market is now. This was updated to show data for the entire month of March. Originally, this data was only through March 26:
474 – New Residential Listings in March 2020 in Buncombe County
529 – New Residential Listings in March 2019
-10.4% – Decrease in Inventory from March 2019
4.9 – Showings per Listing (all price ranges) in March 2020 in Buncombe County
6.3 – Showings per Listing (all price ranges) in March 2019
-14.0% – Decrease in Showings per Listing
291 – Pending Sales in March 2020 in Buncombe County
387 – Pending Sales in March 2019
–24.8% – Decrease in Pending Sales from March 2019
It's worth noting that when we first posted this article (March 26), there were only 275 new listings in Buncombe County. From then until the end of March, that number increased dramatically to 474. And this was during a time when only virtual showings were permitted under the first Buncombe County Stay Home, Stay Safe Order. Now that in-person showings are permitted again, we expect that Pending Sales will increase as well.
Selling a Home during the COVID-19 Shutdown
Despite the wide-reaching economic shutdown, there are still homes and land parcels being listed for sale, just not as many as we would normally see. And pending sales were certainly affected by the 2-week shutdown on showings (March 26 – April 9). Now, new listings are starting to hit the market, and we expect an increase in demand to follow almost immediately now that we can actually show homes again. The designation of real estate brokerage as an essential business should result in a significant uptick in market activity over the next few weeks.
March is the beginning of the listing season in the Asheville area, and inventory levels usually peak sometime in June. Many homeowners have been making plans to list their property for sale for many weeks now. It just so happens that the COVID-19 virus has been making its way around the world during that same time period, forcing sellers to re-evaluate their plans.
If your home is on the market, or you are considering selling it during this time, here are some important things to consider that may affect your sale and steps to take to keep your home safe.
Provide hand sanitizer and gloves for potential buyers.
Have lights turned on and all doors open to minimize how many surfaces buyers need to touch during their showing.
Request that buyers (and buyers' agents) leave all lights on, so that they don't need to touch your lights witches.
Consider requesting that buyers' kids remain in the car or in the backyard during showings.
Inventory could still fall short of the levels we expect to see this time of year. Less competition is a factor that could help sellers. There could also be delays in closings, appraisals, and home inspections (more on this in a bit).
Buying a Home during the COVID-19 Shutdown
If you're in the market to buy right now, keep in mind that some of the logistics of buying a home may be different while coronavirus restrictions are in place.
Scheduling showings, appraisals, home inspections, etc. may require more time. Some of these things may be delayed beyond the dates specified in the purchase contract. Fortunately, the North Carolina Association of REALTORS has drafted a "COVID-19 Addendum" that allows the parties to agree to an extension of the contract if circumstances arise related to coronavirus that make it "unduly burdensome or impossible for Buyer or Seller to exercise their rights and/or perform their obligations under the Contract."
Can I Continue Building a Home During COVID-19?
This is another part of the Stay Home, Stay Safe order that may need some clarification. The Stay Home, Stay Safe requirement in Buncombe County uses this language when describing essential businesses:
Plumbers, electricians, exterminators, and other service providers who provide services that are necessary to maintaining the safety, sanitation, and essential operations of residences and Essential Businesses.
It's not entirely clear whether this applies to trades that are working on new construction, or simply trades that are servicing existing residences and businesses.
It's also possible that there will be delays in the supply chain for materials needed for construction. And with schools closed, many workers are juggling childcare and homeschooling. This could limit the amount of time they can spend at a construction site. Suffice it to say that many construction projects could be delayed.
Asheville Real Estate Market Scenarios
We certainly don't want to make predictions regarding the coronavirus' effect on our real estate market, but we can describe a couple possible scenarios for the Asheville market going forward. The main difference between these scenarios is really just how long this pandemic lasts.
Scenario 1: The Coronavirus Curve Begins to Flatten by Summer
This would certainly be a good situation, and is probably the best case scenario at this point. If social distancing restrictions begin to ease by summer, there would likely be an influx of new inventory. These homes would be the ones that were going to be listed this spring but were postponed. Add to that the normal May/June inventory, and you would have a flood of homes on the market. The relaxed social distancing rules would also result in restaurants reopening, hotel reservations increasing, and homebuyers re-entering the market. Before COVID-19, our company was building up a long list of buyers just waiting for inventory to come on the market. I'm sure most other real estate companies in Asheville would say the same.
Another reason that a pre-summer resolution is so important is because it means summer camps will be able to open. Families bringing kids to camp (and then picking them up) is a huge driver of the Asheville tourism economy. Many of these families also buy real estate while they're here.
Scenario 2: The Pandemic Stretches into Summer or Beyond
If quarantine rules remain in effect into summer or early fall, it would have a huge effect on the summer tourism season. Summer camps, rafting guides, restaurants, hotels, and more would be severely impacted. Workers in the hospitality industry would likely be the hardest hit.
Owners of vacation rentals and AirBnb homes would also suffer. Currently, there is a moratorium on foreclosures, so these property owners may not lose their homes, but they would certainly lose a lot of rental income. Depending on how quickly the economy recovers, some of these homeowners may decide to sell rather than wait for the short-term rental demand to pick up.
Are there Opportunities in the Asheville Real Estate Market during COVID-19?
It remains to be seen just what this pandemic will do to real estate values. The moratorium on foreclosures and low interest rates make this a very different time than the real estate bubble of 2007.
However, when people are losing their jobs, they sometimes sell real estate to generate cash flow. So there will be opportunities to buy homes and land at good prices. There will certainly be some "motivated sellers."
For sellers, especially those with vacant homes, now could be a prime opportunity to sell before inventory levels recover.
Let us Help you Navigate the Market During COVID-19
If you're wondering what buying or selling real estate would look like for you right now, give us a call or contact us below. Many of our conversations lately have focused on helping clients make plans to buy or sell, as well as figure out a plan B.
If you want to sell your home soon, this is a great time to work on sprucing up your yard, repainting, and taking care of deferred maintenance so your home will show well when the time is right to list it for sale. It's also a great time to re-finance. Our Asheville lender friends are very busy with re-finances. If you're considering re-financing to take advantage of great interest rates, ask us for recommendations for local lenders.
If you're considering buying, now is a good time to get pre-approved. In uncertain times, home sellers will surely only consider showing their home to or entering a contract with a buyer that they know can get a mortgage.