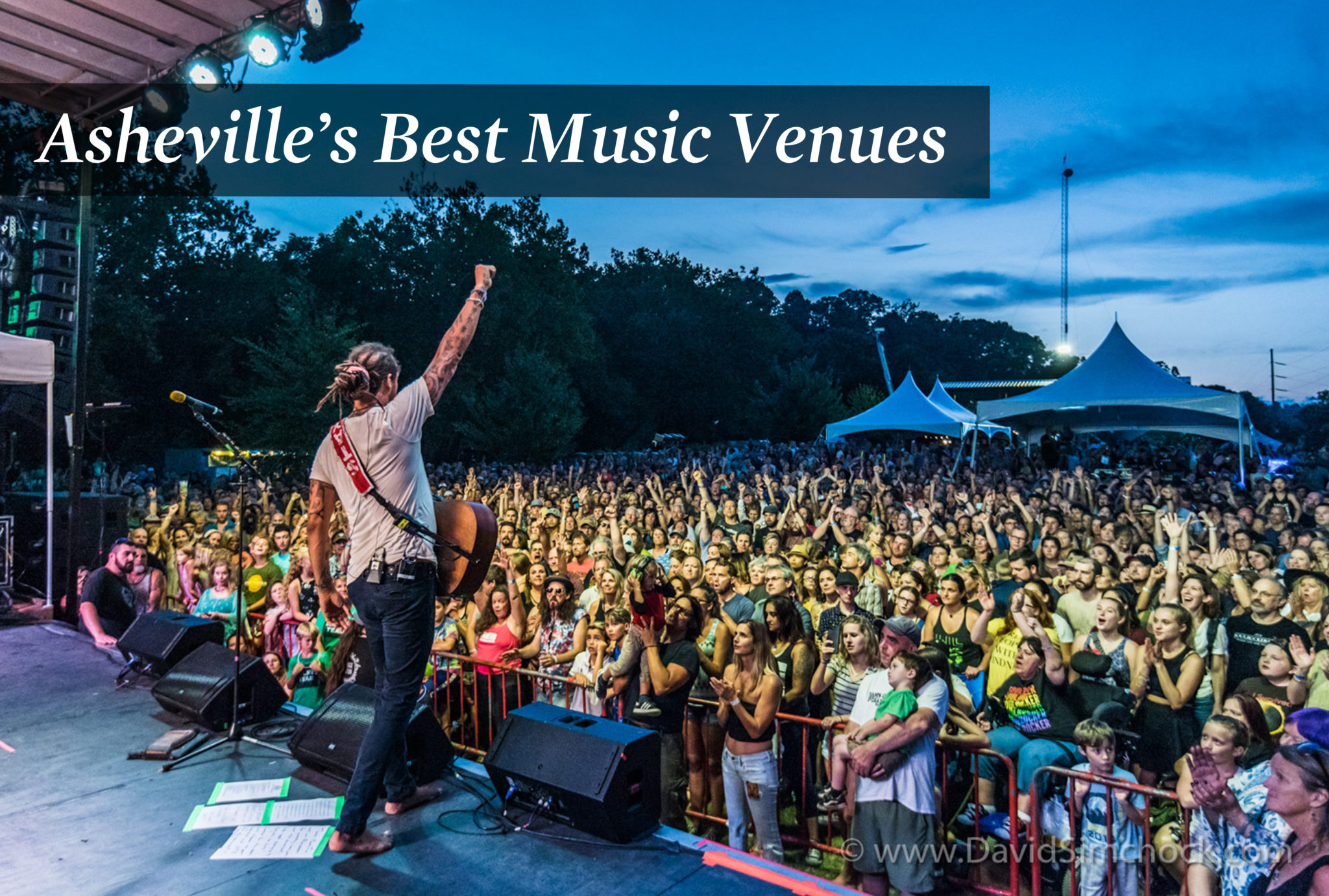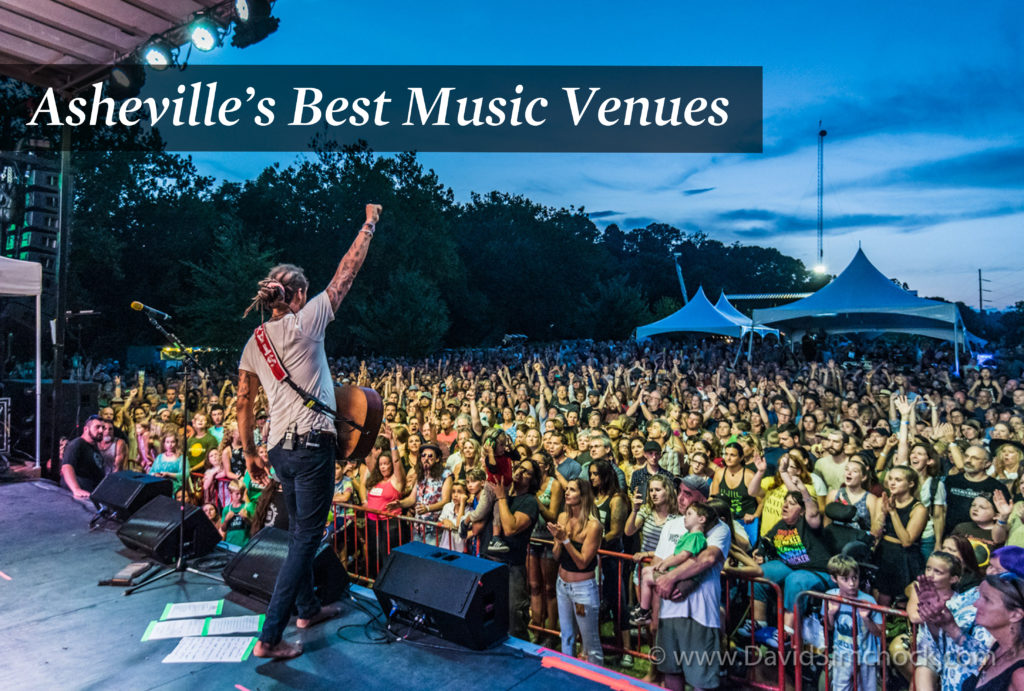 Asheville, North Carolina is a city with deep musical roots. Early Appalachian bluegrass blossomed in the hills of Western North Carolina, and today the streets of Asheville are still filled with the authentic music of the mountains – and music from all over the world, as well. Read on to learn about some of the best music venues and festivals in Asheville, plus bars and breweries that regularly feature musical guests.
Asheville's Great Music Venues, Big and Small
Asheville has venues of all shapes and sizes throughout downtown and in the surrounding area. Here are some of the standouts, where you can hear everything from arena rock to indie pop – and of course, bluegrass, too.
Harrah's Cherokee Center Asheville is the largest event center in the area, and it contains two major music hotspots: the ExploreAsheville.com Arena and Thomas Wolfe Auditorium. The center is located in downtown Asheville, within walking distance of many of the city's best restaurants and hotels. The arena is big enough to attract artists on nationwide tours (previous performances include Bon Iver, Bob Dylan, and Elton John). Thomas Wolfe Auditorium is the home of the Asheville Symphony and a common stop for comedy tours, smaller bands, and solo artists. Check out the venue's event schedule here.
The Orange Peel is also located in the heart of downtown, on Biltmore Avenue. This live music venue has been recognized as one of the best in the nation by USA Today, GQ, Rolling Stone, and more. It's housed in a historic building (which was at various times, a roller rink, an R&B nightclub, and a warehouse), and features a beautiful interior and a bar serving local beers, wine, and liquors. This mid-sized venue has hosted acts such as The Killers, Cyndi Lauper, Post Malone, and Ms. Lauryn Hill over the years, as well as many up-and-coming local artists. Catch a show at the Peel while you're in town.
The Grey Eagle Music Hall is one of the longest-running all-ages venues in Asheville, located in the River Arts District. The venue has a casual atmosphere and a taqueria serving up delicious traditional tacos and beer, and the intimate stage lets artists and audiences enjoy a more personal concert experience. Previous acts include Slick Rick, Nathaniel Ratcliff, Sharon Jones and the Dap-Kings, and many more. View the Grey Eagle calendar here.
West Asheville has its fair share of great music venues, too. Isis Music Hall is in a renovated, historic movie theater, and it regularly hosts singer-songwriters and bluegrass artists. (You can grab dinner before at their restaurant, Kitchen 743). The Mothlight (now closed) was a funky, original bar and venue committed to featuring a wide variety of artists, where local and traveling musicians alike can feel at home. We will miss this venue.
The Best of Asheville's Festivals
Asheville is the home of many unique festivals, especially those focusing on diverse types of art and craft. Book your tickets for any of the following festivals and you'll be in for an immersive and unforgettable musical experience.
If you're looking for an introduction to the Appalachian culture, the Mountain Dance and Folk Festival is the place to find it. The festival will take place in late summer at the University of North Carolina Asheville's Lipinsky Auditorium. Since 1928, ballad singers, cloggers, string bands, and square dance teams have performed at the festival, presenting the traditional songs and dances of the mountains. Single-day tickets, as well as passes for the entire festival, are available.
If you'd prefer a festival with international flair, you're in luck: the 50th LEAF Global Arts Festival is every May in Black Mountain (about 20 minutes from Asheville). This festival is a distinctly "Asheville" tradition that features musicians of widely differing styles. Spring festival headliners for 2020 include electronic musician CloZee, bluegrass legends the Del McCoury Band, and New Orleans septet the Preservation Hall Jazz Band. LEAF is an artsy, free-spirited festival that sprawls over many acres, with six performance stages, family adventure villages, over 100 vendors, global food, and beautiful camping areas. Click here to buy tickets for the whole weekend or individual days.
Every year, the Brevard Music Center Summer Institute and Festival attracts hundreds of students from all over the world. These young musicians come to the hills of North Carolina to learn from master teachers and hone their skills, and audiences are invited to hear them perform. Fans of orchestral music, opera, pop, chamber music, cabaret, Americana, and jazz can choose from over 100+ performances between late June to mid-August. The festival is one of the best in the country, with artistic director Keith Lockhart of the Boston Pops at the helm. For tickets, click here.
What are the Best Restaurants and Bars for Live Music?
It's no secret – Asheville loves food and beer. We love music, too – so why not put them all together? Here are some of our favorite places to do just that.
Located in the River Arts District, Salvage Station is a new favorite bar for many Asheville locals who love the riverfront seating, outdoor stage, craft beer selection, and restaurant serving Southern sandwiches and comfort food. As the weather gets warmer, it's a great place to see a show, spend time with friends, and enjoy the outdoors. Salvage Station is open Friday-Sunday. Check out their concert calendar here.
Jack of the Wood has become an Asheville legend since it opened in 1996. This Celtic pub was the original home of Green Man Brewing, a company specializing in English ales. Stop by Jack of the Wood to be whisked away to a different time, as you drink a hearty pint of beer and listen to traditional fiddle tunes. The cozy bar hosts weekly old-time music, bluegrass, and traditional Irish jam sessions, as well as shows by artists playing everything from rock 'n roll to New Orleans swing. Find their music calendar here.
For a simple yet delightful evening of wine, cheese, and music, 5 Walnut Wine Bar is the place to be. With artists booked nearly every night of the week, you can easily stop by for a glass of wine and a great live performance whenever you're in town. The bar has large windows overlooking Walnut Street which are often open during the warmer months, giving the relatively small bar an open, airy feeling. Every performance feels special as audiences and artists share the space and enjoy music together. Visit their music calendar here.
No matter what music you prefer, you'll be able to find the perfect fit at one of the several music venues in Asheville. (We've only scratched the surface in this article – head over to the Explore Asheville website for a more complete list of venues). As you're planning your next concert weekend, check out our list of the best places to stay in Asheville, as well as the best breweries and shopping you don't want to miss. And once you've been immersed in the Asheville lifestyle, you just might want to stay! We can help with that! Drop us a line below to start your Asheville real estate search.