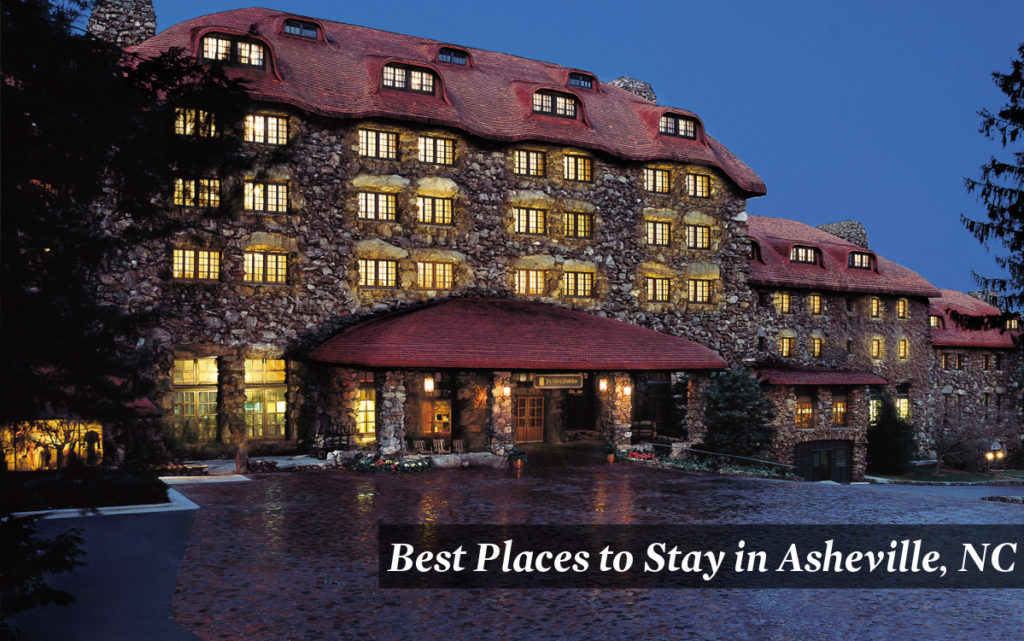 Asheville has become a top weekend getaway destination in the South, with accolades ranging from Conde Nast Traveler to National Geographic. Our local-first food scene and quirky street culture combined with the serene beauty of the Blue Ridge Mountains is sought out by artists and adventure-seekers alike. When planning a quick trip, you want to make the most of your visit — where you stay matters.
Below are a few Asheville hotel and bed and breakfast recommendations from a local's perspective. We'll give you a snapshot of our take on the best luxury and boutique hotels in Asheville, as well as a couple new downtown hotels to check out. For those looking for a great bed and breakfast, we've included two to consider. We also added a few extra recommendations if you're looking for a budget-friendly hotel close to the Biltmore, a nice hotel near the Asheville airport, or a pet-friendly place to stay.
What are the Best Luxury Hotels in Asheville?
The Biltmore Estate
When looking for luxury, nothing beats staying where the frontrunners of American luxury established their historic mansion — the Vanderbilt family's Biltmore Estate. The largest privately owned home in the United States, visitors can tour the house and gardens (allow at least half a day to get a good look) and stay overnight at one of the Biltmore's two hotels: The Inn at Biltmore Estate and The Village Hotel. Amenities at the Inn include access to the Biltmore house and gardens, a day spa, top-notch restaurants, and even a "custom bathrobe" in your room. Departing from the traditional decor, The Village Hotel offers a modern rustic flare, and slightly more moderate pricing. When Biltmore says "legendary hospitality," they mean it. You will not be disappointed.
The Grove Park Inn
When presidents and celebrities come to town, they book a suite at the historic Grove Park Inn, an Omni hotel. Massive fireplaces greet you in the cavernous yet cozy lobby, and lead out to a sprawling veranda that provides, in my opinion, the best view of Asheville. If you don't stay there, enjoy dinner and a drink at the Edison, one of the multiple restaurants at the hotel, to soak in the view. Another aspect of the Grove Park that makes it stand out from the rest is its spa. Hot/cold contrast pools, eucalyptus-infused steam rooms, and fireside lounges, all in a beautiful natural setting — it takes relaxation to a whole new level.
Residences at Biltmore
One luxury accommodation that is often overlooked is the Residences at Biltmore. A condominium community that offers condos for rent and for sale, the Residences at Biltmore offers all-suite hotel rooms with full kitchens and living rooms, perfect if you desire more space for your stay.
What are Boutique Hotel Options in Asheville?
The Foundry
Our latest favorite boutique hotel in downtown Asheville is The Foundry, a restored factory that once forged steel for the Biltmore and was recently renovated into one of the Hilton's upper-upscale Curio Collection hotels. The Foundry blends authentic industrial design with warm hospitality and finishes. And it's right downtown, yet slightly off the beaten path, so it offers a bit of respite from the bustle of the city.
The Bunn House
A boutique hotel that has gotten national recognition is The Bunn House. Spotlighted by the NY Daily News, Travel & Leisure, and Outside Magazine, the Bunn House Hotel offers a quiet retreat just blocks from downtown. Built in 1905, the historic Bunn House "blends folksy and fabulous into Asheville's coolest hotel," in the words of the NY Daily News.

What are the Best New Hotels in Downtown Asheville?
Cambria Downtown Asheville
Another great new option is the Cambria Hotel, which also provides city and mountain views. It has boutique accommodations and "tech-forward" amenities, as well as Hemingway's Cuba, a noteworthy rooftop restaurant and bar in downtown Asheville that offers an authentic Cuban cuisine experience.
The DoubleTree Downtown
Towering over the Asheville skyline, the DoubleTree offers an accessible location right off I-40 and spacious rooms with an expansive view. One of the best features the DoubleTree has to offer is its fabulous rooftop bar — The Montford — a favorite for specialty cocktails among both locals and visitors.

What are Bed & Breakfast Options in Asheville?
Applewood Manor
Located close to downtown in the historic Montford neighborhood, the Applewood Manor not only serves you breakfast, but also grows 80% of its produce in gardens on the property. With a "Garden-to-Gut" philosophy, the innkeepers at Applewood Manor take their commitment to farm-to-table cuisine seriously. And their rooms and decor are beautiful and comfortable as well.
Chestnut Street Inn
To get an Asheville neighborhood experience, staying at a bed and breakfast is a great option. Check out the Chestnut Street Inn, located in the Chestnut Hill National Historic District close to downtown. Built in 1905, the Chestnut Street Inn has maintained its historic architectural details, including an original staircase with a "courting bench," ornate mantles, high ceilings, and large outdoor porches.
What is a Budget-friendly Hotel close to the Biltmore Estate?
Hampton Inn and Suites
If you want to stay close to the Biltmore but not pay Biltmore prices, check out the Hampton Inn and Suites located in the heart of Biltmore Village, one block from the Biltmore entrance. Indoor pool, in-room fridge and microwave, and an outdoor terrace with fire pits are a few of the amenities. Also, Biltmore Village has an old-world charm distinct from downtown. The cobblestone streets are lined with boutique shops and a few noteworthy restaurants, including the Corner Kitchen, one of our go-to spots for brunch in Asheville.
What is a nice Hotel close to the Asheville Airport?
Hilton at Biltmore Park
If you want quick accessibility to the Asheville airport, yet only a 10-minute drive to downtown, we suggest the Hilton at Biltmore Park. Biltmore Park is an upscale town center with shopping, dining, and residences just off I-26. You will have access to stores like REI, Barnes & Noble, and LOFT, as well as a movie theatre and restaurants. And the hotel accommodations will offer you the fine treatment you expect from Hilton.
What about a Pet-friendly Hotel in Asheville?
Aloft Asheville Downtown
Asheville loves its dogs, cats, and even pet pigs, so there are a number of pet-friendly options for our visitors. But one of the only hotels that doesn't charge a pet fee is Aloft, an urban chic hotel located downtown. Aloft provides its guests with walk-in showers, city and mountain views, and the WXYZ bar with a large patio overlooking Biltmore Avenue, one of the main streets downtown. Did we mention there is a rooftop pool deck as well? It's definitely worth checking out, even if you aren't bringing your furry friend along.
Summary
Asheville is thriving, and welcomes more visitors each year. Many have found Asheville to be a place to return to annually, with countless places to explore and innovative restaurants to experience. Rather than stay in a hotel or bed and breakfast, a growing number of frequent visitors have bought vacation homes in the area, making Asheville a second home to be enjoyed for years to come.
Whether you are looking for a luxury, boutique, or brand new hotel, a place close to the Biltmore Estate or the airport, or a bed and breakfast, you have a multitude of options when visiting Asheville. We hope our curated list of places to stay guides you to an unforgettable getaway in our mountain city. Also, be sure to check out our list of the best places to stay in nearby Black Mountain, NC.