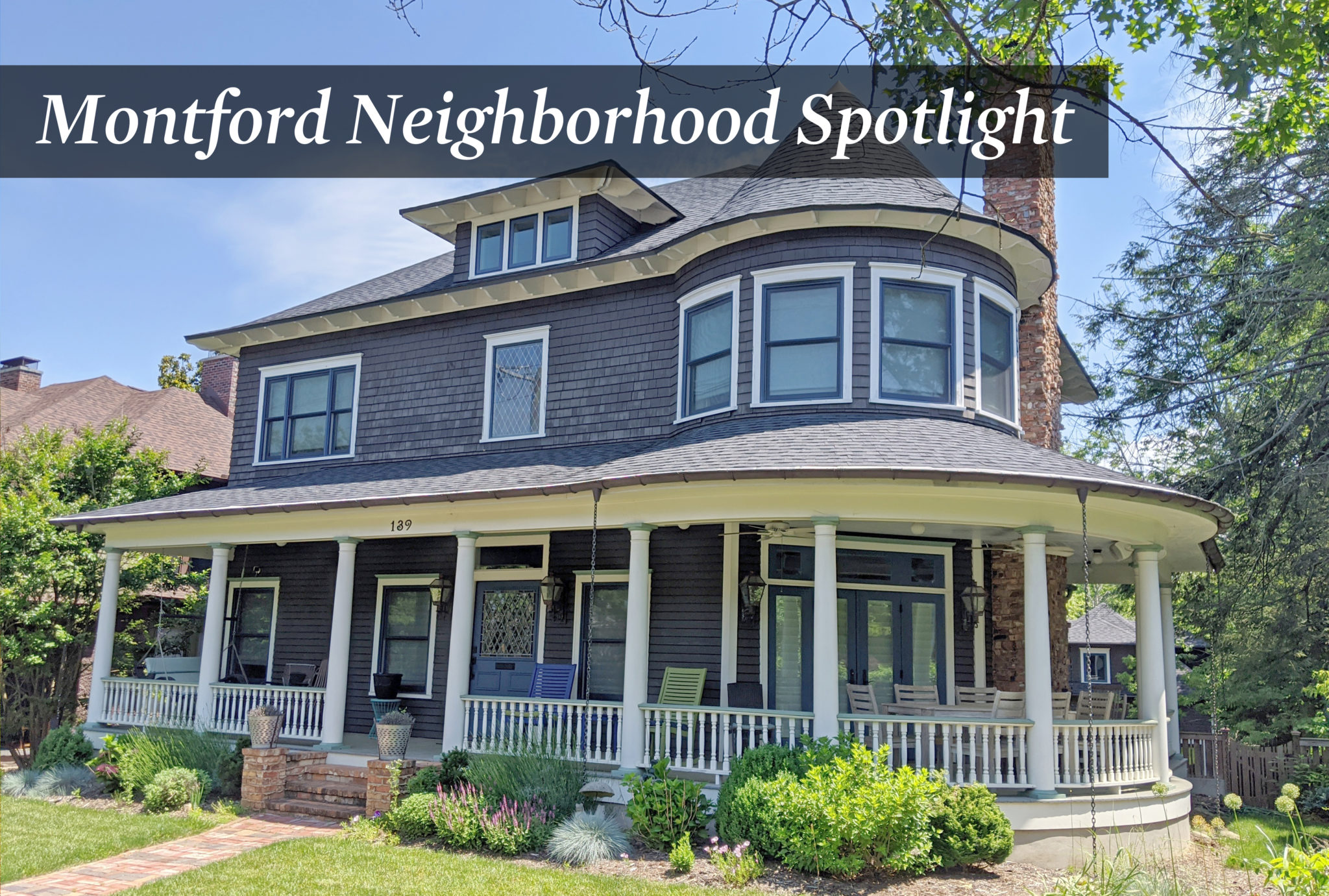 When you first enter the historic Montford neighborhood in Asheville, North Carolina, the elegant homes, gentle shade of the trees above, and relaxing atmosphere will make you feel as if you've traveled back in time. Montford is one of Asheville's most desirable neighborhoods, and in this post, we'll cover what makes Montford so unique and how you can make it your home.
Where is the Montford neighborhood?
Montford is located slightly northwest of the Asheville city center and contains residential homes as well as some businesses and offices. The central Montford Avenue exits off of Interstate 240, making the rest of Asheville easily accessible to residents of the neighborhood.

Historic Montford Neighborhood in Asheville, NC
A portion of Montford is a National Register Historic District, and additionally, Montford was designated as a Local Historic District in 1981 by the Asheville City Council. The 600+ houses in the National Register Historic District were mostly built between 1890 and 1920 and feature Victorian, Arts and Crafts, and Queen Anne styles.
Montford houses beautifully illustrate what life was like in Asheville during the turn of the twentieth century, as the city rose to prominence as one of the Southeast's most popular destinations. Also located in the neighborhood is Riverside Cemetery, which dates back to 1885 and is the final resting place of authors Thomas Wolfe and O. Henry, along with other prominent Asheville citizens. Download a map and take a self-guided walking tour of the cemetery to learn about its history and see its striking monuments and mausoleums.
The historic Montford neighborhood features Victorian, Arts and Crafts, and Queen Anne style homes.
Accommodations, Dining, and More in the Montford Neighborhood
Montford is a beautiful place to get away from it all, while still being within walking distance of bustling downtown Asheville. Here are our recommendations for places to stay, eat, and have fun in Montford.
Accommodations
To get the full Montford experience, we recommend staying in one of the neighborhood's many bed & breakfasts. Often located in historic homes, B&Bs offer comfortable rooms, delicious meals, and authentic glimpses into Asheville history. Check out our recommendations below.
Bars and Restaurants
If you're staying in one of Montford's many B&Bs, you can easily skip the drive and walk to dinner in one of downtown Asheville's award-winning restaurants. However, there are also a few can't-miss restaurants and bars in the neighborhood itself:
Outdoors in Montford, Asheville
Montford is a great place to get outside. The neighborhood streets are safe for walking with your family or jogging before work, or head to Montford Park to enjoy even more green space, including a basketball court, a picnic area, a baseball diamond, tennis courts, and a playground for kids.
For those with a love for fly fishing, you can get well equipped for your next day on the water at Hunter Banks, a locally owned fly fishing shop conveniently located on the corner of Montford Avenue and the I-40 off-ramp. With top notch customer service and a large selection of gear and flies, Hunter Banks has stayed true to its mission for over 35 years to foster the fly fishing community in Asheville and the surrounding mountains of Western North Carolina.
Nearby Attractions
The Montford Park Players, Asheville's longest-running Shakespeare theater company, holds free summer performances outdoors at the Hazel Robinson Amphitheatre in Montford Park. It's a fantastic community theatre experience that can't be missed.
Nearby Schools
Schools near Montford include Montford North Star Academy, a magnet school focused on STEM and the arts, and Isaac Dickson Elementary. Both of these schools are part of the Asheville City School system.
Real Estate in Montford
Homes for sale in Montford include newly-built, modern houses as well as historic houses that have either been restored or need some love. Many houses listed on the National Registry of Historic Places have been painstakingly renovated to preserve original details. Montford homes often have beautiful lawns and gardens and four or more bedrooms, making them perfect for larger families or those who often entertain guests. Click here to view the current inventory of Montford real estate listings.
Alternatively, if you're ready to build your dream home in Montford, you can also purchase land for sale in the neighborhood. Plots of land in Montford are usually somewhat wooded, giving you a bit of privacy, while also being convenient to shopping, dining, and schools near downtown Asheville.
The Montford neighborhood provides a variety of real estate options, from new construction to homes listed on the National Registry of Historic Places.
Frequently Asked Questions
What is the average price of a home in Montford?
Home prices vary widely in Montford, and as a general rule they range from $325K to $2M, depending on square footage, amenities, and whether the home is new, renovated, or a "fixer upper."
What are the taxes?
Montford is part of the Asheville City tax district. Click here to read our post about how taxes are calculated, and look up current tax rates.
Can I make changes to a historic Montford house?
As previously mentioned, Montford includes both a Local Historic District and a National Register District. Owners of Montford homes located within the Local Historic District must submit proposed design modifications before making major changes to their historic homes. If structures are considered to be "contributing" as part of a National Register Historic District, they may potentially qualify for Historic Preservation Tax Credits. Click here to learn more.
Moving to Montford
We'd love to help you buy a home in Montford. As you begin to learn about the real estate market in Montford, you can view the current listings in the neighborhood and sign up for new listing alerts to stay in the loop. And of course, please contact us to let us know you're considering Montford, and we'll be happy to answer any questions about this beautiful, historic Asheville community!