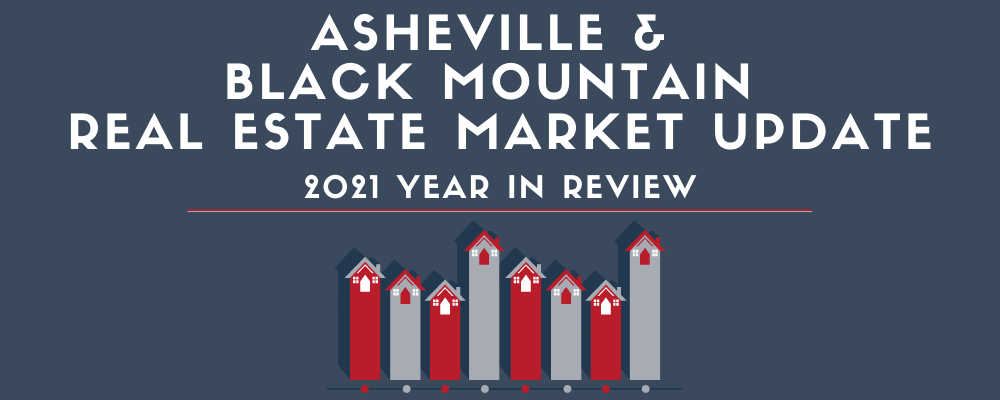 Our latest market update starts below and was published on January 26,2022. You can also skip down to our section of real-time Real Estate Statistics for the Asheville Area.
The real estate market in 2021 was marked by incredible growth, rising prices, and a lot of unsatisfied demand. The Asheville real estate market saw homes continue to sell quickly and fierce competition among buyers for the most desirable properties. As we enter the first quarter of 2022, we look back on the year in review and also discuss our expectations for the 2022 listing season.
Inventory Remains Low due to Seasonality and High Demand
Our last several market updates have mentioned low inventory, and that continues to be the case in the Asheville market. The number of homes for sale hit a new low at the end of 2021, with only 493 on the market county-wide! Of course, January and February are typically our lowest inventory months, so low inventory is not surprising this time of year. But these inventory levels are REALLY low!
This translates into just a one month supply of homes available for sale. In order words, if no new listings came on the market, there would be zero homes to buy in just a month's time. That's great news for sellers, who are enjoying minimal competition when putting their homes on the market. This low competition is a great reason to consider selling your home during the winter and having those proceeds ready to purchase when more inventory comes on the market in the spring.
The Number of New Listings has Rebounded to Pre-Pandemic Levels
So even though inventory numbers remain low, the number of homes actually listed in 2021 recovered to just above pre-pandemic levels. However, these homes sold so quickly (more on that in moment), that inventory levels never increased. In other words, homes didn't remain on the market long enough for inventory levels tor rise.
Demand Remains Strong in all Price Bands
As we wrapped up 2021 and now look forward at 2022, buyer activity and demand is still incredibly high. We continue to receive a high volume of calls and inquiries from people looking to move into our area from all over the country. The combination of four seasons, lots of things to do, and incredible food and beer continue to drive people to move to Asheville. At the time of this post, interest rates have started to creep up, and that's certainly a market factor that we'll keep an eye on moving forward. In terms of the number of sales, there were 5,212 home sales in Buncombe County in 2022, a 13.4% increase over 2020!
The Listing Season is Rapidly Approaching
While inventory is low, that should gradually change in the next 2-3 months as we get into the spring listing season. Of course, most of those new listings are likely to be purchased quickly, so the number of homes "on the shelf" may not increase greatly.
If you're considering selling your home this season, here are a couple of key metrics that show what a homeowner selling a home in the Asheville market might expect. The first is the ratio of sale price to list price. This metric has been trending up for a while now, with sellers negotiating very little (if at all) off of their asking price. Multiple-offer situations (bidding wars) and contracts for over the asking price are not unusual. At the end of 2021, this median percentage of list price paid by buyers was 100%, and this was the case for 3 consecutive months! This is truly a seller's market!
Sales prices continue to rise as well, even after a slight plateau between August and September. In our last update, we mentioned this would be worth monitoring, but it appears that was just a momentary slow-down, except that Black Mountain remained flat until bumping up slightly in December. Overall, the 4th quarter of 2021 brought more increases in sales prices in our market countywide.
One of the most attractive metrics for home sellers is the quick selling times we are seeing in this market. The median days on market decreased steadily all year and hit a new low in the last quarter, with homes only on the market right around 1 week! For sellers who live in the home they are selling, it's great to get showings out of the way in just a few days. We've had seller clients list their home, then go on vacation or rent a local short-term rental to make their homes readily available for showings. Then, after signing a contract, the sellers moved back in and resumed life as usual.
Land Sales Are Still Strong
Pending land sales across the Asheville area have been strong since May. While it's true that pending land sales dropped a bit in November and December, it's important to note that the level of sales in October 2021 was the highest we've seen since 2005. If you're considering land, we highly recommend shopping in the fall and winter. Now that the leaves have fallen, it's much easier to walk the land and you can get a much better visual idea of the land's topography and view potential.
Receive these Updates via Email
If you'd like to receive our quarterly market updates via email, please subscribe to our newsletter below. Don't worry, we never share your contact info with anyone!
---
Asheville & Black Mountain Area Real Estate Trends and Statistics
At Freestone Properties, we're a little bit geeky. We love statistics, especially when they help to identify trends in the market. The statistics in this section of our website are updated in real-time. We've included many different charts and graphs based on geographic area, price range, square footage range, and other factors. The graphs are interactive, so hovering your mouse over the graphs will show the detailed figures.
We hope you find this information useful if you're considering selling your home or considering moving to the Asheville area. Keep in mind that statistics such as days on market, sale-to-list-price ratio, price per square foot and other figures can vary greatly depending on a lot of factors. Each property is different, so contact us to discuss a specific property.
Residential Real Estate Statistics and Trends by Geographic Area
---
Residential Real Estate Statistics and Trends by Property Type in Buncombe County (Countywide Data)
If you'd like to see a specific statistical graph that we haven't provided, please ask us to create it.
---