3rd Quarter 2022
Our latest market update starts below and was published on October 28, 2022. You can also skip down to our section of real-time Real Estate Statistics for the Asheville Area.
In the third quarter of 2022, we continued to watch interest rates and prepare for an inevitable shift in the market. As of today, a well-qualified buyer with a 20% down payment could be looking at a rate around 7%.
To put that into context, we haven't seen 30-year mortgage rates at 7% since 2002. So what does this mean for home affordability? If we use the current median price of a home in Asheville ($455,000) with a 20% down payment, a buyer would have a $364,000 mortgage. The graphic below shows the difference in monthly payment and the total principal and interest paid over the life of the loan. Loan Option 1 represents a 3% interest rate, and Loan Option 2 represents a 7% interest rate.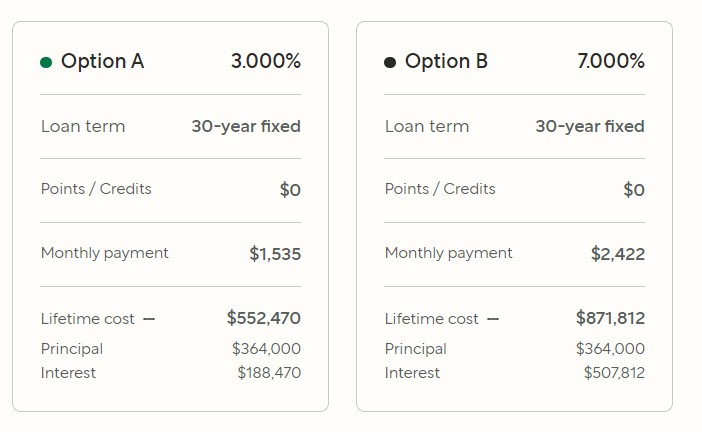 This substantial increase has resulted in a much cooler market than the craziness we saw during the first 2 years of the pandemic. If you follow websites like Zillow or Realtor.com, or if you receive automatic listing updates like the ones provided here, you'll notice that price reductions are happening much more frequently than they did just a few months ago. However, across the broader Asheville market, metrics like median sale price, average sale price, and price per square foot are still trending upward. In this analysis, we'll look at several statistics that help explain what's going on in our market.
Inventory is Stuck in Low Gear
For the last couple of years, our real estate market updates have discussed the lack of inventory for sale. That remains the case for now. As we enter the holiday season, we always a see a seasonal downturn in new listings. And we fully expect there to be more inventory in the spring of 2023, but there's a good chance that level of inventory will still be low compared to previous years. With 20 years of low interest rates (compared to what we see today), many homeowners may choose to stay put and enjoy their low interest rate rather than move and borrow money around 7%.

Bidding Wars are Mostly Gone
We are finally seeing "months supply" slowly creeping upward. I say "slowly" because it took 3 months to go from a 1.5 month supply to a 2 month supply. And it took about 6 months to go from 1 month to 2 months. The good news for buyers is that they now have time to come see a home (and perhaps even tour it twice) before making an offer. Gone (mostly) are the bidding wars and sight-unseen purchases of the pandemic. But inventory is still very low, so while buyers have time to look, they may still need to compromise on some of their wants.
New Listings have Dropped in 2022
Even though buyer activity is down, the decline in new listings has kept the market skewed in favor of sellers. 2022 listing counts are well below 2021 and more in line with 2020, when listings were down due to the onset of the pandemic.
Slowdowns in Buyer Activity and New Listings Mean Fewer Sales
Not surprisingly, a decrease in both the number of buyers in the market and the number of new listings has led to fewer overall sales in 2022. This data was to be expected, as 2021 was such a crazy year that it was not sustainable. And the Fed has made it clear that they are going to attempt to reign in inflation even if that means a slowdown in the real estate and construction industries.
Sellers are Still Getting their Price
Beginning in October 2021, the median sale price (as a percent of list price) in the Asheville market topped out at 100% of list price. That's median – so many homes were selling for OVER asking price. After seeing the median sale/list price ratio stay flat at 100%, we decided this month to look at AVERAGE sale/list price ratio. Using the average, we can see the market turning ever so slightly, but even the average ratio is still above 99%.
Home Prices Continue to Rise
Median and average sales prices continue to rise across the region.
Land Sales Fell in 2022
Land sales have dipped through 3 quarters in 2022, but the numbers are still ahead of 2020. As was the case with home sales, the pace set in 2021 was not sustainable and will likely be a record high for some time.
Receive these Updates via Email
If you'd like to receive our quarterly market updates via email, please subscribe to our newsletter below. Don't worry, we never share your contact info with anyone!
---
Asheville & Black Mountain Area Real Estate Trends and Statistics
At Freestone Properties, we're a little bit geeky. We love statistics, especially when they help to identify trends in the market. The statistics in this section of our website are updated in real-time. We've included many different charts and graphs based on geographic area, price range, square footage range, and other factors. The graphs are interactive, so hovering your mouse over the graphs will show the detailed figures.
We hope you find this information useful if you're considering selling your home or considering moving to the Asheville area. Keep in mind that statistics such as days on market, sale-to-list-price ratio, price per square foot and other figures can vary greatly depending on a lot of factors. Each property is different, so contact us to discuss a specific property.
Residential Real Estate Statistics and Trends by Geographic Area
---
Residential Real Estate Statistics and Trends by Property Type in Buncombe County (Countywide Data)
If you'd like to see a specific statistical graph that we haven't provided, please ask us to create it.
---