Our quarterly market update starts below and was published on April 12, 2020. You can also skip down to our section of up-to-date Asheville & Black Mountain Area Real Estate Statistics.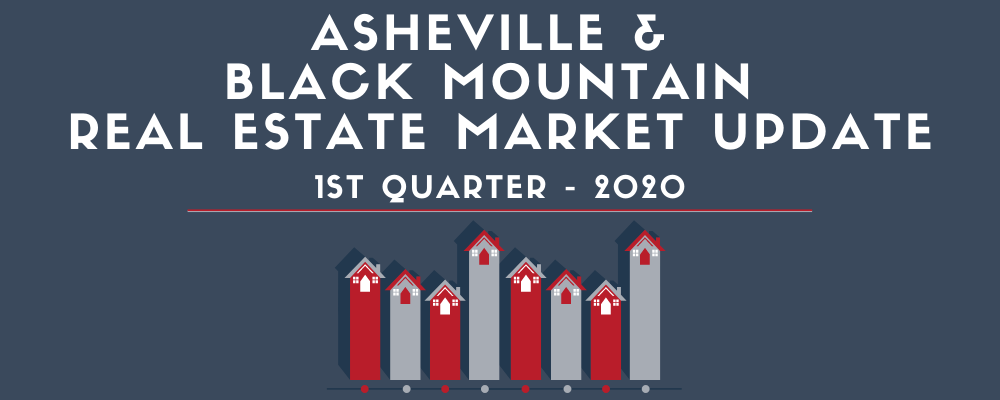 What a bizarre quarter of 2020 – a worldwide pandemic, turmoil in the stock market, and high unemployment! And all of this hit during a time when real estate was still red hot. So as you read about the latest trends in Asheville real estate below, keep in mind that COVID-19 has had a significant affect on our market, but we don't yet know the full ramifications of the outbreak. Also, we have a detailed COVID-19 page that we are constantly updating. The article below is more about the latest stats and trends in the market. *Data in the tables below is Year-to-Date 2020.
Number of Homes Sold Increased Significantly
In terms of the number of closed sales of residential properties (single-family homes, condos, and townhomes), the first quarter of 2020 is actually above the first quarter of 2019. Asheville was up 14.9% (58 more units sold), Black Mountain was slightly down (but only 6 fewer units), and Buncombe County as a whole was up 15.8% (122 more units). Incredibly, this is despite the coronavirus affecting our market for almost all of March.
We should also consider Pending sales, as this might be more indicative of where things are after a month of social distancing measures. As you can see, pending sales are very strong. This is an encouraging sign, as these buyers could have backed out of their contracts due to COVID-19 or stock market concerns. Yet, these figures represent intact purchase contracts.
Inventory is Still Very Low
One of the more striking affects of the coronavirus has been a downturn in listing inventory. While inventory has actually started to increase again over the last couple of weeks, it is still well below where we normally expect it to be this time of year. When coronavirus social distancing measures begin to ease, inventory levels should begin to normalize. In the meantime, low inventory represents an opportunity for real estate sellers, especially those with easy-to-show vacant homes.
Average Price is Increasing Again
As we discussed in our last 2 market updates (in October 2019 and January 2020), it seemed like average price may have hit a plateau. That is no longer the case, except in Black Mountain. Asheville and Buncombe County are up 16.9% and 13 % respectively since the first quarter of 2019. Black Mountain is nearly flat, but keep in mind the sample size for Black Mountain is relatively small (just 40 sales so far in 2020).
Land Sales Have Cooled Off
In 2020, only Black Mountain saw an increase in the number of parcels sold, while Asheville and Buncombe County both experienced declines. But Q1 2020 showed a significant increase in Asheville and a modest boost countywide, with a slight decline Black Mountain.
Looking Ahead to the Second Quarter of 2020
Q1 was a strong growth quarter, and there were obvious difficulties from COVID-19. Based on current trends, here are some likely scenarios for the second quarter:
Pent-up demand should lead to fast sales of homes that come on the market during the spring and summer selling season.
Near-record low mortgage rates should continue to keep buyers in the market for well-priced and well-maintained homes.
New listings will have an opportunity to sell against limited competition. This could result in multiple offers and minimal negotiation from sellers of correctly-priced homes.
Receive these Updates via Email
If you'd like to receive our quarterly market updates via email, please subscribe to our newsletter below. Don't worry, we don't share your contact info with anyone!
---
Asheville & Black Mountain Area Real Estate Trends and Statistics
At Freestone Properties, we're a little bit geeky. We love statistics, especially when they help to identify trends in the market. The statistics in this section of our website are updated in real-time. We've included many different charts and graphs based on geographic area, price range, square footage range, and other factors. The graphs are interactive, so hovering your mouse over the graphs will show the detailed figures.
We hope you find this information useful if you're considering selling your home or considering moving to the Asheville area. Keep in mind that statistics such as days on market, sale-to-list-price ratio, price per square foot and other figures can vary greatly depending on a lot of factors. Each property is different, so contact us to discuss a specific property.
Residential Real Estate Statistics and Trends by Geographic Area
---
Residential Real Estate Statistics and Trends by Property Type in Buncombe County (Countywide Data)
If you'd like to see a specific statistical graph that we haven't provided, please ask us to create it.