Our quarterly market update starts below and was published by Scott Russell on January 16, 2020. You can also skip down to our section of up-to-date Asheville & Black Mountain Area Real Estate Statistics.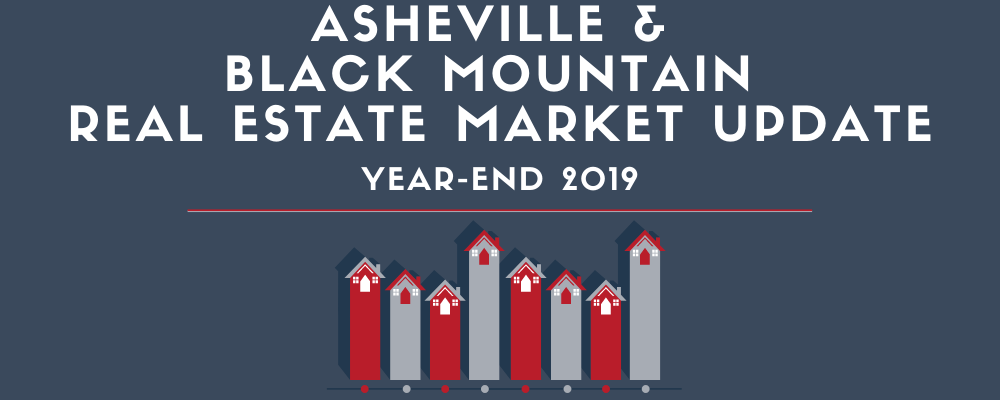 As 2019 has finally come to an end, the final numbers are in for the Asheville real estate market. We can now look back and see how things shook out in our market. In short, 2019 was a booming year that really showed no sign of a slowdown in the local market. As we go through the data below, remember you can mouse-over the graphs to see the figures. This data is through December 31, 2019.
Number of Homes Sold Increased Significantly
In terms of the number of closed sales of residential properties (single-family homes, condos, and townhomes), 2019 showed a huge increase from 2018 – Asheville was up 8.7% (roughly 180 more units sold), Black Mountain was up 26.8% (about 50 more units), and Buncombe County as a whole was up 10.5% (about 400 more units). This is after the number of units sold had dipped a bit in 2018 compared to 2017.
Inventory is Still Very Low
Not surprisingly, this increase in sales has resulted in a huge drop in inventory. As of the end of 2019, inventory in Asheville was down 23%, Black Mountain was down 17%, and the county was down nearly 21% compared to the inventory levels at the end of 2018.
If we look at the seasonal fluctuations in our inventory over the last 10 years, you can see that our market has been very strong since early 2016. It appeared for a moment that inventory was starting to increase in the fall of 2018, but that didn't last and now inventory is at an 11-year low countywide.
Average Price May have Leveled Off
As we discussed in our last update in October 2019, it seemed like average price may have hit a plateau. That still seems to be the case. We saw just a 1% increase in average price in Asheville, a 3% increase countywide, and a decrease in average price of nearly 6% in Black Mountain.
To explain what is happening in Black Mountain, it may take another quarter or two of new market data. It's worth noting that average price in Black Mountain soared 13.2% in 2018, so 2019's decline could be a correction.
Land Sales Have Cooled Off
In terms of residential land, only Black Mountain saw an increase in the number of parcels sold. Asheville and Buncombe County both experienced declines. One theory for this decline could be that builders are very busy (and thus unable to take on new jobs quickly), and construction costs are still increasing. This often drives buyers who want to build to change their mind and buy an existing home instead.
It's worth noting that building permits were down 6% in the Asheville region in the 3rd quarter of 2019 (4th quarter data isn't yet available). But if you speak with any contractor or sub-contractor, they'll tell you that they can't keep up with the amount of business they have.
Looking Ahead to the First Quarter of 2020
If 2020 is anything like 2019, and it sure appears that it could be, it may looking something like this:
Pent-up demand should lead to fast sales of homes that come on the market during the spring listing season.
Homes on the market in the winter and early spring have a unique opportunity to sell while there is less competition but still very strong buyer demand.
Land sales should pick up in the spring, but likely won't be as strong as home sales.
Average price may increase only modestly, and with interest rates still low, many buyers will continue to flock to the Asheville market.
Receive these Updates via Email
If you'd like to receive our quarterly market updates via email, please subscribe to our newsletter below. Don't worry, we don't share your contact info with anyone!
---
Asheville & Black Mountain Area Real Estate Trends and Statistics
At Freestone Properties, we're a little bit geeky. We love statistics, especially when they help to identify trends in the market. The statistics in this section of our website are updated in real-time. We've included many different charts and graphs based on geographic area, price range, square footage range, and other factors. The graphs are interactive, so hovering your mouse over the graphs will show the detailed figures.
We hope you find this information useful if you're considering selling your home or considering moving to the Asheville area. Keep in mind that statistics such as days on market, sale-to-list-price ratio, price per square foot and other figures can vary greatly depending on a lot of factors. Each property is different, so contact us to discuss a specific property.
Residential Real Estate Statistics and Trends by Geographic Area
---
Residential Real Estate Statistics and Trends by Property Type in Buncombe County (Countywide Data)
If you'd like to see a specific statistical graph that we haven't provided, please ask us to create it.