Our quarterly market update starts below and was published on July 20, 2020. You can also skip down to our section of up-to-date Asheville & Black Mountain Area Real Estate Statistics.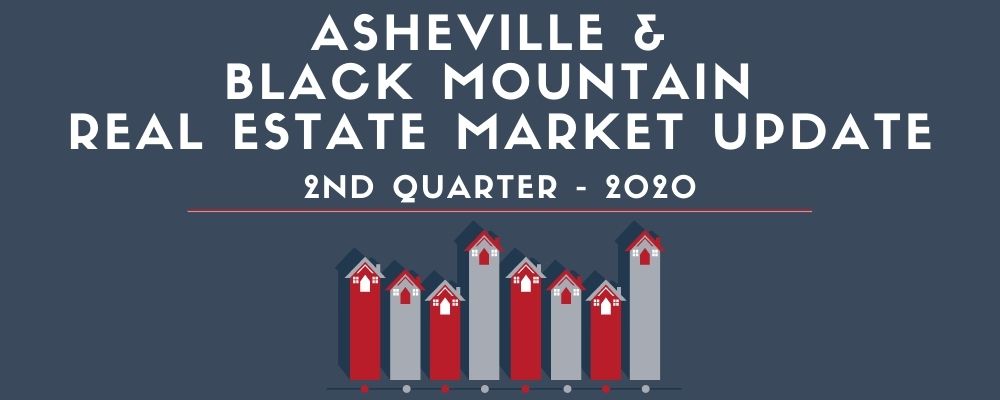 Writing about the second quarter of 2020 is probably not much different than trying to write a bad movie script. By the end of Q1 2020, most of the world was locked down in response to the coronavirus, kids were home from school, and non-essential businesses were shuttered. By the time we got into early April and began Q2, even the real estate market was eerily quiet as we adjusted to life at home.
In North Carolina, real estate agents were considered essential in April, but not in Buncombe County. The county issued an order that Realtors were non-essential and that conducting in-person property tours was not permitted for 2 weeks. But by mid-April, Realtors were considered essential in Buncombe County, and the Asheville area listing inventory gradually started to pick up. After all, April/May/June is the typical listing season in our market.
At the end of Q2, we can look back and see 2 significant trends in our market.
The listing season is about 60 days behind where it would normally be.
Buyer demand has exploded as interest rates and COVID-19 have sped up buyer's plans to relocate to the Asheville, NC area.
In this version of our Asheville and Black Mountain Real Estate Market Update, we'll look at the statistics (and a few pieces of anecdotal evidence) that help explain where the market is currently, and where we see things headed as we enter the 3rd Quarter of 2020.
Inventory Has Remained Below Historic Norms in Q2 2020
We normally see new home listings come on the market starting around the first of April and peaking in June. This year, very few homes hit the market in April, as most sellers didn't want the public touring their home.
As North Carolina moved into Phase 1 and then eventually into Phase 2 of its reopening plan, homes gradually started to come onto the market. You can see the bumps in the curve below, but even those levels are well below where we would normally expect to be this time of year.
Demand for Homes is Way Up
While inventory remains low, buyers are flooding the Asheville market. There are several factors that are causing this.
COVID-19 Has Driven Demand in the Asheville, NC Market
The COVID-19 outbreak has led many people to re-evaluate where they live and the type of home they live in. As many people have transitioned into working from home, many have also realized that working from home is feasible for the long term. And many employers have learned that maybe they don't need the overhead of physical office space. We've heard countless stories of people that immediately left for the beach or the mountains as soon as COVID-19 hit, and they have yet to return to their primary home. These people have realized that their jobs no longer tie them down to just one place, and that they can really work from anywhere.
Another story we have heard repeatedly is from buyers who had planned to move here in the next 2-5 years. But given the amount of time we are all spending closer to home and away from the office, many of those buyers have decided to make the move now.
If you live in New York, Chicago, Houston, Los Angeles, or any other big city, most of the reasons you would want to live there are simply unavailable now. There are no Broadway plays, fans at professional sporting events, concerts, or other attractions to make urban living as attractive as it once was.
By contrast, areas like Asheville, NC are not a bad place to quarantine, especially this time of year. Most restaurants are open in some form (such as carry-out or 50% dine-in occupancy). And you can still find a mountain bike trail, hiking trail, or some other form of outdoor recreation where it's easy to social distance.
A few statistics illustrate these recent trends in demand in the Asheville market. First, the number of pending sales has jumped over the last 2 months.
Another key metric is Days on Market. Across Asheville and Buncombe County, this figure has been dropping since February. In Black Mountain, it has been declining since April. Now, homes in Asheville, Black Mountain, and Buncombe County are on the market just over a month on average.
And last, the Months Supply of existing homes for sale is steadily dropping, and we currently only have about 3 months supply of homes on the market. That's not a bad number, but it's very low for this time of year. Usually in mid-summer, we expect our Months Supply number to still be trending up. This could signal an opportunity for sellers to continue listing and selling homes in August and September, which are typically slower months. But as stated before, the market is functioning about 60 days behind its normal schedule.
Interest Rates Continue to Hit New Historic Lows
From a basic economics point of view, interest rates are so low that they are surely driving buyers into the market (or prompting sideline buyers to get off the fence and make a purchase). Even many buyers that can afford to pay cash are opting for the nearly free money they can get from lenders. As I write this, 30-year rates have been hovering right around 3%, with 15-year rates well below 3.0%.
Average Price is Still Increasing
The average home price for our area continues to climb. For this graph, I zoomed out so you could see where home prices are relative to the pre-recession bubble. Additionally, you can see Black Mountain home prices (the blue line) are historically more volatile than Asheville (green line) or Buncombe County (gray line) as a whole. Keep in mind that Black Mountain is a relatively small market, so just a couple of expensive home sales or several inexpensive sales can influence the numbers.
Land Sales Have Resumed
Pending land sales across Asheville, Black Mountain, and Buncombe County have increased since April. In theory, some of this demand could be attributed to buyers being unable to find a suitable existing home due to low home inventory levels.
Looking Ahead to the Third Quarter of 2020
Q2 was another strong growth quarter, despite obvious difficulties from COVID-19. A lot of the demand here seems to be at least partially due to the pandemic, although it's important to remember that demand was high in our area even before quarantine. Based on current trends, here are some likely or very possible scenarios for the third quarter:
Low interest rates should continue to drive demand for homes.
The selling season could extend into August/September as inventory is currently trending downward when it would normally be increasing.
New listings should continue to sell against limited competition. This should result in multiple offers and minimal negotiation from sellers of correctly-priced homes.
It will be interesting to see if additional demand materializes as more families with school-aged children relocate here as some schools in other parts of the country do not re-open for in-person instruction.
Receive these Updates via Email
If you'd like to receive our quarterly market updates via email, please subscribe to our newsletter below. Don't worry, we don't share your contact info with anyone!
---
Asheville & Black Mountain Area Real Estate Trends and Statistics
At Freestone Properties, we're a little bit geeky. We love statistics, especially when they help to identify trends in the market. The statistics in this section of our website are updated in real-time. We've included many different charts and graphs based on geographic area, price range, square footage range, and other factors. The graphs are interactive, so hovering your mouse over the graphs will show the detailed figures.
We hope you find this information useful if you're considering selling your home or considering moving to the Asheville area. Keep in mind that statistics such as days on market, sale-to-list-price ratio, price per square foot and other figures can vary greatly depending on a lot of factors. Each property is different, so contact us to discuss a specific property.
Residential Real Estate Statistics and Trends by Geographic Area
---
Residential Real Estate Statistics and Trends by Property Type in Buncombe County (Countywide Data)
If you'd like to see a specific statistical graph that we haven't provided, please ask us to create it.