Because there are so many second homes in the Asheville area, many of our buyers are from out of state. So they may be used to different procedures for buying and selling real estate. For first-time homebuyers, the entire home buying process in Asheville is new. This article is written for both experienced buyers who may be unfamiliar with our customary procedures, as well as first-time buyers ready to dive into the real estate market.
The Home Buying Process in Asheville Broken Down into Simple Steps
Getting Pre-Approved
The first step to the home buying process in Asheville is having a realistic expectation of what you can borrow from a lender. While you may be comfortable with a higher monthly payment, a lender is bound by certain requirements to keep your monthly payment within a certain range (relative to your income and other debts). So before spending a lot of time and gas looking at homes, it makes sense to get pre-approved or pre-qualified by your lender. There is a difference between pre-approved and pre-qualified (more on that here).
You can use any lender you like – it does not have to be where you currently bank, although that isn't a bad place to start. We have lender recommendations as well. Drop us a line and we'll send you some contacts that we have worked with frequently and with great results. It's also a good idea to check out mortgage lenders and mortgage brokers who might not be affiliated with a bank (we have those contacts as well).
Home Shopping
Now for the fun part – looking at properties! If you haven't done so already, this is the time to hire a Realtor. Some buyers like to call the listing agent to show them a particular listing, and that's perfectly fine. Just remember that in North Carolina, a buyer's agent is required to obtain a written buyer's agency at the point that an offer is made on a property.
There are many websites available that show all the listings available in the Multiple Listing System (MLS). But not all do. So, to be sure you are seeing every property available that meets your criteria, be sure the site you are using shows all the listings. Freestone Properties shows all the listings in the MLS on our search page. A great way to stay on top of the latest inventory is with Automatic Email Alerts. You can register for those here.
When new properties come on the market, you may choose to drive by the property if you aren't sure of the area, or call your Realtor to schedule a showing. If you're located out of area, we can "preview" the property for you. We can take videos and additional photos to help you visualize a property. It's not uncommon in our market for buyers to make offers on properties sight unseen, especially when the inventory is low.
Offer and Negotiation
Once you've found a property you want to buy, it's time to work with your agent to put your offer terms in writing. In North Carolina, we use a standard form called the "Offer to Purchase and Contract." Your offer will be presented by your agent to the seller's agent (or to the seller directly in some cases).
At this point, the seller may accept your offer and form a contract with you. Or, the seller may reject your offer or make a counteroffer. If the seller makes a counteroffer, you are now negotiating. Once you and the seller have agreed on all terms and put them in writing (including signatures by both parties), a contract is formed.
Due Diligence
The North Carolina Offer to Purchase and Contract includes a provision for a "Due Diligence Period." This is an amount of time (negotiated during the previous step) that gives the buyer the right to get out of the deal for any or no reason. The contract may include a non-refundable Due Diligence Fee, which is paid to the seller upon formation of a contract and credited at closing to the buyer. However, the Due Diligence Fee is not required in a contract, and we sometimes see contracts without this fee.


Here's the big deal about Due Diligence. The buyer should prudently use this time to conduct home inspections, appraisals, surveys, and other due diligence that would be needed to close the sale (and to make the buyer feel comfortable in doing so). If the buyer wants to get out of the deal because the septic system failed an inspection, he would need to do so prior to the end of Due Diligence. Any cancellation of the contract after the end of Due Diligence would result in the forfeiture of the buyer's Earnest Money Deposit. Earnest Money is refundable during Due Diligence, but it "goes hard" after Due Diligence ends.
It's also a good idea to check with your lender prior to submitting an offer to be sure the time frame in the contract is enough time for your lender to approve your loan.
Pre-Closing and Title
According to the Offer to Purchase and Contract, the seller is obligated to provide marketable and insurable title to the buyer. However, it is the buyer's responsibility to conduct a title exam. In North Carolina, we use real estate attorneys to conduct the title exam. This is a key difference between North Carolina and many other states that use title companies. The buyer's attorney will also obtain a title insurance policy for the buyer.
In most cases, the real estate attorney (or "closing" attorney) will be engaged during the Due Diligence period. If not, now is the time to engage an attorney and prepare for closing. In the case of a financed sale, your lender will prepare the Closing Disclosure (the type of closing statement used for sales that involve a mortgage). In the case of a cash sale, a HUD-1 closing statement is used. The closing statement will specify where every dollar goes in the transaction, and how much money a buyer needs to bring to closing. In some cases, a buyer will not need to bring any money to closing.
The day of closing, or a day or so before, a buyer may wish to do a pre-closing walk-through of the property. In the Asheville and Black Mountain real estate markets, "mail-away" closings with out-of-town buyers are common. If the buyer is out of town, the buyer's agent can do the walk-through on behalf of the buyer.
Closing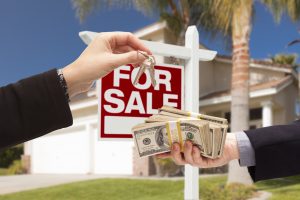 A "sit-down" signing is the norm for purchases involving a mortgage because financed sales involve a lot more paperwork than cash sales. This is also when the keys are delivered to the buyer. Traditionally, this is called closing, and that's the custom in the Asheville area as well. However, this is really called "Settlement." After Settlement, the closing attorney still needs to update the title and record the deed (and deed of trust in the case of a mortgage) at the county courthouse. This is called Closing. So settlement takes place first and is part of the Closing.
Contact Us to Buy a Home in Asheville!
When you're ready to start the home buying process and move to Asheville, we'd love to help!