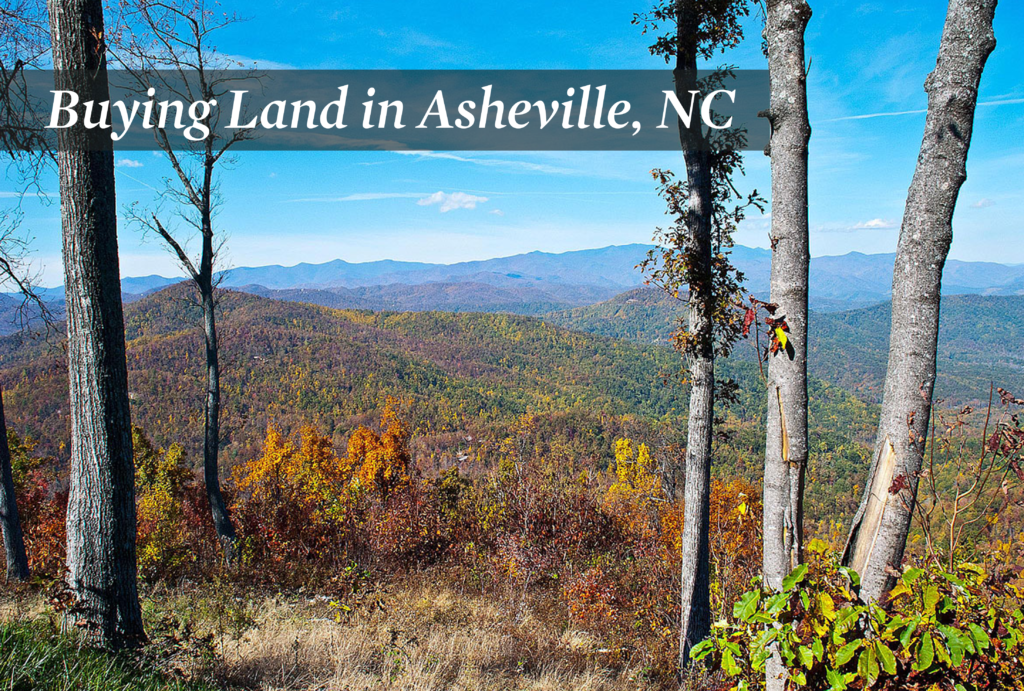 The market for land in Asheville, NC is very different than in many other parts of the country. The varied mountain topography of our area, as well as the vast amount of protected land in National Forests, watersheds, and state forests limit the amount of supply in the market. At the same time, the inventory that is available is incredibly diverse. Land for sale in and around Asheville can be anything from large tracts of raw land to plotted neighborhood lots of all sizes, from tiny lots in intentional communities to generous estate-sized lots in exclusive gated subdivisions.
What Type of Land is Available for Sale in Asheville?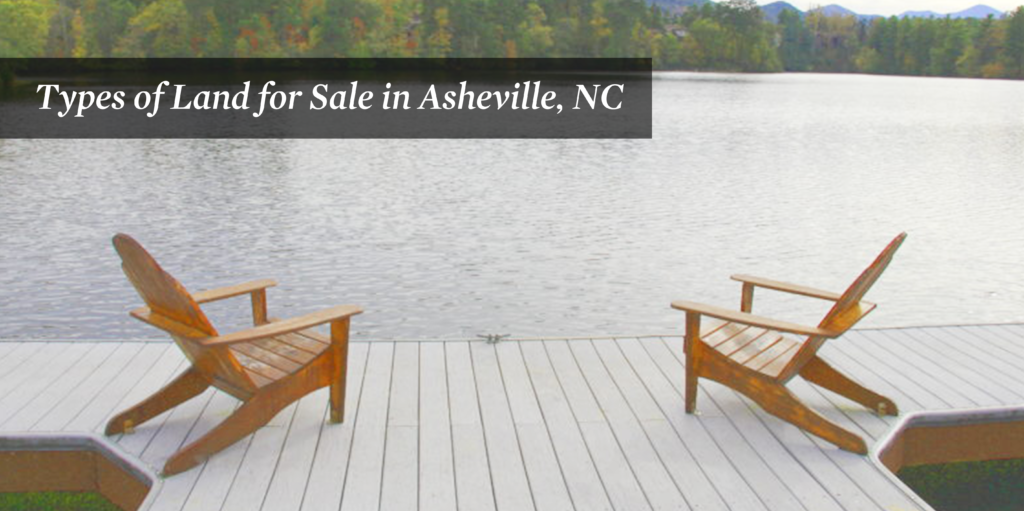 Developments & Planned Communities
Let's start with buying land in developments and planned communities around Asheville. During the runup that led to the real estate bubble, a very popular development model was to create a community in the mountains with some amenities, architectural guidelines, and restrictive covenants. Many of these were gated communities. Some of these communities were incredibly successful and remain so today. Others were successful during the bubble but struggled mightily once the recession hit. The key differences between the successful neighborhoods and those that weren't so successful were location and topography. Subdivisions closer to town, whether that town is Asheville, Weaverville, Black Mountain, etc. always had a demand for lots. Other communities that were more remote saw listings take longer to sell. And lots that offered gentler topography were always in higher demand, as they are more cost-effective to build on.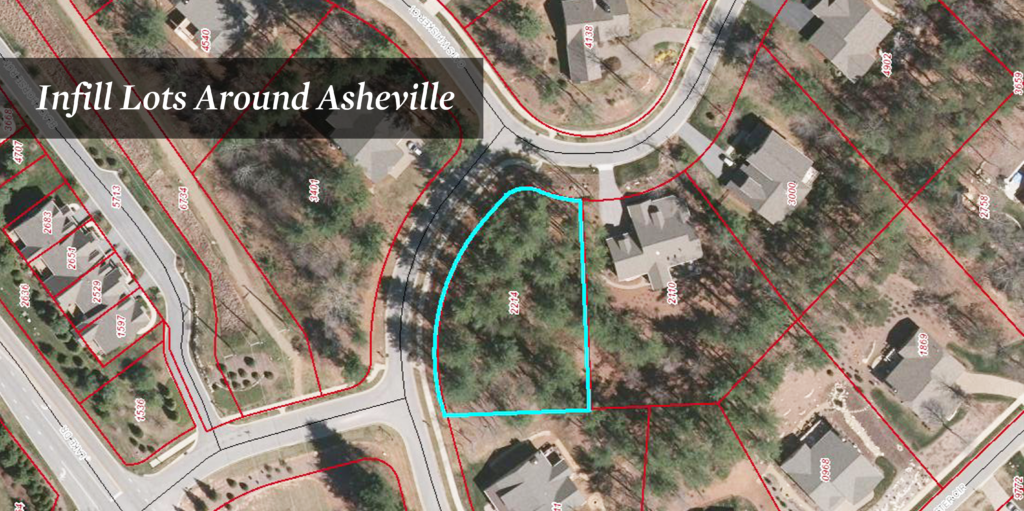 Infill lots
Many of the platted lots within the city limits of areas like the City of Asheville and the Town of Black Mountain are considered "in-fill" lots. These lots are typically small, with a quarter-acre lot considered pretty typical. But they can be much smaller. For example, newer neighborhoods like Black Mountain's Tudor Croft subdivision offers lots that are less than a tenth of an acre. In recent years, many lots in Asheville in neighborhoods like West Asheville and Kenilworth have been subdivided to offer lots between one-tenth and one-fifth of an acre. These lots have proven to be popular among buyers because they are typically in areas that are very close to amenities like shopping, dining, and outdoor recreation. In many cases, these amenities are even within walking distance of these parcels.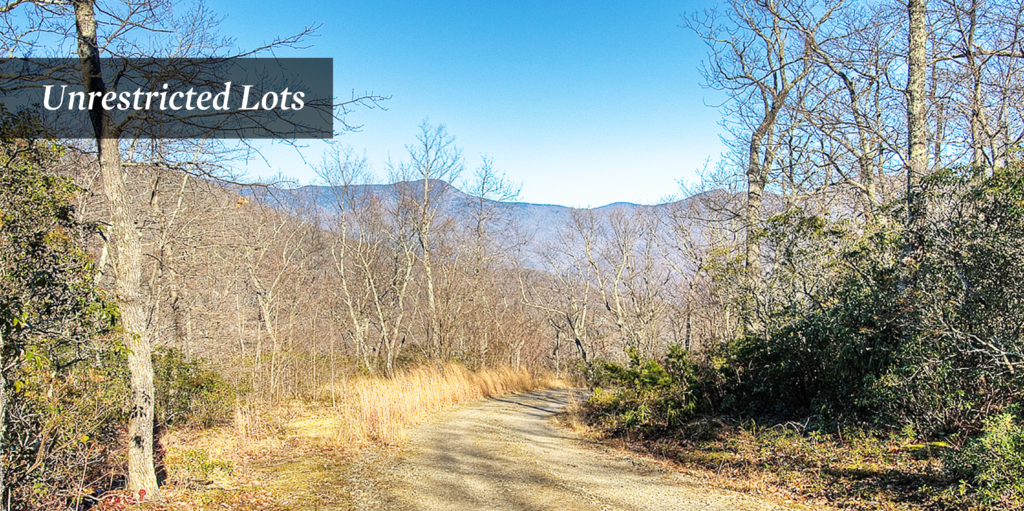 Estates and Unrestricted Land
Within the greater Asheville area, which includes other areas of Buncombe County and surrounding counties, there are larger tracts of land that are either undeveloped or unrestricted (or both). These parcels of land can be rugged pieces of mountain land, rolling equestrian properties, or even riverfront land. Unrestricted land can be a good choice for those looking to "bug-out," or simply for buyers who just want some privacy and the freedom to use the land as they see fit. Unrestricted land near Asheville is also ideal for permaculture or agricultural use.
Fairview is a popular area to find open fields for equestrian use, especially in its Cane Creek Valley. If you go north of Asheville into Weaverville or further into Madison County (and into towns like Mars Hill and Marshall, NC area), you can find rolling hills with long-range mountain views. These areas are a little further from downtown Asheville, but access back into the city is good via US Highway 74A and Interstate 26. For buyers wanting more shoulder room for privacy, but also the protection of restrictive covenants, there are some restricted communities further from town that offer mountain views, architectural guidelines, and even gated security in some cases. A good example of this is Gateway Mountain, a gated mountain community near Black Mountain and Old Fort, NC. Neighborhoods like this are lower-density, with estate-sized lots that offer the benefits of privacy and covenants.
Where are the Best Places to Buy Land near Asheville?
So what are the best places to buy in Asheville? Of course, this is in the eye of the buyer. As the old saying goes, "real estate is all about location, location, location." Considering that one day you may want to re-sell your land, possibly with a house on it at that point, it stands to reason that the best places to buy land near Asheville would also be the areas where there is turnover and buyers are active in the market. As a general rule, there are several features of a tract of land that make it more desirable in the Asheville real estate market. First, proximity to Asheville or another town like Black Mountain or Weaverville can be important. For some buyers, this means walking distance to downtown, while for others a 30-minute drive might be acceptable. Second, a feature like mountain views would make neighborhoods like Asheville's Town Mountain, Ciel, or Beaucatcher Heights a good choice. But if access to amenities is paramount, then Ashley Woods, Southcliff, or Biltmore Lake would be worth consideration. Third, the "buildability" of the lot makes it more desirable than a lot that is very steep and costly to build on.
What Documents are Required to Buy Land in Asheville?
Buying land in Asheville is very straightforward in terms of paperwork. Our "Offer to Purchase and Contract" is very similar to the contract we use for buying homes. In the contract, we'll specify a Due Diligence Period, which is the time period for a buyer (with the help of the buyer's agent) to evaluate the lot in detail before actually making a purchase. Because we have a Due Diligence Period in which the buyer can terminate the contract for any or no reason, we don't have to worry about separate contingencies for financing, surveys, etc.
There may be other documents involved, such as a written disclosure from the seller about the existence of an Owners' Association. But the Offer to Purchase and Contract is the most important document in a land sale in North Carolina.
What Due Diligence Should I do when Buying Asheville Land?
When buying land, it's important to consider how many "unknowns" there are, especially compared to buying an existing home. Land buyers need to consider restrictive covenants, zoning ordinances, access to utilities, and construction costs. It's also wise to obtain a survey.
Covenants, Conditions, and Restrictions (CCR's)
Restrictive covenants, including architectural requirements, will dictate how the land can be used, what can be built on the lot, and may even impose minimum square footage requirements and require specific construction materials to be used. In some communities, these covenants may be enforced by a Property Owners' Association or POA. We often call them HOA's as well (Homeowners' Association).
There are many communities in the Asheville area that have deed restrictions but no POAs, as the restrictions may be minimal and no POA is necessary. There are also several communities that have a POA that exists solely for the purpose of collecting dues for private road maintenance. Other POA's collect dues to maintain amenities and other common areas.
Zoning Ordinances
Local zoning ordinances impose restrictions on the use of real estate by the local municipality (town or county). Zoning is more strict in Buncombe County than in some other nearby counties, such as McDowell, where zoning doesn't even exist everywhere in the county. Buncombe County also has zoning "overlays" for certain areas to ensure that our area remains beautiful and that development doesn't disturb the viewsheds and natural scenery. These overlay districts are the Steep Slope/High Elevation, Protected Ridge, and Blue Ridge Parkway Overlay Districts.
It's also important to note that Buncombe County has a zoning ordinance, while the City of Asheville maintains its own ordinance. Other municipalities like Black Mountain, Biltmore Forest, Montreat, and Weaverville all have their own town zoning ordinances.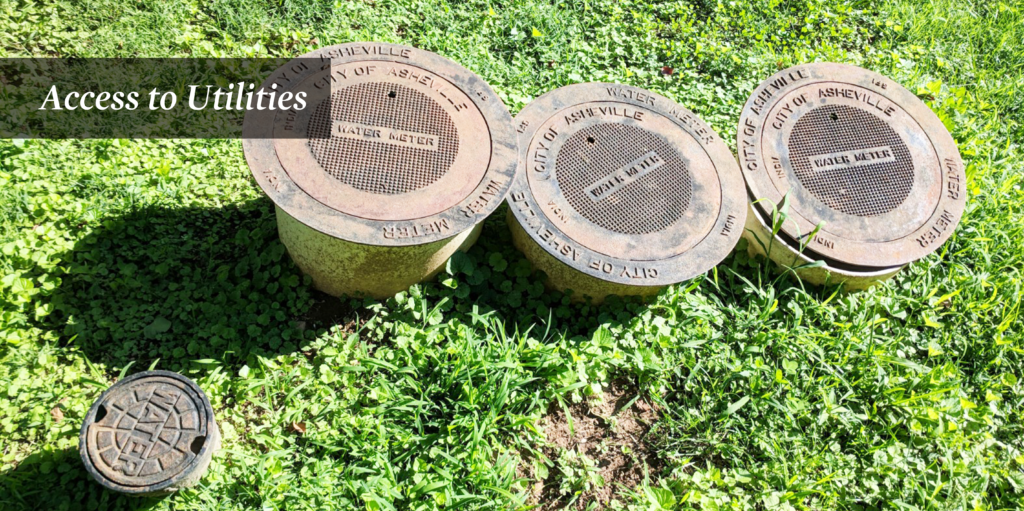 Availability of Utilities
One of the most important things that we research as part of our land-buying due diligence is utilities. We live in the mountains, and so we don't have public water and sewer lines everywhere. Septic systems and private wells are very common. As buyer's agents, we frequently help our clients apply to the Environmental Health offices at the county level to have the lots evaluated for a septic permit prior to our clients closing on the lot.
While public water and sewer can be available in rural locations and are usually accessible in urban locations, it should never be assumed that they are available without verifying with the local water department or MSD (Metropolitan Sewerage District in the Asheville area). Natural gas is typically only available in more developed parts of the Asheville area, with propane being very popular in other areas.
One of the most common questions we hear about land is "what kind of internet service is there?" Land that is closer to a town or city will often have high-speed cable internet available. Cable is the fastest internet service available in Western North Carolina. The more remote the land is, the more likely it is that internet service will be offered by a phone company (often as DSL) or a satellite internet provider. Asheville also has a local company called Skyrunner that offers a wireless internet signal to many areas in Western North Carolina, including many remote locations.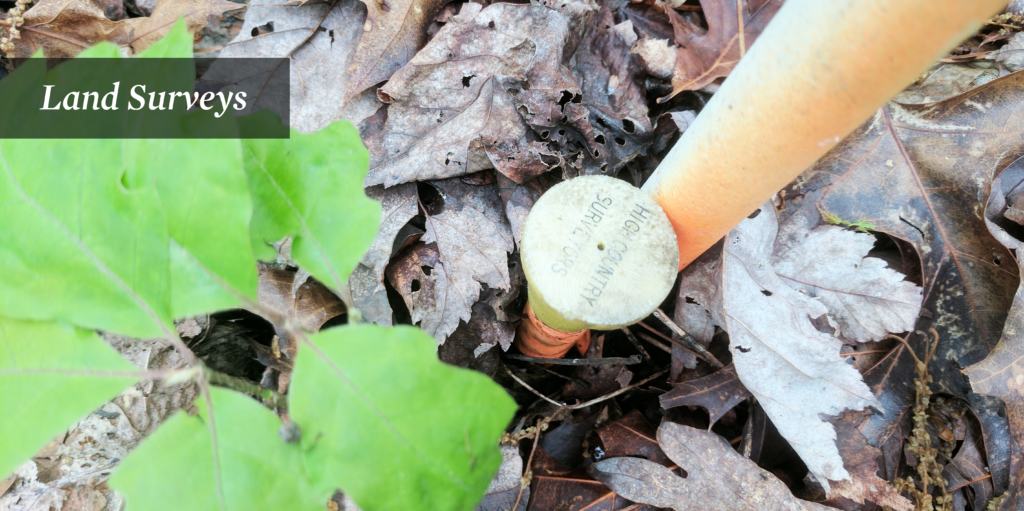 Surveys
Many lot listings will include a boundary survey. But if not, a new survey can be ordered during the Due Diligence Period. Surveys not only show lot lines, but they can also show encroachments, easements, topographical (contour) lines, and improvements on the property. A new survey can also ensure that your title insurance policy, which is obtained at closing, will protect against survey-related title issues in the future.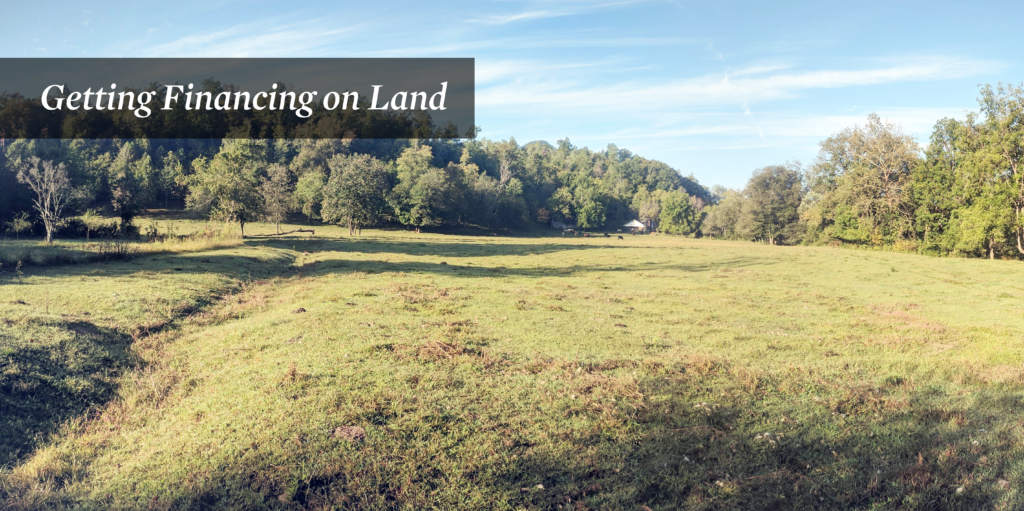 Can I Finance Land in Asheville?
After the real estate bubble, many lenders shied away from land financing. This is because so many buyers bought land as a speculative investment, and many of those lots were eventually foreclosed. However, the time has passed and lenders are now willing to loan on land. We have found the most success with land financing coming from credit unions and smaller community banks.
If you're looking to buy land and then start building immediately, it may be possible to use a construction loan to acquire the land. These loans can also convert into a conventional mortgage once the construction phase is complete, usually without a second closing. If you're looking for a local land lender, give us a call for some recommendations. Many local lenders offer programs for land buying in the Asheville area.
It's important to keep in mind that financing on land is riskier for the lender, so the loan terms are not generally as attractive as what you might get on a mortgage for an existing home. We typically see slightly higher interest rates (expect around a point higher than a house mortgage), shorter terms (10-15 years for land), and higher required down payments (at least 20% in most cases). So while $2000/month might buy a $400,000 house, it may only buy a $300,000 lot. However, most borrowers don't keep their land loans for long. Land mortgages are typically used to buy and hold the lot for just a few years or less until construction begins.
What Does it Cost to Build on a Lot in Asheville?
This is the million-dollar question. We get asked all the time, "What's the typical price per square foot to build in Asheville?" There's no easy answer. There are simply too many variables that go into building a new home. For example, steeper lots cost more to build on than flat lots, but steeper lots are more likely to have a great mountain view. Also, what type of home will you build? What level of quality and finishes will you use? We recommend discussing your building plans with a general contractor or an architect, and this is something that can be done during a contract due diligence period if you don't already have a builder in mind.
Supporting Image here – Use a photograph of an acre with an outline of the property lines/borders if possible. Or, something to that effect, such as an undeveloped acre. Should include the subtitle or a variation.
What Does Land Cost per Acre in Asheville?
This is another one that's hard to answer unless we narrow it down. We need to make sure we're comparing apples to apples. For example, a better question might be this:
"What does a reasonably flat lot cost in a gated community within 10 minutes of downtown Asheville?" Or "How much is a lot within walking distance of West Asheville's Haywood Road area?" Or "What can I buy a lot for in Black Mountain with mountain views and public water and sewer?"
Even within a specific neighborhood, there can be a wide range of prices. Take Laurel Ridge for example, a gated community just north of Black Mountain. Many lots in Laurel Ridge offer spectacular mountain views, and even some of the lower-priced lots offer great views. But some of the lots are also very steep, and therefore more expensive to build on. The more expensive lots typically offer views AND a relatively gentle building site.
Summary: Is Buying Land in Asheville a Good Idea?
Yes, absolutely! But it's important to know why you're buying. We have served many clients over the years that bought land in order to build one day in the future, maybe several years down the road. This may be a second home or a retirement home. While these buyers will have carrying costs for a few years, they typically expect land prices to be higher when they get ready to build. So, the idea is to buy the land at today's prices and spend the next few years wrapping up retirement, selling their current home, and planning construction of the new house.
Other buyers buy land to start building immediately, especially if they need a new home for their family. Or, they have already retired, have sold their previous home, and may be renting in the Asheville area until they find a lot to build their dream home on.
We've even sold many pieces of land to speculative buyers. It's important to consider that owning land is not usually an income-producing investment. Vacant lots and raw land rarely generate cash flow, yet they do incur property taxes (and sometimes POA dues). So buying land for speculation is a buy-and-hold play, and the owner should be prepared to hold the lot for potentially several years before realizing a profit.
Let Us Help You With Buying Your Asheville Land Purchase
Our team of real estate agents is very experienced in all aspects of land in the Asheville area. Our contacts in the industry among builders, surveyors, and land planners are invaluable for our clients. We looking forward to serving you and showing some of the finest lots in the Asheville area! Contact us using the form below, and let's get started!