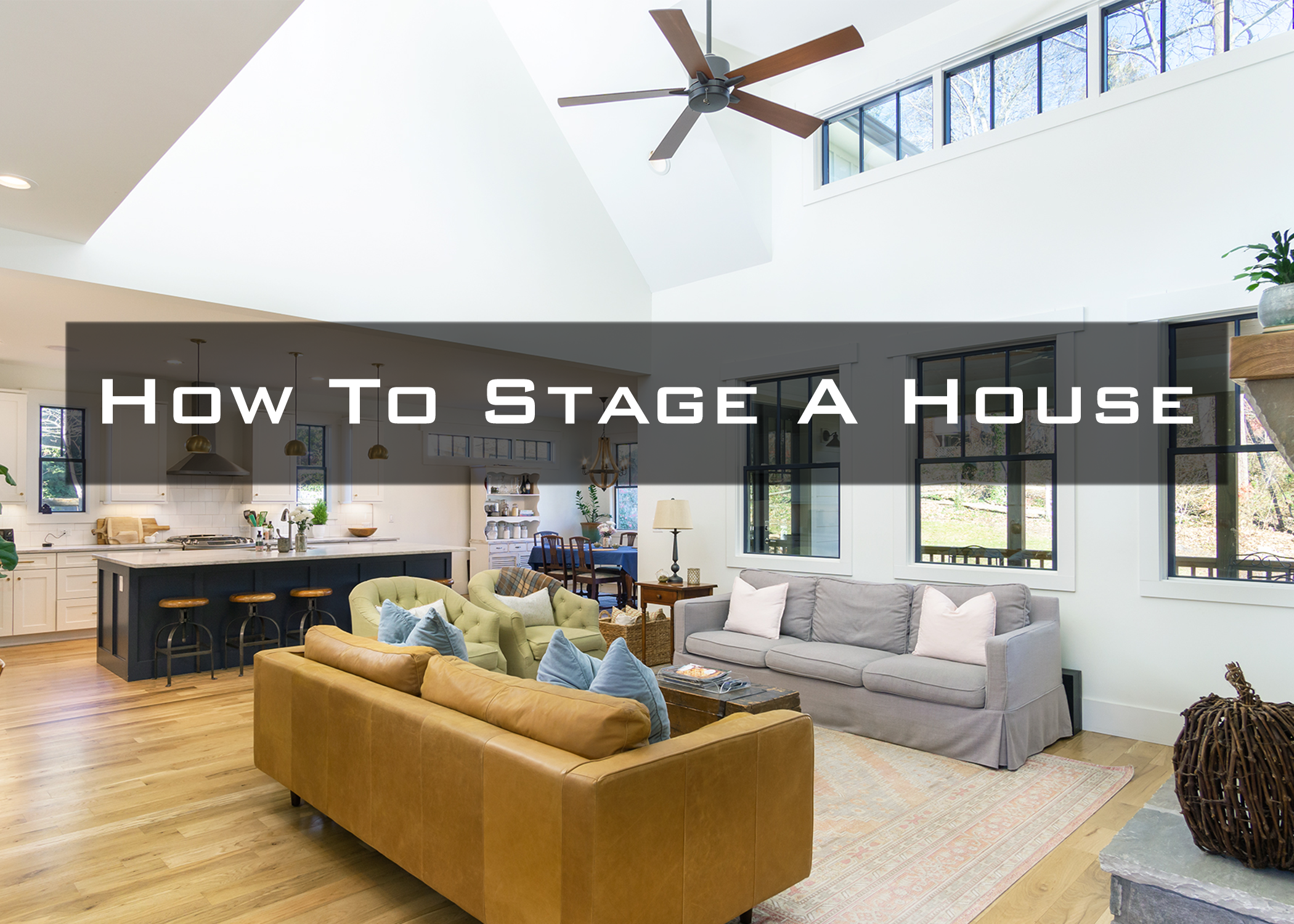 Do you want your home to sell your quickly once it hits the market? If you want the offers to start pouring in, staging is key. This method of preparing your property has been proven to entice buyers and expedite sales. According to Forbes, 95% of staged homes sell in 11 days or less, which is 87% faster than non-staged homes. Staged homes sell for higher prices too, so you should definitely consider staging your home as you get ready to move. Read on to find out how to stage a house to sell, how much it costs to stage your house, and what to expect along the way.
Staging this home in Laurel Ridge in Black Mountain through removing furniture and decluttering the rooms allowed buyers to focus on its gorgeous views and fine finishes, rather than on distracting personal details.
How do I prepare my home for staging?
Staging a house is a method of setting it up so that buyers can visualize themselves living in the space. The goal is to remove any barriers in the buyers' minds so they can imagine the home as their own. When you stage, you are putting the spotlight on your home's best qualities. A staged home also makes for better photos and videos to post on online listings.
Ready to begin? Take on these pre-staging steps first:
Declutter. Clean off countertops, tables and anywhere that your odds and ends have accumulated. Clutter is distracting and will take buyers' attention away from the home itself. Remove piles of mail, shoes by the door, excess toys and games, winter coats in the closets – anything that is cluttering up the space and making the home look smaller. During your decluttering spree, it may be helpful to invest in some discreet storage containers, such as wicker baskets, that will elegantly hide anything you don't want to be visible to buyers.
Erase signs of pets. Your pets are part of your family, but to a potential buyer, their toys, food bowls, kennels, and leashes may be a distraction (especially if the buyer is allergic). Move these items to a cabinet out of sight, and make sure to use a lint roller to get pet hair off upholstery and curtains.
Depersonalize. Remove family photos from the walls and side tables, and take magnets off the refrigerator. Move toothbrushes and personal care items off the bathroom counter. Put away clothes and declutter the laundry area. While it can be emotional to remove the items that make your house feel like a home, it's an important part of helping buyers connect with the house.
Deep clean. With less mess on the countertops and floors, now is the ideal time to deep clean the home. This step is vital, as dirt on windowsills or stained carpets can turn buyers off as they explore the house. Make sure you sweep out cobwebs, scrub out the refrigerator, and dust fan blades. A professional window cleaner can clean the inside and outside of hard to reach windows, allowing more natural light into the home. A clean house will help buyers feel that your home is in good shape and a smart investment.
Make minor repairs. Look for small signs of "wear and tear" around your house that can be easily fixed. Small imperfections can usually be taken care of with minimal time and money, and addressing them can make a big difference to buyers. Check for holes in the walls, scratches on cabinets, peeling caulk, scuffs on walls, and other issues that could seem like signs of neglect.
This Black Mountain home had two kids and a large dog living in it prior to the sale, but the owners did a fantastic job staging it through decluttering, depersonalizing, and erasing all signs of the beloved pet.
How to Stage a House for Sale
Once you have tackled the tasks above, you can begin the actual staging of your home.
Increase lighting. While you may prefer to keep the lights dim while you relax at home, it's important to keep your home well lit during showings. A bright, well-lit home feels welcoming and cheery, while a dark home can feel closed-off and unapproachable. During staging, open the blinds and let the sunshine in. Turn on lamps and closet lights so every area of the home is ready for showtime.
Assess your furniture. Does your living room feel crowded? Are there still extra chairs at the table from Thanksgiving dinner? By removing extra furniture, you can create open spaces and walkways that are easily navigated. Remove any low pieces that could be a tripping hazard to guests. Angle chairs towards each other so your living room feels like the perfect place to sit and chat. Set the table so buyers can imagine gathering there for dinner in the future.
Stay neutral. Adding colorful pieces can bring a lot of personality to a home, but when you're staging, keep the color schemes neutral. Remove brightly-colored decor in favor of neutral and earth-toned pieces. If you have colorful walls or patterned wallpaper, consider repainting or removing the wallpaper. While it may be more expensive, repainting can make a major difference to buyers who want a home that will be a clean slate – a place they can make their own.
Pay attention to curb appeal. The outside of your home will make or break a buyer's first impression. If your garden is overgrown, there are toys in the yard, and the paint is peeling off the front door, buyers could develop a negative feeling about your house before they even walk inside. Make sure the lawn is consistently mowed and the garden is weeded. Fresh mulch can make a tired flowerbed look great! Check your gutters for excess leaves, and repaint any areas around the house where paint is peeling. Consider adding some potted plants to the porch or a wreath on the door to make the buyer feel welcome as they approach your home.
This Black Mountain home, located just above the golf course, is staged to help the buyers imagine dining together with friends and family through a set table. They also angled chairs toward each other and kept the palette neutral so the living room is an inviting place for conversation.
How to Stage a House While Living in It
While it can be ideal to completely move out of your home before showings begin, for many sellers this is not an option. It's not impossible to stage a house while living in it, however. If this is your situation, decluttering and depersonalizing is especially important, and you should aim to put at least half of your belongings in storage.
Try to disconnect from the home by imagining that you're already moving out, and remove anything that marks the home as uniquely yours. Use the kitchen minimally and keep the bathrooms tidy, so that your home can be shown at any moment. If you have children, have them choose a few favorite toys to keep out while the rest can be packed away. Click here for more tips and tricks for staging a home while living in it from Homelight.
How much does it cost to stage a house?
The cost of staging a house depends on whether you are staging yourself or hiring a professional. If you hire a professional stager, you will pay for the initial consultation and then monthly staging and possibly rental fees. The stager may decide to rent furniture to put in your house and add decorative flourishes such as fresh flowers and fruit in the kitchen. As the homeowner, you will have the choice of how many rooms to stage. Many sellers choose to stage strategic rooms such as the living room and kitchen for maximum impact.
The final cost of professional staging comes down to the size of your house, amount of furniture rented, and number of rooms being staged. On average, home staging costs about $1,500 per month, according to Angi.com. The initial consultation typically costs $150 to $600, followed by the rentals ranging from $500-$600 per room per month.
It's not always necessary to stage every room in your house. And some rooms can be "virtually staged," where furniture and decor are digitally added to photos of your home. Of course, this strategy only works for your home's listing advertisements, and not for showings.
This Black Mountain home was staged by the owners, saving about $1,500 per month by not hiring a professional stager.
Staging a House on a Budget
If you decide to stage your home on your own, you could save over $1,000 a month. While you won't have access to the experience and expertise of a professional stager, you will have the freedom to make choices that fit your budget. You can either use your own furniture or rent the bare minimum to make your home look polished. Taking on simple repairs yourself can save money as well, and you can always look for a local handyman to help with more complex projects.
As you plan your staging budget, keep in mind that the dollars you invest now will pay off in the long run. The money and time you put into staging your home can have a major effect on how long your house stays on the market and how much it sells for. In a report from the National Association of Realtors (NAR), it's stated that for every $100 invested in staging, the potential return is $400, as staging increases the amount buyers are willing to spend on a property. As the NAR writes, "Twenty-three percent of buyers' agents said that home staging raised the dollar value offered between 1% and 5%, compared to similar homes on the market that hadn't been staged."
Selling Your Home in Asheville
If you are planning to sell your home in the Asheville, NC area, the agents at Freestone Properties would love to help. Our website is full of resources to help you sell your home in Asheville, as well as information on the Asheville real estate market. Of course, if you're planning to buy a house in Asheville instead, we've got you covered there, too. Drop us a line and let us know how we can help.