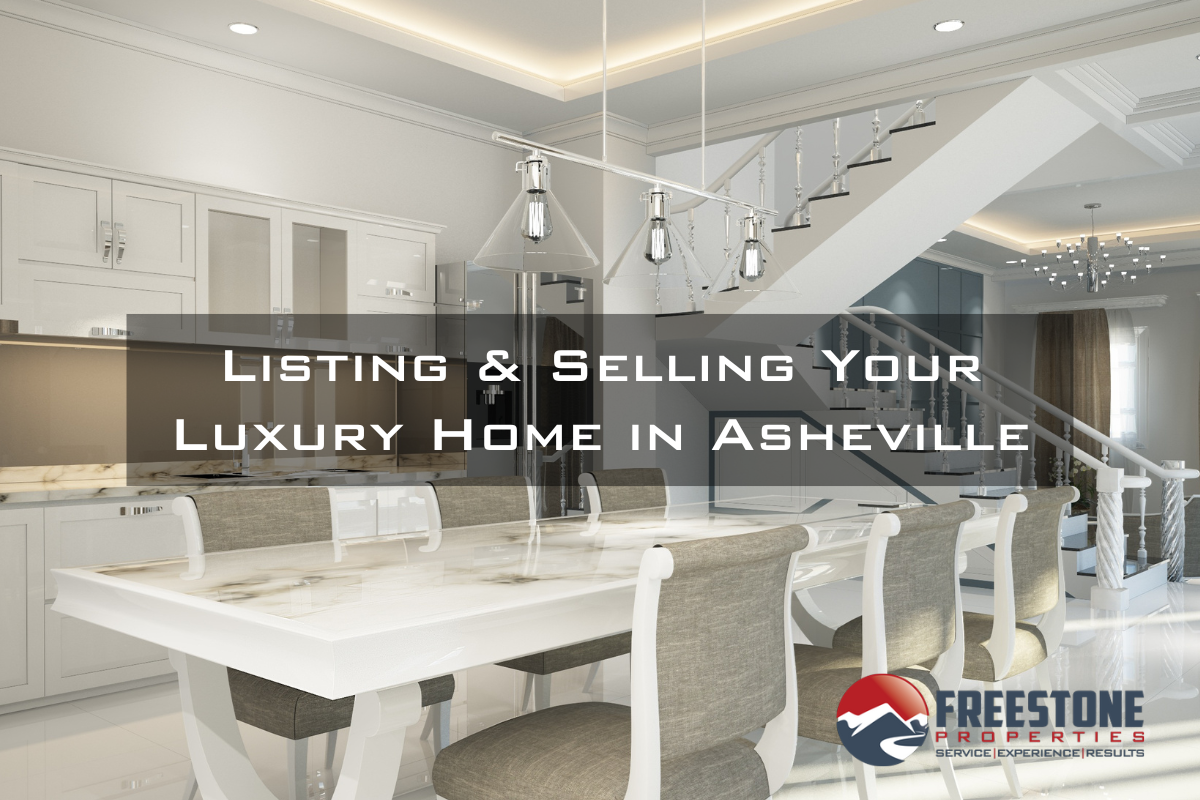 Are you planning to sell your luxury home in Asheville, NC? We can help. The process of selling a luxury home differs in many ways from selling a non-luxury home. Attention to detail is crucial when listing a luxury home for sale, and it can make or break your chances to get the price you want for your property. And since Asheville is a seasonal yet highly desirable area that's exploding in popularity, you have a lot of variables to consider.
Over the years we've helped many clients sell luxury homes here in Western North Carolina, and we'd love to help you, too. Below, we've collected some of our top tips for listing and selling your luxury home in Asheville, complete with insider knowledge of the area's real estate market. Take a look to learn more, then contact us to talk with one of our agents about selling your home with Freestone Properties.
Table of Contents
What makes a home luxury?
To begin, it's important to understand the features that define a luxury home. In general, luxury homes are located in enviable locations, whether that's the top of a mountain with a jaw-dropping view or the most prestigious neighborhood in town. These homes have generous square footage, with some larger luxury houses and mansions spanning 5,000 to 6,000 square feet or more. These homes are built with high-quality, long-lasting materials, and inside there are premium finishes (such as marble countertops) and lavish features (think: a home movie theater, customized walk-in closets, or a wine cellar).
The price point of a luxury home, as you might imagine, can be set quite high; you'll find most luxury homes listed in the Asheville area starting near $1M, but that's just a starting point. Asheville luxury properties can easily top $2M or more. When it comes to how long luxury homes stay on the market, it depends on the area and the type of property. In Asheville, the average length of time a luxury home (priced at a million or more) stays on the market has been trending downward since 2020, as more buyers have been interested in moving post-pandemic.
Like other cities, Asheville contains a wide range of luxury home types, from ultra-modern new builds to historic mansions. However, we have seen a few common features that appear regularly in luxury homes for sale in Asheville. Expansive views are common, especially from mountain homes and luxury log cabins. Views don't only mean mountain views; some properties, such as waterfront homes on nearby Lake James, have incredible mountain and lake views.
Common Amenities and Features for Luxury Homes in Asheville
Floor-to-ceiling windows are a staple of luxury home design everywhere, but in Asheville, they often provide picturesque views of the Blue Ridge Mountains or Downtown Asheville.
Cathedral ceilings are common, as they're often accompanied by large windows and add a feeling of grandeur to a home.
Decks and balconies are also prevalent, especially if the home is facing a mountain range or the Asheville city skyline.
Natural surroundings, or naturehoods, are a top amenity in Asheville (and all over the world, ever since the pandemic). Being close to nature is easy in Asheville, and many of the city's luxury homes sit high on the surrounding mountains, surrounded by serene forests.
Pristine lawns and gardens are common features throughout Asheville's luxury neighborhoods, but many mountain retreats have a more natural setting.
Rustic, cabin-inspired design featuring wood and stone is specifically popular in Asheville, especially in homes farther away from downtown. These luxury cabins are built with natural materials to blend into their mountain surroundings, all while still featuring the decadent amenities you expect from a luxury home.
Many neighborhoods in and around Asheville, especially some high-end gated communities, are filled with amenities that attract buyers. Luxury amenities include wellness centers, golf courses, and well-maintained hiking trails.
Considerations When Preparing to List Your Luxury Home in Western NC
Now that you know exactly what defines luxury in Asheville, you may be wondering how to prepare to list your luxury home so it performs well on the Asheville market. Here are our recommendations:
Consider the time of year. While the real estate market in Asheville is active all year long, there are certainly better times than others to list a luxury home. We recommend listing in the spring or summer, specifically around May or June, to take advantage of the influx of buyers looking for high-end homes that we usually see around that time of year. Check out our guide on how to sell your Asheville home fast for an in-depth look at the market cycle.
Consider your neighborhood. If there are other homes listed for sale down the street, take a look at how these homes are marketed online and how they're priced. This will help you determine how to price your home. If you work with one of our local real estate agents, we'll perform a Comparative Market Analysis to give you even more insight into the prices of similar homes in the area.
Consider your home's best features. What will make your home stand out in a crowded market? Does it have amenities or design elements that are trendy or popular? What makes it a uniquely "Asheville" home? Knowing your home's highlights will help you know what niche of the luxury market your listing should fall into.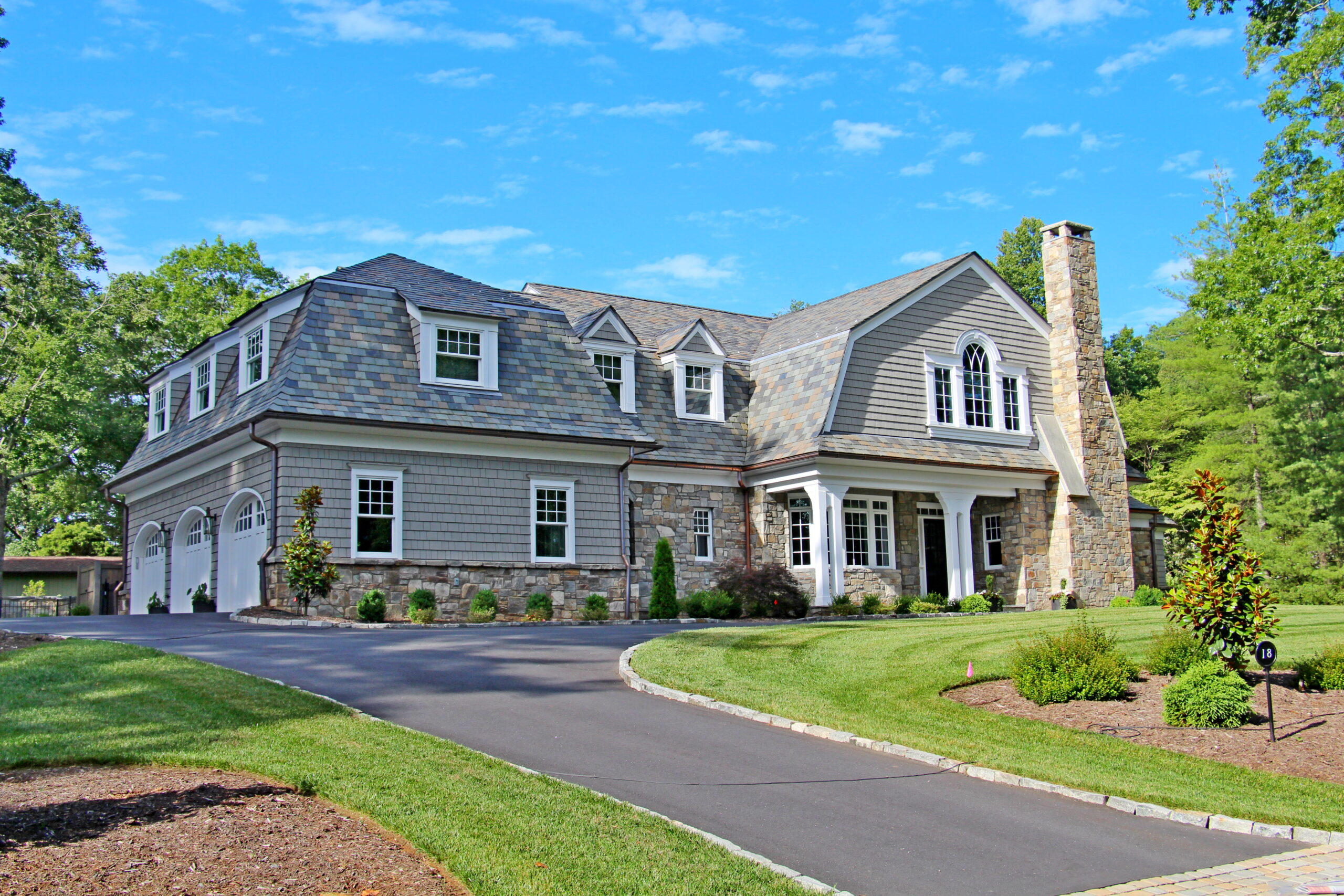 6 Tips to Sell Your Asheville Luxury Home Quickly
If you need to move quickly and time is of the essence, you'll want to do all you can to sell your luxury home quickly. Working with the right people is essential, as is marketing your home to fit the luxury niche. Here are our top tips for quickly selling your Asheville luxury home:
Choose a selling agent with luxury real estate expertise. Find an agent who is knowledgeable about the luxury market in Asheville, such as one of the experts here at Freestone Properties. With years of experience selling high-end homes here in Western North Carolina, you can be confident that your home sale is in good hands when you work with us.
Make it clear that your home is ready for move-in (if applicable). Buyers who are trying to relocate quickly will want a home that doesn't require renovations. If you're willing to include some of your furniture, art, or decor in the sale of your home, you can sweeten the deal even more for your buyer (and stand out in comparison to similar luxury homes in your area). This is especially true if your home is positioned in the market as a second home or a home with vacation rental history (or vacation rental potential).
Set a fair price. While you definitely want to make what your house is worth from its sale, you have to be aware of what similar homes are selling for in your area. Setting a price that's too high in comparison to other homes for sale in the neighborhood will deter potential buyers and result in more time on the market. Work with your selling agent to ensure you land on a price that satisfies everyone.
Have your home professionally staged. Luxury homebuyers are expecting pristine photos and detailed descriptions of your home, so having your house staged by experts is ideal. Staging will help buyers imagine themselves living in your home. Rather than entering to find empty rooms, buyers will find welcoming spaces that are arranged to specifically show off each room's best features. If staging isn't practical for your individual situation, ask us about "virtual staging." The photo below is an example of a virtually staged home that we sold for a luxury home builder. Even the woodstove is virtual!
Prioritize great photos. Images that accentuate your home's most luxurious features will help pique buyers' interest, especially if your home has elements that are hard to find. Hire a photographer who has past experience with luxury real estate photography. For an extra marketing boost, you can even commission a drone photographer to shoot overhead footage of your property (which can make features like a swimming pool or expansive gardens truly shine).
Remember why people move to Asheville. Highlight how your home fits into the area and all it has to offer. For instance, if your home has an impressive view of the Blue Ridge Mountains, have pictures taken at sunset to show the view in all its glory. If your home has eco-friendly features (such as solar panels or energy-efficient appliances), make note of them in your listing to catch the attention of the environmentally conscious.
Our Asheville Luxury Selling Process
Marketing luxury real estate is just the beginning of the process. Contract negotiation and navigating the escrow period are essential elements that must be handled adeptly before the sale can close. Here at Freestone Properties, we take a hands-on approach with every sale, customizing our process to suit each seller and their home. When you sell your Asheville luxury home with one of our selling agents, you won't get a cookie-cutter experience. Our experts are thoroughly familiar with the high-end neighborhoods in Asheville and the surrounding area (such as Biltmore Forest, The Settings, and Versant). Our team will bring the knowledge you need to market your home effectively in the area's luxury home market. Selling your luxury home can be overwhelming, so choose a team with a proven track record of excellence. If you're ready to get started, contact us and we'll be in touch soon. We look forward to hearing from you!