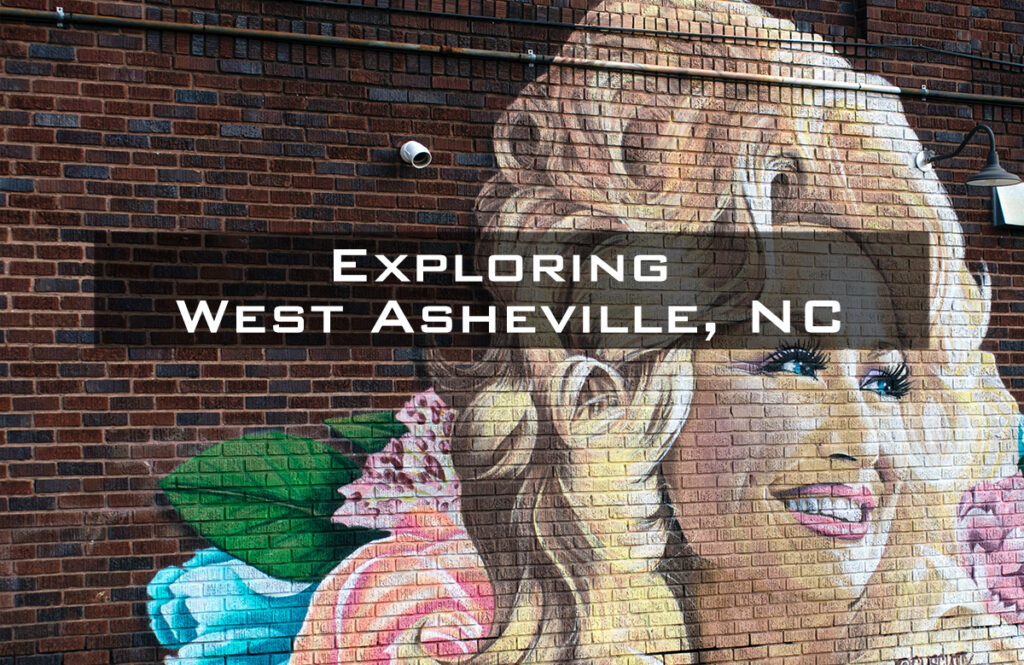 Asheville, NC, is one of the Southeast's most unique travel destinations, with art, culture, and history around every corner. While downtown Asheville has plenty of personality, any visit to the area is incomplete without a stop by the quirky neighborhood of West Asheville. Located a few minutes from downtown, this historic area is full of local businesses, colorful artwork, and authentic charm that continues to shine through as the area grows. Read on to find our recommendations for the best West Asheville restaurants, breweries, shops, and attractions.
West Asheville History
Although West Asheville is part of the city of Asheville now, this wasn't always the case: the two areas were considered separate towns until 1917. West Asheville's history as a tourist destination stems back to the discovery of sulphur springs in what is now the Malvern Hills area.
After buying 1,200 acres of land in 1885, Edwin G. Carrier created Haywood Road, the central thoroughfare of West Asheville to this day. In 1917, a vote was held to decide whether West Asheville would be consolidated with Asheville, and the measure passed.
The twentieth century held cycles of boom and bust for Asheville as a whole, and the West Asheville neighborhood fared similarly. After meager years in the 1970s and 80s, West Asheville began to grow again as local businesses returned to Haywood Road and young families moved into the historic homes nearby. Today, the neighborhood is thriving as people are drawn to West Asheville's mix of modern businesses and historic architecture with artsy flair throughout.
Is West Asheville safe?
Yes. The area is well-populated and safe to walk and drive through. The Asheville crime rate is low — the city has a small-town feel, and doesn't deal with the crime problems that can plague larger cities.
How far is West Asheville from Downtown Asheville?
West Asheville is located just five miles from Downtown Asheville, making it a quick trip for those wanting to explore an eclectic area of the city.
Archetype Brewing is a local favorite, home to a number of barrel-aged beers and seasonal varieties. We love their live music and food trucks on Sundays.
What is there to do in West Asheville?
Walking down Haywood Street is the best way to experience West Asheville, whether you start on the Patton Avenue end or the opposite end closer to downtown. Keep an eye out for colorful murals on the sides of buildings all along the street.
Here are some can't-miss shops and venues along Haywood:
Firestorm Books & Coffee is a worker-owned indie bookstore that features small-press books and community events. If you're looking to support local writers, zine creators, and diverse speakers, this is the place for you.
For record collectors and music enthusiasts, Harvest Records is like heaven. This shop has a wide collection of new, used, and vintage records, tapes, CDs, and more.
Some of our other favorite locally-owned shops on Haywood include Flora, which offers gifts, housewares, and houseplants; Plays In Mud Pottery, which features fine, handcrafted pottery; Reciprocity, a boho-style clothing shop with new and secondhand styles; Orbit DVD, a haven for fans of comic books, movies, TV, and all things nerd culture; and Hot Stuff Tattoo, which is the home of some of Asheville's best traditional tattoo artists.
Be sure to stop by Flora when meandering through West Asheville for beautiful botanicals for your home. It's also a favorite spot for gift-buying.
West Asheville has some amazing music venues as well. Be sure to check out the show calendars for these venues:
Isis Music Hall is a concert venue in a renovated 1937 theater with a New American restaurant attached. They often feature folk and Americana musicians.
The Grey Eagle is a slightly larger venue (in comparison to the two previously mentioned). They host bigger acts and serve Latin-American cuisine at the venue's in-house taqueria.
The Odditorium is a weird and wonderful venue and dive bar featuring local bands.
Jargon, an upscale, New American restaurant in downtown West Asheville, brings together a beautiful aesthetic with creative cocktails and delectable dishes.
What are the Best Restaurants in West Asheville?
West Asheville is full of restaurants of many cuisines and price points. There are too many great places to mention them all here, but here are some of the neighborhood's very best:
Hole Doughnuts is a staple in West Asheville, serving made-to-order, piping-hot doughnuts and locally roasted coffee.
What are the Best West Asheville Breweries?
Like the rest of Asheville, West Asheville is home to great local breweries.
Archetype Brewing creates complex, creative beers, including many that are barrel-aged or created with seasonal ingredients. Their West Asheville location hosts live music sessions and food trucks on Sundays, as well as Tuesday pint nights, with pours from their core menu for only $4.
Oyster House Brewing Company has a selection of eight beers brewed in-house. They serve them up alongside seafood favorites including fried oysters, clam chowder, fish-n-chips, and etouffee.
Urban Orchard Cider Company has two locations, one on Haywood Road and one in downtown Asheville's South Slope. They craft traditional apple ciders as well as those infused with flavors such as pineapple, ginger, hops, or habanero.
Fully devoted to craft hard ciders, family-owned Urban Orchard should not be missed. It's also a fantastic option for gluten-free folks. Photo credit: Stephan Pruitt.
What Festivals are in West Asheville?
The Bears, Bees + Brews Festival takes place at Salvage Station, a riverside bar and venue, in the fall. This festival has free admission and features family-friendly entertainment, games, raffles, brews and food vendors. Experts from wildlife and environmental organizations will be there to spread awareness of how to protect wild creatures from bears to bees.
The Psychedelic Jam Fest takes place in June at the Sly Grog Lounge in West Asheville. This festival features some of the biggest psychedelic funk bands and DJs in the Southeast. If you're ready to get groovy, don't miss it.
GRINDfest is a free festival that celebrates Black entrepreneurship and the progress made by Black residents of Asheville. The festival takes place over the Juneteenth holiday (which celebrates the official end of slavery in the United States) and features music, live performances, yoga, games, food, learning opportunities, and local vendors.
Art, music, great food and beer are plentiful in West Asheville. It's a neighborhood with history that stays quirky, fun, and welcoming for all who visit. If you have fallen in love with West Asheville's vibrant personality, and you're considering moving to the area, let us know. You can also check out the current inventory of real estate listings in West Asheville here. If you're ready to make West Asheville your home, we'd love to help!