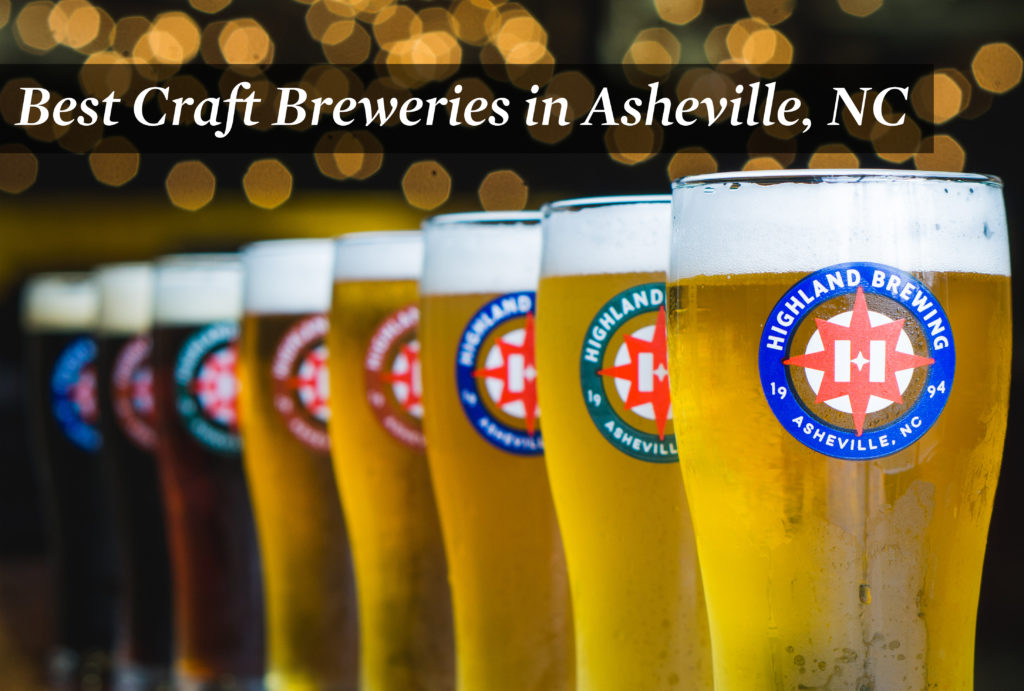 With over 30 microbreweries to choose from, Asheville earns its title as "Beer City USA" with more breweries per capita than any other city in the country. With so many breweries and so little time, it's hard to know how to make the most of your brewery visits. As locals, we've had the opportunity to test out our hometown breweries, and we've highlighted five of our favorites for you below. If you are looking to grab a bite to eat while enjoying an Asheville brew, we've provided a few brewery options with food as well. And if you want our top picks on the South Slope (Asheville's "Brewery District") or downtown, check out our recommendations below.
Top Five Craft Breweries in Asheville
Though it was a painstaking process, we've narrowed down the choices to our top five Asheville breweries. Each is distinct and deserves a spot on your "must drink" Asheville brewery bucket list.
Highland Brewing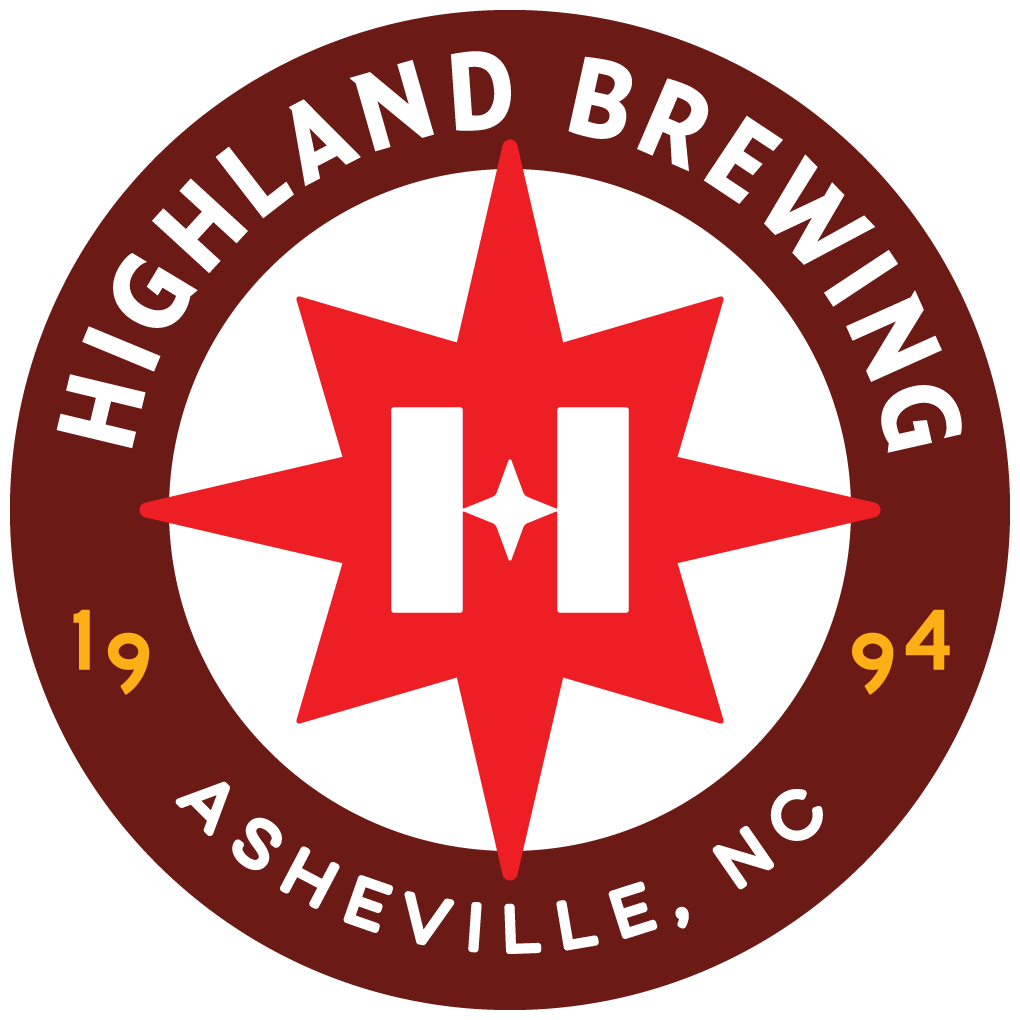 The grandfather of Asheville microbreweries, Highland Brewing is the trailblazer of the microbrewery movement in Asheville and beyond. Started in 1994, Highland has never stopped innovating, which has built a trusted, inspiring brand of craft beers. In addition to their many awards and accolades, Highland was named The South's Best Brewery 2018 by Southern Living.
Their spacious facility allows for plenty of seating inside and out. A large outdoor patio is perfect for those want to bring their furry friend, and an open meadow with taproom shipping containers and rooftop taproom create space for those who want to bring their kids along (lots of room to run free in the meadow) or have a peaceful space (the rooftop bar is adults only).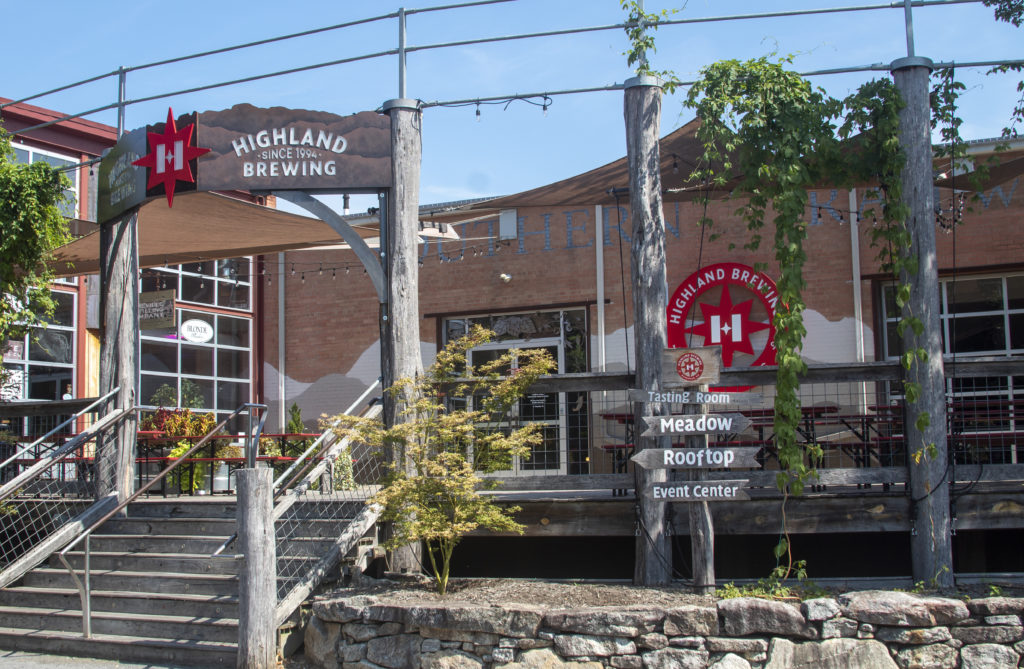 Beers to Try: Highland Pilsner, Gaelic Ale
Burial
Known for its innovative, one-off brews and edgy atmosphere, Burial is our top pick on the South Slope, Asheville's brewery district. With numerous spots to gather, including a rooftop bar and ample outdoor space, Burial's dark yet cozy aesthetic makes for a comfortable place to settle in, even on crowded weekends. Burial upholds its morbid name with beers like "Hollow of Despair"and "Passageway To Apocalypse." And with a bar menu designed by a James Beard nominee, you will not be disappointed by the food selection as you enjoy these outstanding brews.
Beers to Try: Surf Wax IPA, whatever's on tap
Sierra Nevada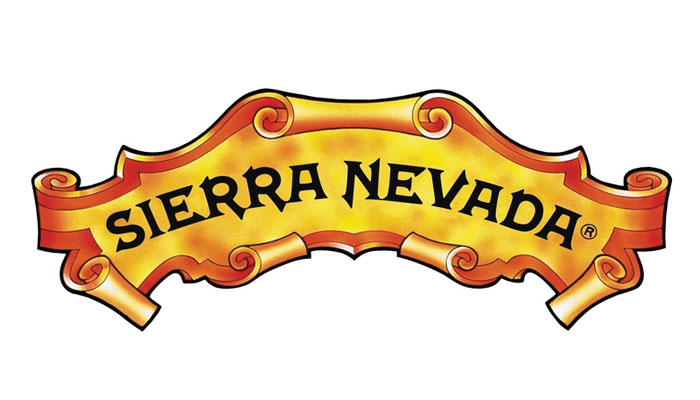 Sierra Nevada: It's the Disneyland of breweries, and just like Disneyland, you need to experience it at least once. Sierra spared no expense when opening their East Coast location. It is beautifully designed, from the warmly lit entrance road to the copper architectural details. Fire pits, corn hole stations, bocce ball courts, a vibrant garden, an outdoor amphitheater, and a kids play area fill the manicured "backyard" of Sierra Nevada, all thoughtfully placed. Though it's one of North Carolina's top tourist destinations, there is plenty of space to spread out and enjoy the laid-back atmosphere. Also, there are dog lovers galore — it's definitely a pet-friendly brewery, if you stay outside.
Sierra Nevada backs its grandiose location with plenty of award-winning beers. And they have a commitment to sustainability that shines through their design choices at their Mills River location.
Beers to Try: Hazy Little Thing IPA, Otra Vez
The Funkatorium
For the rare opportunity to choose from over a dozen sours on draught, you must stop by The Funkatorium on the South Slope, Wicked Weed Brewing's "sour and funky" beer taproom. The East Coast's first sour beer taproom, the uncommon yet delicious flavors of these complex brews are an adventure for the palette. Also, there is a food menu with wood-fired pizza, burgers, and fried chicken, as well as a dog-friendly patio.
Beers to Try: Angel of Darkness Barrel-Aged Sour, Pernicious India Pale Ale
Pisgah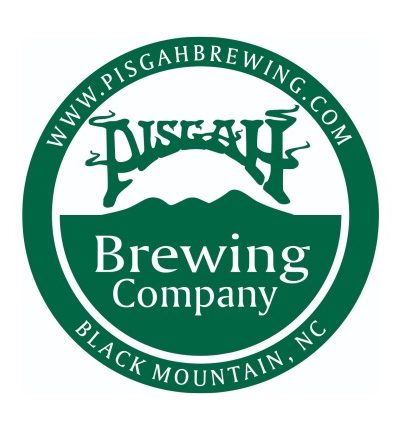 We would be remiss to not include our favorite backyard brewery in Black Mountain on our top five list, Pisgah Brewing. Also a forerunner on the Asheville brewery scene, Pisgah keeps it simple with an unpolished industrial taproom, picnic tables on a gravel patio, a food truck most nights, and a large open meadow with a stage that hosts noteworthy concerts throughout the year. It's a low-key place to connect with friends, and it has plenty of space for dog lovers and parents of small children alike.
Beers to Try: Pisgah Pale Ale, Greybeard IPA

Which Asheville Breweries have Food?
Most breweries have some kind of food option at their location or close by, but it all depends on what you're looking for. See below for our recommendations if you desire a full dining experience, a restaurant close by, or a food truck onsite.
Full Dining Experience
Wicked Weed is our top pick for the full dining experience. You can be seated at a table (make a reservation), or you can snag a spot at their long bar table for access to their bar menu. The food is fantastic, matching the quality of their extraordinary beers.
If you're looking for a casual spot with a touch of whimsy that serves fantastic pizza, check out Asheville Pizza & Brewing. Great beer, delicious pizza — you can't go wrong. And if you go to their Merrimon Avenue location, you could also catch a movie while you enjoy your pizza and beer.
Hillman Brewing is newer on the scene in Biltmore Village, and has gourmet pub food options at Rise Above Deli, their in-house restaurant, that pair well with their tasty brews. There's a great indoor and outdoor space, and it's conveniently located close to the Biltmore Estate.
Sierra Nevada offers fantastic shareable plates, worthy of a full meal when you choose a few, especially with a group. The service is great, even though they are often managing a packed dining room. Because Sierra Nevada is a bit off the beaten path, it's worth going for the full dining experience and settling in for the evening.
Restaurants Next Door
Though Catawba Brewing doesn't serve food, they have Buxton Hall BBQ right next door to their South Slope location. The combination makes for a satisfying evening enjoying casual food and drink on the South Slope.
Though not mentioned in our top five, the Wedge at Foundation was in the running, and shares a building with Asheville's famous 12 Bones Smokehouse in the River Arts District. Though the 12 Bones' hours are limited to just lunch on weekdays, if you're craving a top-notch barbeque lunch and mid-day brew, look no further.
Permanent Food Trucks
Also at the Wedge at Foundation is Melt Your Heart, a permanently placed food truck serving up the best gourmet grilled cheese sandwiches you'll ever have. Hi-Wire Brewing has a Foothills Local Meats food truck at their Biltmore Village location. Locally sourced meat and a commitment to sustainable practices makes Foothills burgers and sandwiches stand above the rest. And there's a burger and beer special on Mondays that is a local go-to cheap date night.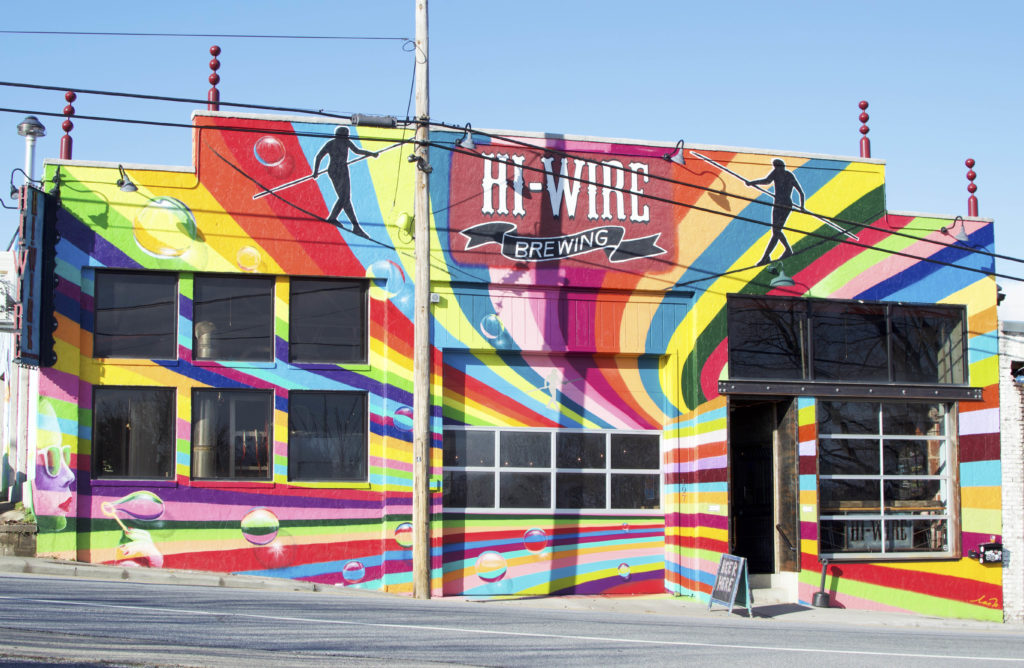 Many of Asheville's breweries often have food trucks on site, including New Belgium, Pisgah, Catawba, and Highland. Call ahead to see who will be there that night, but if you're flexible on the menu, you'll probably be in luck.
The South Slope: Asheville's "Brewery District"
What was once a neglected area just south of downtown has been transformed into a thriving, eclectic collection of over ten of Asheville's craft breweries — and growing. As mentioned previously in our review, our South Slope recommendations include Burial, The Funkatorium, Catawba, and Asheville Brewing Company. But Green Man is also a fan-favorite, and is worth checking out. To see a full list, check out this local review.
What are the Breweries in Downtown Asheville?
Wicked Weed tops the list of downtown breweries, but if you want to escape the crowds, check out One World Brewing led by a husband and wife team. Also, Highland Brewing is expanding, and plans to open a downtown location in Spring 2020 in Asheville's historic Art Deco S&W Building on Patton Avenue.
Summary
Exploring the Asheville brewery scene makes for a fun-filled adventure on a weekend getaway. Now that you have a curated list of breweries, check out our recommendations on places to stay in Asheville, and you'll have the most important bases covered for your next trip to the mountains.
You may be a regular Asheville visitor, and the combination of the stunning Blue Ridge Mountain landscape and vibrant craft brewery and local food scene has inspired you to consider moving or retiring here. We have recommendations on the best places to live in Western North Carolina, and also have a few reasons why we think Asheville is a great place to retire.
No matter your beer preferences, you will find plenty to explore and enjoy in Asheville. And there always seems to be more space in the taproom — new, noteworthy breweries crop up regularly. We hope this list brings focus and satisfaction to your future brewery adventures.