In recent years, Asheville, North Carolina has become a very popular area for people looking to retire. The reasons are countless, but some of the most common reasons people cite for retiring in Asheville are the beautiful weather, the incredible scenery, the opportunities for recreation, and the endless number of quality restaurants. Of course, these are reasons for anyone moving and retiring to Asheville!
In this article, we'll focus on why people move to Asheville, and also look into some of the typical questions that clients ask us when considering a move to Asheville for retirement.
Livability.com continually ranks Asheville highly in its annual reports of "Best Places to Live" and its list of Best Places to Live in North Carolina. And TopRetirements.com ranked Asheville as its #3 Best Place to Retire in 2017. These accolades shouldn't come as a surprise; Asheville, Black Mountain, Weaverville, and other areas in Western North Carolina are consistently recognized as great towns for retirement, getting outdoors, enjoying craft beer, dining, etc.
Reasons to Retire in Asheville
The Weather
When people come to Asheville, the weather is almost always one of the top reasons. We truly have four seasons, and even our winters are fairly mild.
Mountain Views and Scenery
There aren't many places in the country that provide such breath-taking mountain views just about everywhere you look. Because the city of Asheville sits in a valley, you can look up to see mountains in several directions. And the east side of Buncombe County is really just one long river valley (the Swannanoa River Valley), so there are incredible vistas from 2 opposing ridgelines! Or drive north out of town and enjoy the I-26 Scenic Highway, with some of the most jaw-dropping views you'll ever see from an interstate!
Outdoor Recreation
Asheville is consistently ranked as a top outdoor adventure destination and is now a mecca for mountain biking, rock climbing, kayaking, whitewater rafting, hiking, and more. There are thousands of miles of hiking trails and trout streams to explore, and several National Forests and State Parks in Western North Carolina. There really is more than you can see in a lifetime!
Incredible Restaurants
When it comes to independent restaurants, there may be no better selection per capita than here in Asheville. The Asheville Independent Restaurant Association has hundreds of members (and growing). Visitors to our area are always blown away by just how many options there are for fresh, local food! I had clients from Sarasota, Florida once that told me they had dinner at 29 different restaurants during a 1-month visit!
Best Places to Consider Retiring in Asheville
It can be hard to choose amongst best places for retiring in Asheville, but here are some places worth considering. We've sold many homes to retirees in these towns and neighborhoods, so we've seen first-hand that these areas are a good fit for retirees.
Walk-to-Town Areas like Black Mountain, Weaverville, and Biltmore Park have become incredibly popular in recent years, especially when the home is within walking distance to a town center.
Amenity-filled communities like Biltmore Lake. Biltmore Lake offers loads of amenities, including a community clubhouse with lots of active groups that meet there. There are also miles of trails and sidewalks, including trails around a lake! Biltmore Lake homes for sale include single-family homes and townhomes.
Newer subdivisions that are not too far out, like Sovereign Oaks and Thoms Estates. These communities provide a slightly more rural feel but are closer to town than a lot of the more "mountainous" neighborhoods. The roads are not steep, and it's very easy to get into Asheville. They're also close to local hospitals and other healthcare. Homes in these subdivisions are also newer and of high quality. They're often not too big, providing just the right amount of square footage for retired homebuyers.

What Kind of Retirement Communities does Asheville Offer?
When we think of buying homes in and around Asheville for retirement, we think of both primary residences and second homes. Many retirees in Asheville split their time between Western North Carolina and another home. For those buyers, a gated community is frequently preferred. Gated communities in Asheville vary widely, from those with incredible golf courses and lots of amenities to those with relatively lower association dues but still with the security of a gated entrance.
Many retirees opt for a townhome or condo that includes maintenance of the home. For a more urban lifestyle, condos in Downtown Asheville provide a great way to really soak up all that the city has to offer. Great art, shopping, and dining are right out your door, and all accessible by walking or biking.
The Asheville market also has several 55 and over communities. These neighborhoods are perfect for people that want to live in a peaceful environment but still have easy access to all the amenities, restaurants, and activities that Asheville offers.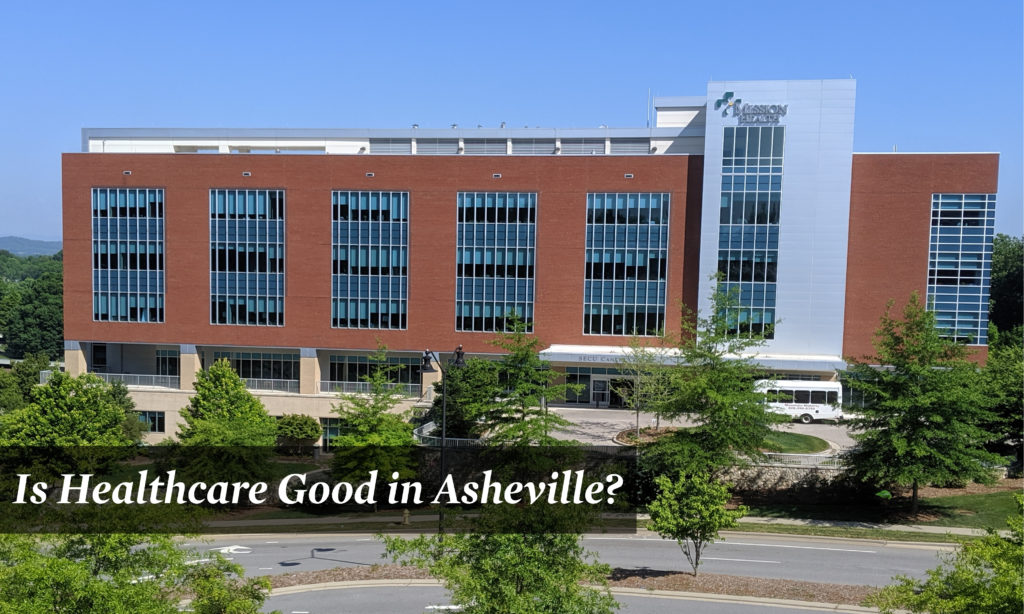 Is Healthcare Good in Asheville?
Without a doubt, one of the main questions when considering an area to live is the quality and availability of healthcare. One of the great things about retiring in such a beautiful and desirable Asheville area is that many very talented people feel the same way. This means that we have a plethora of excellent doctors, nurses, and other specialists who chose to live and work in Asheville. We also have a variety of hospitals and outpatient clinics to choose from.
In fact, the healthcare industry provides more jobs than any other sector in the Asheville MSA. Approximately 20% of our workforce is in healthcare!
Many of our outpatient clinics are located near Mission Hospital, right in the center of Asheville. Mission was ranked #6 in U.S. News and World Report's North Carolina hospital rankings. It was also named the top hospital in the state by Business North Carolina in 2017, 2018, and 2019. IBM WatsonHealth named it a Top 50 cardiovascular hospital. It was purchased in early 2019 by HCA Healthcare, a Tennessee-based hospital conglomerate. More awards and recognition for Mission Hospital are available on the hospital's website.
For veterans, the Charles George VA Medical Center in East Asheville is considered one of the top VA hospitals in the nation. In fact, Asheville's only VA hospital was ranked #2 out of 130 acute care VA hospitals.
Is Asheville, NC Expensive to Live?
According to data published by the Asheville Economic Development Coalition, Asheville is an affordable place to live relative to other cities in the region, and the overall cost of living is less than the national average. Housing can be expensive here, but even that's relative. Our buyers from states like New York and California consider our home prices to be a bargain. North Carolina does have a state income tax, but social security income is not taxed in NC, making retiring in Asheville even easier.
What's the Weather Like in Asheville?
Four Distinct Seasons
One of the best reasons to live in the Blue Ridge Mountains of Western NC is the incredible weather! Our summers are not too hot and our winters aren't extreme. Spring weather usually starts in late March and can last well into mid-May, before warmer temps take over. Spring is one of the most beautiful times of the year, with warm days and cool nights. Evenings in mid-June can still be cool enough for a light jacket! Fall in the mountains is truly spectacular, with cooler days and amazing foliage! The cooler autumn days are still ideal for outdoor activities, dining outside, or just a leisurely drive on the Blue Ridge Parkway.
Summer is my favorite season, as it means great weather for every type of outdoor activity, especially anything to do with water! We only get a few days with temps in the 90s, and even those days aren't unbearable. Our humidity is not as high as in other southeast areas, so the heat index is still very comfortable. As a transplant from Mississippi, I can assure you that the heat here is pleasantly warm, as opposed to brutally hot! You can spend time outside in the summer in Asheville without sweating profusely.
It's very common for retirees who live in warmer climates like Florida to spend the entire summer in Asheville. And after they do it once, they often extend their stay each year well into spring and fall. Eventually, many of those folks end up retiring or moving to our Asheville and Western North Carolina areas permanently! Asheville's warmest month is July, but even then our high temps usually max out in the 80's. It's also common for us to have highs near 50 in the middle of winter.
How much Snow does Asheville get Annually?
Not as much as many people think. As I write this, I have lived in the Asheville area since 2003, and I can count on one hand how many times we have had a foot of snow. We typically get 1 or 2 snowfalls each winter that bring enough accumulation for the kids to go sledding. And that's exactly what happens. When we get a significant snowstorm, we close the schools, we take off work, and we go to our favorite sledding hill. For the more adventurous, Asheville has several ski resorts nearby, and they're well worth a visit when there's fresh snow on the ground!
Is it easy to get in and out of Asheville?
When people look for a location for retirement or for a second home, one important consideration is how easy it is to travel in and out. Many of our retired clients have children and grandchildren in other parts of the country, and they want to be able to visit them (or have their kids come to visit here).
Nearby Airports
We are fortunate to have 3 airports within a 2-hour drive of Asheville, including the ultra-convenient Asheville Regional Airport. The Asheville Airport (AVL) was named "America's Most Connected Non-Hub Airport" in 2013. Since then, even more flights and airlines have been added to the airport's offerings, including non-stop flights to destinations like New York, Denver, Chicago, Dallas, Atlanta, and several Florida cities. My family has found that fares out of Asheville are also comparably priced to larger airports.
Just an hour south of Asheville Regional Airport is the Greenville-Spartanburg International Airport. Located in South Carolina, GSP offers more airlines and destinations that AVL.
And when you really need a large international airport, Charlotte Douglas International Airport (CLT) is only about 2 hours from Asheville.
Getting to Asheville by Car
Many people are pleasantly surprised at just how easy it is to get to Asheville. In fact, almost all of the east coast between Miami and New York is reachable within a day's drive. The same can be said for cities as far west as the Mississippi River. This makes Asheville a great destination for long weekend trips and convenient family visits.
Driving to Asheville, North Carolina
From
Miles
Time
Atlanta, GA
208
3:20
Chicago, IL
657
10:00
Cincinnati, OH
364
5:30
Columbia, SC
158
2:26
Detroit, MI
594
10:06
Greenville, SC
63
1:12
Indianapolis, IN
471
7:15
Jacksonville, FL
442
6:21
Knoxville, TN
116
1:56
Louisville, KY
360
5:31
Memphis, TN
505
7:40
Miami, FL
788
11:13
Nashville, TN
294
4:32
New York, NY
691
10:34
Orlando, FL
583
8:22
Philadelphia, PA
610
9:19
Raleigh, NC
251
3:56
St. Louis, MO
600
8:54
Tampa, FL
638
9:26
Washington, D.C.
471
7:15
Should I Consider Retiring in Asheville?
In my real estate experience, buyers that come to Asheville to learn about the real estate market for a possible retirement home typically fall in love with everything about our area! Our real estate inventory can be tight, so it pays to be patient in your home search.
One good strategy that I have seen work many times is to find a short-term rental to live in while you get a better feel for the area and the real estate inventory. These homes are often furnished and provide great flexibility while you keep an eye on the real estate market. This way, you can spend more time getting to know the different areas and neighborhoods, and you can be ready to move quickly when the right property comes on the market.
There are so many great things about Asheville, that it's impossible to describe them all. But here's a great video that was produced by our local Tourism Development Authority that does a good job summing up what living in Asheville is all about.
Contact Us to Explore Real Estate Options
If you're ready to start exploring real estate in the Asheville area, please contact us using the form below. We are experts in the local real estate market and can help you find the retirement location of your dreams!