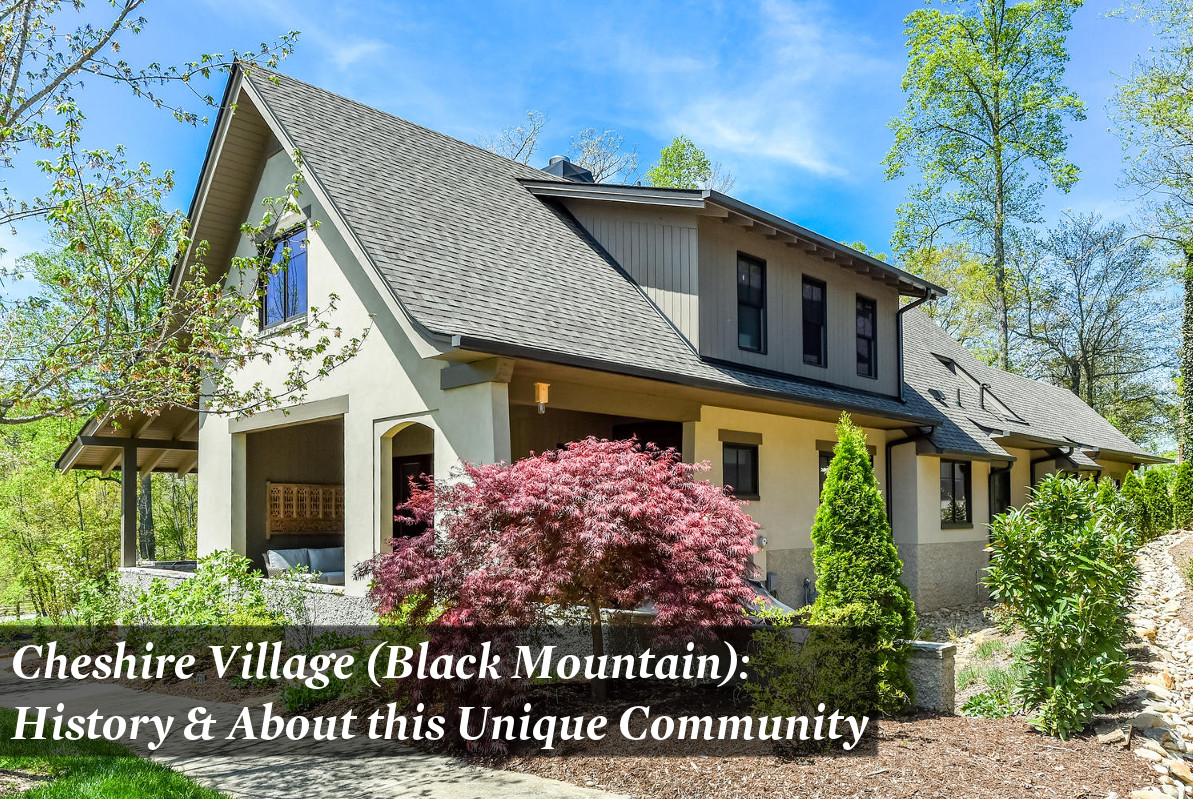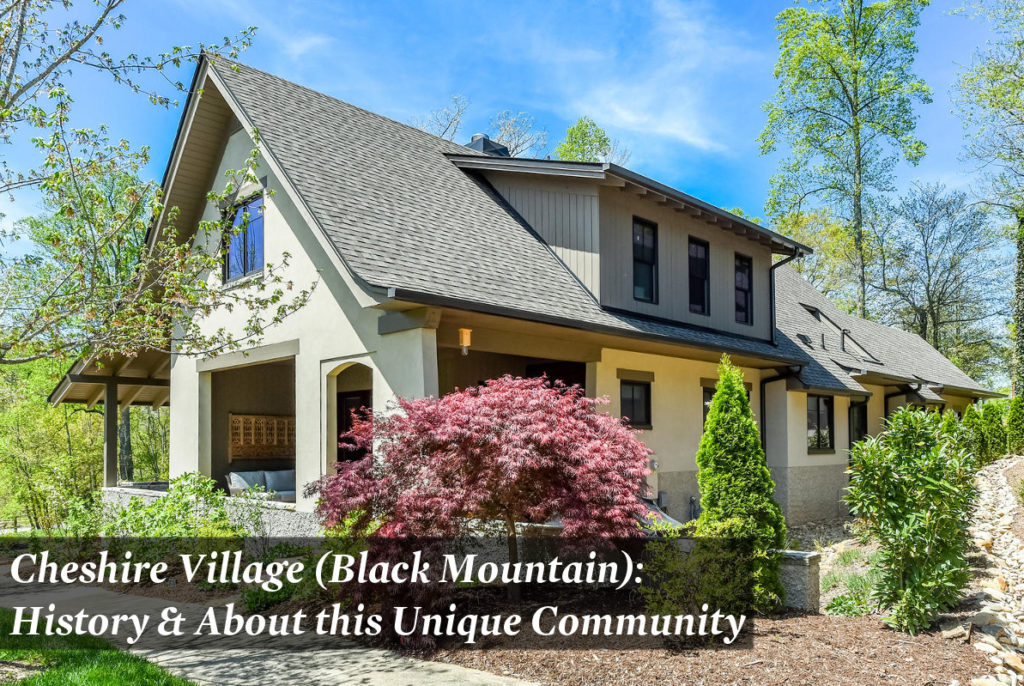 The Village of Cheshire is one of the most unique communities in the Asheville, NC area. It's also one of the most affluent neighborhoods in Black Mountain. It is set apart in Black Mountain as the only Traditional Neighborhood Development or "TND" in town. In this article, we'll take a look at the history of Cheshire, as well as what to expect when considering different types of Cheshire Village homes for sale.

What is a Traditional Neighborhood Development?
Before we jump in, let's discuss the Traditional Neighborhood Development. A TND is a complete community built using traditional principles of town planning, including a master plan. It commonly incorporates multiple types of residential property (such as single-family homes, townhomes, and condos), commercial and retail space, and common or green space. A key feature of the TND is that it's a walkable community.
About Cheshire Village
Even though the neighborhood is relatively small, Cheshire Village is well-known throughout the Asheville area for its commercial district. Additionally, its beautifully-designed craftsman homes are some of the most desirable arts and crafts style homes in WNC. The official name of the development is the "Village of Cheshire," but many people simply call it "Cheshire" or "Cheshire Village."
History of Cheshire Village
The Village of Cheshire was developed by Sikes Ragan, who actually grew up on the land. His father operated the former Western North Carolina Tennis Camp on the property in the 1960's and 1970's. Ragan built a new tennis facility on the Cheshire property, which is now operated as Creekside Racquet Club.
The first Cheshire plat was recorded with Buncombe County in 1999, and the first home was built that year on Chaucer Road. The commercial district construction began around the same time.
Amenities in Cheshire
One of the biggest attractions for real estate buyers and vacation renters in Cheshire is the number of amenities within walking distance of home. Creekside Racquet Club is a high-quality private tennis club that is also open to guests and seasonal residents. It offers 6 outdoor Har-Tru courts and 2 indoor hard courts. Pickleball is also offered indoors.
Another huge draw is the Black Mountain YMCA, formerly known as Cheshire Fitness Center. As with any Y, the Black Mountain Y is open to Y members from across the country, and can also be used by guests in town for vacation. The Y has an indoor pool, weight and cardio room, child care, and group fitness classes.
Inside the residential district of Cheshire is a playground, amphitheater, and community gardens. There are sidewalks that lead into the commercial area.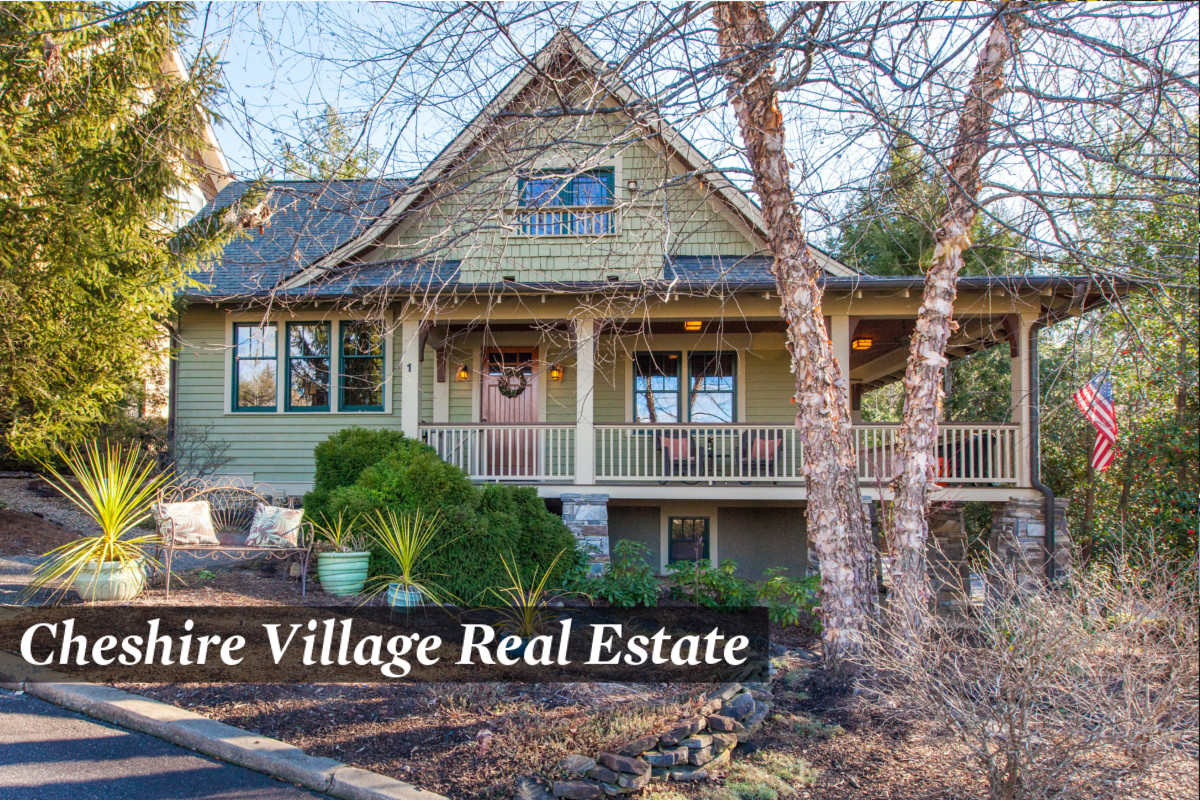 Cheshire Village Real Estate
Real estate in Cheshire is varied, and all of it is high-end. All buildings are built in the arts and crafts style with high-end materials. New homes are subject to review by the neighborhood's Architectural Review Committee (ARC). Cheshire real estate can be broken down into several types, each located in different areas of the neighborhood.
The Cheshire real estate market is one that is watched closely by a lot of buyers. The developer has done a great job of creating a quality product, while also creating a recognizable brand. There are a lot of Cheshire buyers that know exactly what they want, and so some Cheshire properties sell quickly when they come on the market. Also, the community is small, so inventory is relatively limited.
The largest and most expensive homes can take a little longer to sell, and that's typical for most of the higher-end real estate in Black Mountain. But even homes that are on the market for several months often end up selling for near list price.
Buying in Cheshire has historically proven to be a safe real estate investment, as properties hold their value well. Even during the Great Recession, I can't recall a single Cheshire home going to foreclosure. These homes can even generate substantial rental income, either as luxury long-term rentals or short-term vacation cottages.
Cheshire Cottages
The larger single-family homes in Cheshire are called Cottages. These homes make up the majority of the homes in Cheshire. These homes range from about 1800-4500 square feet. Several Cheshire cottages also have a guest cottage on the lot. These guest cottages are usually 1-bedroom or studio units, and sometimes are garage apartments. These guest units are a good vacation rental option.
Cheshire Townhomes
Cheshire townhomes are some of the most desirable real estate in the neighborhood. All Cheshire townhomes have garages, which is not always the case for the single-family cottages. Townhomes are very popular as second homes and vacation rentals.
Most of the townhomes in Cheshire are located on Fitzgerald Road behind the commercial district. These townhomes are maintained by a "sub-association." While Cheshire Village has a "Master Association," the Fitzgerald townhomes have an additional owners' association to handle maintenance of their homes.
Cheshire Cabins
The cabins at Cheshire Village are another great option for short-term renters. These are managed homes that are an ideal place to stay while you spend a weekend (or longer) exploring the area or shopping for real estate.
Cheshire Treehouses
Similar to the cabins, Cheshire treehouses are small-footprint homes with a rustic, chalet-like style. These homes offer off-street parking and are typically a little more "vertical" than other homes in Cheshire.
Jacobs Cottages at Cheshire
The Jacobs Cottages are the newest homes in Cheshire. This section of Cheshire is located on the west side of NC Highway 9, near the YMCA. This is a pocket neighborhood of very upscale homes on small lots with mountain views.
Vacant Lots in Cheshire
There are still a handful of residential lots remaining in Cheshire, including several very flat (easy to build on) parcels.
Cheshire Commercial District
The Village of Cheshire commercial district is very popular among not only residents of Cheshire, but visitors and tourists from all over the Asheville area. The Artisan Gourmet Market is an upscale neighborhood market with an excellent selection of meats and seafood. The Artisan also has a great sandwich shop, along with a coffee and wine bar.
Just up from the Artisan is Sake Sushi, which I would suggest is one of the best sushi restaurants in Western North Carolina. That's saying something, because Asheville has an incredible array of sushi restaurants!
Rounding out the restaurant options is the Black Bear Tavern. The Black Bear has a varied menu, offering breakfast, lunch, and dinner. Think upscale diner atmosphere without the upscale prices, along with southern fare and hospitality to match.
In addition to places to eat, Cheshire Village includes Michelle Salon (my wife's favorite) and several offices, including ours!
Future Development
As of the date of this article, there are still several other future areas of Cheshire to be developed. Cheshire's "Main Street" is planned for a live-work environment with retail space underneath lofts. The "East End" is a similar concept, and construction has already begun on the infrastructure for this area. It will take a while for this area to be built out, and plans could still change.
Other Similar Neighborhoods to Consider
Interestingly, we have found that many Cheshire buyers also consider similarly priced homes in other nearby neighborhoods that might not otherwise be very similar to Cheshire. For example, in Black Mountain, these neighborhoods with similar quality homes and mountain views often attract buyers that also consider Cheshire Village.
In Asheville, buyers also consider these planned communities that have significant differences from Cheshire but also offer upper end homes and amenities.
Let us Help you Buy a Home in Cheshire Village
The best way to keep an eye on the inventory is to check out current inventory of Cheshire Village homes for sale and also sign up for new listing alerts.
Additionally, our office is frequently aware of soon-to-be-listed properties, so contact us if you're considering real estate in Cheshire. We have a unique position to be able to help you be the first to know of new listings that match your search criteria.