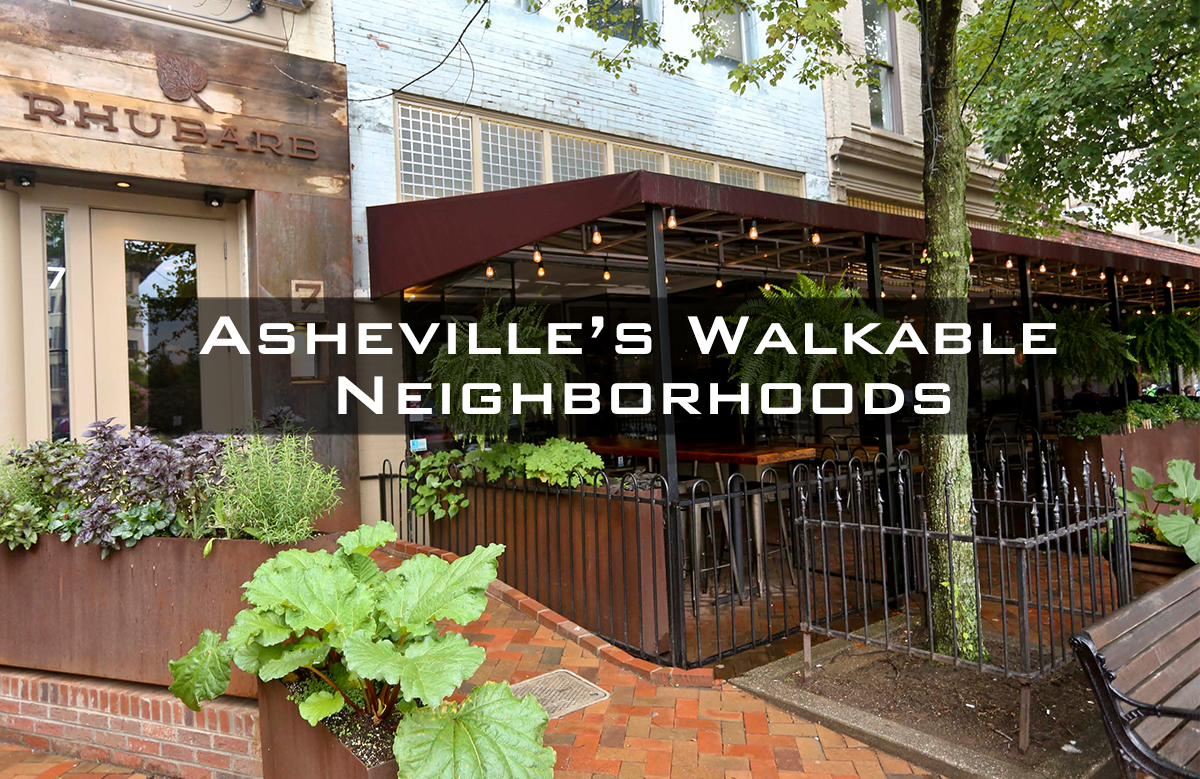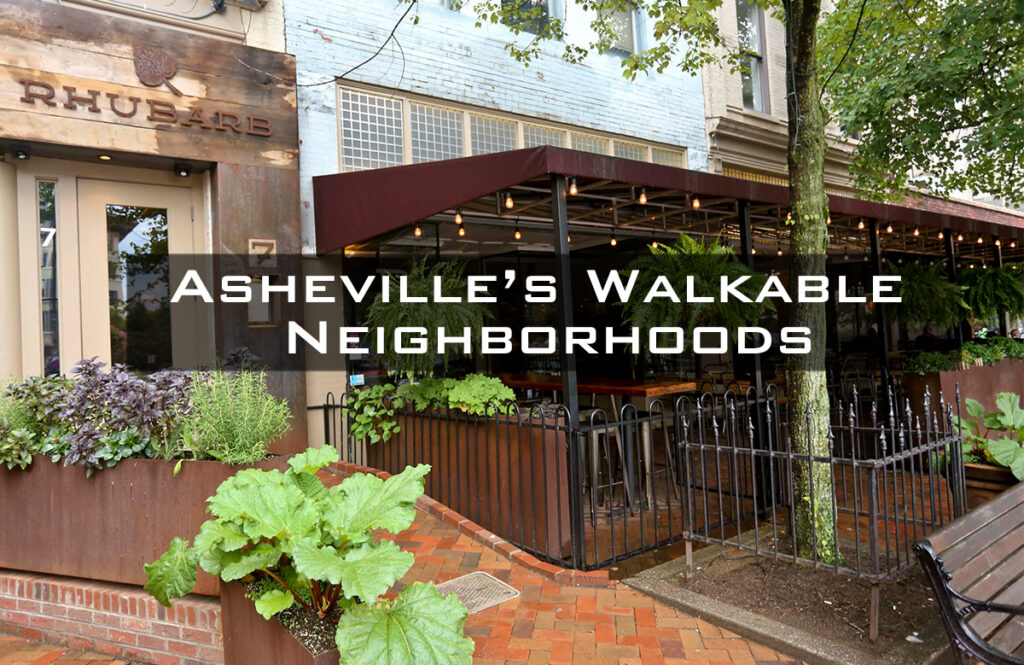 Asheville, North Carolina, is full of walkable neighborhoods where it's easy and safe to walk to work, exercise, run errands, or just enjoy Asheville's four distinct seasons. If you're looking for a way to drive less and walk more, Asheville's walkable neighborhoods are perfect for you. Read on to find our list of the best neighborhoods for walking and places to walk in Asheville, NC.
Is Asheville, NC a walkable city?
Yes. There are neighborhoods in Asheville where residents can easily walk to work, shops and restaurants. It's possible to run errands in these areas without a car. Additionally, there are many other neighborhoods that are just great places to take a walk for fun or exercise, even if they are not within safe walking distance from businesses.
What neighborhoods are walking distance from downtown Asheville?
The Montford and Charlotte Street neighborhoods are within walking distance from downtown Asheville, with sidewalks and crosswalks provided all along the way. The Grove Park neighborhood is slightly farther away from downtown but also within walking (or biking) distance.
Downtown Asheville is easily walkable, packed full of local shops and restaurants.
Asheville Walkable Neighborhoods
Downtown
Downtown Asheville is actually the city's most walkable neighborhood with a Walk Score of 87 because most errands can be done on foot. Trendy apartments and condos sit above storefronts, restaurants, and bars, and residents can easily walk to get groceries, meals, books, and other essentials at local shops nearby. If you're looking for a walkable area with lots of activity, music, and things to do, downtown is for you. Click here to view the current Downtown Asheville listings.
West Asheville
For an artsy, walkable neighborhood on a smaller scale than downtown, try West Asheville. As the name implies, this hip neighborhood is located west of downtown Asheville, and while it's too far to walk easily, it is possible to bike between West Asheville and downtown. The neighborhood consists of Haywood Street (the main thoroughfare) and a residential area to the west which contains smaller neighborhoods. (Two of these small neighborhoods, Falconhurst and West Asheville Estates, have the second and third highest Walk Scores in Asheville, at 75 and 69 respectively).
Haywood Street contains shops, cafes, a major grocery store, bars and breweries, restaurants, churches, apartments, and much more, and all of this is walkable from the smaller neighborhoods. We recommend taking a walk just to see all of the colorful murals on walls along Haywood. Click here to view the current West Asheville listings.
West Asheville is one of the most walkable neighborhoods in the region, and it may be one of the most interesting with its many colorful murals adorning the buildings.
North Asheville
Montford
The Montford neighborhood is slightly northwest of downtown Asheville, within walking distance of the city center. This historic district contains many houses built between 1890 and 1920, and the streets are wide and shaded by large trees. Walking through Montford feels like travelling back in time, and as you pass by the historic homes, you'll be able to spot Victorian, Arts and Crafts, and Queen Anne-style architecture. You can also easily walk or bike to restaurants, cafes, parks, and even grocery stores located on Merrimon Avenue (a road adjacent to Montford) from many homes in the neighborhood. Click here to view current Montford listings.
Historic and varied, the Montford neighborhood is a favorite for walking, with eclectic, artful homes around every corner, many with beautiful gardens to admire as well.
Charlotte Street
Similar to Montford, the Charlotte Street neighborhood is within walking distance from downtown Asheville and features historic homes on tree-covered streets. The titular Charlotte Street is home to a wide variety of restaurants and cafes, serving everything from sandwiches and coffee (City Bakery) to tacos (Taco Temple) to oysters (Jettie Rae's Oyster House) and more. The neighborhood's streets are laid out in a grid, for the most part, which makes the area easy to navigate by foot. While there is some traffic on Charlotte Street itself, the neighborhood's internal streets are much quieter. Click here to view current listings in the Charlotte Street area.
Grove Park
The Grove Park neighborhood is named for The Omni Grove Park Inn, a glamorous resort hotel built in 1913 that has been visited by ten U.S. presidents and many celebrities over the years. The Inn sits on the western slope of Sunset Mountain and overlooks the neighborhood below, and parts of the neighborhood border the Inn's golf course. The area is full of large, historic homes, wide streets, and beautiful gardens. You can walk from the Grove Park neighborhood to Charlotte Street and on to downtown, if you desire. (Definitely take a walk near the holidays to see how many Grove Park homes deck the halls with sparkling lights). Click here to view current Grove Park listings.
The Grove Park Inn, a historic resort dating back to 1913, is the anchor of this lovely, well-kept neighborhood.
Kenilworth
Kenilworth is located to the southeast of downtown Asheville. While Kenilworth is accessible via the busy, central Tunnel Road (which literally tunnels through a mountain to reach downtown Asheville to the northwest), the cul-de-sac neighborhood itself is secluded, quiet, and peaceful. Kenilworth's terrain is hilly, with roads winding around the area's natural topography, so walking is a workout on some streets and a breeze on others. This neighborhood is also known for its architecture, and you'll see Spanish colonial, Craftsman, and Tudor Revival homes, meticulous gardens, and well-kept yards while strolling the neighborhood. Click here to view the current Kenilworth listings.
South Asheville
Biltmore Park
Biltmore Park is a mixed-use commercial and residential development located about 25 minutes south of Downtown Asheville. Luxury condos and apartments are built above small local shops and chain businesses alike in the "Town Square," a charming area in the center of Biltmore Park. Restaurants, a Barnes and Noble bookstore, a drug store, a movie theater, and a YMCA and community pool are all within walking distance of the residences. As you venture away from the commercial district, there are single-family homes that range from craftsman homes on small lots to grand estates with mountain views. Sidewalks, benches, and trees make the area feel welcoming, and there's an outdoor area for community events as well. Click here to view the current Biltmore Park listings.
Asheville Lots for Sale in Best Walking Neighborhoods
You can also build your dream home in one of these walkable neighborhoods. Although vacant land for sale is harder to find in more historic neighborhoods, you can find lots to build on if you keep an eye out.
We can help you find the perfect lot. Just contact us and tell us which neighborhood you are interested in. You can also view all of our listed lots for sale by clicking here.