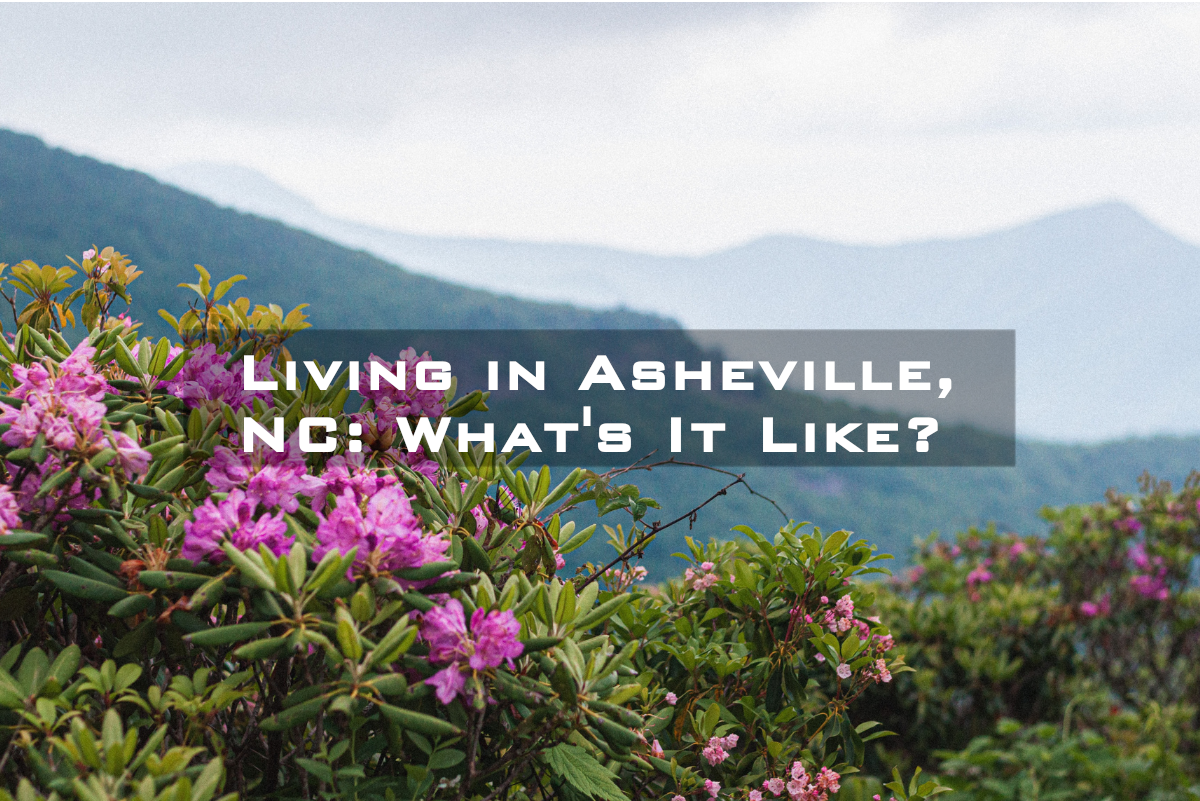 Asheville, North Carolina has become one of the South's most desirable vacation spots, with many visitors flocking to this small city in the Blue Ridge Mountains each year. Asheville has also become a favorite with those looking to relocate, due to the area's culture, history, natural beauty, and generally temperate weather that gives residents a taste of all four seasons every year. If you're considering a move to the area, you may be wondering: What is it really like to live in Asheville? As locals, we can give you the inside scoop on life in our corner of Western North Carolina. Keep reading to learn about the population, cost of living and culture in Asheville, as well as reasons we think you should move to this beautiful part of North Carolina.
What is it like to live in Asheville, NC?
Asheville is a truly unique place to live. The city is nestled among the Blue Ridge Mountains, which means wherever you go, distant (or not-so-distant) mountain ridges surround you on all sides. The historic Blue Ridge Parkway runs through the city, and many residents use this picturesque road for their daily commutes (although it's best enjoyed when you can cruise at a leisurely pace). There's always something going on in Asheville, from festivals to concerts to historic tours and much more.
The city's minor league baseball team, the Asheville Tourists, plays their rivals each season with plenty of adoring local fans in the stands.
Asheville's restaurant and brewery scene is thriving, and you'll never run out of delicious food and craft beer to enjoy as a resident here.
Downtown Asheville
has something for everyone. For those with children, the Asheville metro area has lots of family-friendly activities, some of which are educational and some of which are just plain fun. And while Asheville has seen many of the same cost of living increases that have swept the nation over the past few years, there are still many ways to have fun, enjoy art and culture and eat well in Asheville without breaking the bank.
For many, Asheville's biggest draw is its proximity to the great outdoors, where there are innumerable places to go hiking, biking, swimming, rock climbing, kayaking and rafting — many of which are free to access.
How many people live in Asheville? What's the population?
The U.S. Census Bureau estimated that 94,067 people lived within the Asheville city limits in July 2021. Of course, the surrounding area contains far more people, many of whom commute into Asheville for work, school, and recreation.
The area around Asheville includes Swannanoa, Old Fort, Fairview, Woodfin, Arden, Canton, Candler, Black Mountain, Hendersonville and Weaverville, among other towns. Many people commute into Asheville from smaller neighboring towns because the areas outside the city limits are more affordable, but the charm and individuality of these towns shouldn't be underestimated. Each town mentioned earlier contains its own unique personality (like Hendersonville, which has statues of brightly painted bears up and down Main Street!).
What is the cost of living in Asheville?
In 2021, Asheville received an overall score of 106.2 on the cost of living index prepared by the Asheville Area Chamber of Commerce and Western Carolina University. This index ranks cities by their cost of living, factoring in prices for food, housing, utilities, transportation, healthcare and other miscellaneous items such as clothing. Out of the seven cities used for comparison, the most expensive city listed was New York City (with a score of 255) and the least expensive city listed was Raleigh, NC (with a score of 92.9).
While Asheville is far less expensive to live in than NYC, there is still a higher cost of living in Asheville than there is in North Carolina's other major cities (Raleigh and Charlotte). However, Asheville is only slightly more expensive to live in than Charleston, SC (score of 99.7) or Atlanta, GA (score of 105).
In Asheville in 2021, the average home sale price was $449,935, and the average estimated rent for a two-bedroom apartment was $1,773. Learn more in our Asheville Real Estate Market Quarterly Update (which includes trends and statistics).
What is the culture like in Asheville?
Asheville is a place where artists and free thinkers thrive. The city has a heritage of creativity and ingenuity in the face of hardships, traits that are exemplified in the long tradition of practical craftsmanship and artistry that is a defining feature of mountain culture.
For those interested in the area's cultural history, the Folk Art Center (located at milepost 382 on the Blue Ridge Parkway) contains a wide variety of contemporary and traditional craft pieces that provide a glimpse of what life was like in the mountains for past generations – when folks had to weave blankets, sew quilts, throw pottery and carve furniture completely by hand. The Folk Art Center is presented by the Southern Highland Craft Guild, an organization of creators who carry on these traditional forms of art and craft today (and whose pieces are on sale in the Center's shop).
Overall, if you make (or just appreciate) art, this is the city for you. Murals cover the walls of many businesses and street performers play instruments to the delight of locals and tourists alike. The drum circle happens every Friday night in downtown Asheville's Pritchard Park, so stop by if you want to witness a collaborative jam session featuring locals playing djembe drums, bongos and more.
Music lovers will find plenty of opportunities to see live concerts in Asheville, thanks to the bevy of venues throughout the city. From small bars where local musicians get their start, to The Orange Peel, a local legend, to the giant Harrah's Cherokee Center (where popular artists like Bon Iver, the Avett Brothers and Bob Dylan have played), you'll have your pick of opportunities to see amazing live music. (Want an even deeper dive into concerts and festivals in Asheville? Check out our guide). There are also famous artists and bands who call Asheville home, such as Steep Canyon Rangers, the Grammy-award-winning bluegrass band made up of Asheville locals that frequently collaborate with actor Steve Martin.
The Asheville Symphony also performs at the Thomas Wolfe Auditorium in the aforementioned Harrah's Cherokee Center. Classical music lovers will definitely want to invest in a season pass to hear this top-tier orchestra play throughout the year. If you're a Shakespeare fan, you'll enjoy the open-air performances of the Montford Park Players, and all other theater lovers should check out NC Stage Company's lineup of plays.
If you prefer visual art, head to the River Arts District to stroll through artists' studios and galleries and meet the creators on a personal level. You'll also want to check out the Asheville Art Museum, located in Pack Square.
Looking for community outside the art and music scene? For those who love to get outdoors, there are hiking clubs (for instance, the Carolina Mountain Club), biking groups, public tennis courts, waterfalls to explore nearby and much, much more. Every year, runners look forward to the Asheville Turkey Trot 5K, a race that takes place in downtown Asheville on Thanksgiving Day. Portions of the race's proceeds go to Manna Food Bank, a nonprofit helping the hungry in the Asheville area.
Speaking of which, if you're looking for ways to volunteer, there are always chances to serve at Manna Food Bank as well as other nonprofits like the Asheville Humane Society, Asheville Buncombe Community Christian Ministry, the Southern Appalachian Highlands Conservancy and many more.
Living in Asheville, NC: Pros and Cons
PROS
Beautiful natural setting
Thriving restaurant scene
Breweries galore
Extremely dog-friendly downtown
Plentiful art and culture
Tons of ways to get outdoors
History around every corner
CONS
Higher cost of living than comparable cities
Influx of new residents can cause traffic
Should I move to Asheville, NC?
After reading about all this city has to offer, does it sound like the place for you? If you're an avid lover of the outdoors, a beer aficionado or simply someone who's interested in meeting new people and experiencing new things, you might find Asheville to be the perfect fit. Asheville isn't just a tourist destination — it's a hometown that many hold dear.
If you want to become one of these people, consider moving to Asheville. Whether you pick out a downtown condo, a mountain cabin or a home in one of the small towns nearby, you'll quickly realize why so many people have fallen in love with this quirky, friendly city.
Homes for Sale in Asheville, NC
If this article has made you want to learn more about moving to Asheville, NC, please contact us! We'd love to hear from you and help you find the perfect home. Browse our featured listings and explore MLS listings in the various neighborhoods, and let us know of any properties that you like.