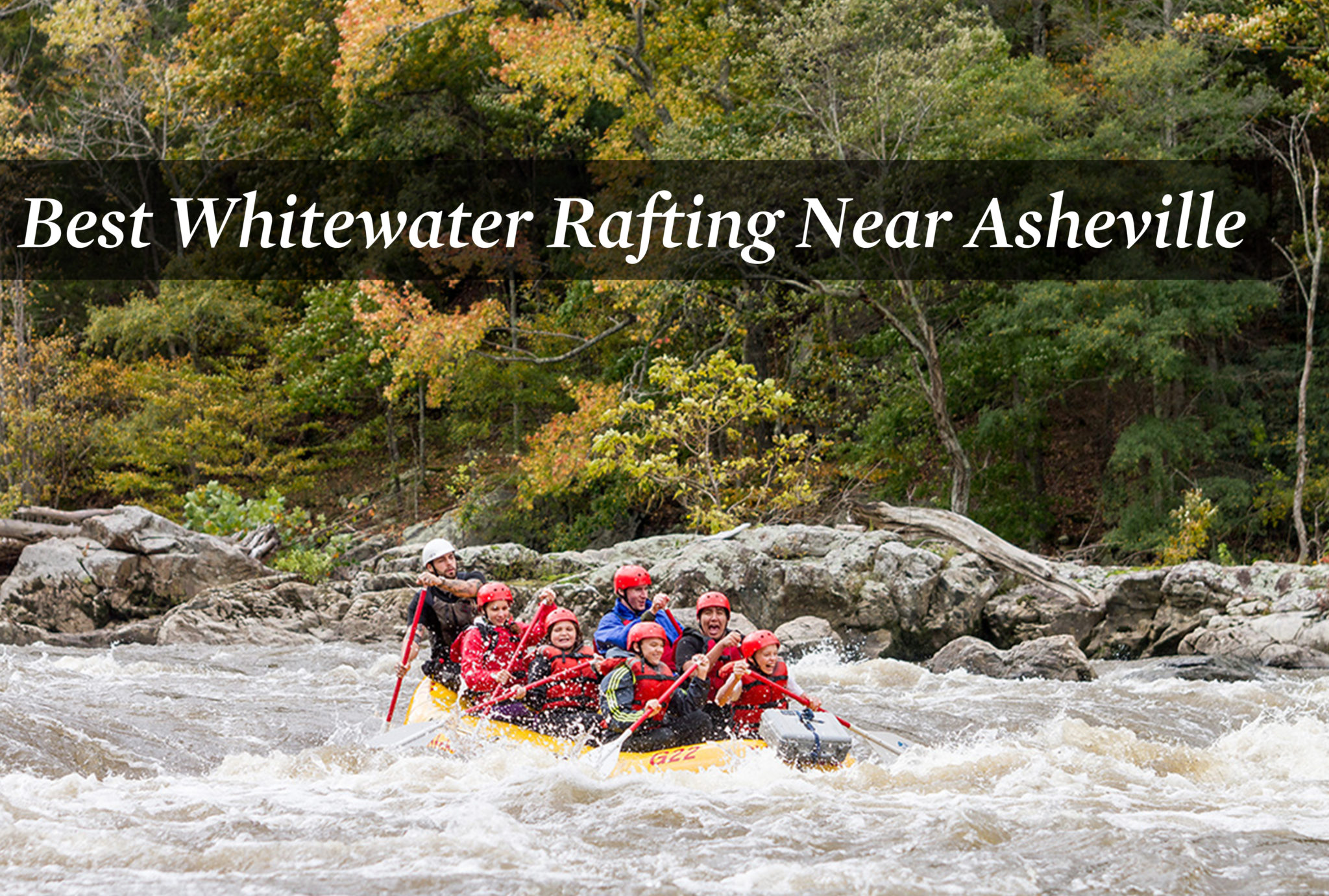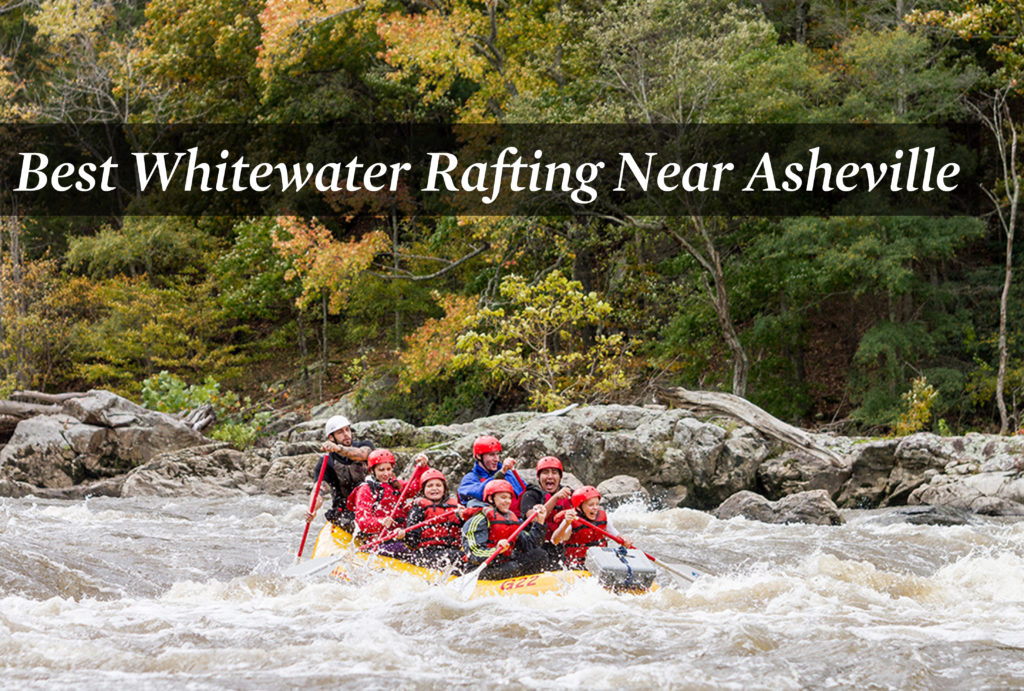 The Blue Ridge Mountains are filled with natural wonders that make them a popular destination for lovers of the outdoors – and especially fans of whitewater rafting. If you're looking to make rafting part of your next trip to the mountains, you're in luck. Rushing rapids, quick twists and turns, wild waves, and lots of memorable moments await you on your next whitewater excursion, and we've got the scoop on the best places to raft, kayak, tube, and canoe around Asheville. Whether you're looking for a calm float or a heart-pounding ride, everyone can enjoy time on the river, from newcomers to rafting veterans.
Whitewater Rafting Near Asheville
There are plenty of whitewater options to choose from near Asheville, and we'll focus on the French Broad River, the Nantahala River, and the Pigeon River.
What river runs through Asheville?
The French Broad runs through Asheville. The river is around 70 miles in length, and it runs from Western North Carolina to Tennessee, where it becomes the Tennessee River. It's considered to be one of the oldest rivers in the world, even older than the mountains around it.
The French Broad contains calm water sections that flow through the city, as well as whitewater areas 45 minutes north of Asheville (including class II-III rapids, with some class IV advanced rapids at the grand finale).
If you're unfamiliar with the rapid classification system, class I rapids are considered easy, with fast-moving water but small waves. Class II rapids are a little more challenging, with some maneuvering required and slightly bigger waves. Class III rapids are intermediate, with bigger waves and more powerful currents, so expect to get soaked. Class IV rapids are advanced, with large rocks and turbulent waves, so they're for more adventurous rafters.
How far is Nantahala from Asheville?
From Asheville, it's 75 miles to the Nantahala Gorge, or about a 1.5 hour drive. Located near Bryson City, NC in the Nantahala National Forest, the Nantahala River is eight miles long, and it's dam-controlled, which means you can expect great rapids no matter when you go. It's the busiest and most popular rafting river in the area. The river flows through a very shady gorge, only getting direct sun during the middle of the day, meaning the water will be brisk! In fact, Nantahala is a Cherokee word that means "land of the noonday sun."
What class rapids is the Nantahala River?
The Nantahala contains rapids in classes I and II, with class III rapids at the concluding Nantahala Falls portion.
How far is the Pigeon River from Asheville?
The Pigeon River is about an hour from Asheville. Near Pigeon Forge and Gatlinburg, TN, this dam-controlled river borders the Great Smoky Mountains National Park. The upper section of the river has intense class III-IV rapids, and the lower section includes gentle rapids and swimming holes. This lower section is a great option for families with young children.
Do I need to have prior experience to go whitewater rafting?
No, you don't need prior experience. Just book a tour that will be led by an expert guide, and they'll explain all safety precautions and navigate with you through the rapids. Follow their instructions and you'll have an exciting, safe time on the river. (Some companies offer unguided trips, but those are best for experienced rafters.)
Where can I book a whitewater rafting trip?
If you're ready to get out there on the rapids, here are a few great companies where you can book your rafting package:
Only 22 miles from Asheville, Blue Heron Whitewater is the closest outfitter to the city for whitewater rafting on the French Broad. Their trips include full- and half-day whitewater adventures on class I-IV rapids, as well as scenic float trips on less intense rapids that are suitable for younger children.
French Broad Adventures has whitewater rafting, calm water floating, ziplining, rock climbing, and canyoneering, and they offer discounted packages so you can choose multiple activities. They're the closest company to Asheville offering ziplining and whitewater rafting at the same location.
Calm River Activities
If you're looking for a more laid-back experience on the river, there are lots of options for you, too. On the quieter section of the French Broad, you can go at your own pace and enjoy the scenery as you float downriver.
One great option is to enjoy a lazy tubing run through Asheville with local outfitter Zen Tubing. Zen Tubing offers 2 options – one is a float through South Asheville, including some island stops and a riverside picnic. The other option is an urban tubing run through Asheville's River Arts District and past some local breweries.
Where can I Kayak in Asheville, NC?
There are many companies around Asheville that rent out kayaks and other water gear and offer river trip packages. All companies listed below will also shuttle your personal equipment if you'd rather use your own kayak. Depending on the company, all trips depart from different locations along the French Broad, and most are unguided. Here are some of our top picks:
Asheville Outdoor Center is centrally-located, only a few minutes from both downtown and West Asheville. Rent kayaks, tandem kayaks, rafts, tubes, canoes, and SUPs and float down the French Broad before enjoying a beer at their riverside taproom.
French Broad Outfitters is the only outfitter with a location north of town, so their trips include an extra six miles of river. From their second location in Hominy Creek, they offer historic Biltmore river tours on the French Broad River where you can float past the beautiful Biltmore house and grounds. They rent out fishing and camping supplies as well as water gear.
Lazy Otter Outfitters is located in Mills River, NC, about 30 minutes south of downtown. Away from the rush of traffic, Lazy Otter offers relaxing paddles on the French Broad, past local farms and under bridges. You might even see an otter along the way! Try their Sierra Nevada Express trip for a river paddle that ends at one of the area's most popular breweries.
Whitewater rafting in the Blue Ridge Mountains is a truly unforgettable experience. If you've worked up an appetite after your rafting adventure, try one of the best restaurants in Asheville for a satisfying and delicious dinner, or grab a beer at one of the city's many great breweries. Whether you're strolling downtown or floating down a shimmering river, Asheville has something for everyone.
Dreaming about making the mountains your home? We can be your guide to making that dream a reality. Contact us using the form below and we'll be happy to help!