Choosing the right home builder is just as important as choosing an existing home. The process should be done carefully and thoroughly. We're here to help you with that. Thinking of making your next home in Western North Carolina? We've gathered some of the top home builders around the Asheville, NC area and broken them down into categories for your convenience. Are you looking for a small, affordable home? Lots of customization options? What about a luxury cabin or a modern house? No matter what you want, we're confident you'll be able to walk away with several top Asheville, NC home builders to choose from.
Important Questions to Ask
Finding a construction company to build a house involves asking a lot of questions. But what should you ask them? It's always helpful to have a list of questions to refer to when you meet with a prospective builder.
Some helpful questions to ask your home builder include:
Can I have recent buyer references?
Can you help me design a floor plan? How flexible is the floor plan? Can I add to it?
How long will it take to build my home?
How much customizing do you allow? May I have specific allowances?
Can I up-grade (or down-grade) appliances and other selections?
Are there additional fees that come with home building or residential development?
Is there a warranty program?
These are just a few questions to get you started in your home builder relationship. The National Association of Home Builders (NAHB) has several more for you to think about.
Considerations to Make if You Decide to Buy or Build a Home in NC
When making the decision to move to a new place, there are usually a few important things that you must consider. If you're deciding to move to Asheville, NC, you may be wondering if it is more cost-effective to build a home or to buy an existing home.
There's no hard and fast rule about which is less expensive. But building a new home does mean your final price is likely to change. Budget overruns, changes in the price of construction materials, and change orders can lead to an increase in your final cost. However, some builders will agree to a contract price upfront that includes the exact specifications and exact price of your home. This is usually the case when the builder is also the developer of the neighborhood. A couple of examples would be Black Mountain's Tudor Croft or West Asheville's Fountain Park.
On the other hand, when you buy an existing home, you know how much you'll spend because you will have a purchase price in your contract. Of course, if the home you are buying needs renovations, you'll end up spending more money after closing. But if the home is in great shape or only needs minor updates that don't have to be done immediately, it will be much easier to budget and plan with an existing home than it will be for new construction.
Who Are the Best Affordable, Custom, Green, Modern, and Small Home Builders in Asheville, NC?
A selection of newly constructed homes from around Asheville and Black Mountain, NC
The Asheville, NC Home Builders Association (AHBA) is an organization founded in 1966 that is affiliated with the National Association of Home Builders. This organization has many helpful resources for finding professionals in North Carolina. On the AHBA website, you can find an extensive list of local home builders and subcontractors in Asheville. We have highlighted a few companies from this list.
If you're looking for:
Affordable / Small (Tiny) Homes

These homes come packed with convenience and affordability without skimping on quality. These smaller homes are great for retirees, starter homes, and are especially well-suited for vacation homes because of their affordability and minimal upkeep requirements.
Some affordable companies to look at:
Beach Hensley Homes – This company prides itself on transparency. They offer competitive fixed-prices that let potential buyers know right away what their costs will be. Beach Hensley Homes is also generous with customization selections, including the option to create green, sustainable homes.
Compact Cottages – Compact Cottages can offer you just that, a tiny home cottage that sits at just under 400 square feet for a good price. For the minimalist in you, Compact Cottages can draft up a sensational home plan to build you the tiny home cottage of your dreams. These homes are perfect for the buyer that wants to both reduce their carbon footprint and enjoy the finer things in life (at a competitive price).
Custom Builds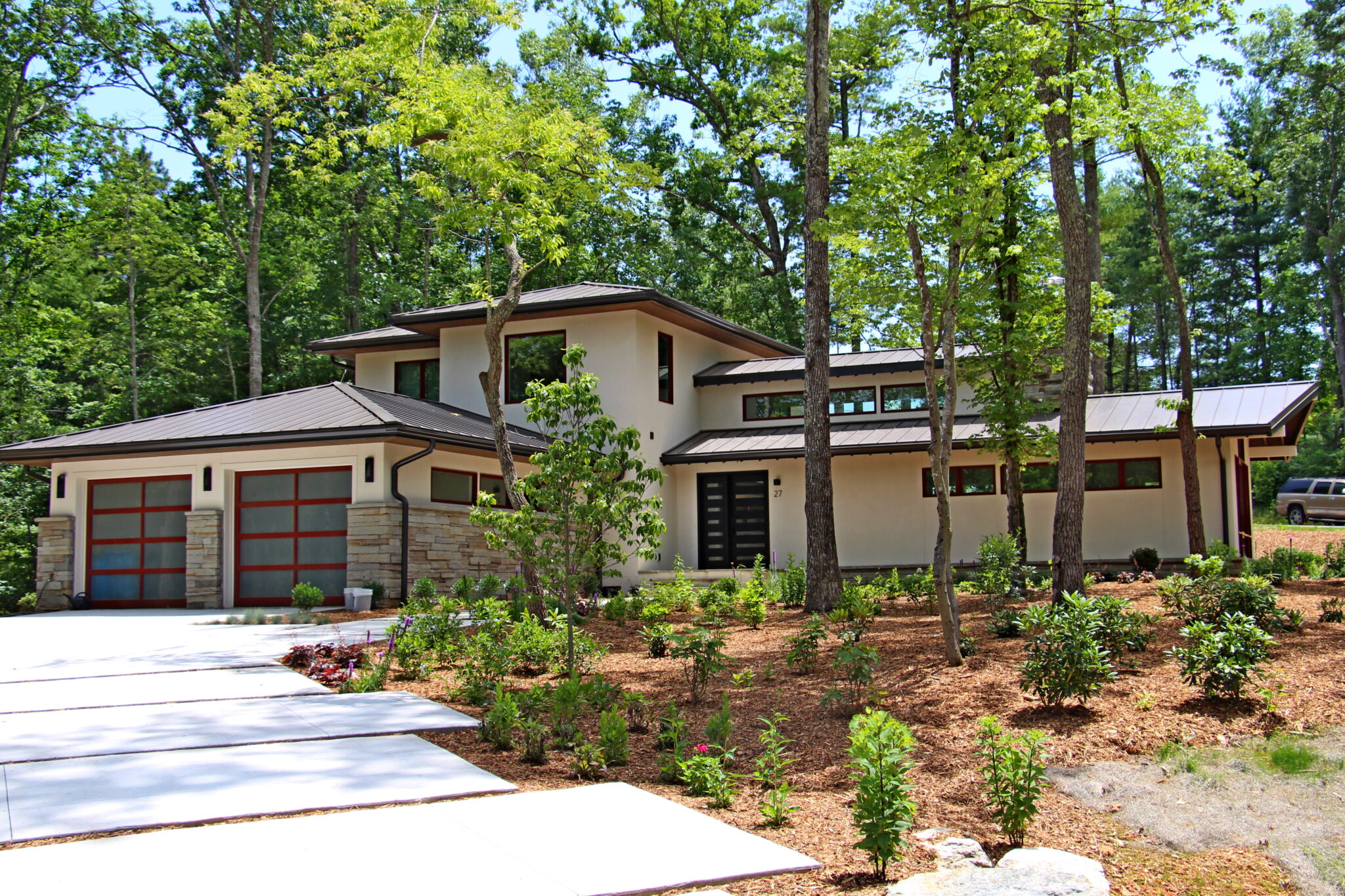 Having a ton of customization options is half the fun. Here are some custom home builders in the Asheville area that you'll want to check out.
Copperwood Builders – Around since 1998, Copperwood Builders specialty is creating gorgeous, (completely customizable) hand-crafted houses. They value communication and work to build bonds with their clients, architects, subcontractors, and developers. By creating these tight-knit relationships, Copperwood Builders can efficiently cater to their client's needs with high accuracy.
Harrison Homes – They're the mind meld of two individual construction companies that bonded together in 2007 to create Harrison Homes. Together, they have an array of different experiences ranging from large commercial, timber-frame, and stick build residential, to an abundance of home and business restoration projects. Harrison Homes thrives on offering high quality and fully customizable home build projects to clients.
Judd Builders – Judd Builders works to build trust before the home when dealing with their Asheville, NC clients. While others may outsource, Judd has an in-house team of 25 highly skilled craft experts who are fully dedicated to the cause. They try not to sub-contract and keep all projects in house, offering more control over the project costs, customization, building schedule, and quality.
Modern Houses
These modern home builders craft sensational modern homes that are pure works of art. Consider these modern builders:
Green Homes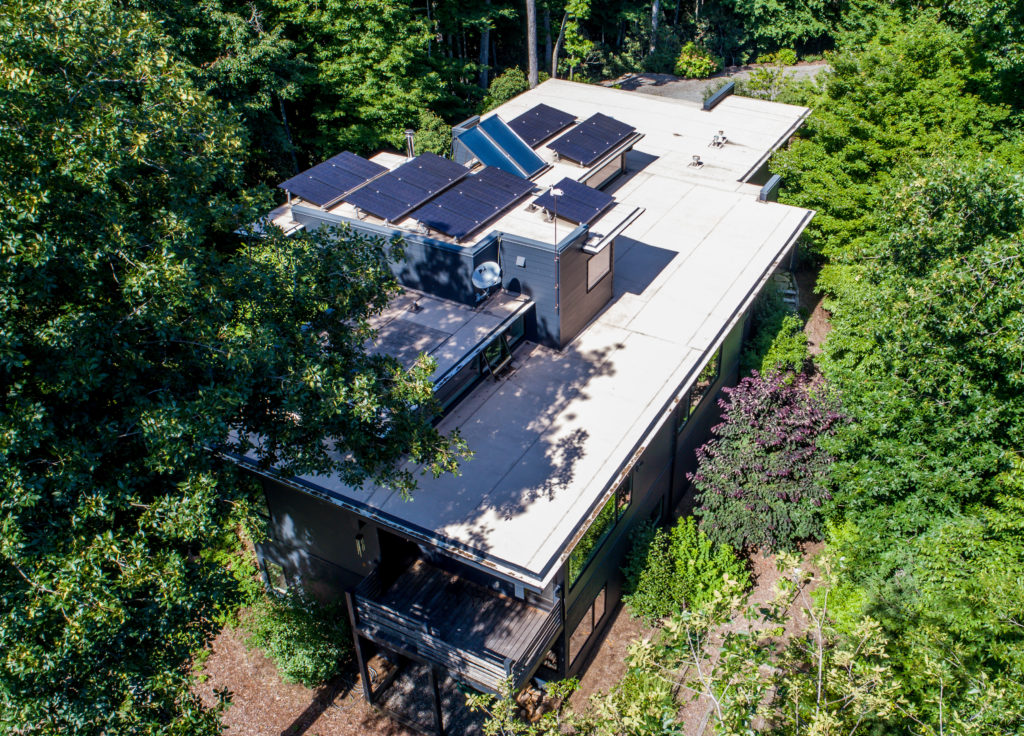 The Green Built Alliance has a helpful directory where you can locate several Asheville green home builders and subcontractors. Here are some Asheville are builders that specialize in sustainable construction practices:
JAG Construction – One of the many green home builders in Asheville, NC, JAG Construction can offer an eye for detail while developing an exceedingly sustainable and efficient house for their clients. With builds that eclipse the 15 percent efficiency upgrade required by Energy Star, JAG also proudly achieves a 30-60 percent energy efficiency premium.
Living Stone Construction – Also an accredited master builder with exceptional green construction experience, Living Stone Construction is one of the top sustainable custom home builders around. They've been crafting homes for over 25 years, taking on a transparent approach to the entire construction process. They use open communication to their advantage by building strong relationships with their customers, architects, designers, and realtors.
WNC DesignBuild – WNC has been designing and building houses for Asheville clients since 1993. With over 27 years of experience to back them up, WNC DesignBuild is a licensed contractor that will build a gorgeous green home to suit your needs.
What Qualities Should you Search for in a Good Home Builder?
When considering the Asheville, NC home builders above, you may want some criteria to keep in mind and narrow down your search. Some top qualities in a good home builder include:
Good communication – It's important to have clear and concise communication with your home builder. Someone who is difficult or unreliable to get a hold of can eventually become an unnecessary nuisance. There will be ongoing follow-up throughout the process, so good communication is imperative.
Industry experience – We've made sure that the home builders in this article have extensive experience. While new contractors may not be all bad, you reduce the chances of problems or issues when giving your business to a more experienced builder.
Transparency – There are a fair share of home building companies that will tack on hidden fees to the end price tag. A good home builder will be upfront with all costs and not try and sneak in anything new at the end without first consulting or alerting you to the possibility of a cost increase.
Service after the Sale – Quality home builders tend to have home warranty service agreements or structural warranties in place to help give buyers that much-needed peace of mind. Builders in North Carolina typically offer at least a one-year warranty on their craftsmanship.
The above list of home builders in Asheville, NC maintains these qualities, but you will be the final decider on those factors. And this is not an exhaustive list. We are fortunate in our market to have a lot of quality builders. What qualities do you value in a home builder? Let us know in the comments below.
What's Next?
If you have more questions about building your new home in the Asheville, NC area, give us a call. Many of us at Freestone Properties have gone through the construction process ourselves, and we'd be happy to share our experiences and recommend specific builders depending on your needs. We can also help you find that perfect piece of land on which to build!