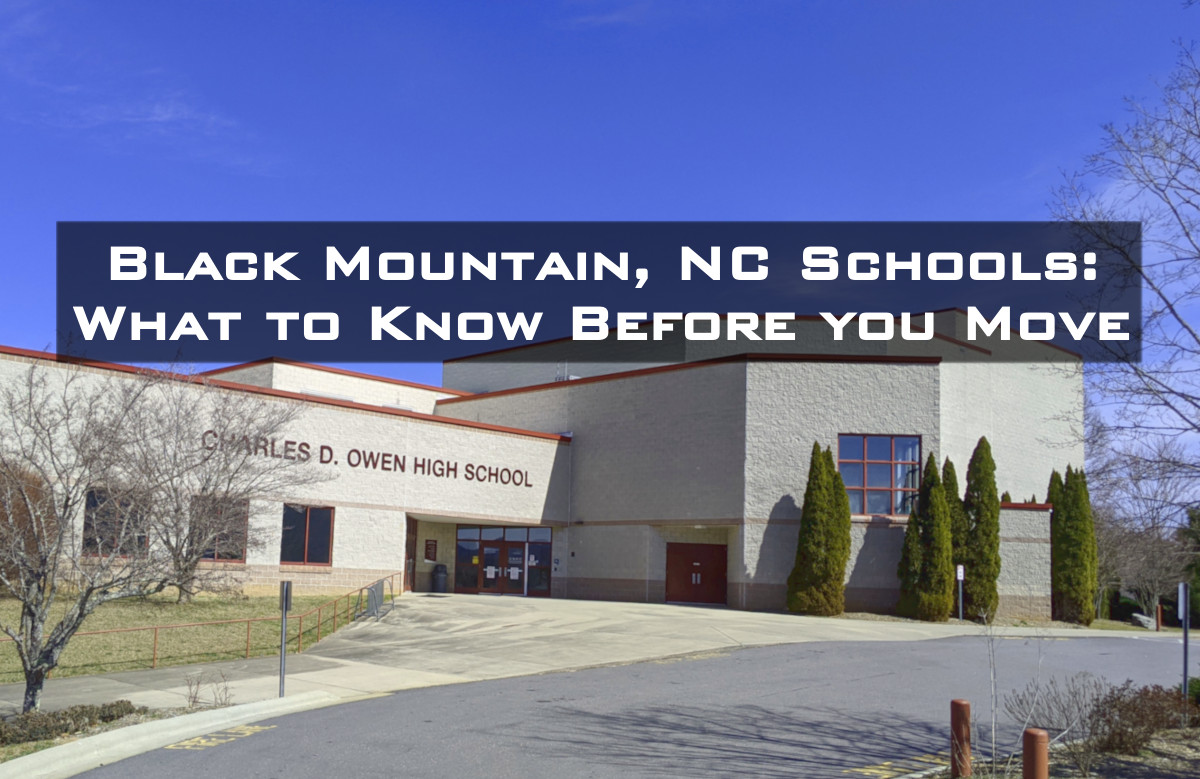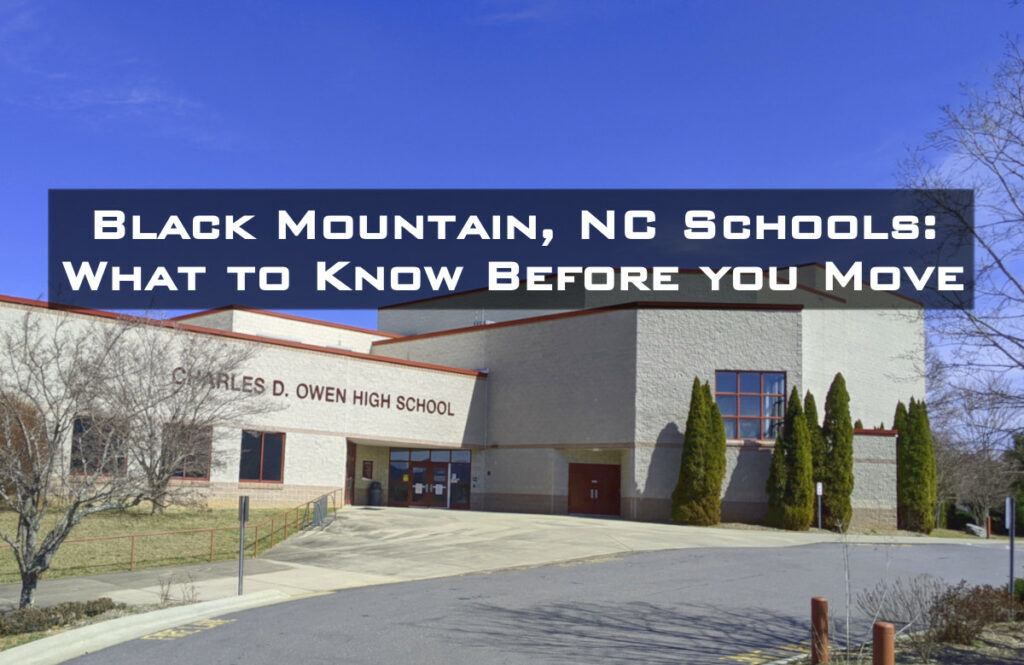 There's so much to learn about the gorgeous town of Black Mountain, NC. Located on the eastern side of Buncombe County, it has a population of approximately 8,000 people, so it's a small and welcoming community with a lot to offer those who reside or visit. The surrounding area has a good variety of schools, an assortment of amenities, and plenty of entertainment options.
School Districts Surrounding Black Mountain, NC
Black Mountain is a part of Buncombe County Schools, a school system that encompasses six different districts spread across 45 schools and serves about 25,000 students. The six districts are called Enka (west), Erwin (northwest), North Buncombe (north), Owen (east), Reynolds (southeast), and Roberson (south). Owen is the district that serves Black Mountain, Swannanoa, and Montreat.
Does Asheville, NC Have Good Schools?
The bustling city of Asheville, NC is approximately 15 minutes west of Black Mountain. It's not a part of Buncombe County Schools but has its own school district: Asheville City Schools. A part of the community for over 130 years, Asheville City Schools is a large district that takes care of over 4,500 students across 10 campuses. It's also ranked in the top 30% of all the districts in North Carolina, making it a great place to find good schools in the area.
Which County in NC Has the Best Schools?
Asheville City Schools was ranked #6 in the state of North Carolina on Niche.com, while Buncombe County Schools (including all 6 county districts) was ranked #15. Niche.com reviews districts and grades them in the categories of teachers, sports, diversity, and college prep. These ratings are based on statistics and opinions from many students and parents.
Black Mountain, NC Schools
Let's discuss the 9 schools that serve the Black Mountain area. Some will be listed under elementary, middle, high, private, and charter schools for clarity.
Elementary Schools
There are 2 main elementary schools in this city, both with similar goals of nourishing young children's minds through encouraging leadership and creativity. Located right downtown, Black Mountain Primary aims to build the leaders of tomorrow. They work with children from kindergarten up to 3rd grade and combine interdisciplinary education with daily art for a unique blend of teaching that parents and students both enjoy.
Black Mountain Elementary focuses on "preparing students for the global stage". They have a strong core for drama, dance, music, and art. BME serves kids in 4th and 5th grades.
Middle Schools
The main public middle school that serves Black Mountain is Charles D. Owen Middle School. This school is located in Swannanoa, NC, which is the unincorporated area just west of Black Mountain that is also in the Owen District. OMS serves approximately 550 students in grades 6 through 8. Their goal is to find new and creative ways to engage and educate students by focusing on individual needs and strengths.
High Schools
Charles D. Owen High School is the main public high school that serves students in Black Mountain, Swannanoa, and Montreat, NC. Owen High School prides itself on integrity, attitude, and maturity. Students can join 18 different athletic teams and 23 clubs. Teachers here have an average of 15 years of experience.
Private Schools
If you want smaller class sizes and individualized instruction, you may want to look into some private schools in the area. Asheville Christian Academy has been around for over 60 years and focuses on lessons backed by the gospel. With the goal of inspiring Christ-oriented lives, Asheville Christian Academy teaches children from kindergarten through graduation.
Located in the town of Montreat, NC, Montreat Morning School has a spiritual and humanitarian based approach to their education. A small school of approximately 100 students, it's a Christian school that combines the written lessons of Christ with artistic instruction. MMS offers programs for toddlers through pre-kindergarten (with a "transitional" option for those wanting another year before kindergarten).
Children Learning at Montreat Morning School. Images courtesy of Montreat Morning School.
The Learning Community promotes a tight knit environment that offers personalized instruction, a hands-on approach, inquiry-based lessons, and family engagement. They foster unity by hosting various events and encouraging open communication.
For families interested in Montessori education, Black Mountain Montessori School's primary goal is to provide a safe, joyful, and holistic learning environment for all their students. Black Mountain Montessori sets themselves apart by focusing on each individual child and tailoring their lessons accordingly.
Charter Schools
Like private schools, charter schools give teachers room to design their classrooms and lessons to fit the student. However, NC Charter Schools are not private. Charter Schools in North Carolina are defined as:
public schools of choice that are authorized by the State Board of Education and operated by independent non-profit boards of directors.
Swannanoa's Artspace Charter School offers an education that thrives from visual and performing arts with a hands-on approach. Artspace encourages parental and community involvement and by hosting events that everyone can participate in. There are several other charter schools in the Asheville area, all of which are available to students in Black Mountain and the surrounding areas.
Black Mountain Demographics
In addition to schools, there are related demographics to consider about Black Mountain. According to Neighborhood Scout, approximately 94% of the population are high school graduates, with 47% going on to complete college. Median household income is about 45K a year, with less than 5.6% of the population under the poverty level. The largest age group of residents are between 35 to 54 (about 22%), with the second highest age range between 55 and 64 (about 19.4%).
Other Things to Know About Black Mountain, NC
Besides good schools, Black Mountain has many other worthwhile reasons to move here. Black Mountain has great dining, shopping, and outdoor entertainment options. There's always something to do!
Food and Drink
Stop in for a bite and drink in a number of restaurants and pubs scattered around Black Mountain. Food junkies will love the niche restaurants and bistros, unique cafes, and microbreweries they can find on every corner. Even the non-foodies will have a blast experiencing all the different options!
Shopping
Size means nothing when it comes to selection in this town. There's a variety of shopping options in Black Mountain. Ranging from souvenirs, specialty shops, and boutiques, to clothing, grocery stores, and markets, it's pretty easy to find what you need in Black Mountain, without needing to venture into Asheville. Black Mountain residents will tell you they "go to Asheville when they want to, and rarely because they have to."
The Great Outdoors
There's an abundance of parks nearby and lots of options for camping, hiking, and biking that nature lovers and guests of Black Mountain, NC will enjoy. The area is surrounded by national forests and state parks.
What's Next?
If you're thinking about making your next big move to Western North Carolina, Freestone Properties can help. We have decades of knowledge about the area, neighborhoods, and real estate. Contact us for your moving questions or real estate needs.