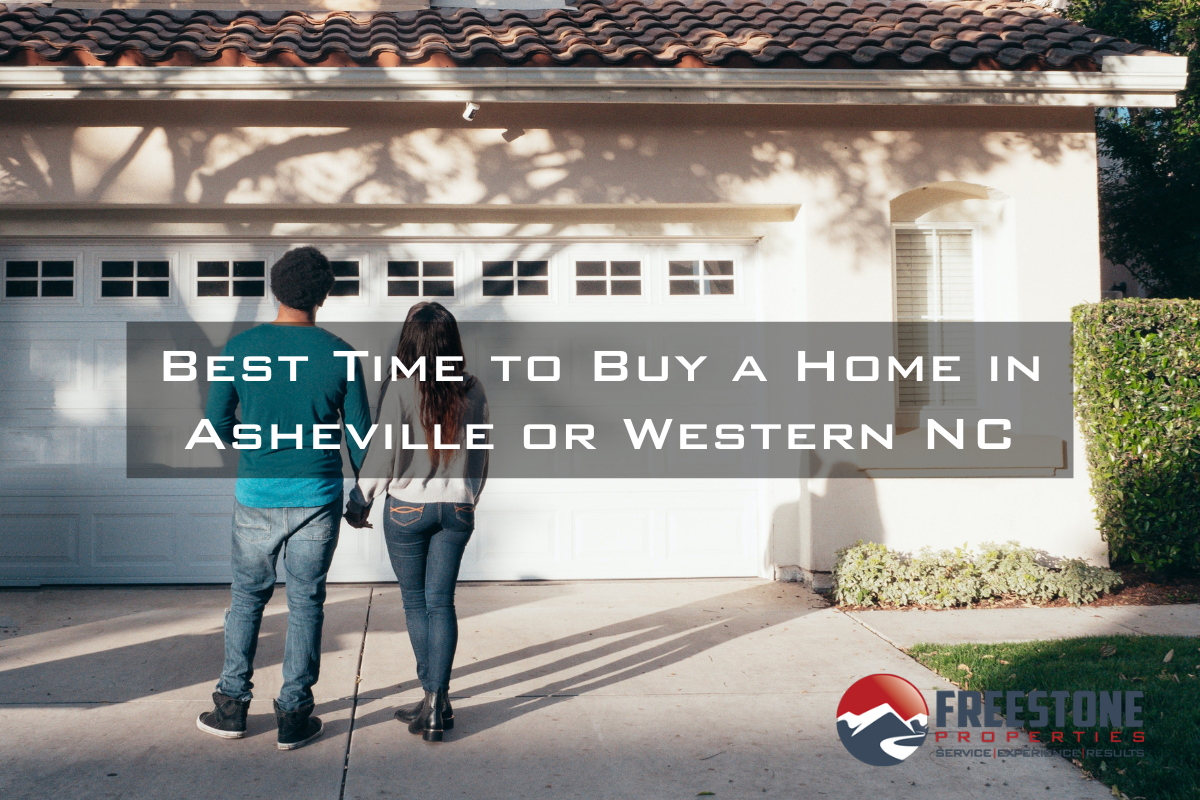 Purchasing a new home is a major decision, and if you're like many other buyers, you want to take the leap at the perfect time. It can be hard to know the best time to buy, especially if you're a first-time homebuyer. Many things can affect the housing market, and you might be surprised to learn that the time of year can affect home prices and mortgage rates to a significant degree. Here in the Asheville, NC area, the housing market can be quite competitive, so it's important to be aware that each new season will affect your home search differently. If you're hoping to snag the ideal place for your family at the lowest possible price, keep reading to learn more about the best time to buy a home in Asheville and Western NC.
Table of Contents
Best Time to Buy in Asheville
What affects house prices in Asheville and surrounding areas?
Here at Freestone Properties, we've noted that home prices here in Western North Carolina rise and fall depending on a variety of factors. Here are three of the most important:
Seasons
Like in many other cities, the time of year impacts home prices in Asheville. As the weather becomes warmer, more people look to buy and sell homes throughout the area. This increase in competition can cause prices to rise. During the colder months, fewer people want to relocate and less homes are listed. This means that buyers may have a clearer shot at the home they want.
Demand
Asheville has become one of the most popular cities in the southeastern United States over the past ten years. While many people are content to visit, others have decided to make the Asheville area their new home. (And we get it – living in Asheville is amazing). This has led to a competitive housing market and an increase in home prices over time.
Neighborhoods
Home prices can rise and fall in response to the development – or the decline – of the neighborhood they're in as well. As new and exciting attractions, businesses, restaurants and parks are built in a neighborhood, more people will become interested in moving there, and home prices may rise. In contrast, if an area loses businesses that draw in tourists and new residents, home prices may fall.
Best Time to Buy in Asheville for Lowest Listing Prices
If your goal is to buy a home in Asheville for the lowest price possible, you'd be wise to hunt for a house during the fall and winter. According to Redfin, listing prices are typically lowest during these three months:
December
January
February
Since school is in session during this time, less people are willing to uproot their families in order to relocate. That means that, while there may be slightly fewer homes for sale, you'll have less competition when you're ready to make an offer. Sellers may be more willing to accept an offer below their listing price as well.
Best Time to Buy in Asheville for Higher Volume Home Inventory
If you care more about having a lot of homes to choose from, rather than paying the lowest price possible, search for a home in Asheville during these three months:
The summer months bring plenty of home listings, since kids are out of school and families are able to relocate more easily. The weather is pleasant, allowing sellers to accomplish home renovations, and lawns and gardens are lush, making listing photos more eye-catching.
Best Time to Buy in Asheville for Lowest Mortgage Rates
Like listing prices, mortgage rates may also decrease in the fall and winter. While this depends heavily on the state of the economy overall, you'll have a better chance of snagging a low mortgage rate during one of these months:
December
January
February
Mortgage rates are influenced by the Federal Reserve, the housing market and a variety of other factors. Overall, rates rise and fall based on demand for mortgage. As mentioned, the supply of homes for sale slows during the winter months. As a result, mortgage rates may be lowered in order to incentivize buyers and boost the housing market.
Tips for Choosing When to Buy in Asheville Housing Market
Now that you're more aware of how the housing market fluctuates throughout the year, you can better decide when to make your purchase. Although it's helpful to look at trends, there is no formula when it comes to exactly when you should buy a house. Every buyer's situation is different, and you should buy when it best fits your family's situation. However, here are some general tips for choosing when to buy a home in Asheville:
Consider your budget.
Your financial situation should factor into when you buy your home. If you're buying on a budget, aim to find and purchase a home in the winter months. If money isn't an object, you'll have more freedom in your buying timeline.
Consider your needs.
Your needs and wants will also dictate when you should buy. If you're looking for very specific features in your new home, you might want to wait until the summer influx of new listings to start your search.
Work with experts you can count on.
Trusting local experts can make a major difference throughout your homebuying journey. Choose a realtor and mortgage broker who know the area inside and out, and they'll help you decide the best time to buy. Our real estate experts here at Freestone Properties have years of experience helping buyers and sellers navigate the Asheville housing market, and our team would love to help you, too.
Keep an eye on the market.
You can find a diamond in the rough – a house that fits your needs, wants and budget – at any time of year. Trust your gut and watch for new listings, and your dream home might surprise you.
Helpful FAQs on the Asheville Real Estate Market
Is 2023 a good time to buy a house in Asheville NC?

Yes. The housing market in Asheville, NC is full of quality homes, including everything from downtown condos and family-friendly new builds to historic bungalows and mansions perched high in the mountains. You'll find a wide variety of homes to choose from throughout Asheville and Western North Carolina, so you'll be able to find the right one at the right price.
Are home prices dropping in Asheville NC in 2023?
Why are so many people moving to Asheville?

Asheville has gained a reputation as a great place to live, one where residents are happy and there's always something exciting going on. Art and culture thrive in Asheville, as does the restaurant and brewery scene. On top of all of this, the surrounding Blue Ridge Mountains provide many opportunities to get outside and enjoy nature.
Why is Asheville housing so expensive?

Asheville's popularity has been the main reason for the gradual rise in home prices. As more people have moved to the area, competition has grown more intense and sellers have seized the opportunity to list their homes at higher prices. Although new condominiums and planned communities are being built throughout the area, the supply of housing has not kept up with the demand, causing home prices to rise. The increase can also be tied to inflation and rising interest rates, two factors which have affected home prices nationwide. For more insight into the Asheville real estate market, visit our dedicated page.
Whether you're just starting your search or you've been house-hunting for months, having an experienced Asheville Realtor on your team is a must. Buying a home can be overwhelming, but with the guidance of one of the real estate agents here at Freestone Properties, you'll have an easier time navigating the homebuying process.
Our hardworking team is deeply familiar with the area, which means we'll be able to recommend the best places to live in Asheville and the neighborhoods which could be a great fit for your family. Contact us today and we'll work with you to find the perfect place, helping you decide the best time to buy your new home here in Asheville.