Is Asheville a Good Place to Live?
Asheville, NC is a popular area for all types of people, including families, young professionals, and anyone who is looking for a city with good food, beautiful scenery, and quality healthcare. Asheville is well-known for its vibrant art scene, abundant outdoor activities, and world-class live music. But it has also become a hotspot for tourists and retirees. Many people who shop for real estate in Asheville are from other areas.
We routinely work with clients from other parts of the state, other regions in the country, and even other nations across the globe. One of the most frequent questions we hear is "what are some good places to live in Asheville, NC?" Of course, the answer depends on what appeals to you. But, if you're considering moving to Asheville in the first place, there's a good chance you value an active lifestyle, access to outdoor activities, and beautiful natural surroundings. And you may already be familiar with Asheville's amazing restaurants, the booming beer industry, and incredible climate.
But what about the real estate market? What are some good places to live in Asheville?
Good Locations to Buy Property in Asheville, NC
One of the best things about getting a place in Asheville to live in is the wide variety of communities to choose from. Within most price ranges, there are a lot of different types of property available. But inventory can be tight at times. So when buyers ask us what are some good locations to buy property in Asheville, it really depends on what you want.
Will you be living here seasonally or year-round? Many seasonal residents spend time in Asheville in retirement, so they have a lot of free time. For these buyers, it makes sense to pick a location that is close to activities that you plan to do frequently. If you like hiking, buy a home near the Blue Ridge Parkway or within a short drive to Pisgah National Forest. Or consider a home in Montreat, which offers easy access to the Montreat hiking trails. Another consideration is access to healthcare, including Mission Hospital and the VA Medical Center in Asheville.
Year-round residents usually choose a home close to work or to the best schools in the area. And for those that telecommute, it's important to consider your internet provider. Urban and suburban locations typically have several options for high-speed internet, while rural locations usually have fewer service providers.
For seasonal residency, it's also a good idea to choose a location where neighbors are nearby and you can be sure that someone is keeping an eye on your property. There's not a lot of crime in the Asheville and Black Mountain areas, but your seasonal home is still susceptible to fallen tree branches, frozen pipes, and other weather-related hazards. For this reason, many part-time residents choose townhomes or condos with an owner's association that covers exterior maintenance. Conversely, buying a home for year-round residency means the owner can be more hands-on in keeping up the property, so buying a home with more land might be a good fit.
For real estate buyers who are just getting their feet wet and learning our market, here are some of our favorite neighborhoods that you may not have heard of. If you're new to our market, these areas are worth checking out to get an overall feel for Asheville real estate.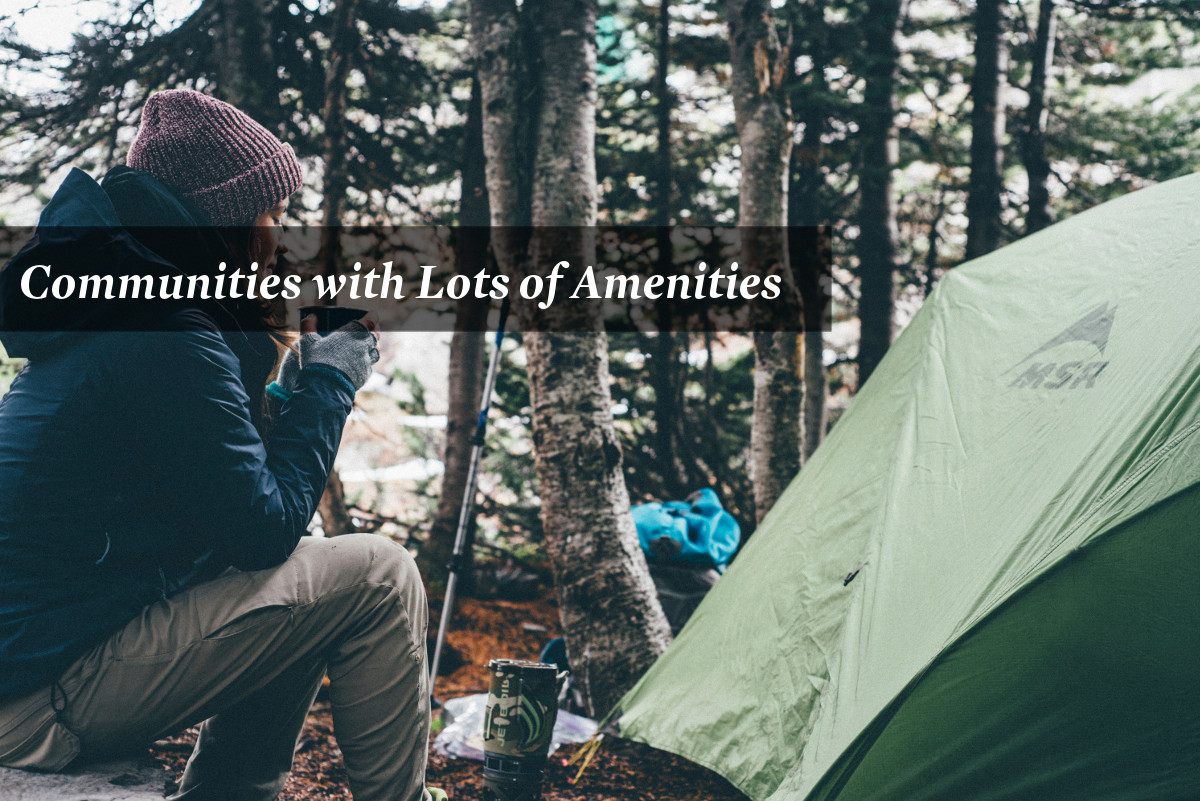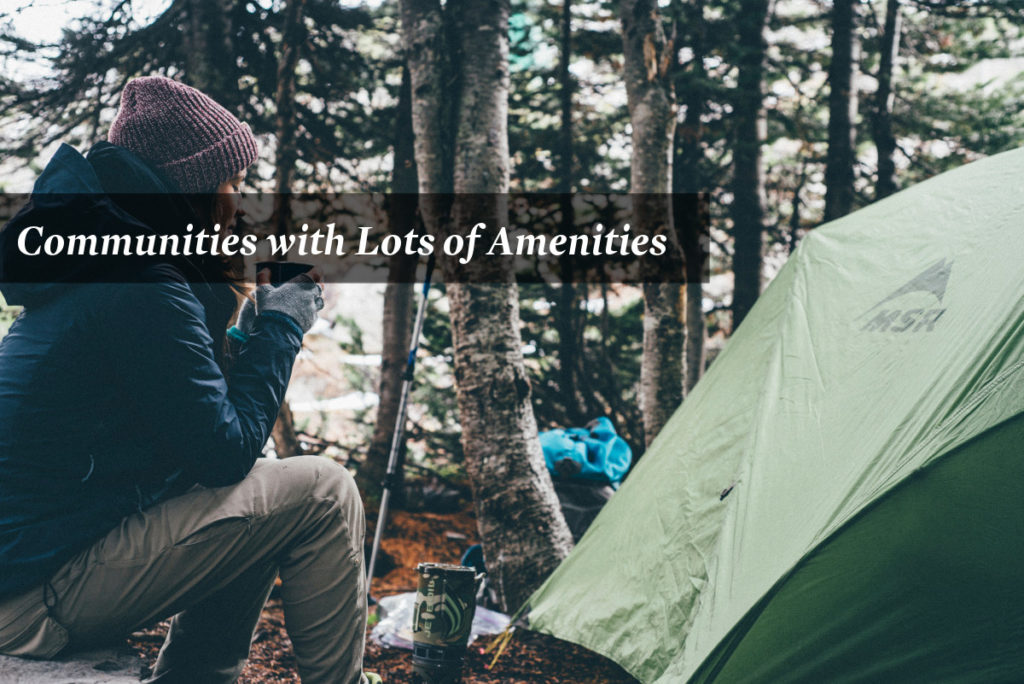 Communities with Lots of Amenities
Biltmore Lake
Biltmore Lake is one of the larger planned communities in the Asheville area, yet we find that many buyers we meet have never heard of it until we mention it to them. Biltmore Lake is unique because it has a 62-acre lake that is available to residents for swimming, fishing, kayaking, and canoeing. It also has miles of trails and sidewalks, tennis courts, and a community center. New construction is still available from the developer in Biltmore Lake, as well as numerous resales. Another unique characteristic of Biltmore Lake is that the neighborhood is not gated, which is unusual for a neighborhood with so many amenities. There are gated sections within the neighborhood, but the bulk of the community is not gated. Biltmore Lake is one of those neighborhoods that remind of us our childhood – where kids can be outside with lots of other neighborhood kids and not come home until dark.
Cliffs at Walnut Cove
The Cliffs at Walnut Cove is a very exclusive gated development in Arden, on the south side of Asheville. Part of the renowned Cliffs Communities family of high-end subdivisions, Walnut Cove is the only such neighborhood in Buncombe County. Amenities here include a world-class wellness center, tennis courts, miles of hiking trails, and a Jack Nicklaus Signature golf course.
While the largest and most luxurious homes in Walnut Cove sell for several million dollars, there are usually a few offerings under $1 million, attractive pricing for such an amenity-filled luxury community.
Southcliff
Southcliff has become a very popular community due to its long list of things to do and its proximity to Asheville. This neighborhood is designed to help its residents take advantage of the outdoors. The amenities here include trails for hiking and biking, multiple playgrounds, several firepits and gazebos, and campsites scattered throughout Southcliff's green space.
Homes in Southcliff are built in the craftsman style, and there is a wide variety of price ranges, with homes typically available for sale starting around half a million dollars up to well over 1 million. There are also vacant lots for sale, including wooded private parcels and large estate lots with long-distance mountain views.
Southcliff's location might well be its best selling point. Located just 3 miles from the Blue Ridge Parkway and 8 miles from Downtown Asheville, Southcliff is easily accessible via US Highway 74-A. This is one of the least congested routes into Asheville.
Neighborhoods Close to Downtown Asheville
Downtown Asheville is the place to go for shopping, dining, and live music, and many buyers love the idea of owning a condo in downtown Asheville so they can access these things all the time. But condo living isn't for everyone, and sometimes living just a short distance from downtown is even better than living right in the heart of the city. Here are some great neighborhoods for buyers that want to be close (but not too close) to downtown.
Chicken Hill
Chicken Hill is a relatively small neighborhood conveniently located between Downtown Asheville and the River Arts District. Situated on a hillside above the French Broad River, residents here can easily walk to restaurants, art galleries, and breweries nearby.
Homes in Chicken Hill are usually very old or very new, with very little in-between. In fact, we ran a search in MLS of all the homes that have ever been listed in the neighborhood. All were built prior to 1945 or after 2004! The older homes are usually cottage/bungalow-style homes, and many have been renovated. Many of the newer homes have modern architecture, including butterfly or shed roofs. It's common for these newer homes to be built with green features as well, often with Energy Star or Green Built North Carolina ratings.
Lakeview Park
Ok, so Lakeview Park isn't exactly a well-kept secret in Asheville, as the neighborhood is over 100 years old. And it's fairly large by Asheville standards, with about 500 homes total. It's also located just far enough north of Asheville off of US Highway 25 to give it a feel of being just a little bit removed from the city.
Without a doubt, the crown jewel of Lakeview Park is Beaver Lake Park. Similar to Biltmore Lake, Beaver Lake offers fishing, non-motorized boating, and a jogging trail around the lake.
Kenilworth
One of the oldest and largest communities within the Asheville city limits, Kenilworth offers an incredible variety of homes for sale. Choose from older homes that have been (or could be) renovated, new spec homes, and even multi-family properties. Kenilworth's location near Mission Hospital makes it a great location for doctors and nurses, as well as landlords looking to rent units to medical workers. Case in point: a friend of mine owns a tri-plex in Kenilworth where he and his family lived in the largest unit for nearly 15 years. The 2 other apartments were rented to nurses who each stayed for over a decade! Talk about steady cash flow!
Neighborhoods within Walking Distance of a Town Center
For real estate buyers looking for a downtown feel but on a smaller scale, Western North Carolina is full of quaint, small-town options. Here are some of our favorites in the Asheville area.
Downtown Black Mountain
If you enjoy walking from your house to a coffee shop, restaurant, or park, be sure to check out TripAdvisor's "Prettiest Small Town in America." Black Mountain is a small town about 15 minutes east of Asheville with a very Mayberry feel. Homes near Black Mountain's Lake Tomahawk Park are still close enough to downtown to make it an easy walk.
Black Mountain is a popular choice for retirees and young families. With lots of community events, live music, and parades, Black Mountain always offers a lot to do. And with easy proximity to Asheville, this is a great choice for those that commute to Asheville for work. As a Black Mountain resident myself, I like to tell people that Black Mountain is a lot like Asheville but on a smaller scale. It has all the amenities you need; we go to Asheville when we want to and rarely because we have to.
West Asheville
West Asheville has been a hot neighborhood since before the Great Recession, and it shows no signs of slowing down. The name " West Asheville," is sort of a catch-all, as there are many smaller neighborhoods that make up the area. Haywood Road is the epicenter of all things West Asheville, including pubs, restaurants, and boutique shops.
Popular among first-time buyers, young professionals, and hipsters, West Asheville has become a booming market for spec homes and green built construction.
Biltmore Park
Situated conveniently on Asheville's south side, Biltmore Park is a well-planned community complete with condos, single-family homes, and grand estates. Biltmore Park's commercial district is what really sets it apart, with tons of amenities available to residents as well as the general public. Some of the main attractions in Biltmore Park are the Reuters YMCA, REI, the Asheville Orvis Store, a cinema, as well as many other shops, restaurants, and businesses.
The residential part of the community also has sidewalks throughout and a community swimming pool. Biltmore Park's location near some of the Asheville area's most desirable schools makes it a popular neighborhood for working professionals with families.
Downtown Weaverville
Another quaint town just north of Asheville, is Weaverville, NC. Downtown Weaverville has a similar feel to downtown Black Mountain, with several popular restaurants and shops to check out. Some of our favorite spots in Weaverville are Well-Bred Bakery and Blue Mountain Pizza. Homes near downtown Weaverville offer an easy to walk to these and other restaurants, and the City of Asheville is just a few minutes away.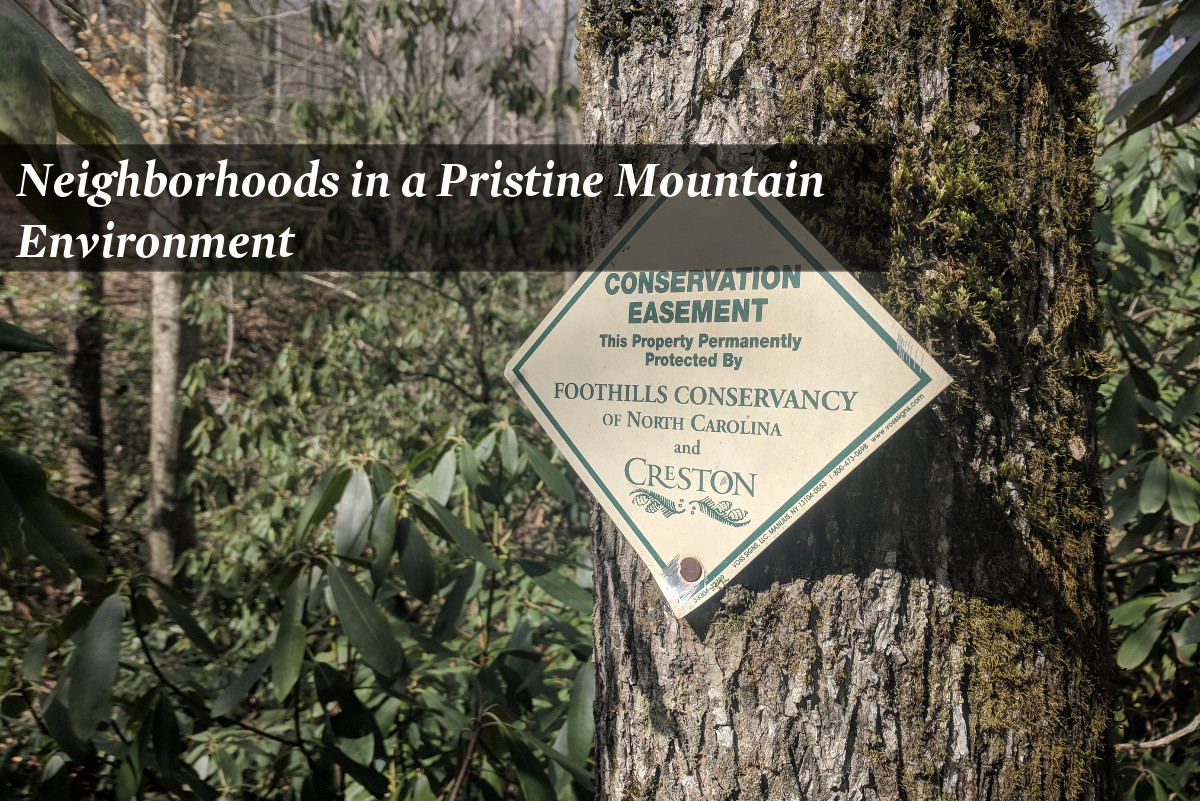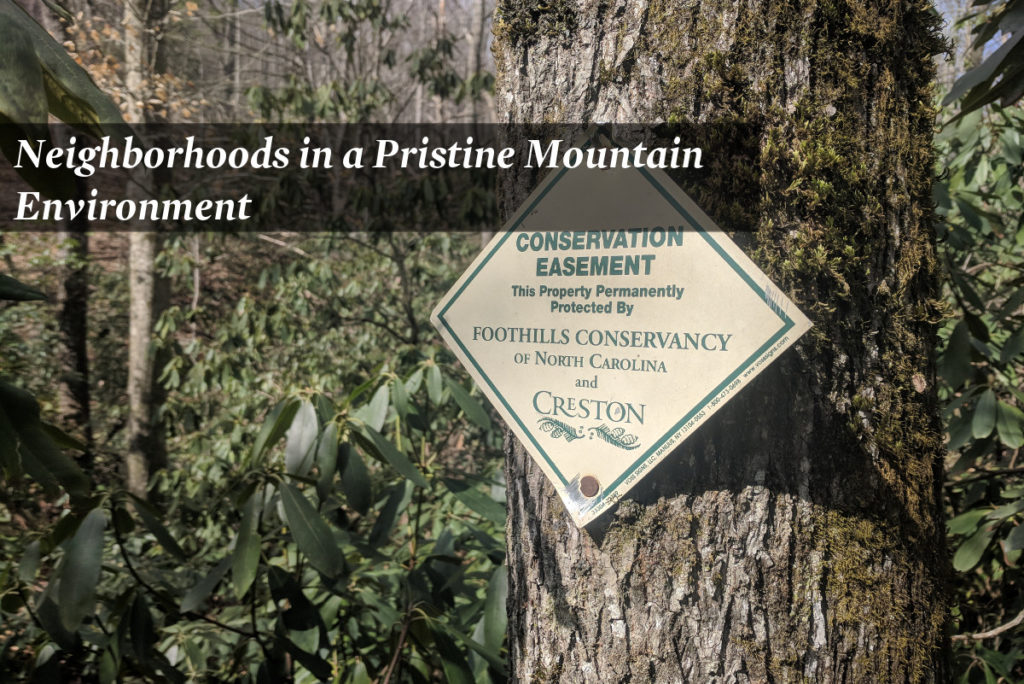 Neighborhoods in a Pristine Mountain Environment
For other folks, living in the Blue Ridge Mountains means just that – living in the mountains! Fortunately, there are communities around Asheville that offer larger wooded lots, mountain views, protected land, and even hiking trails. Here are a couple to check out.
Ciel
One of our favorite things about Ciel is the drive to get there. Ciel is located off of Elk Mountain Scenic Highway north of Asheville. The views along the way are incredible, and the views within the neighborhood are just as nice. Because Ciel is a smaller community, there aren't always homes available for sale. When they are for sale, they can sell quickly (so we recommend signing up for automatic listing alerts so you can be the first to know about new listings in Ciel). This limited inventory and location off the beaten path make Ciel a well-kept secret.
Ciel encourages green building, and several of the homes are modern in architecture. The views are about as amazing as you can find this close to Asheville.
Creston
Creston Community outside of Black Mountain is one of our favorite mountain communities. What makes Creston is unique is how much of its land is in green space or conservation. The neighborhood is 1100 acres total, but there are only 135 homesites.
More than 55% of the land within Creston's gate is preserved, with hiking trails available for residents to explore the natural beauty without ever leaving the neighborhood. Creston is bordered by Pisgah National Forest and Foothills Land Conservancy, so the number of contiguous protected acres is well into the thousands.
In addition to hiking trails, Creston features a spectacular community building with jaw-dropping mountain views. Residents use this building for fitness, yoga classes, neighborhood meetings, and even weddings. Creston also has access to broadband Spectrum internet, making it an ideal location for buyers who want a secluded natural setting but also need to be connected for work.
Homes in Creston have a Black Mountain address, but the neighborhood is not in the town limits. In fact, it sits just over the county line in McDowell County, meaning the taxes are low.
Is Asheville NC Expensive to Live in?
If you ask an Asheville native if Asheville is an expensive place to live, they'll almost certainly say yes. Asheville has grown a ton since around 2000. People move here from all over the world, and they usually do so by choice, as opposed to moving here due to job relocation. When people can choose where they live, they choose desirable places, and Asheville is certainly a desirable place to live. We're also a destination for retirees, meaning the money those people earned elsewhere moves into our real estate market. So, many homes here are sold without regard to the average household income. All of these factors drive housing prices up.
North Carolina also has a state income tax, but our property taxes are relatively low, especially when compared to states like California, New York, and Florida. We work with many buyers from these states, and they often view homes for sale in Asheville as a relative bargain compared to what they're used to in higher-priced states. So it really depends on your frame of reference. I grew up in Mississippi, and so Asheville seems expensive, but the quality of life more than makes up for it. I chose to live here, and I'm thrilled to raise my kids here. What a great place for them to grow up! The opportunities here for outdoor recreation, in my opinion, are priceless. And when you add in the amazing weather, the restaurants, and the friendly people, I can't imagine living anywhere else!
According to data gathered by the Asheville Economic Development Coalition, Asheville still ranks below the national average in terms of cost of living and is about average for the region. Asheville is ranked very close to Charlotte in terms of cost of living, more expensive than Raleigh, and less expensive than Atlanta, Charleston, or Nashville.
Is Asheville North Carolina a Good Place to Retire?
Yes. Many people come to Asheville to retire because of the beautiful weather. It's never too hot in the summer, and the winters are not as cold as most people think. As I write this article, it's late February and it was 50 degrees and sunny today! Asheville is consistently ranked as one of the best retirement communities to find a place and live in. This video offers a brief overview of what life is like in Asheville, and not just for retirees!
What is the Best Place to Live in Asheville?
This is a question we get a lot, "What is the best neighborhood to stay in when in Asheville?" Many Asheville real estate buyers are looking for a place to stay for a week, a month, or even an entire summer while they get to know the area and the local real estate market. Renting for a short period is a great way to get a better idea of what you want. It's next to impossible to learn the market over a long weekend unless you're already focused on a niche area with limited inventory, such as Black Mountain's Allen Mountain area or the Oakley neighborhood in Asheville.
If you're considering buying a home in Asheville, it sometimes makes sense to rent a home in a neighborhood similar to one in which you think you might like to buy. If you like country clubs, then stay in a neighborhood like Sherwood Heights (near the Country Club of Asheville) or Biltmore Forest. If you prefer a condo and an urban lifestyle, check out a condo building right in the heart of downtown.
Keep in mind that the City of Asheville has specific rules regarding Short-Term Vacation Rentals (known as STVRs). Most homes within the Asheville city limits are subject to a minimum rental term of 30 days.
If you have questions about these Asheville neighborhoods or would like information on other communities, get in touch with our team of Asheville real estate agents and let us help you find your perfect place to live in Asheville!