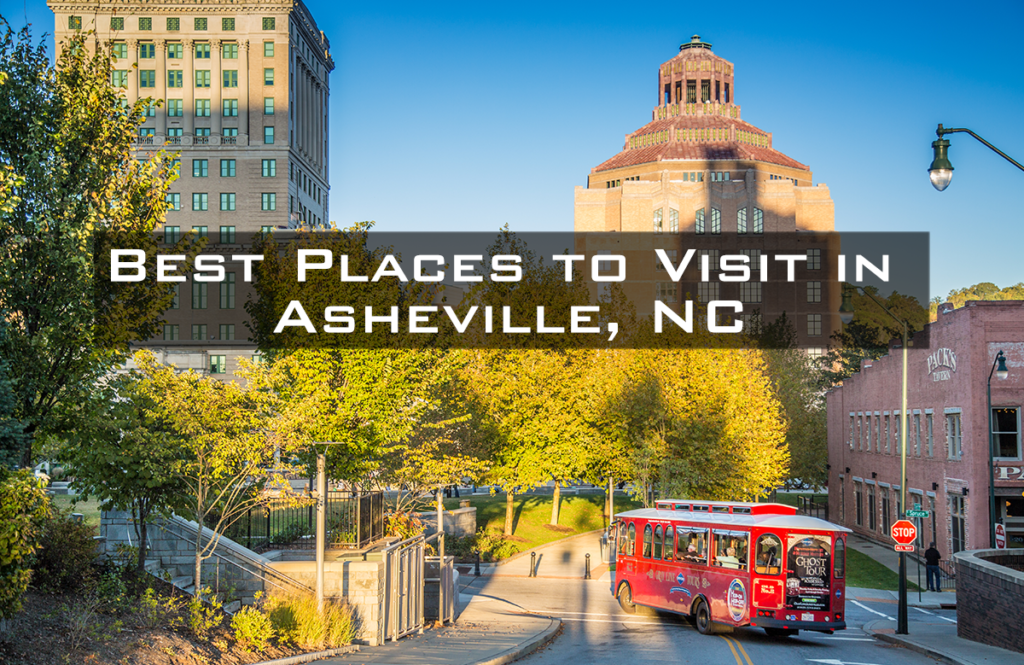 Asheville, North Carolina, is packed full of amazing things to do and places to visit. Events, outdoor activities, historic sites, restaurants, breweries – there's so much to see that it can be hard to narrow down your trip itinerary. That's why we've put together our locals' guide to the best places to visit in Asheville, NC. Read on to find the highlights of Asheville and the surrounding area.
The Biltmore Estate visit goes far beyond the house tour — gardens and trails abound throughout the 8,000-acre property.
Best Places to Visit in Asheville, NC
What is Asheville, NC known for?
Asheville is known for being located in the heart of the Blue Ridge Mountains. Natural beauty and unforgettable outdoor adventures are at your fingertips, no matter the season. The Blue Ridge Mountains are some of the oldest in the world, and Appalachian culture reflects this long, rich history. Bluegrass music, folk arts and craftsmanship, and delicious Southern cuisine have flourished in Asheville over the city's storied history.
Asheville is also known for the Biltmore House, the largest private home in the United States. This gorgeous historic home is open for tours, and you can also walk through gardens planned by Frederick Law Olmsted, designer of Central Park. Don't forget about the winery, horse stables, restaurants, lodging, outdoor concerts, and more.
Asheville's local French Broad Chocolate Lounge has liquid truffles, bourbon bonbon bars, and dessert flights on the menu — need we say more?
What is there to do in Asheville, NC besides the Biltmore?
If the Biltmore isn't for you, or if you've already been, there's tons more to do in Asheville. We recommend beginning your visit by exploring downtown Asheville. You can walk, bike, ride a segway, or even take a trolley tour to see the sights. Make sure to stop by these places as you go:
Pack Square is at the heart of downtown Asheville, and there's almost always something fun going on there. Throughout the year, the square hosts street musicians, art shows, the annual Independence Day concert, and festivals for vegan food, folk music, and more. There's also an area with water jets called "Splashville" where kids can play in the water on hot days. It's downtown Asheville's central gathering place.
The recently-renovated Asheville Art Museum is located at the Biltmore Avenue end of Pack Square, along with the French Broad Chocolate Lounge, serving chocolate, desserts, beer, and ice cream.
Downtown Asheville's South Slope is a must-visit for craft beer lovers. The area is walkable and contains some of Asheville's best breweries, distilleries, and restaurants.
If you're visiting with kids, or you're just looking for something fun to do on a warm summer night in Asheville, get tickets to an Asheville Tourists baseball game. The Tourists are Asheville's minor league team, with a stadium located within walking distance from downtown. Don't forget to grab a beer and a hot dog before the game begins.
Hi-Wire Brewing is one of eight breweries on Asheville's South Slope, also known as the Brewery District of Asheville. Photo credit: Javier Bolea.
What is there to do in Asheville, NC for free?
There are many fun things to do in Asheville for free – especially if you want to get outside.
Driving on the Blue Ridge Parkway is an essential part of any visit to Asheville. This historic highway runs through the city, making it a convenient way to get around, but it also winds through the mountains, passing by stunning overlooks, waterfalls, hiking trails, and dense forests. Simply get on the Parkway at one of the entrances throughout Asheville and take a peaceful drive (and maybe stop for a hike or swim).
With endless stunning views and relaxing, winding drive, the Blue Ridge Parkway cannot be missed when visiting the Asheville area.
Located on the Parkway, the Folk Art Center showcases traditional and contemporary craft of Southern Appalachia. A wide variety of pieces, including quilts, baskets, pottery, paintings, sculpture, weaving, ironwork, and more, are displayed throughout three galleries. The center also has an auditorium and library, as well as the craft shop of the Southern Appalachian Craft Guild (where there are often live crafting displays by local artisans).
In the lobby, there is an information desk staffed by Blue Ridge Parkway experts where you can ask any questions about hiking, wildlife, or the Parkway's history.
The River Arts District is located slightly west of downtown. This area was originally industrial, serving as a distribution hub for the Norfolk Southern railroad, but it has since become a haven for artists. Many of the factory buildings have been renovated to hold artists' studios that are open to tours. Some of Asheville's best restaurants are also in the River Arts District, so you could truly spend an entire day exploring this area.
Don't forget about the West Asheville neighborhood, too. This quirky area is known for its colorful murals, artsy shops, and restaurants serving locally-sourced cuisine.
Places to Visit Near Asheville, NC
As you plan your trip to Asheville, leave room for a day trip to one (or more!) of the small towns around Asheville. You'll find they have a lot to offer.
Hendersonville
Hendersonville, NC, is an easy half-hour drive from Asheville, and totally worth the trip. The historic downtown area has local shops, artist studios, restaurants, breweries, and bear statues painted in all kinds of colorful patterns. For train lovers, there's the Apple Valley Model Railroad Museum, and gem enthusiasts can see stunning crystals at the Mineral and Lapidary Museum of Henderson County. If you visit in the fall, don't miss the NC Apple Festival, a celebration of the many types of apples grown nearby (and all the delicious things you can make with them!)
Flat Rock
In Flat Rock, NC (about 30 miles south of Asheville), you can visit the home of Pulitzer Prize-winning author and poet Carl Sandburg. This property, called Connemara, is where Sandburg lived as he published over a third of his total works (and where his wife Lillian raised champion dairy goats). Today, you can tour the home and visit the goats that are currently being raised on the farm. During the summer months, Sandburg's play Rootabaga Stories is performed at an amphitheater on the property.
If you love theater, catch a show at the Flat Rock Playhouse. This theater is known as one of the best in the area for its high-quality plays and musicals.
Make sure to get tickets to a show at The Flat Rock Playhouse to enjoy some of the best theater in the region.
Pisgah National Forest
The Pisgah National Forest begins directly southwest of Hendersonville and stretches over 500,000 acres, meeting the Nantahala and Chattahoochee National Forests to the west. This expansive forest contains dense forests, waterfalls, hiking trails leading to mountain peaks, and accessible picnic areas that can be enjoyed by all.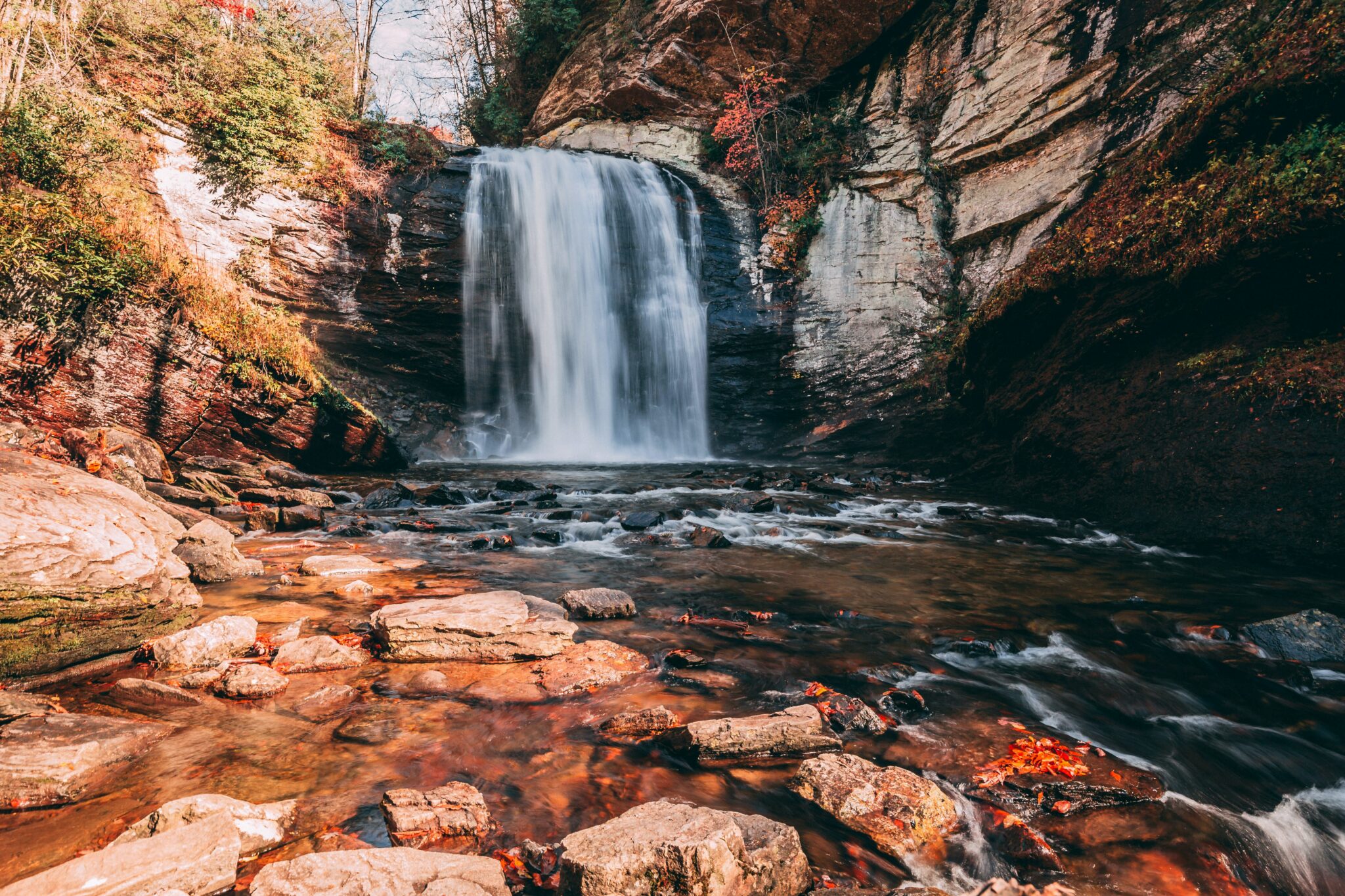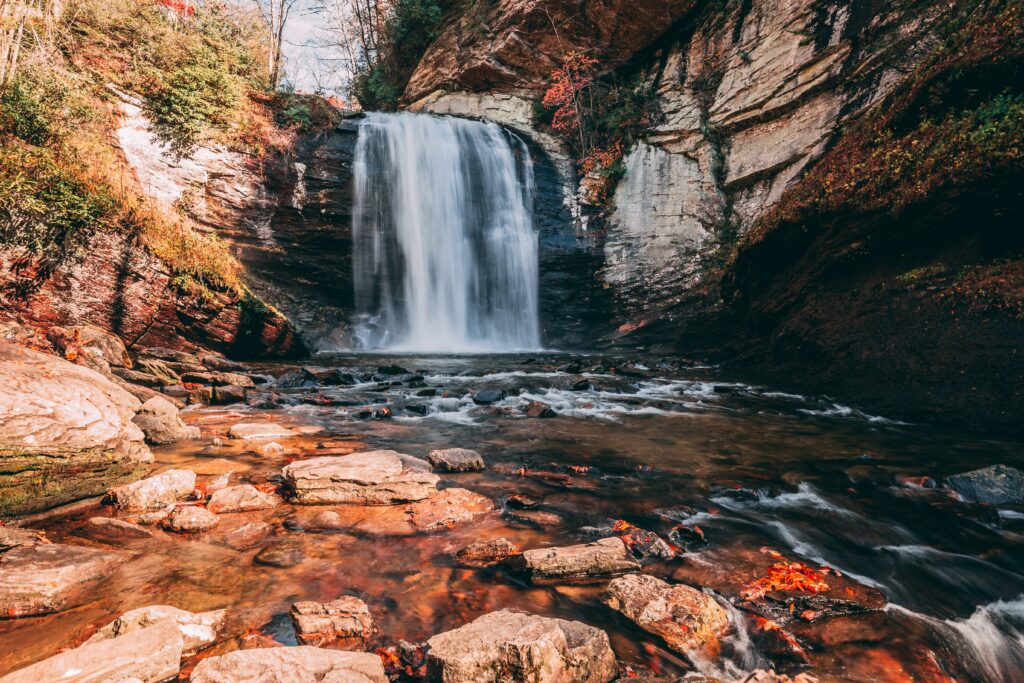 Looking Glass Falls is one of dozens of waterfalls throughout Pisgah National Forest.
Black Mountain
To the east of Asheville is Black Mountain, NC. Slightly smaller than Hendersonville, Black Mountain is brimming with charm. Its main street is lined with local shops, including the historic Town Hardware and General Store, as well as coffee shops, restaurants, and more. Nearby is Montreat, NC, home of Montreat College, the Montreat Conference Center, and mountain hiking trails open to the public.
There's so much to see and do in the Asheville area, it's hard to fit it all in one trip. Check out our other blog posts to learn about Asheville's best breweries, music venues, and restaurants. If you want to make Asheville your permanent home, let us know! Check out the latest listings throughout Asheville and the surrounding area, including Hendersonville, Brevard, Montreat, Black Mountain real estate, Mars Hill, and more. Write us a note and tell us where you'd like to move, and we'll help you find your dream home.