Shopping In Asheville, NC: The Scoop On Where To Go
Shopping around Asheville is always full of pleasant surprises. There's a wide variety of stores and boutiques for just about every taste and fashion. The retail in downtown Asheville, NC, brings an eclectic selection of boutiques to choose from, several with seasonal events and sales. Then, once you've gotten a bit tired or hungry, there's a plethora of delicious food and drink places for you to take a minute, breathe, eat, and relax. Here's a list of some malls, stores, and boutiques in the area that you won't want to miss!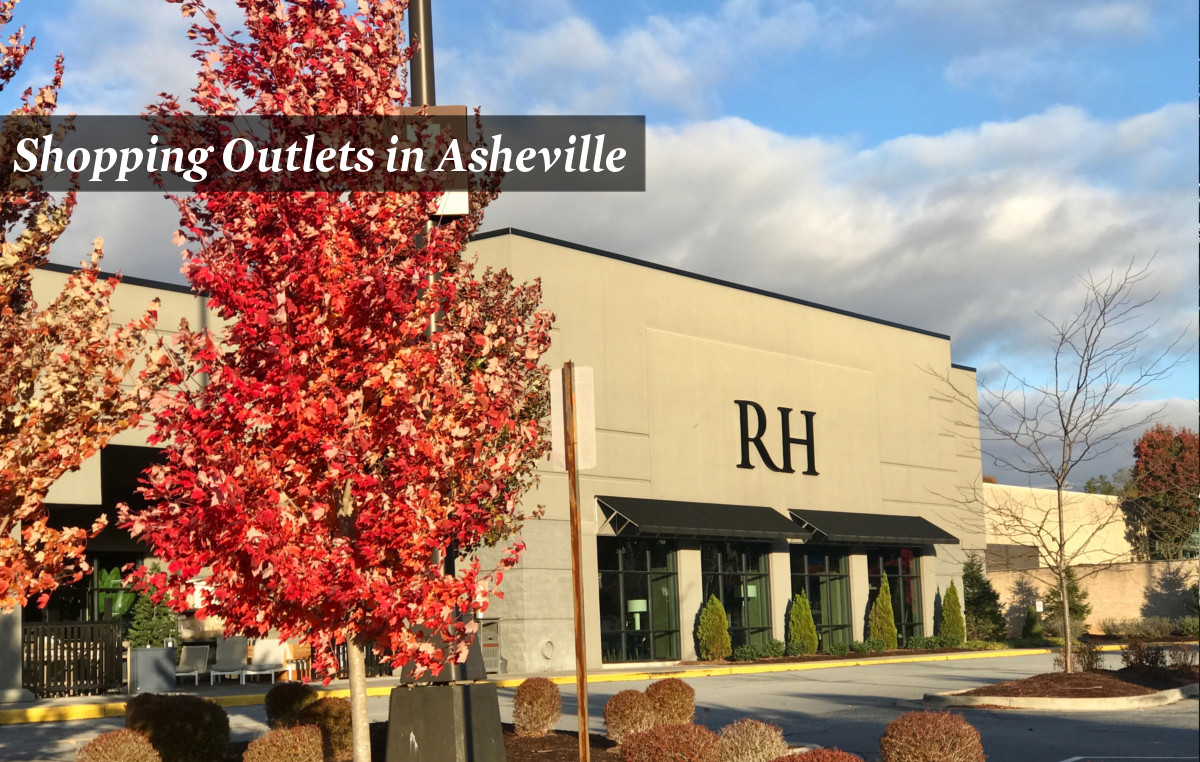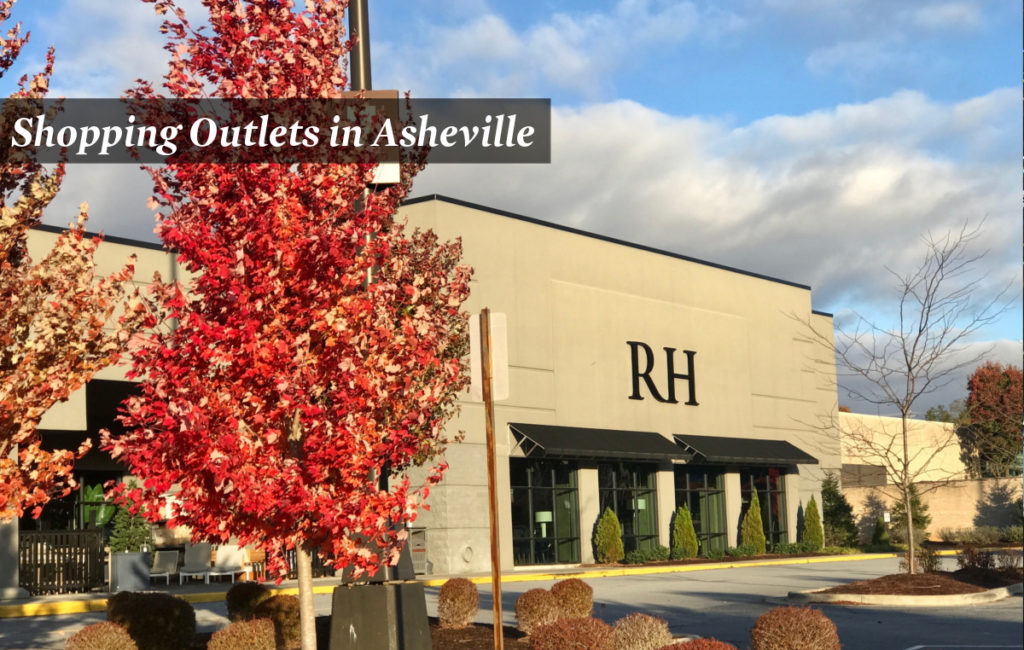 Asheville Shopping Locations
Asheville has no shortage of shops and malls to visit that offer a variety of amenities and services, as well as food and beverage options. These shopping centers are hubs for entertainment, restaurants, nightlife, and shopping. Explore the Asheville and surrounding area's specialty shopping options; you never know what might find.
Asheville Outlets
This shopping mall offers several store options with rotating discounted prices year round. The Asheville Outlets directory lists all shops and restaurants, as well as what sales are going on at the time. Asheville Outlets also host seasonal events designed for all age groups. Some outlet shops include Bath & Body Works, Coach, Levi's, Restoration Hardware, Under Armour, and Workshop Tools, to name a few.
Address
800 Brevard Road, Asheville, NC 28806
Hours
Monday-Saturday – 10AM – 9PM
Sunday – 11AM – 6PM
Asheville Mall
The largest indoor shopping mall in Western North Carolina, the Asheville Mall can be found just off I-240 on Tunnel Road. They have a children's play area for parents, a large food court, and restaurants throughout the mall. Some shops include the Dakota Watch Company, Old Navy, Sephora (Inside JCPenney), and Belk, to name a few. Their directory also lists what current sales they have at the time.
Address
3 South Tunnel Road, Asheville, NC 28806
Hours
Monday-Saturday – 10AM – 9PM
Sunday – 12PM – 6PM
Downtown Asheville
Downtown always has something exciting going on. There are tons of local shops, which customers can enjoy while basking in Asheville's warm mountain feel.
Grove Arcade
A lovely feature of downtown Asheville, the Grove Arcade is full of history. Visitors can immerse themselves in the city's rich culture by getting to shop in an assortment of specialty boutiques, stores, craft shops, and so much more all located in the Grove Arcade. Each shop highlights a part of Asheville in the specific items displayed and sold. Shoppers can also take a break and have a drink or a bite on Page Avenue, otherwise known as Restaurant Row, which features multiple lunch and dinner spots. Some shops include Asheville NC Home Crafts, Four Corners Home, Fresh Quarter Produce, Razberry Threads, and Wake Foot Sanctuary.
Address
1 Page Avenue, Asheville, NC 28806
Hours
Monday-Saturday – 8AM – 8PM
Sunday – 10AM – 5PM
Mast General Store
There are multiple Mast General Store locations that visitors to Western North Carolina can explore. Featured brands include Columbia, Keen, Merrell, Patagonia, Sherpa, and The North Face. A great spot to get all kinds of outdoor gear and clothes, Mast General Store also has food, books, music, toys, and more. The large variety of items offered at Mast General Store have caused it to become a staple in many people's vacations. There are multiple Mast General Store locations that residents can explore, including in Boone, Hendersonville, Waynesville.
Address (Asheville)
15 Biltmore Avenue
Asheville, NC 28801
Hours (Asheville)
Monday-Wednesday – 10 AM – 6 PM
Friday-Saturday – 10 AM – 9 PM
Sunday 12 PM – 6 PM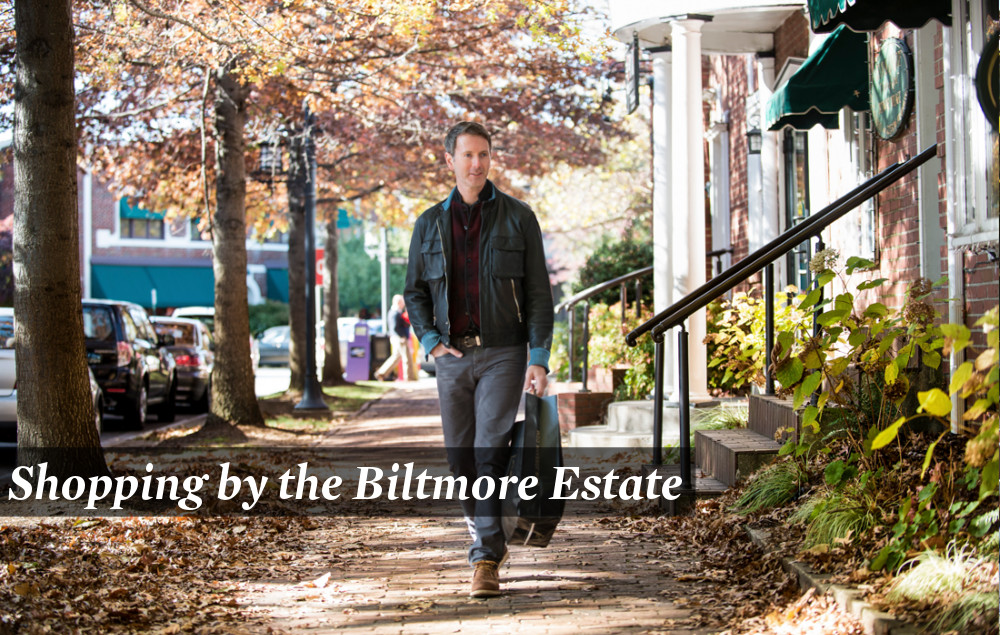 Biltmore Village
Asheville's cultural and historical backbone, Biltmore Village offers residents and guests a unique shopping experience that's nothing but exceptional. Designed by world-renowned architects, Biltmore Village was modeled to embody the look of a cozy English town with a European vibe. Some retail partners include Brooks Brothers, C&Co.® Handcrafted Skincare + Natural Spa, Lululemon, MTN Merch, and Porter & Prince. Biltmore Village also features several places for visitors to kick back and enjoy a meal.
Address & Hours
Shops are located within the village, and the Biltmore Village directory displays the exact address and hours of all their retail partners.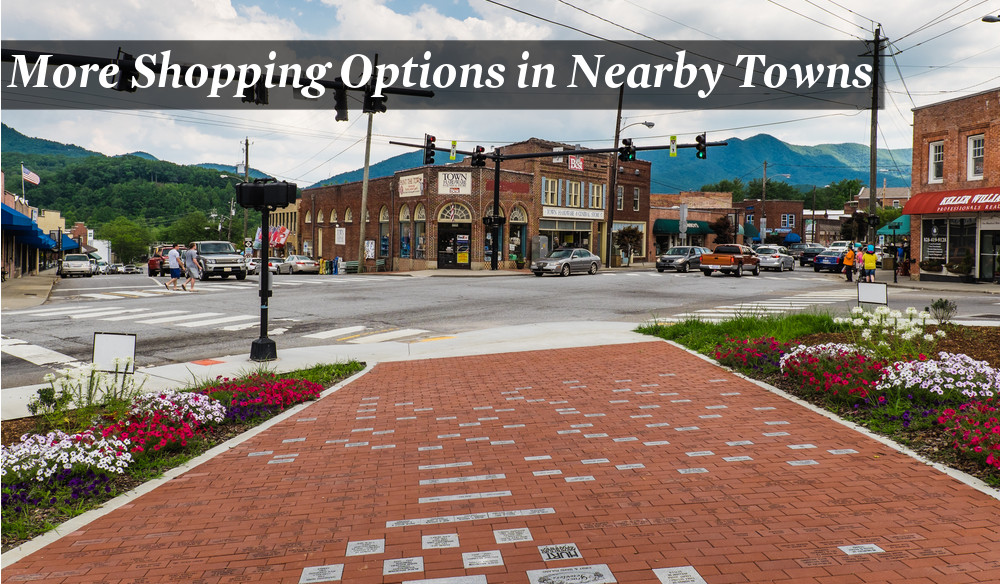 Surrounding Towns
There are several enchanting towns near Asheville that have a variety of shopping selections.
Weaverville Shopping
Shops and galleries fill the Weaverville shopping district. From downtown Asheville, it's just a 15 minute visit to Weaverville's charming downtown area. Here, visitors can find specialty shops, antiques, arts and crafts, fly fishing supplies, clothing, and accessories, and many of the shops are locally owned. Some shops include 5 Little Monkeys Quilt & Sew, Art Accents Frame Shop and Gallery, Brown's Floral Design, and Curtis Wright Outfitters to name a few.
Address & Hours
Downtown Weaverville has a shopping directory that displays the exact address and hours of all their retail partners.
Black Mountain
This charming mountain town features several specialty stores for residents and tourists to choose from, with a scenic mountain view to add to its charm and entrancing vibe. Some stores in the Black Mountain shopping district include Acoustic Corner, Black Mountain Iron Works, Design Driven, and Sassafras on Sutton, to name a few. Black Mountain also has several breweries and restaurants that feature delicious eats and live music.
Address & Hours
Check out the Black Mountain business directory that displays the exact address of all the local shops.
Biltmore Park
Biltmore Park is a planned community that has an incredible commercial district. Retail and dining options include REI, Orvis, Athleta, O.P. Taylor's Toy Store, Brixx Pizza, and Hickory Tavern Grill and Raw Bar. There is also a YMCA and a movie theater. Biltmore Park real estate is also a great option for buyers that want lots of dining and shopping options within walking distance.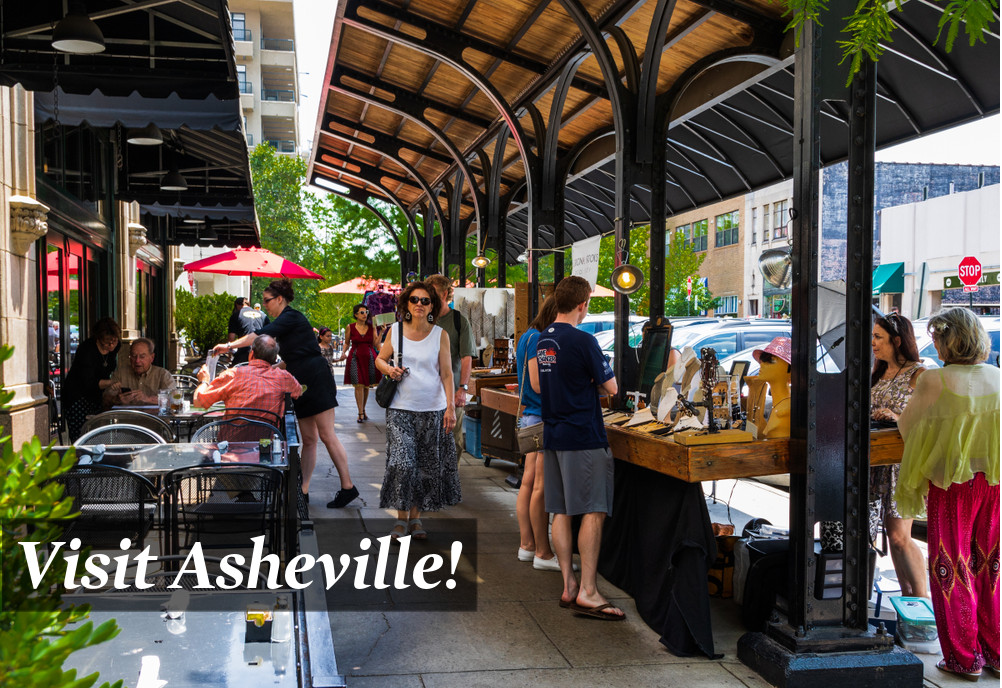 Enjoy the Shopping in Asheville
There are so many fun things to do in or near Asheville for residents and guests. Asheville and the surrounding areas have an abundance of shopping, dining, and brewery selections to highlight each town's history and culture. Enjoy dozens of entertainment options, including seasonal festivals, community gatherings, art and history displays, and so much more. Make the trip to Asheville, NC, and be sure to save a day to do some local shopping!