Western North Carolina Properties for Sale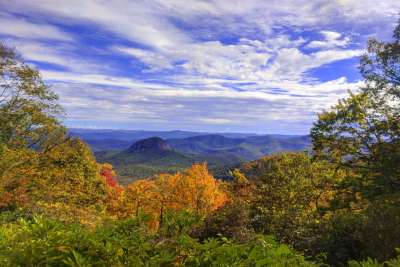 Western North Carolina is a term used to describe the mountainous region around Asheville, and it includes 23 counties in the Appalachian Mountains of North Carolina. Many people in Asheville use the term WNC when they really mean the Asheville MSA (Metropolitan Statistical Area). The MSA includes Buncombe, Haywood, Henderson, Madison, and Transylvania counties, and the total MSA population is approximately 441,724.
Whatever you call it, Western North Carolina is known first and foremost for the Blue Ridge Mountains that make our area so beautiful and offer so many outdoor recreational opportunities. We are fortunate to have world-class mountain biking and whitewater kayaking, a lifetime of hiking trails and trout streams, and rock-climbing and trail-running opportunities that rival any other area in the country. Add in a vibrant music scene, four distinct seasons, and a gluttonous assortment of restaurants and breweries, and it's easy to see why people are moving here from all over the world.
Real estate for sale in Western North Carolina is incredibly varied as well, and the area is too large to effectively consider in its entirety when looking for homes and land. For that reason, most buyers focus on a particular area or city. Proximity to downtown Asheville, distance to work, or access to a certain type of amenity become driving factors in a purchasing decision.