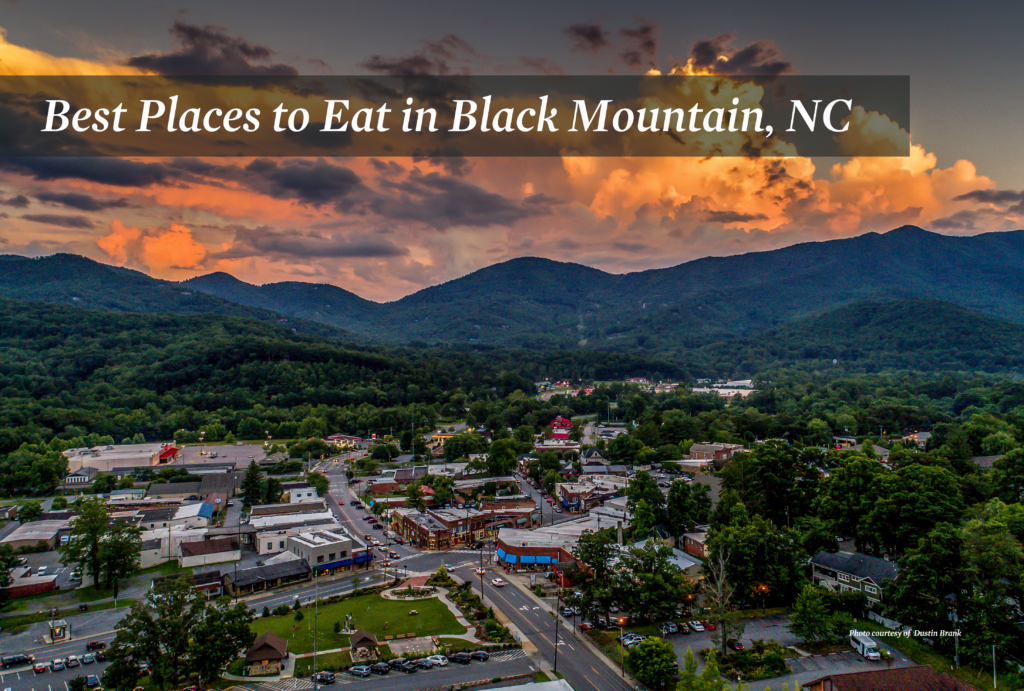 Black Mountain serves up some delicious niche restaurants, bistros, cafes, and markets that have become staples in the downtown and surrounding communities with solid support from residents and visitors. There's a wide range of establishments offering simple to exquisite cuisine, and they all have two things in common.
First, each of these Black Mountain favorites is well worth the dining experience, and secondly, the owners are extremely people-oriented. One of the main reasons these restaurant owners started their businesses was to share their passion for wine, coffee, food, and sweets with the good people of Black Mountain and the Swannanoa Valley!
Knowing these facts should help you enjoy your food outing even more because it's made with love. While the list could become quite lengthy, here are some of the best restaurants in Black Mountain, North Carolina that cook up their own unique flair and specialty.
Coffee, Breakfast, and Brunch
Let's start with the most important meal of the day, breakfast…or is it brunch? Whether you're an early riser or a repeat offender of the snooze button, these breakfast and brunch hotspots will have your tastebuds scrambling for more.

Louise's Kitchen
Formerly known to my kids as "that place with the biscuits," there's a reason why Louise's Kitchen has a line out its front door that stretches to the street and down the sidewalk. Two Spanish words: Huevos Rancheros. This specialty item that will rock your Sunday dress socks right off is served only during Sunday brunch, but that just means more time to focus on the other breakfast and brunch (and lunch) eats during the week.
Operating out of a charmingly preserved blue house built in 1904, Louise's Kitchen churns up happiness into the hearts and bellies of its loyal customers. It has a wrap-around porch and tables in the front yard, a setting that makes you feel like you've stumbled upon a storybook cottage yet still conveniently located in the middle of downtown.

The Dripolator Coffeehouse
Just up the street is The Dripolator Coffeehouse (locally known as "The Drip"), the iconic coffee shop in the heart of downtown Black Mountain. It's hard to miss and easy to stop in for a locally and scrumptiously made pastry and a really good cup of coffee.
Sink into a broken-in leather loveseat with your eclectic coffee mug chosen by the friendly barista, and you'll feel right at home. You may even get a funky design in the froth of your mocha cappuccino.
This place really embodies the spirit of Black Mountain, and it's a great place to find out what's going on in town with music and event posters lining the columns and walls of the shop. And here's a fun fact, established in 1999, The Drip is celebrating its 20th anniversary this year which is definitely a reason to share a cup of joe with them.
Blue Ridge Biscuit Company
Get ready to unhinge your jaw at the Blue Ridge Biscuit Company. This breakfast and lunch eatery packs a punch with its mountainous biscuits and doughnuts and muffins (almost) the size of your head! Staying true to its motto, "Biscuits with a twist," you can order entrees like shrimp gumbo salad on a biscuit, grilled homestyle glazed meatloaf biscuit topped with pimento cheese and fried pickles, and the New Yorker, a biscuit topped with smoked salmon, everything cream cheese, lettuce, tomato, capers, red onion, and a poached egg. They have delicious pastries, pies, and cupcakes, too. Whether you're looking for breakfast, brunch, or lunch, this is a biscuit-themed restaurant done right!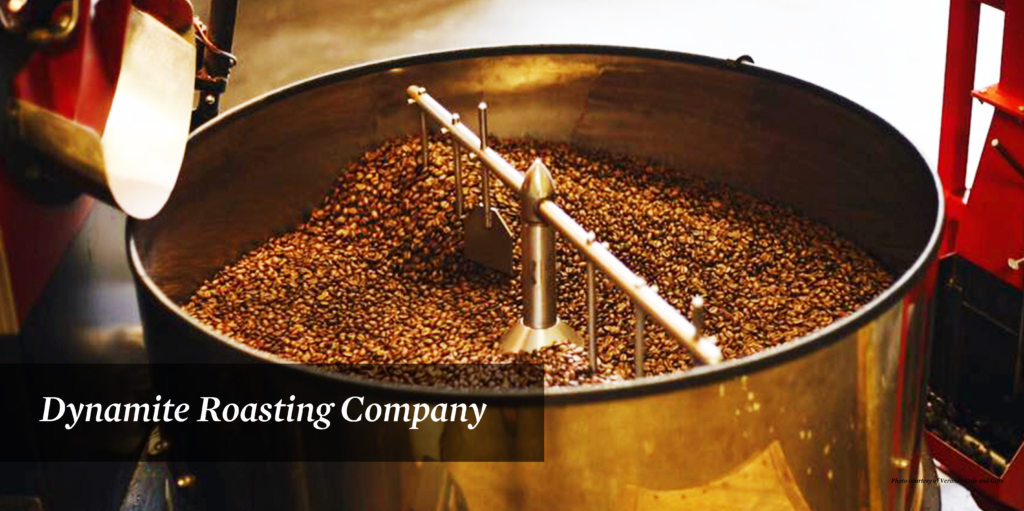 Dynamite Roasting Company
Located just a mile from the town square, Dynamite Roasting Company is the bomb (the pun is highly necessary). Dynamite is committed to serving 100% organic, fair-trade coffee. It's a pretty cool story to follow how the owners build meaningful relationships with the coffee bean farmers, and since it's a roastery, they fire up those beans right there before your eyes. So you can enjoy your one cup of jitter juice or snag a bag of coffee for enjoying at home.
Now about this rocket fuel, Dynamite was founded over 10 years ago by coffee junkies who truly love everything about sustainable coffee, and their passion for it is evident in their products they serve! When we travel out of town, my wife and I always pick up a few freshly roasted bags for family and friends. It's our way of sharing one of our favorite parts of home.
If you decide, along with the rest of Black Mountain, that you love Dynamite, you can browse their eclectic swag full of t-shirts, coffee mugs, and maybe even a stained glass window with their "banging" logo.
Lunch and Dinner Spots
There are plenty of top-notch restaurants in Black Mountain for your lunch and dinner plans. They vary in ambiance, price, and of course, food. Whether you're in need of a casual business lunch or a lively dinner date, these are just a few of the many prized picks in town.

The Trailhead
If a mountain town could automatically come with a restaurant, it would be The Trailhead. Located in the center of downtown Black Mountain off State Street, it offers a huge selection of handcrafted beer on tap and pays homage to Black Mountain's surrounding trails and nature scenes with entree names like "The Black Balsam Knob," "Looking Glass," and "The Appalachian Trail." By the way, these nature landmarks come highly recommended!
The Trailhead has great burgers, amazing steaks, and some delicious spins on surf and turf. With a variety to choose from, the owners pride themselves in sourcing organic, local ingredients when possible. My kids fondly referred to The Trailhead as the "Mac 'n' Cheese Place" for a couple of years, and for good reason. The mac 'n' cheese is delicious and worthy of being ordered by a grown-up.
In the warmer months, be sure to enjoy your burger and brew on the deck that looks out onto the quaint center of town. The Trailhead does a great job of regularly updating their draft beer list with lots of seasonal brews to choose from. Wednesday nights are our favorite night to dine at The Trailhead because it's open mic bluegrass night!
Que Sera Restaurant and Tayloe's Oyster Bar
Consider this place the best Ocean to Table joint in Western North Carolina. Que Sera Restaurant and Tayloe's Oyster Bar are two local favorites owned and run by one culinary expert couple. The restaurants back up to each other, so if you've got a hankering for some seafood, you can have the full experience here – more traditional at Que Sera and laid back at Tayloe's. The Que Sera menu features everything from Creole Seafood Gumbo and Shrimp Scampi to Wild Cornmeal Fried Oysters and Redfish Hal. Tayloe's Oyster Bar offers Raw, Rockefeller, and even Que Sera specialty oysters (pimiento cheese and jalapeños!). As with most Black Mountain eateries, these places use local ingredients and source their seafood from the nearby coast and the Atlantic Ocean. Open for dinner Tuesday through Saturday, brunch is also served on Sundays. Even more, nightly entree and drink specials make the rounds at Que Sera and Tayloe's! As they say here, "Get excited and have a shucking good time!"

Veranda Cafe
Veranda Cafe is a family-owned and family-friendly restaurant that opens its doors (11a-3p only) to all including the kids! It's the best soup and sandwich place in town that offers six house-made soups every day and perfectly paired grilled sandwiches and salads. The restaurant also has a lovely gift shop with items like local honey, specialty hot sauces as well as hot and cold tea options.
Don't forget to request a table on the veranda for a shaded outdoor setting in downtown Black Mountain. If they happen to have she-crab soup on the specials board, you better get there quick! I have been known to eat here on consecutive days when that soup is available!
Foothills Butcher Bar
Black Mountain is also home to Foothills Butcher Bar and Kitchen. That's right, a butcher shop and restaurant in one. Stop in for some dry-aged steaks and pork chops to take home and grill yourself, or you can stay a bit and dine on a Foothills Burger and a Hotdog Brothers Hotdog. Foothills offers weekly whiskey and beer specials from the bar that pair perfectly with a Butcher Board and Tallow Fries. It doesn't stop there though as this full-service butcher shop offers breakfast on the weekdays and brunch on the weekends. Feast on their housemade bacon and sausage with some biscuits and pastries. Talk about next level!

Fresh Wood Fired Pizza and Pasta
This pizza joint in Black Mountain has warmth and depth to it that is unique to Fresh Pizza. I can remember when my three sisters visited, and we shared several amazing pizzas and toasted the night away with some microbrews. It's a cozy spot just a few blocks from the middle of town, and the pizza chefs, formally called "pizziolos," specialize in the Neapolitan Pizza tradition. That means they hand roll the dough and wood fire it in Italian-imported ovens at 800 degrees, charring it to perfection or your personal preference.
Using fresh and local ingredients from local farmers (as is the common theme in Black Mountain) and even their own herb garden, the wood used to fire up your gourmet, unprocessed pizza is seasoned hardwoods from the forests of North Carolina. Fresh offers gluten-free pizza crusts as well as salads, pasta, soups, and a variety of other entree options. This place has a special pizza-shaped place in my heart, and I hope you'll find that, too!
Mac's
Speaking of hearts, you can eat your heart out at Mac's, a casual, in-and-out grill with some of the juiciest burgers, cheesesteaks, and hot dogs in Black Mountain. The locals endearingly refer to a visit to this burger shop as a Mac Attack, and that's probably because the slaw, chili, and grilled peppers that accompany the food will have an all-out assault (in the best of ways) on your tastebuds. Enjoy your grub on the patio, or you can even stop by for breakfast eggs scrambled with all the goodness mentioned above.
Black Mountain Bistro
So, you're looking for some exquisite cuisine served up by true natives of Black Mountain and the Swannanoa Valley. Look no further as the welcoming Black Mountain Bistro is locally owned and operated by a family that has been in the area for five generations (that's around 19th century or very early 20th-century type of family roots here)!
The bistro's menu boasts Southern fare favorites like fried green tomatoes and turkey and dressing to specialty entrees that feature locally caught trout and sourced goat cheese. The drink menu is spot on with martinis, mules, and cosmos; the daily drink specials extend their libations menu even further. The Black Mountain Bistro caters to a broad palette for those who are seeking an elegant twist on Southern cooking and comfort foods.
Black Mountain Kitchen
While meandering through the side streets of downtown Black Mountain, you will come upon Black Mountain Kitchen. Formerly called Black Mountain Ale House, Black Mountain Kitchen has been a trailblazer for the restaurant scene which has grown to over 55 new establishments in the nine years it has been open. Neighboring Veranda Cafe, it's an American gastropub with tasty grub and a carefully curated selection of craft beer on draft. Take the small entrance down the stairs to its cool underground vibe, and check out the upscale burger menu accompanied by their house cut potato chips. You may choose to order from the tap, sip your brew out back, and lounge on the cool brick patio. Another great thing about this place is that they are open late (by Black Mountain standards). If you're looking for a small plate, a stacked burger, or an after-hours drink, Black Mountain Kitchen is your go-to gastropub!
Ethnic Cuisine
Take a trip around the globe without ever leaving Black Mountain. These places are great for lunch and dinner, and they will not disappoint. Just be aware, you may go back for more!

Saki-Sushi
Get your roll on with Saki Sushi in The Village of Cheshire. This Japanese sushi bar offers chef special sushi rolls, lunch bento boxes, and beautifully plated dinner entrees that look more like artwork than food. This is a popular lunch favorite for our Freestone team and clients as it's just next door to our office. Our top sushi rolls include the Shrimp Tempura, Dinosaur, and Sweetheart Rolls. They offer tasty sashimi options as well. If you're looking for some Asian chow, this is a must-try, so chop, chop!
Ole's Guacamoles
With a name like this, you know it's going to be good. Ole's Guacamoles is one of my family's and many of my friends' families' favorite eats in town, and here's why. The Mexican food is awesome and reasonably priced with a full-on salsa bar that caters to lightweights who can't take the heat to those who actually prefer munching on fire torches. The service is super fast and extremely family-friendly. The restaurant is situated right next to a babbling brook that invites kids to play while waiting for their food. Now that the scene is set, it's time to order the margaritas… and enjoy. Salud!
My Father's Pizza and Pasta
Gather 'round the table for some delicious Italian food in the middle of the Appalachian Mountains. Family-operated since 1990, My Father's Pizza and Pasta is the place to visit with your family for an authentic tour (for your tastebuds) to Italy. The foundation of their entrees – their dough, sauces, dressings, meatballs, and hummus – are all treasured family recipes. Additionally, all of their ingredients are locally sourced as much as possible, so you have the best of both worlds here. Pair any of their dishes with a local beer that they serve, and you may need to be bread rolled out of the restaurant.
La Guinguette
While you may be in the heart of the North American Blue Ridge Mountains, you can find this intimately tucked away cottage just off the main square serving French and Latin cuisine. La Guinguette is a beacon aglow with crepes such as La Ratatouille and tamales authentically wrapped in corn husks. The dishes are made from scratch and ingredients are locally sourced. And here's a bit of European history for you, Guinguettes were originally popular places to gather, drink, eat, and even dance in Paris during the 19th and 20th centuries. How cool that we have one of our very own right here in Black Mountain. Bon appétit!
Hoppin' Brews, Bars, and Wine Markets
You couldn't ask for a more genuine community of beer brewers and wine connoisseurs. If you visit any of these places, you'll soon understand why Black Mountain residents can't get enough of the beer and wine scene. It's diffusive, familiar, and just plain awesome.

Pisgah Brewing
Black Mountain is surrounded by arguably some of the most successful craft breweries in the country with one of the highly acclaimed located in the town itself – Pisgah Brewing. Launched in 2003, Pisgah is home to the famous and award-winning Pisgah Pale Ale is a must-try along with their other mouth-shattering beers!
At Pisgah Brewing, the founders use organic grains and malts to brew their many craft beers, and while the brewery doesn't have an in-house kitchen, it might as well as it features a different, party-for-your-palate food truck five nights a week. It's pretty common to see all ages here from retirees and hipsters to families and musicians. It's the perfect place to check out a cool band, try some amazing brews, and even take a free brewery tour offered every Saturday at 3:30 p.m.

Artisan Gourmet Market
The Artisan Gourmet Market / Coffee and Wine Bar could fit into every category as it is a breakfast and coffee shop, a lunch and dinner cafe, and an impressive gourmet market full of boutique wine, seasonal and local beer, and top quality meats and cheeses. Located in The Village of Cheshire, The Artisan is more of an upscale local hangout than a "dine and leave" restaurant. Stop in every Thursday for wine tastings, gourmet appetizers, and open mic sessions.
Did we mention there's a warm fireplace to cozy up to while sipping your craft local IPA? The Artisan offers daily specials and appetizers, and with a tagline of "Come on In," you really want to do just that and stay for a while. We hope you stop in, and if you do, be sure to pop over to Freestone's office – we're just a few doors down!
Lookout Brewing
This family-owned and operated brewery overflows with more than 80 beer recipes created and brewed here. The folks at Lookout Brewing are constantly in strive to make new craft beer from ales and IPAs to lagers and saisons.
When in season, Lookout Brewing sources all of its hops from local farms such as Hops to Brew Farm in Old Fort, NC, and Hop'n Blueberry Farm right in Black Mountain. The brewers also like to use local fruits and vegetables from farmers in the area. Frequently, you can visit the taproom for a beer flight sampling and free live music. Lookout has also been known to offer up its space for yoga and pilates sessions. Just a suggestion for you though, yoga then beer!

The Merry Wine Market
With a motto like this one, "We'd rather make a friend than a sale," The Merry Wine Market is, indeed, a friend to all who enter its doors. Just across the street from Town Hardware in the heart of Black Mountain, it really is one of the heartbeats of our town. The owners strive to be knowledgeable about their wines that line the shelves so that they can genuinely connect with wine experts and rookies alike. The Merry Wine Market is the go-to mom and pop shop for a wine tasting or to pick up the perfectly recommended bottle of wine for your dinner party. Just be warned, you may make a really nice, new friend!
Black Mountain Brewery
Talk about brewed with love, Black Mountain Brewery is hoppin' and committed to the people of Black Mountain. Starting up in 2017, it's a newer brewery to the scene and definitely making a name for itself on a national level. There are a whole lot of beers to choose from that are all brewed in-house from pale ales to wood-fired stouts. Each night the brewmaster features six beers on tap and rotates them nightly. So every time you visit you could try a new beer! With a nice, dog-friendly venue inside and outside, the brewery is available for a private party of your own or just to enjoy it with the community Wednesday through Sunday.
Sweet Tooth Treats
Top off your foodie adventure with a cherry and maybe some sprinkles, too. Locally-made pastries are sold throughout the shops and cafes of Black Mountain, and we've highlighted the three that we most frequent when there's a sugar craving coming on.

Kilwin's Chocolates, Fudge and Ice Cream
Maybe we should just skip breakfast, lunch, and dinner and get right down to the most important things in all of creation – chocolate and fudge. Kilwin's Chocolates, Fudge and Ice Cream is an old fashioned confectionery shop just a few strides from The Merry Wine Market. You can find it by following your nose to the sweet, sugary scents bursting from within. Once you arrive, you'll definitely find yourself drooling as you stand at the window watching the fudgey-ooey-gooey delightfulness being made right before your eyes. Don't stop there though, go on in because every guest is warmly greeted with a sample of hand-paddled fudge. Kilwin's also offers handmade waffle cones with 28 flavors of their Original Recipe Ice Cream, truffles, chocolate-covered pretzels, and so much more!
Hey Hey Cupcake
Not every town can say that it has an original and award-winning local cupcake shop, but Black Mountain proudly boasts Hey Hey Cupcake, shining in all of its frosting glory in the middle of downtown (just a couple of doors up from Kilwin's). Hey Hey Cupcake was started by two sisters who are natives of the Swannanoa Valley, and they both pour their love for baking and quirky charm into each batch. Along with the favorites such as Fred Velvet and Mount Mitchell Mound, they also craft beautiful wedding cakes and even custom cakes for any occasion. And yes, they source local ingredients whenever possible to include Pisgah's Nitro Stout and Dynamite coffee to make the Black Mountain Cup-uccino. For those of you that are looking for gluten-free options, look no further. Hey Hey Cupcake offers G-free cupcakes every Tuesday and Saturday. So go say hey to our friends at Hey Hey Cupcake!
The Trailhead
Yes, we've already hailed this restaurant in an earlier section of this blog. However, we must revisit The Trailhead to focus on its one and only dessert listed on the menu: The Peanut Butter Pie. My family (including family members that visit from out-of-state) has a slight obsession with this pie. It's a sinfully delicious meal in itself that boasts a chocolate crust and rich peanut butter filling topped with fluffy whip cream. It's highly revered as the best sweet treat in town. There's no shame in ordering just the pie or getting it to go to eat on your couch alone while watching Seinfeld reruns. I may know someone who has done this before. Hey, you've got to get your protein from somewhere and why not peanut butter…pie.
Dairy King (aka the "Blue Cone")
Dairy King, locally known as the "Blue Cone," is a dairy bar and a fun place to take your kids and grandkids on a hot summer day. The walk-up-and-order ice cream joint has picnic tables outside where you can casually enjoy your dessert. It's got all the right fixings for hand-dipped ice cream cones, gigantic blizzards, arctic swirls, banana splits (that you won't want to split with anyone), and tons more. You'll often see some of the local summer campers descend upon Dairy King, and that's when you decide how long you want to stand in line or just go get a tub of ice cream from the grocery store. Of course, it's not the same, and this little place, with all its character, is popular for a reason. It's simply and nostalgically yummy!
Is Your Mouth Watering Yet?
Black Mountain can take your tastebuds for a wild ride of a lifetime, and you should absolutely embrace it. We are proud to live in a place where we can live, work, EAT, and play. There's so much to love in this corner of the world, and if you'd like to have it right in your own backyard, you can.
Give our Freestone Properties team a call, and we would be happy to meet with you, talk Black Mountain real estate, and discuss your goals and dreams – perhaps over coffee or lunch. We just might know a few good places in town.
[gravityform id="6″ title="false" description="false"