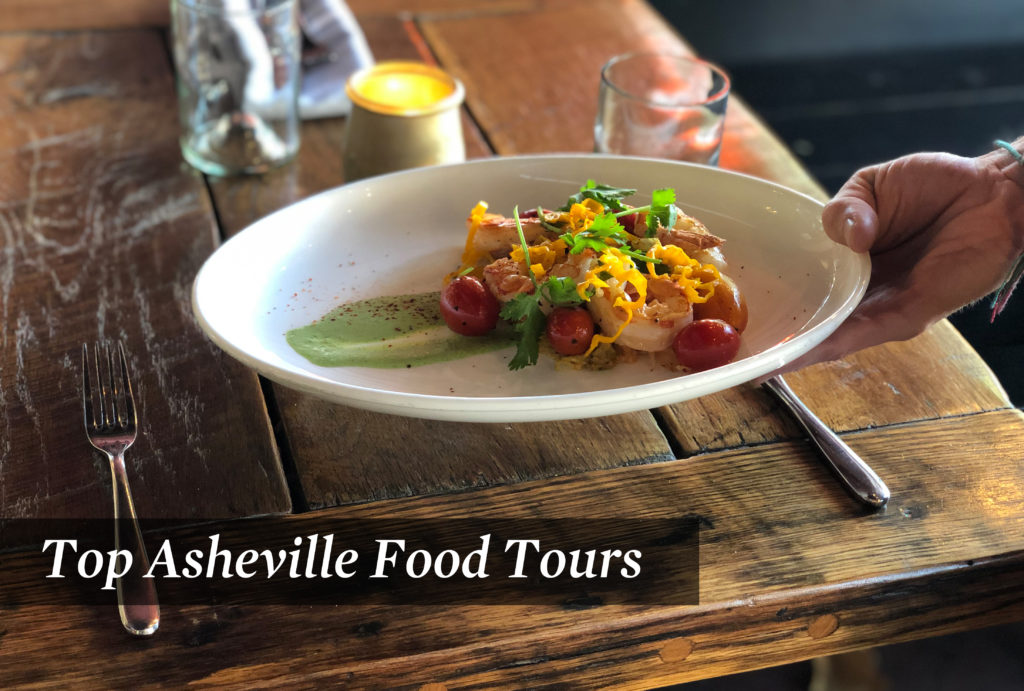 The food scene in Asheville has gained some serious momentum. While famous for its bevy of microbreweries, Asheville is making headlines for its restaurants, too, as The Daily Meal's #1 Best Town for Foodies and a place the Napa Valley Register hails as "foodtopia." With all of Asheville's great food options, it may seem hard to choose just one – but you don't have to. Taking a food tour lets you have it all, as you sample the city's eats and drinks while seeing the sights along the way. Here's our rundown of the top food tours in Asheville and the surrounding area.
Downtown Asheville Food Tours
Eating Asheville
As Asheville's only locally-owned food tour, Eating Asheville offers a local take on the city's culinary highlights. You can choose between three experiences: The Classic, their original tour; The High-Roller, a decadent tour combining food and drinks; and The Cold One, their lunch and brewery tour. With at least five stops planned, look forward to a wide range of dishes and drinks. Partner restaurants include James Beard nominee-owned Rhubarb, the French Broad Chocolate Lounge, White Duck Taco, Bhramari Brewing, and many more (depending on availability). Eating Asheville's tours have been highlighted by Bon Appetit, USA Today, Southern Living, and other national publications.
Asheville Food Tours
If you're looking for a unique food tour, Asheville Food Tours has one for you. Their variety of tour types range from the Brunch Tour, featuring some of Asheville's best brunch cocktails, to their Food Fan Foot Tour, a delicious and informative two-mile tour through historic downtown Asheville led by local food writer Stu Helm. We also recommend the food tour of quirky West Asheville, the International Food Tour (which is bilingual and highlights some of the city's many world flavors), and the Night Tour of downtown Asheville's best dinner and drinks after dark.
Their tours have participant limits to allow for a personal, intimate atmosphere, with the opportunity to meet restaurant owners along the way.
Taste Asheville
Taste Carolina offers food tours of nine North Carolina cities from the mountains to the coast. Their Asheville tour features a mixture of breweries, restaurants, and dessert destinations, including some hidden gems that might otherwise be overlooked. This tour covers two to three miles of downtown Asheville and includes One World Brewing, Sunshine Sammies, and more (depending on availability).
Brewery Tours
Needless to say, Asheville's beer scene is impressive, and it can be hard to know where to start – so why not let the locals take the lead? These multi-stop brewery tours will let you try Asheville's best brews while you learn how they're made along the way.
Brew-ed
Brew-ed's tours focus on beer education along with tasting, so you'll learn about the brewing process, ingredients, and history of beer as you try samples along the way. All of their tour guides have earned the title of Certified Cicerone or higher, the beer world's equivalent of the Sommelier title for wine. Brew-ed offers tours of various lengths and brewery stops, so you can customize the experience for your schedule. Partner breweries include Green Man Brewery, Catawba Brewing, Hi-Wire, and more.
Asheville Brewery Tours
Because they offer walking as well as driven tours, Asheville Brewery Tours can include a wide variety of Asheville brewing locations, both downtown and in outlying areas. Their Downtown Walking Tour is dog-friendly and visits three breweries on Fridays and Saturdays, while their Mobile Asheville Brewery Tours can be booked for weekdays and weekends. Partner breweries include Burial Beer Co., Wedge Brewing, Archetype Brewing, and more.
Tours in Nearby Small Towns
Downtown Asheville's in the spotlight as a culinary hotspot – but its nearby neighbors shouldn't be overlooked. Take a day trip to some of these small towns to experience their up-and-coming food scenes and breweries.
Creative Mountain Food Tours
Creative Mountain offers food tours of Black Mountain, a charming small town located 20 minutes east of Asheville. Their Ultimate Foodie Tour covers some of Black Mountain's best food havens, from traditional Southern dishes to wine, chocolate, and more. They also offer a Pub and Grub Crawl featuring beer pairings and a Dessert Tour for those craving sweet treats.
Hendersonville Food and Forest Tours
Hendersonville is located about 35 minutes south of Asheville, and we recommend The Southern Appalachian History, Food and Beverage Tour as a great way to experience this small town's history and personality. On this tour, put on by Hendersonville Food and Forest Tours, you'll visit restaurants, breweries, and cideries throughout downtown Hendersonville and learn about the culinary history of the area. According to their website, the company will soon be adding a Mountain Trail Tour as well as a Food and Forest Tour, which combines a morning forest hike and an afternoon food tour.
"Outside the Box" Food Tours
Sometimes, to fully appreciate your meal, you have to appreciate its humble beginnings. If you're looking for a chance to experience nature and food simultaneously, look no further than the tours below.
No Taste Like Home
No Taste Like Home offers "forage-to-table" tours that allow you to experience the beauty of the mountains and the delicious, wild food that grows naturally throughout the area. The company's tours have been highlighted by Vogue, National Geographic, and Food & Wine, and their tours are ranked as TripAdvisor's "#1 foraging activity in the world." On the shorter Wild Food Stroll, held at the Omni Grove Park Inn, learn about wild edibles and enjoy a free appetizer at the inn's restaurant. The longer Foraging Tours, held in fields and forests outside Asheville, include foraging for wild berries, mushrooms, and more, then a cooking demo, tasting, and appetizer. Tours are suitable for all ages.
Summary
No matter what food tour you pick, you'll have a great experience exploring Asheville's best dining and drinks. Each tour features the restaurants and people that make Asheville unique, and you'll come away with new knowledge and a satisfied appetite. Now that you've read about the best food experiences, check out our list of other great tours to take in the city, as well as recommendations for places to stay.
Between the city's historic architecture, breathtaking natural setting, and vibrant restaurant and brewery scene, there's always something exciting happening in Asheville. If planning your trip has made you dream of moving to the area, read our list of best places to live in Western North Carolina, as well as reasons we think Asheville is a great place to retire. Or drop us a line and let us help you make Asheville your home!