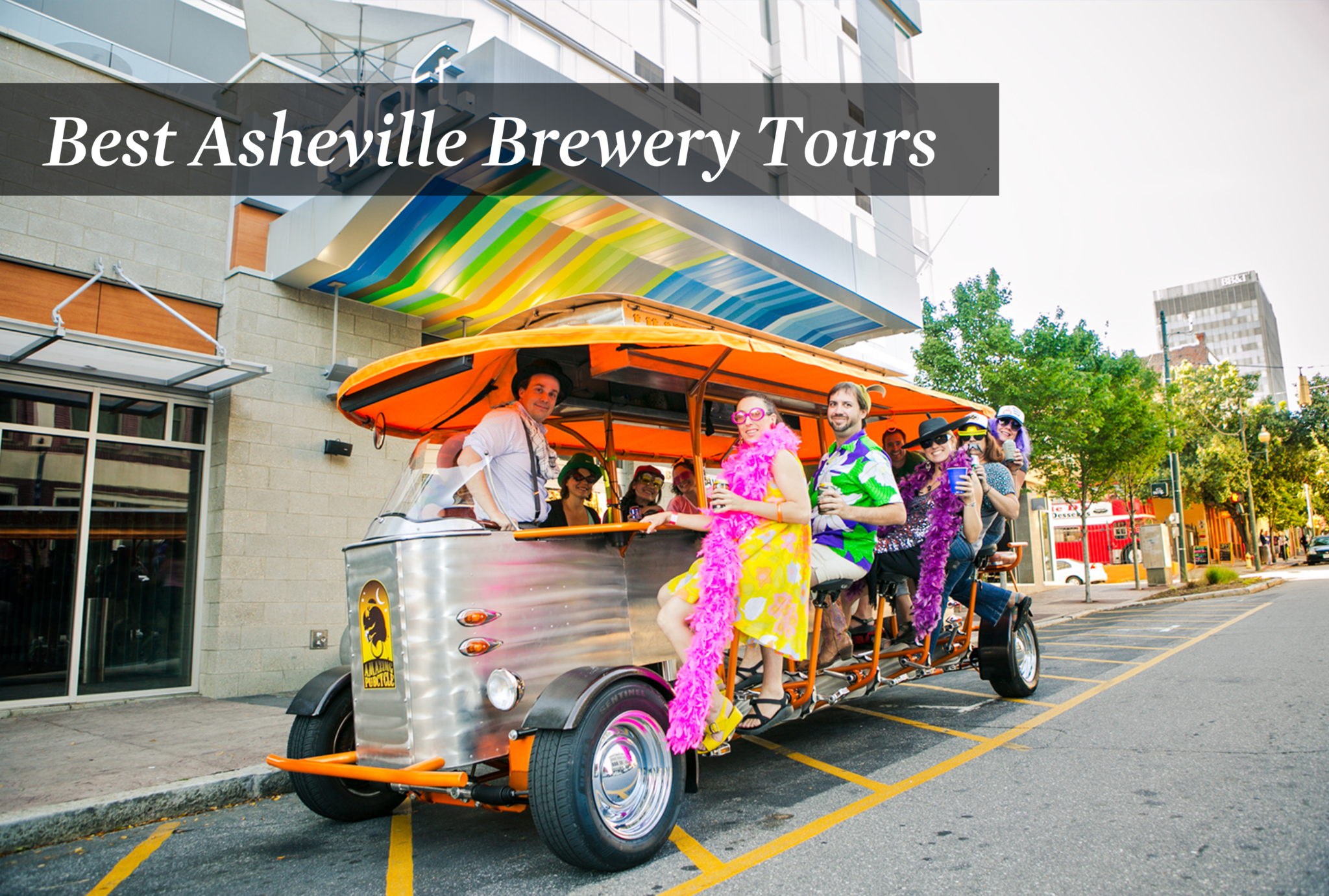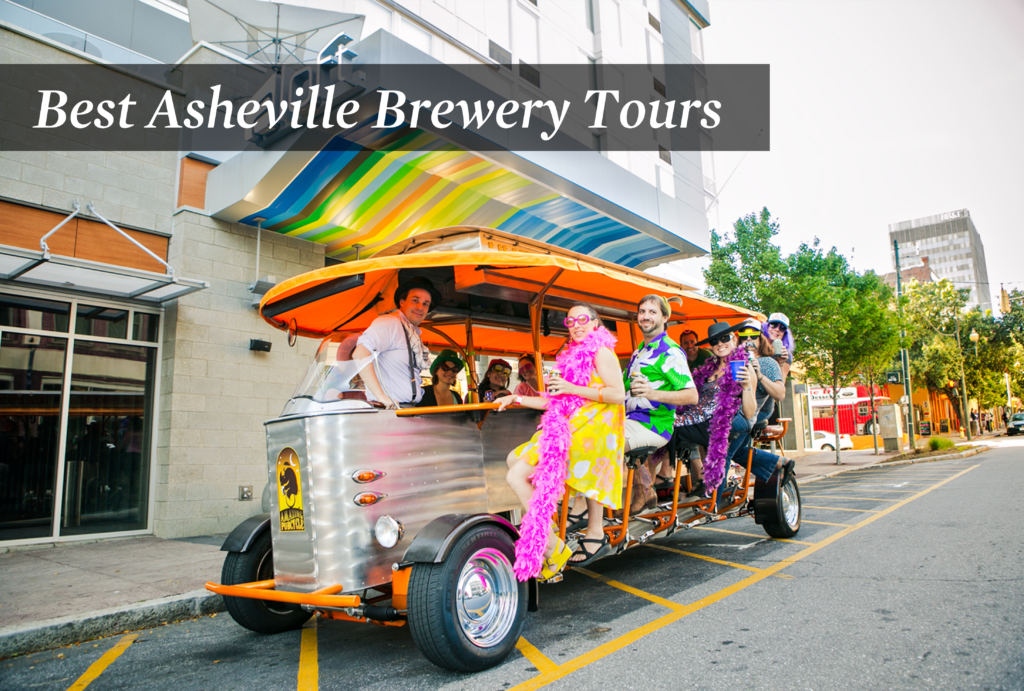 It's undeniable – Asheville is a dream come true for craft beer fanatics. The city was ranked #2 in the country on the 2018 "Best Cities for Beer Drinkers" list, due to Asheville's bevy of microbreweries serving creative and tasty brews all over town. If you're only visiting "Beer City USA" for a short stay, taking a brewery tour or two will help you hit the highlights and taste the best beers that Asheville has to offer. We've compiled our recommendations for multi-stop tours below, as well as the breweries with in-house tours that are too fascinating to miss.
Just How Many Breweries Are There In Asheville?
With 30 breweries and counting in the city itself, and 60 in the region, Asheville has more breweries per capita than any other city in the country. The Asheville Ale Trail Map pinpoints all their locations and also shows breweries in the surrounding area, from Franklin to Boone.
Self-Guided Brewery Crawls
The Asheville Ale Trail site also offers maps with itineraries for self-guided tours, if you'd rather go at your own pace than join a guided group. Check out their maps of regional cideries, breweries in the South Asheville/Brevard area (including Sierra Nevada, which we discuss in detail below), a biking route from West Asheville to downtown, and walking routes including the South Slope, Asheville's brewery district.
Single-Site Guided Brewery Tours
Many of Asheville's breweries offer in-house tours, and our recommendations below cover two of the best. We also recommend Highland Brewing's tour (a look behind-the-scenes of Asheville's original craft brewery) and Wicked Weed Brewing's Sour Sunday tour (which takes place at their Funkatorium location and focuses on the making of sour beers).
Sierra Nevada
Sierra Nevada's tours have gained a legendary status around Asheville, and for good reason. Ken Grossman, the founder of Sierra Nevada, was a brewing pioneer when he began making homebrews back in the 1980s. Now his company's beers are sold nationwide, with brewing facilities in Chico, California, and Mills River, North Carolina (just outside of Asheville). Nestled along the French Broad River, the Mills River brewhouse is sprawling and spectacular.
You can take a basic brewery tour that shows the entire process – from raw hops to fermentation and packaging – or you can learn about the heritage and history of Sierra Nevada. Additionally, beer geeks will enjoy this 3-hour tour (for those with a more advanced understanding of the brewing process), and for those with a sweet tooth, check out the Chocolate and Beer Pairing in collaboration with the French Broad Chocolate Lounge. Be sure to book in advance, because the tours fill up quickly.
New Belgium Brewing
New Belgium Brewing is located in the River Arts District, an area awash with the vibrant studios of local artists and craftspeople. After going on a studio stroll, take a tour of New Belgium's brewhouse and sample some of their wildly popular beers (we recommend the Voodoo Ranger IPA). They offer complimentary brewery tours that are open to the public daily (these tours were the 2018 and 2019 winners of the USA Today "10 Best" Readers' Choice Award for Best Brewery Tour). Reservations are recommended, and these tours are open for all ages.
You can also join smaller, reservation-only tours that fit your schedule, including a Behind-the-Scenes tour of spaces not usually open to the public, or a Grain to Glass Brewery Production Adventure (which is just as amazingly in-depth as it sounds).
Multi-Site Guided Brewery Tours
Walking Tours
These tours are ideal for those who have a few hours in the afternoon or evening to hit Asheville's brewery highlights. They're led by locals and curated so you'll get to taste some great beers and learn along the way.
Brew-ed
Brew-ed's walking tours focus on beer education along with tasting, so you'll learn about the brewing process, ingredients, and history of beer as you try samples at each brewery. All of their tour guides have earned the title of Certified Cicerone or higher, the beer world's equivalent of the Sommelier title for wine. (In fact, they're the only tour company in Asheville that offers tours led by internationally recognized beer experts). All of their tours stay within the downtown/South Slope area of Asheville, and they offer various tour lengths and stops so you can customize your experience. Partner breweries include Green Man Brewery, Catawba Brewing, Hi-Wire, and more.
Asheville Brewery Tours
Because they offer walking as well as some driven tours, Asheville Brewery Tours can include a wide variety of Asheville brewing locations, both downtown and in outlying areas. Their Downtown Walking Tour is dog-friendly and visits three breweries on Fridays and Saturdays, while their Mobile Asheville Brewery Tours can be booked for weekdays and weekends. Partner breweries include Burial Beer Co., Wedge Brewing, Archetype Brewing, and more.
Other Ways to Get from Here to Beer
Not a fan of walking tours? No worries. In Asheville, you can take a brewery tour on any of the following modes of transportation.
School Bus
The Asheville Brews Cruise is the city's original brewery tour, started a decade ago. Just climb aboard the yellow Brews Cruise school bus and settle in for a fun trip to a handful of breweries around the city. Their guides are well-versed in beer trivia and will teach you how to taste and even pair the beers you sample. Simply put: the Brews Cruise is one of the easiest and most pleasant ways to experience Asheville's beer scene. Partner breweries include French Broad River Brewery, Twin Leaf Brewery, and more.
Pubcycle
If you're ready to pedal your way around downtown Asheville's best breweries, then the Amazing Pubcycle is the tour for you. Their pedal-powered (and motor-assisted) vehicle seats 10 pedalers and 3 non-pedallers. The Pubcycle's open sides allow you to take in the sights and sounds of downtown as you sip, pedal, and chat with one of the Pubcycle's gregarious guides. They offer two tours: a 1.5 hour Pub Tour with two brewery stops along the way, and a 40-minute sight-seeing Nomad Tour. Both tours are BYOB, and the Pubcycle is heated in the winter so you can ride all year long. Partner breweries include Asheville Brewing Company, Urban Orchard Cider Company, and more.
TukIt
For a more private experience, try taking a tuk around town. Book one of the TukIt Tour Company's tuks (a three-wheeled, electric vehicle that seats six) and enjoy their Brewski Hop tour. You pick the breweries you want to visit from their list of partners, the tuk picks you up, and they even buy your first brew. On top of that, they have heated seats. It's a personalized way to brewery-hop with no hassle and a lot of fun.
Big Purple Party Bus
Ready to take your brewery tour experience to the next level? Book a spot on LaZoom's Band and Beer Bus Tour, where you journey to a few of Asheville's premiere breweries while enjoying live tunes played by local musicians on the bus along the way. The tour is three hours long, with three 30-minute brewery stops. Their rotating lineup of musicians includes brass funk rock band The Empire Strikes Brass, high-energy jam band Andrew Scotchie and the River Rats, and other local gems.
Summary
Asheville's beer scene has gained national attention, but when you sip a pint at one of our breweries, you'll feel all the care and hometown pride that's been infused into our lagers, ales, and stouts. Taking a brewery tour is the best way to sample the best beers that Asheville has to offer, and now that you've read about the best brewery tours, check out our list of the city's best food tours and best shopping, as well as recommendations for places to stay. Thinking of moving to Beer City USA? Read our list of top places to live in Western North Carolina. And if you're ready to discuss real estate options, we'd love to help!