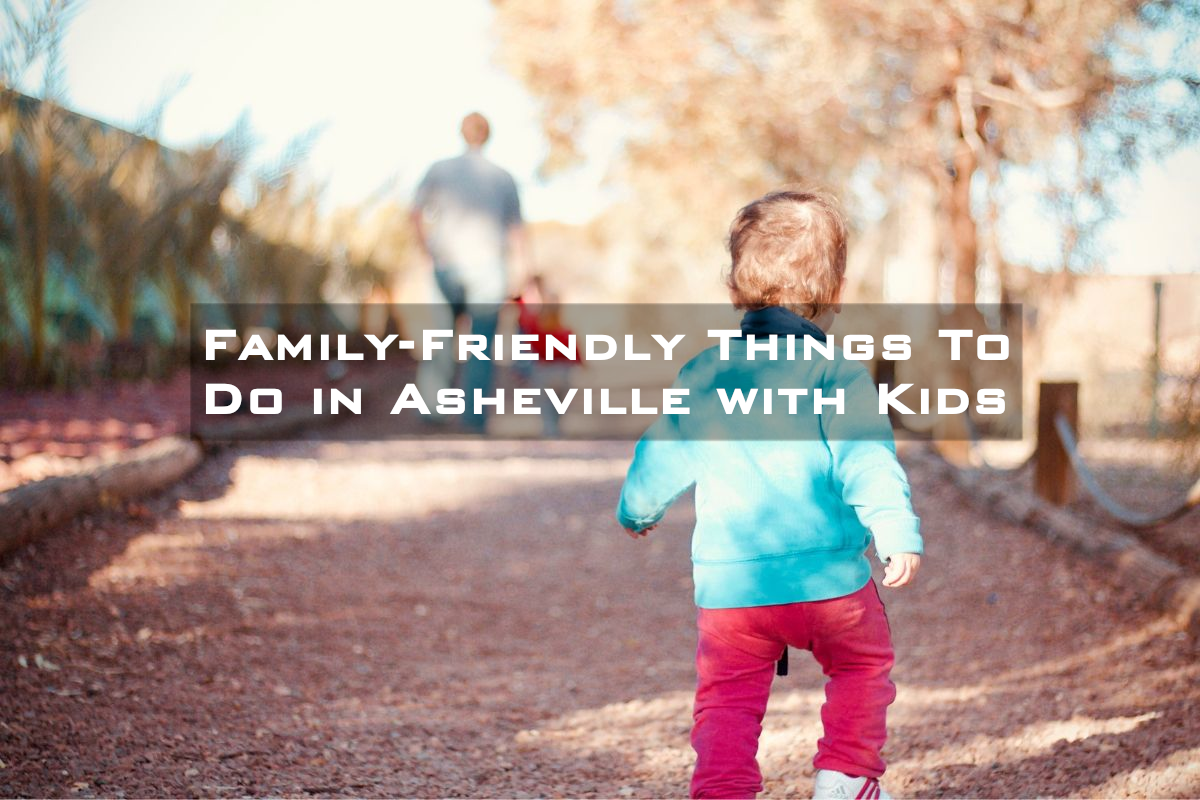 Despite its reputation as one of the nation's best cities for beer lovers, there are lots of things to do in Asheville, North Carolina for those under the legal drinking age. Downtown Asheville is vibrant and exciting and the surrounding area is full of activities for kids of all ages. Asheville is nestled in the heart of the Blue Ridge Mountains, which means there are plenty of outdoor adventures for little ones to enjoy; however, even on cold or rainy days, the city has indoor attractions that will keep the kids entertained. If you're planning a family vacation to Asheville, take a look at our list below to learn about the best family-friendly things to do in Asheville with kids.
What to do in Asheville with kids? Top Suggested Family Attractions
Downtown Asheville is a great place to stroll, even with little ones in tow. You'll see bright, colorful murals on the sides of buildings, and when you reach Pack Square Park, there's plenty of room for kids to run around and burn off some energy. Make sure to stop by kid-friendly stores like Curio (a longstanding local toy store), Rocket Fizz (an old-fashioned candy and soda store), Malaprop's Bookstore and Cafe (which has a great children's book and toy section), and Mast General Store (a classic general store with throwback toys, barrels of candy and rocking chairs to sit in).
If you need an activity that's more involved, check out these family-friendly activities in downtown Asheville:
The Asheville Museum of Science is located on Patton Avenue, near downtown's Pritchard Park. This small museum is focused on experiential learning and is suited for kids 3 through 12. It features interactive exhibits (including digging for fossils, a water table that simulates the path of the French Broad River, and a hands-on topography activity), a dinosaur skeleton, the Colburn Hall of Minerals, kids' events, and more.
The Asheville Pinball Museum is suited for kids 3 and up and is located on Battle Square, across from the Grove Arcade. While it's called a museum, it's really more of an arcade, with over 75 pinball machines, retro video games, and even some early consoles that are fully hands-on and ready to play. It's a whole lot of fun for kids and nostalgic adults alike.
Not spending the day downtown? Here are other things to do near Asheville.
The Biltmore House is Asheville's most famous attraction. While the historic home is, well, a historic home (in other words, full of antiques and art), there are many kid-friendly experiences perfect for kids 5 and up at Biltmore. Older kids can enjoy the house tour while listening to a fun narration by the Vanderbilts' dog, Cedric, and they'll enjoy seeing quirkier parts of the mansion (such as the basement bowling alley). Smaller kids can run free in the home's surrounding gardens. You can also go bike riding and horseback riding on the grounds, and there's a playground at Antler Hill Village (on the Biltmore property). Click here for more kid-friendly recommendations from Biltmore.
Located in East Asheville, the WNC Nature Center is home to a wide variety of wildlife, both those native to North Carolina (such as black bears, salamanders, otters, owls, hawks and deer) as well as other animals from all over the world (such as red pandas, Nigerian dwarf goats and wolves). The Center is suited for kids and adults of all ages. Tours are self-guided, but you can also attend kid-friendly events led by Nature Center staff.
What to do with kids in the Summer in Asheville?
When the days are long and the weather is warm, there are lots of outdoor activities for kids to enjoy in Asheville and the surrounding area. Here are some of our favorites.
What to do in Asheville with toddlers?
Many of the locations listed above are appropriate for toddlers, including the WNC Nature Center, Elijah Mountain Gem Mine, the Asheville Museum of Science, and some activities in Pisgah National Forest and Splasheville. If you visit the charming small town of Black Mountain, NC (about 20 minutes east of Asheville), take your toddlers to Lake Tomahawk, a picturesque lake with a flat walking trail, playground, waterfowl to watch, bathrooms, and picnic areas. On rainy days, head over to South Asheville and you'll find the Mountain Play Lodge. This locally-owned indoor playground is safe, clean, and fun for preschoolers through second-and third-graders. Kids will have a ball exploring the jungle gym and playhouses, and adults can relax in comfy chairs while sipping a beverage. It's a win-win.
Where to eat in Asheville with kids?
Asheville has an exploding restaurant scene that has given the city a reputation as a "foodie" town – but don't worry, there's plenty of food your kids will like! For breakfast, check out Early Girl Eatery in downtown Asheville, Biscuithead (which has multiple locations throughout the city) or Sunny Point Cafe in West Asheville. All three restaurants have kid-friendly options available. For lunch or dinner options that will please even the pickiest eaters, visit Farm Burger in downtown Asheville (for build-your-own-burgers), Asheville Pizza and Brewing in North Asheville (a dine-in movie theater serving pizza), or The Stable Cafe on the Biltmore Estate. And for dessert and snacks, check out The Hop (serving local ice cream at locations throughout Asheville), the Woolworth Walk (a classic Woolworth store turned art gallery and soda fountain, serving hot dogs, ice cream, and more), or Double D's Coffee & Desserts (a double-decker bus that was converted into a small cafe, serving smoothies, milkshakes, baked treats, and coffee).
Where to stay in Asheville with family?
There are many family-friendly accommodations in and around Asheville, from Airbnbs to hotels to remote cabins to luxury hotels (and plenty of great places to camp). If you'd like to stay on the Biltmore Estate, we recommend the Village Hotel. It's located near Antler Hill Village, an area of the Estate that includes shops, restaurants, a winery, a farm where kids can interact with animals, a playground, hiking and biking trails, and more. If you'd prefer a historic hotel close to downtown, the Omni Grove Park Inn is the perfect spot. Opened in 1913, this gorgeous hotel has panoramic views of the mountains, a golf course, spa experiences, and gourmet dining. However, they don't forget about the kiddos, offering children welcome bags upon arrival that contain snacks and activities. The inn also provides outdoor activities for kids that keep them entertained so parents can relax and enjoy the hotel's many premium amenities. And we can't forget to mention Asheville Crowne Plaza, a hotel and resort within walking distance from the Asheville Adventure Park.
What to see with kids in Asheville?
While there's plenty to do in Asheville with the kiddos if you don't have much time in the city, here are a few can't-miss things to see while you're there.
Take a walk in downtown Asheville. You'll get a real glimpse of the city's personality and charm while you're there.
Visit Pack Square Park in downtown and check out the Urban Trail Monument in Pack Square that features brass animal statues.
Walk by Chicken Alley (off of Woodfin Street in downtown). You'll see large, colorful murals of chickens and tiny wooden door frames near the sidewalk (about the right size for fairies).
Take a drive on the Blue Ridge Parkway. This historic road runs through Asheville and contains some of the area's most stunning mountain views. We recommend stopping at overlooks to look out over the valleys below and breathe in the clear mountain air.
Spend some time at any of the great parks and playgrounds in and around Asheville.
Moving to Asheville, NC
Once you and your family visit Asheville, you might find yourself falling in love with the area. We don't blame you – we love it, too! If you're considering a move to the Asheville area, take a look at our many resources for researching neighborhoods and school districts, learning about Asheville culture, and preparing to buy a home in Western North Carolina. We'd love to help you find your dream home, so contact us and we'll be in touch as soon as possible.