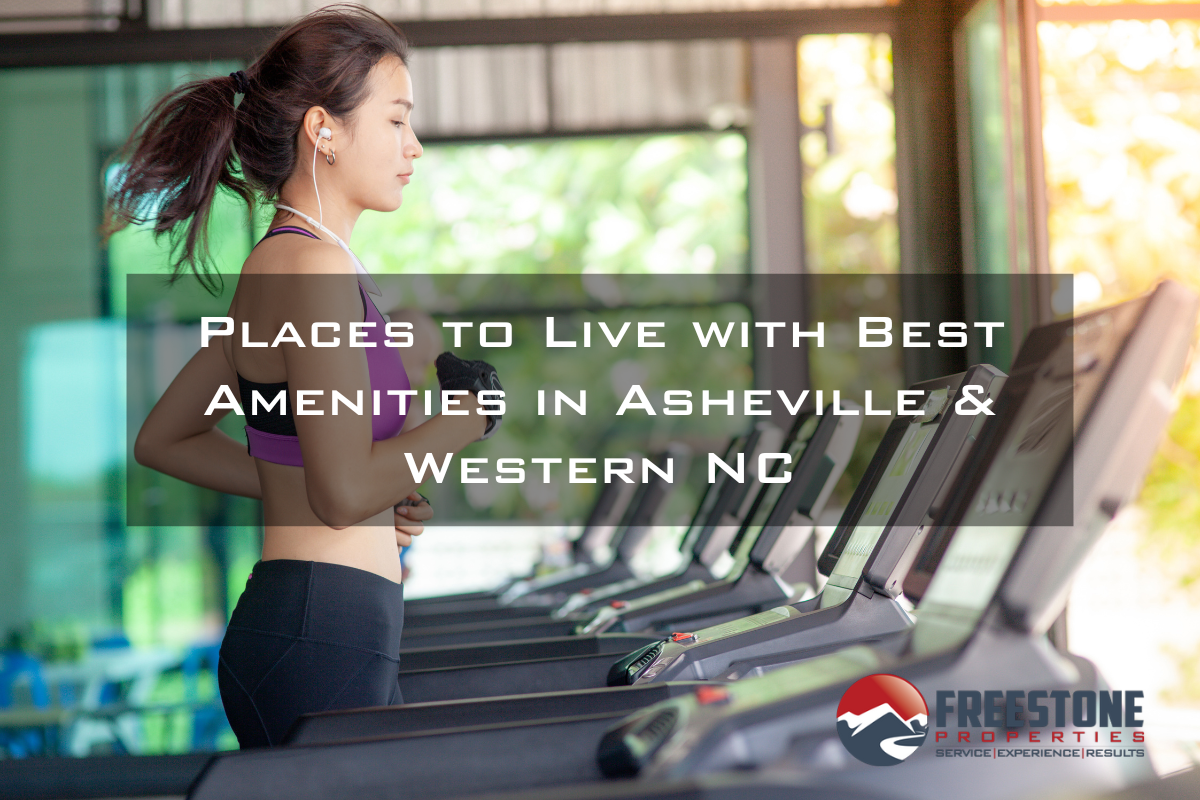 Looking for a new home in Asheville, NC that has it all: luxury, location and plentiful amenities? You're in luck. Whether you're hunting for a condo or a house, you'll find that Western North Carolina has many condo buildings and private communities that offer life at its finest. These places to live include more than just spacious residences – they provide homeowners with amenities that enrich their quality of life. Keep reading to learn about the Asheville, NC private communities with the best amenities.
Table of Contents
What are Community Amenities?
In a luxury condominium or gated community, "amenities" are the perks that residents get to enjoy as part of their overall ownership experience. These perks often relate to wellness, giving residents ways to exercise, spend time outside, connect with their neighbors, and relax. Often, communities that charge higher prices will include more plentiful amenities. Some common community amenities include:
Green space and picnic areas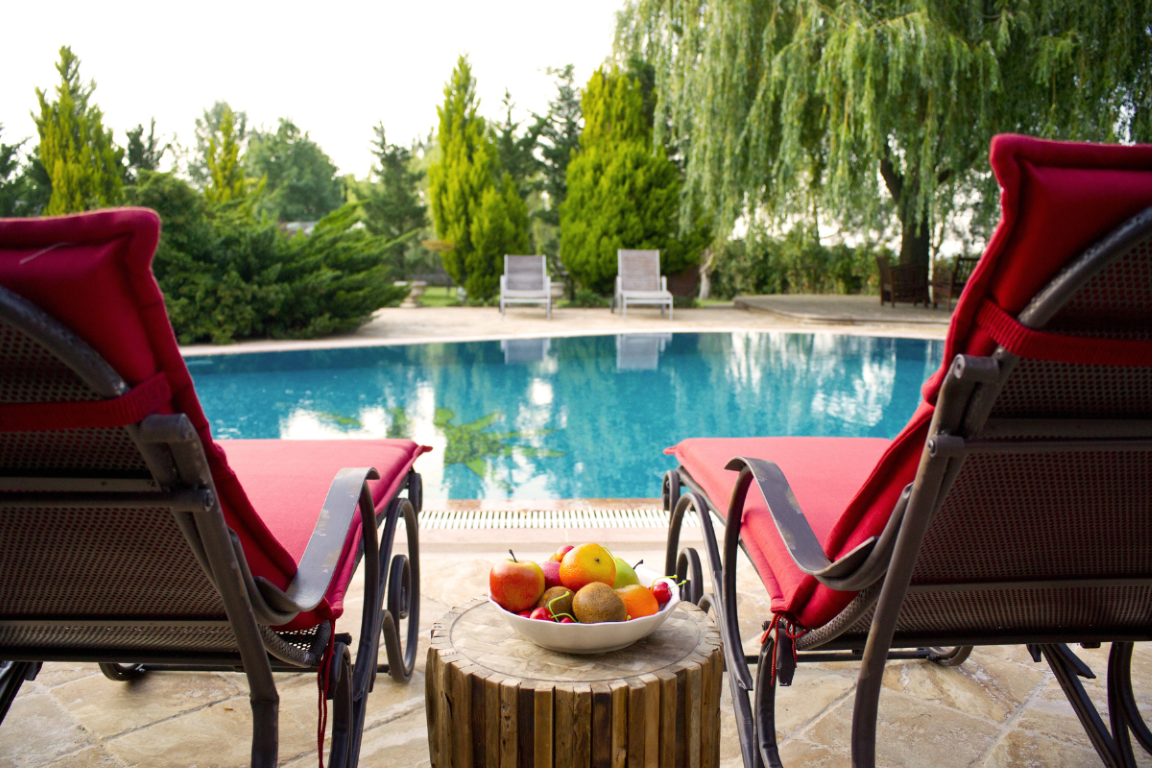 Private Communities in Asheville & Western NC with Great Amenities
The Ramble Biltmore Forest | Park, gardens, open air pavilion, playground, wellness center with pool, walking trails, staffed gatehouse | 15 minutes to Downtown Asheville
Located in South Asheville, The Ramble is a gated community that was created by Biltmore Farms. The historic Biltmore Estate inspired the timeless design of The Ramble's homes and gardens. From the many offerings of the Living Well Center (including a heated saline pool and tennis, pickleball, and bocce courts) to open air concerts, extensive walking trails, and multiple parks, The Ramble offers residents a lot to love. This community is located off of Hendersonville Road, with quick access to the highway and the Blue Ridge Parkway. There are shops, restaurants and a movie theater nearby, and golf enthusiasts will be happy to learn that Biltmore Forest Country Club is just around the corner as well.
Biltmore Lake | 62-acre lake with boating and fishing, walking trails, tennis and basketball courts, clubhouse, playgrounds | 20 minutes to Downtown Asheville
Another development of Biltmore Farms, Biltmore Lake is a community of over 750 homes which shares its name with the town in which it's located. The development includes both gated and open neighborhoods within the overall community, and it faces Enka Lake, giving residents beautiful views and easy access to the waterfront. Biltmore Lake is ideal for nature lovers, as its amenities include miles of trails, designated campsites, tennis and basketball courts, playgrounds, a community clubhouse, fishing, non-motorized boating, and kayaking. There's plenty of great places to eat in nearby West Asheville, such as Itto Ramen Bar & Tapas and The West End Bakery, and for a relaxing day of strolling through gardens, the North Carolina Arboretum is only 10 minutes away.
The Cliffs at Walnut Cove | Wellness center with indoor and outdoor pools, tennis, fitness programs, clubhouse and tavern, Jack Nicklaus Signature golf course | 25 minutes to downtown Asheville
Another of Western North Carolina's most elegant gated communities is The Cliffs at Walnut Cove. Located in Arden, NC, this community's design was inspired by European villages, as well as the natural beauty of the nearby Blue Ridge Parkway and Pisgah National Forest. Residents enjoy scenic walking trails, a state-of-the-art wellness center, and a Jack Nicklaus Signature golf course (which debuted with a PGA Tour event). The Turnhouse and Tavern serve up delicious, gourmet food and brews in a Tudor-style clubhouse. On top of all of this, the local area has lots to do as well, with Biltmore Park Town Square and Lake Julian only a short drive away. For frequent fliers, Asheville Regional Airport is only 15 minutes from this community.
Private Mountain Communities in Asheville & Western NC with Top Amenities
Southcliff | Hiking trails, parks, playgrounds, fire pits, covered pavilion, staffed gatehouse | 15 minutes to Downtown Asheville
For mountain living with easy access to the city, check out Southcliff. This neighborhood is in Fairview, NC, and it's close to everything you'll need on a daily basis (such as grocery stores and pharmacies) while still feeling "away from it all." Amenities include six miles of trails and community parks with playgrounds, fire pits, grills and picnic benches as well as a covered pavilion with furniture, lights and a fireplace and electric heater for the colder months. A staffed gatehouse stands at the entrance to the community, providing security and peace of mind. A lush forest and mountain views surround Southcliff on each side. Since this community is only 15 minutes from downtown Asheville, you'll have no trouble heading into town when you want to enjoy a night out. However, Fairview isn't without its own hidden gems (such as Whistle Hop Brewing Company and Sky Mountain Pizza).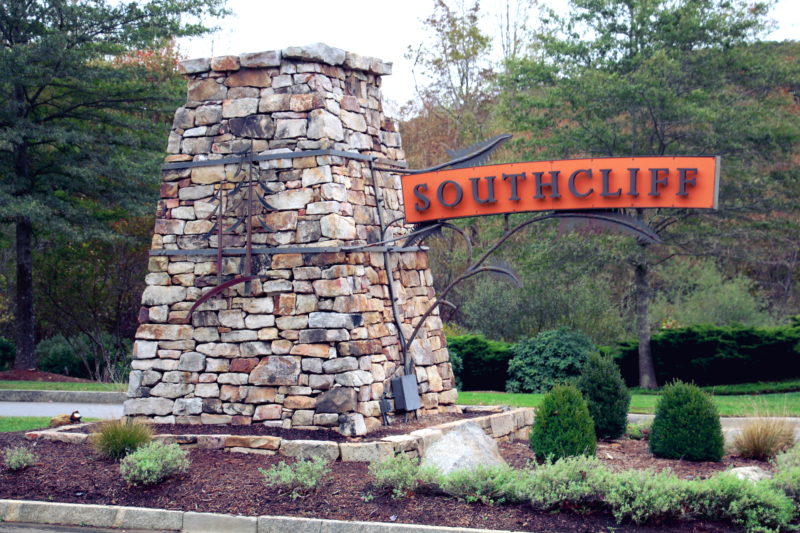 Grand Highlands at Bearwallow Mountain | Lodge-style clubhouse, walking trails, fitness center, tennis & pickleball courts, dog park, horse pastures, community garden | 35 minutes to downtown Asheville
Want to be truly immersed in the beauty of the Blue Ridge Mountains? Grand Highlands at Bearwallow Mountain is the place for you. This magnificent gated community is only a few minutes from downtown Hendersonville, NC, and about 35 minutes from Asheville. It's easy to stay healthy with this community's fitness center, walking trails, tennis and pickleball court and community garden. The clubhouse provides a place for neighbors to meet and enjoy a pint in the Summit Pub Room. Since Grand Highlands is located on just that – a highland – there are miles of rolling hills to explore, with a barn and equestrian facilities included. Only a few miles away from the community's border, you'll find grocery stores and other necessities, plus even more natural attractions to explore (such as Chimney Rock and Lake Lure).
Creston | Walking trails, 350-acre nature preserve with waterfalls and forests, playground, picnic area, community center, fire pit | 40 minutes to downtown Asheville
Creston is a gated community located 20 minutes from charming Black Mountain, NC. While it's not far from town, this community still feels like a natural haven – and that's because it is. Creston was built with sustainability in mind, and this eco-friendly community is full of amenities focused on nature. Residents have access to miles of walking trails that wind through the community's 350-acre conservation area. This nature preserve, called Triple Falls Sanctuary, is full of local flora, fauna, forests, streams, and waterfalls. Creston also has a welcoming community center where neighbors can gather to socialize. As mentioned, Black Mountain is just a short drive away and full of options for food, drinks, and entertainment. We recommend checking out Trailhead Restaurant & Bar, Cousins Cuban Cafe, or Fresh Wood Fired Pizza for a great meal, then catching a live show at White Horse Black Mountain.
Best Condos in Asheville & Western NC with Best Amenities
The Fitzgerald at Grove Park | Membership access to Grove Park Inn amenities, including golf course, spa, dining, fitness center, swimming, tennis, pet friendly, on-site parking | 10 minutes to downtown Asheville
Located right next to the historic Omni Grove Park Inn, The Fitzgerald at Grove Park contains 24 high-end condos with luxurious features and breathtaking mountain views. Not only is one of Asheville's most iconic landmarks in this building's backyard, but its proximity to downtown makes it even more desirable. Residents of The Fitzgerald can access the world-class amenities in the Omni Grove Park Inn through a community membership program, including a golf course designed by Donald Ross, a sports complex, a swimming pool, dining venues, and a spa that has received international acclaim. Nearby, you'll find an endless variety of things to do, places to eat and beer to sample in downtown Asheville. North Asheville has plenty of great spots as well; we recommend checking out Asheville Pizza & Brewing, The Hop, and HomeGrown on Merrimon Avenue.
55 South Market Street | On-site parking, indoor & outdoor community areas with gaming area and grilling station, trash chutes, pet friendly | Located in downtown Asheville
55 South Market Street is located in downtown Asheville, within walking distance of restaurants, bars, shops, and attractions. Its location on a side street gives this condo building the perfect balance; it's in the heart of the city, but tucked away to provide its inhabitants with serenity. Residents of 55 South Market Street have access to on-site parking, which is a major perk in downtown Asheville, as well as indoor and outdoor spaces to hang out and socialize with neighbors. A grilling station and gaming area are provided, and the building is pet-friendly, so you may meet some new furry friends while spending time in the community areas. Nearby are some of Asheville's most notable restaurants, including Limones and Benne On Eagle, as well as art galleries, Pack Square Park, Asheville Art Museum, and performance venues like Wortham Center for the Performing Arts, and The Orange Peel.
Arras Residences | On-site parking, restaurant, bar, and meeting spaces, fitness center and massage room, trash & recycling chutes on each floor, climate-controlled storage units | Located in downtown Asheville
You can't get any closer to downtown Asheville than Arras Residences. Located in the heart of downtown, across the street from Pack Square, these condos are part of an Art Deco-inspired 18-story tower (formerly the BB&T Bank Tower) which also includes a hotel, restaurant and bar – so you won't have to go far to get a gourmet meal and craft cocktails. Residents have access to a fitness center and massage room as well as chutes for recycling and trash on each floor and climate-controlled storage units. Arras Residences' greatest amenity, however, just might be its location. Some of Asheville's best restaurants are less than a block away by foot, including Cúrate, Posana, and the French Broad Chocolate Lounge. Similarly to 55 South Market Street, Asheville Art Museum and Wortham Center are also within walking distance, and on warm summer evenings, a stroll in Pack Square Park will be the perfect way to end the night.
Amenity Questions to Ask When Looking for Places to Live in Asheville
When touring communities or condo complexes you're interested in, be sure to ask questions about the available amenities so that you can make a fully informed decision about your new home. Here are some questions we recommend asking:
What community amenities are offered?
Are there additional costs to enjoying the community amenities?
Can guests of mine enjoy these community amenities?
Do residents receive any perks at other places in the community? For instances, discounts at coffee shops, museums, theaters, etc.
Finding Your New Home in Asheville, NC
If you have questions about the best private communities in Asheville, NC, or throughout Western North Carolina, don't hesitate to contact us. We'd love to help you choose the right community for you (with all the luxurious amenities you're dreaming of) and find the perfect home or condo for your needs.