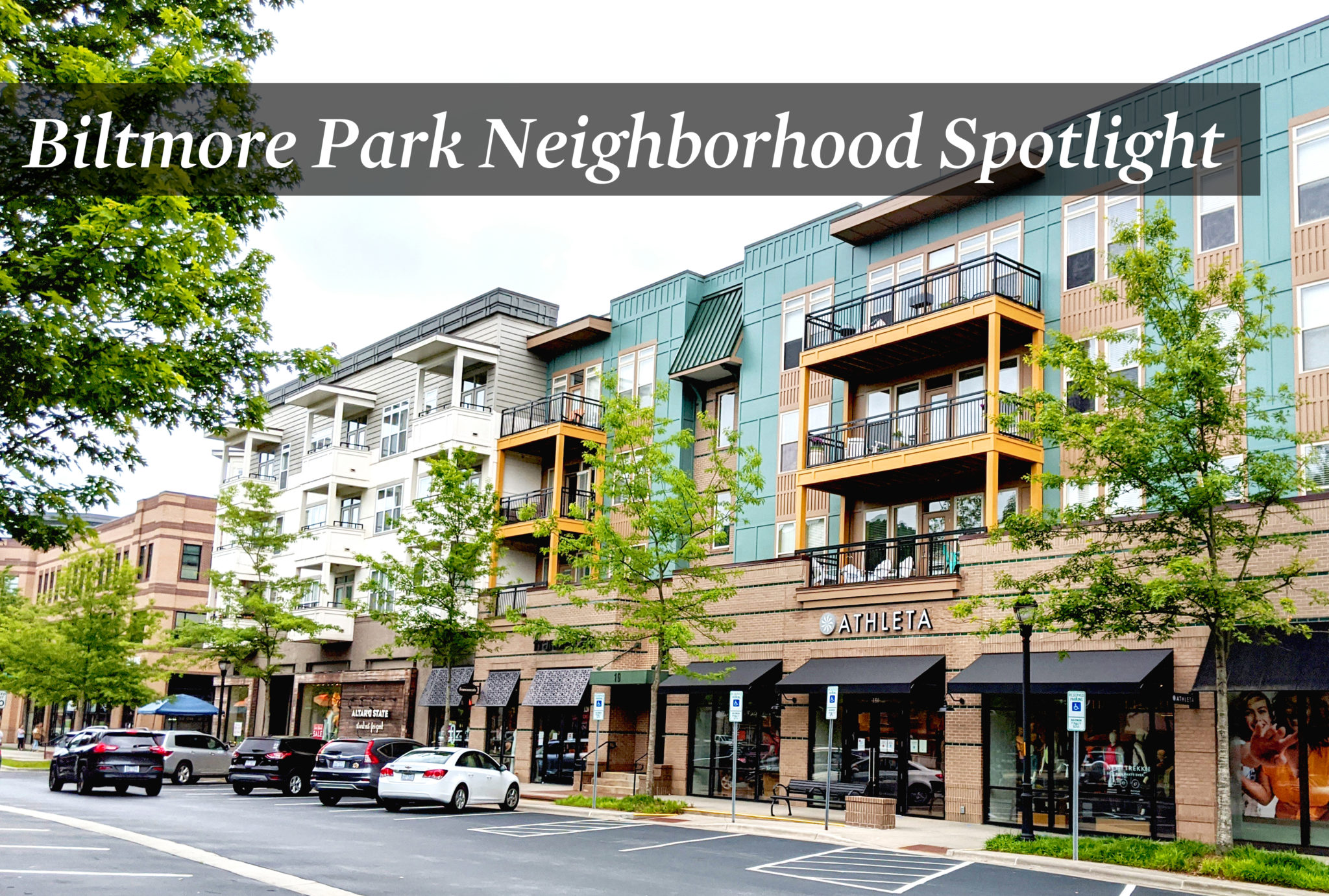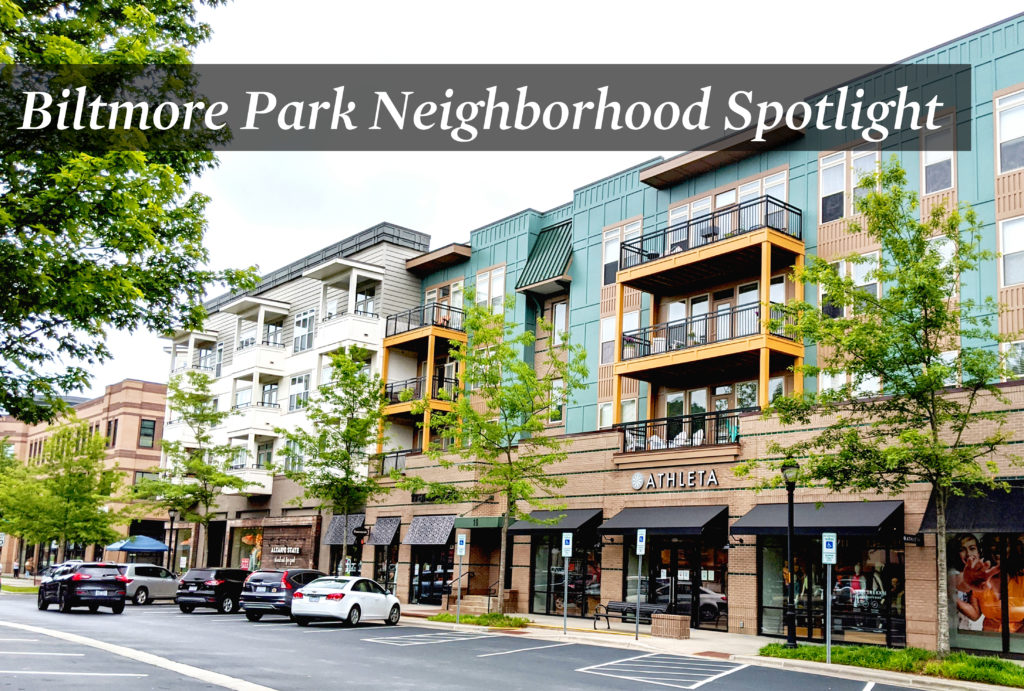 Biltmore Park is a planned community just south of downtown Asheville, NC. Brimming with charm, surrounded by the Blue Ridge Mountains, and filled with a wide assortment of restaurants and shops, Biltmore Park has become one of Asheville's most desirable neighborhoods. In this post, we'll take a look at Biltmore Park's history, amenities, and homes for sale.
What is Biltmore Park?
Biltmore Park is a mixed-use development that includes a residential neighborhood as well as Biltmore Park Town Square, which is a hub of condos, shops, offices, and other amenities. Minutes from I-26 and bustling Hendersonville Road, you can get from Biltmore Park to downtown Asheville in about 20 minutes.
History of Biltmore Park
Like much of the area around the Biltmore Estate, the 735-acre plot currently known as Biltmore Park was originally owned by the Vanderbilt family as their former dairy pastures. Over the years, the Biltmore Park residential neighborhood grew into what it is today, modeled on traditional development patterns that include green spaces and nature trails.
The Town Square was opened in mid-2009, and it quickly became a central gathering point for the community while also offering other living options such as townhomes and condominiums. Special events are held often, and it's a great place to relax and meet people.
Orvis and REI are two anchor stores in Biltmore Park Town Square.
Amenities and Things to Do in Biltmore Park
There are tons of great shops, restaurants, and things to do in the Town Square and surrounding area. Parking is free, so it's easy to find a spot and start strolling down the tree-lined main street, and for condo owners, all these amenities are right outside their front doors. Here are some of our top highlights.
Restaurants
The restaurants in Biltmore Park Town Square are some of South Asheville's best. There's a wide variety of cuisines represented, including classic Southern BBQ at Luella's, carribean favorites at Nine Mile, delicious Mexican meals at Neo Burrito, and cupcakes at Smallcakes. For great local brews, head to Thirsty Monk. You can also choose from national favorites like P.F. Chang's, Starbucks (inside Barnes & Noble), Brixx Wood Fired Pizza, Which Wich?, and many more.
Movie Theater
One of the cornerstones of Biltmore Park Town Square is the Regal Biltmore Grande movie theater. Asheville's first stadium-style theater, the Regal in Biltmore Park can seat more visitors and offer more showings of popular films than many other cinemas in the area.
Shopping
Outdoors outfitter REI and Barnes & Noble Booksellers anchor the Town Square's shopping options, along with Loft, Orvis, and Francesca's. Local shops include O.P. Taylor's, a timeless toy store enjoyed by kids and adults alike, and Talloni, a shoe salon located in the Hilton Hotel. Biltmore Park's proximity to Hendersonville Road offers convenient access to grocery stores and pharmacies as well.
Fitness & Health
The Reuter Family YMCA in Biltmore Park is conveniently located in the Town Square, so it's easy to walk to from the condos and from many of the single-family homes. There are also medical offices (including eye doctors and a chiropractor), a yoga studio, and a pilates studio in the Town Square.
Hotels and Airport
The Hilton Asheville Biltmore Park is a four-star hotel in the heart of the Town Square that offers eco-friendly luxury, including an indoor pool, spa, and fitness center. Additionally, there is a selection of other budget-friendly hotels about 15 minutes away, near the Asheville Regional Airport. Asheville's airport is designed to pay homage to rustic Appalachian design and the beauty of the nearby mountains. Though it may be small, it offers connections for national and international flights, and it's a convenient option for business and leisure travel.
Nearby Attractions
Some of Asheville's best attractions are only a few minutes from Biltmore Park, including the Biltmore House, the North Carolina Arboretum, and Sierra Nevada Brewing, known for great food, beer, and brewery tours. You can also easily access hiking trails nearby, as well as the Mountain Play Lodge for kids.
Nearby Schools
Biltmore Park is minutes away from public schools for all ages, including William W. Estes Elementary, Valley Springs Middle, and T.C. Roberson High. If you're looking for private options, Carolina Day School, Asheville School, and Christ School are also nearby. Biltmore Park is located in the Roberson School District.
Real Estate in Biltmore Park
Whether you're looking for a condo or something more spacious, we can help you find your dream home in Biltmore Park. Read on to learn about your housing options in the neighborhood, or click here to see the current Biltmore Park real estate listings.
Condos
Luxury condos for sale in Biltmore Park are located above the shops and offices in the Town Square. Residents enjoy an outdoor pool, fitness center, and easy walking access to shops and restaurants in the Town Square.
Single-Family Homes
Homes for sale in the Biltmore Park neighborhood range from craftsman cottages to multi-million dollar mountain estates. Arts and Crafts, Classic, and Traditional brick are the most common home styles throughout the neighborhood. Residents can join the Biltmore Park homeowners association that offers a clubhouse, pool, kids' swim teams, community events, and more. You can drive from the residential neighborhood over to the Town Square in a few minutes.
The residences in Biltmore Park vary in style, and include arts and crafts and traditional brick homes.
Land for Sale
You can also purchase a lot and build a home in Biltmore Park. Land in the neighborhood is typically surrounded by woods, which offers privacy, while also being convenient to the Town Square.
Comparable Communities
Though there are few truly mixed-use communities in Asheville (with commercial business and residences blended together, like those in Biltmore Park), there are other similarly planned high-end communities, such as Sovereign Oaks, Thoms Estate, Biltmore Lake, The Ramble, and Cheshire (Black Mountain, NC). Click each community to read more about real estate and amenities they offer.
Frequently Asked Questions
What is the Average Price of a Home in Biltmore Park?
The prices for homes for sale in Biltmore Park run from $500,000 to over $2 million, depending on size, features, and location. Condos for sale in the Biltmore Park Town Square usually start in the high $200's and go up to $500k, with a few of the nicest and largest units near $1 million.
What are the Taxes?
Biltmore Park is in Buncombe County, NC, so residents are subject to the Buncombe County tax rate (but no Asheville City taxes). Properties in Biltmore Park also fall in the Skyland Fire District. Click here to read our post about how taxes are calculated, and look up current tax rates.
Biltmore Park offers a wide range of homes for sale, ranging from under $500,000 to over $2 million.
Moving to Biltmore Park
We'd love to help you buy a home in Biltmore Park! You may want to start by viewing the current listings in the neighborhood, and sign up for new listing alerts to stay in the loop when new listings that fit your criteria become available. Next, please contact us to let us know you're considering Biltmore Park, and together we can take a tour of the community as well as some of the current inventory.