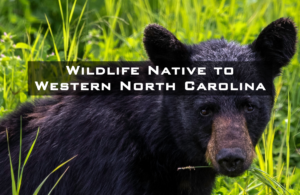 Whether you're hiking, kayaking, or driving on the Blue Ridge Parkway, you're bound to see some native wildlife on a visit to Western North Carolina. Animals are plentiful in the Asheville area's forests, rivers, and even cities, with species ranging from black bears to bald eagles. Below we've listed some commonly-seen wildlife native to Western North Carolina, some facts about them, and where you're likely to catch a glimpse of these amazing animals.
Native Mammals of North Carolina
Black Bears
Black bears (Ursus americanus) are medium-sized, omnivorous bears with blue-black fur, round ears, and long claws. Many of our clients have had black bear visitors meander through their yards from time to time here in Western North Carolina, which is always a delight to watch (as long as they stay out of the garbage cans!). They are common in forested areas throughout North Carolina, but when searching for food, black bears often roam into areas inhabited by humans. They are unlikely to attack humans, but it's wise to stay away from them if you see them in the wild, as they can become aggressive when searching for food. Read more on what to do if you encounter a black bear while hiking or camping.
White-Tailed Deer
White-tailed deer (Odocoileus virginianus) are widely distributed throughout North Carolina (and most of North America), and you're likely to see one while driving though the mountains. These gentle herbivores have reddish-brown coats that turn grey and brown in the colder months. In areas where they are often hunted, white-tailed deer are wary of humans.
Eastern Elk
Eastern elk used to be prevalent in the area as well, but unregulated hunting led the species to become extinct by 1877. Today, any elk seen in North Carolina are part of a Canadian subspecies (Cervus elaphus manitobensis) that was reintroduced to the area in the early 2000s. There are estimated to be up to 200 elk living in North Carolina currently, and you're most likely to see one in Haywood, Jackson, or Swain counties, or in the Great Smoky Mountain National Park.
River Otters & Beavers
On a trip down the river, you might see river otters (Lontra canadensis). Otters make burrows close to the river's edge in order to easily catch fish and other water creatures to eat. North American beavers (Castor canadensis) are native to the area as well. They have bodies perfectly suited for gnawing down trees, swimming underwater, and building complex dams and lodges. With a layer of fat beneath their thick, water-repellent fur, they can withstand cold water temperatures as they build structures from logs and branches. They are actively mostly at night, so they are hard to spot unless you're taking a boat ride by moonlight.
Bobcats & Coyotes
Bobcats (Lynx rufus) and coyotes (Canis latrans) are also prominent in the area. Both species are carnivorous, though coyotes are opportunistic and will eat berries, fruits, and any other food scraps they can find. Bobcats have reddish-brown fur and short tails that appear "bobbed." They are about twice as big as domestic house cats. Coyotes are as big as medium-sized dogs and typically have dark grey fur. The coyote's hardy, adaptable nature helps it survive and thrive (leading to large populations of coyotes throughout North America).
Small Mammals
Though these carnivorous animals are prevalent, you're probably more likely to see some smaller mammals such as skunks, squirrels, chipmunks, cottontail rabbits, groundhogs, and red and grey foxes. These animals range from forested areas to city streets (and groundhogs can often be seen munching dandelions on highway medians throughout Asheville). If you're out in the evening, you might catch a glimpse of nocturnal wildlife such as raccoons and Virginia opossums. These creatures are often seen in settled areas at night, sniffing out trash cans in search of human food.
Native Birds of North Carolina
Birds from all over the country flock to North Carolina during migration, but there are many notable species that are native to the area. If you're out on a lake or river, you'll probably see a few species of waterfowl, including the wood duck and mallard, or a wading bird like the great blue heron. Calls of songbirds such as the eastern bluebird and mourning dove are often heard ringing through the treetops. At dusk here in Black Mountain, we will sometimes hear the eerie call of the eastern screech owl. Eastern wild turkeys and turkey vultures are common sights along the Blue Ridge Parkway. Birds of prey such as the red-tailed hawk, peregrine falcon, bald eagle, and multiple types of owls are also native to the mountains.
Native Fish of North Carolina
The Blue Ridge Mountains are a popular destination for those who love to fish, as the area is swimming with a wide variety of aquatic species in shimmering rivers and lakes. Native varieties of fish include multiple types of bass, catfish, sunfish, crappie, perch, and trout, as well as numerous non-sport species.
While wading through cold, clear mountain streams, you may spot brook trout (Salvelinus fontinalis), a favorite catch of fly-fishermen. These fish are olive-green with yellow spots and they thrive in "freestone" streams that flow seasonally and are fed by melting snow and runoff. These freestone streams inspired our real estate company's name.
Rainbow trout (Oncorhyncus mykiss) and brown trout (Salmo trutta) are also commonly seen in these streams, as all three species require cold, unpolluted, highly-oxygenated water to thrive. To learn more about optimal fishing locations throughout North Carolina, check out this interactive map.
Native Amphibians and Reptiles of North Carolina
North Carolina is home to over 65 types of salamanders, so while you're exploring the forest, keep an eye out for these amphibians in damp areas beneath leaves or logs. One of our favorite little amphibians is the brightly colored newt. We often encounter these sweet orange creatures on hikes on the forest floor.
Snakes are also common throughout the mountains. You might have a peaceful encounter with one of the many native non-venomous snakes while exploring nature, but watch out for venomous copperheads and rattlesnakes hiding in the leaves as well.
What is the state animal in North Carolina?
Though there is not one state animal, the State of North Carolina does officially recognize a number of our native animals within their type. The state mammal is the eastern gray squirrel. The marbled salamander (Ambystoma opacum) is the official state salamander of North Carolina. It has white and grey stripes across its back, leading to a "marbled" appearance. Our state bird is the northern cardinal, and our state freshwater fish is the southern Appalachian brook trout.
The WNC Nature Center
To get an up-close look at animals native to Western North Carolina, our Freestone Properties home, make the WNC Nature Center a part of your next visit. Very similar to a zoo, the WNC Nature Center is home to 60 species of wildlife that live or have lived in the Southern Appalachian Mountains. With black bears, bobcats, barn owls, gray foxes, a cougar, and, the most playful of the bunch, otters, the center is a wonderful spot for animal lovers of all ages.
Enjoying Nature in North Carolina
From animal inhabitants to breathtaking fall foliage, hiking trails, and overlooks, the Blue Ridge Mountains are full of natural wonders that are best experienced in person. During your next visit, see what North Carolina wildlife animals you encounter while hiking to a waterfall or braving the whitewater rapids. For even more information, click here to view the North Carolina Wildlife Resources Commission's guide to wildlife.
If you're ready to make the mountains your home, let us know – we'd love to help you make your dreams a reality! First, contact us or send us a note below to let us know you're planning to relocate to the area. Next, check out the neighborhoods around Asheville where we have current listings to find the perfect place for your family. A great way to enjoy wildlife out your back door is to buy a log cabin in the Asheville area! And if it's a second home, this property could also be used as an income-producing vacation rental.