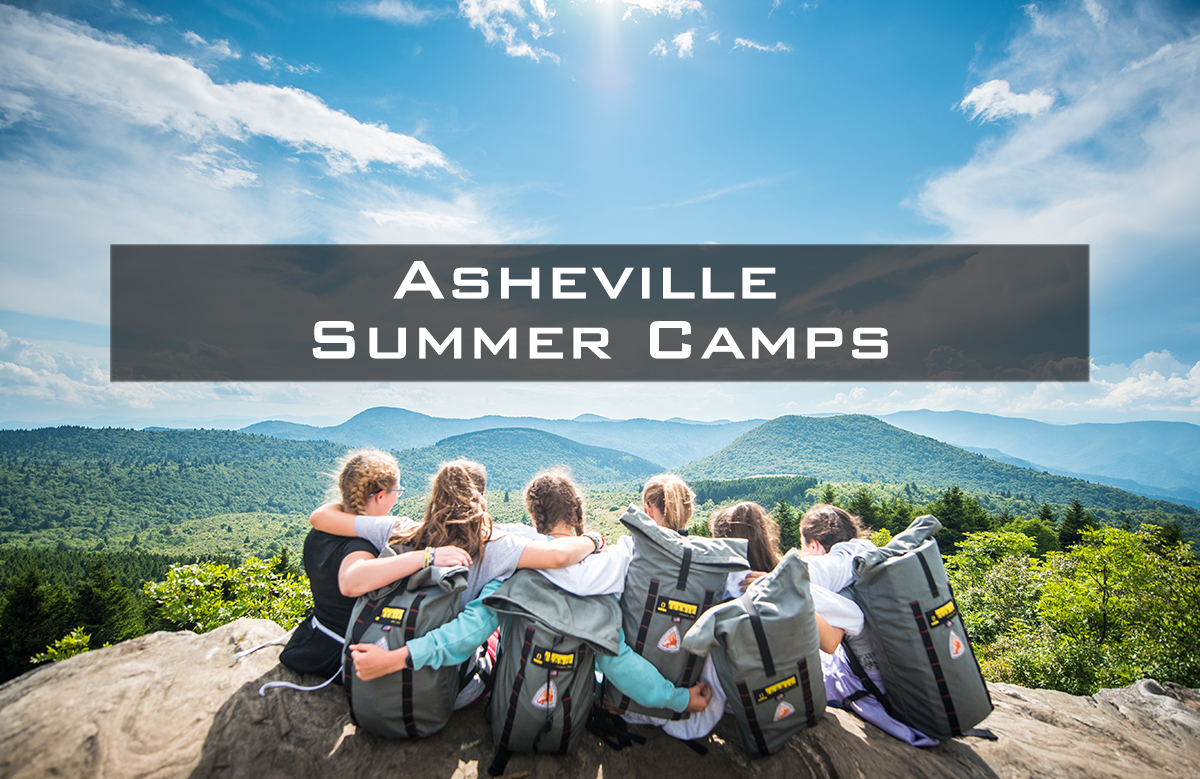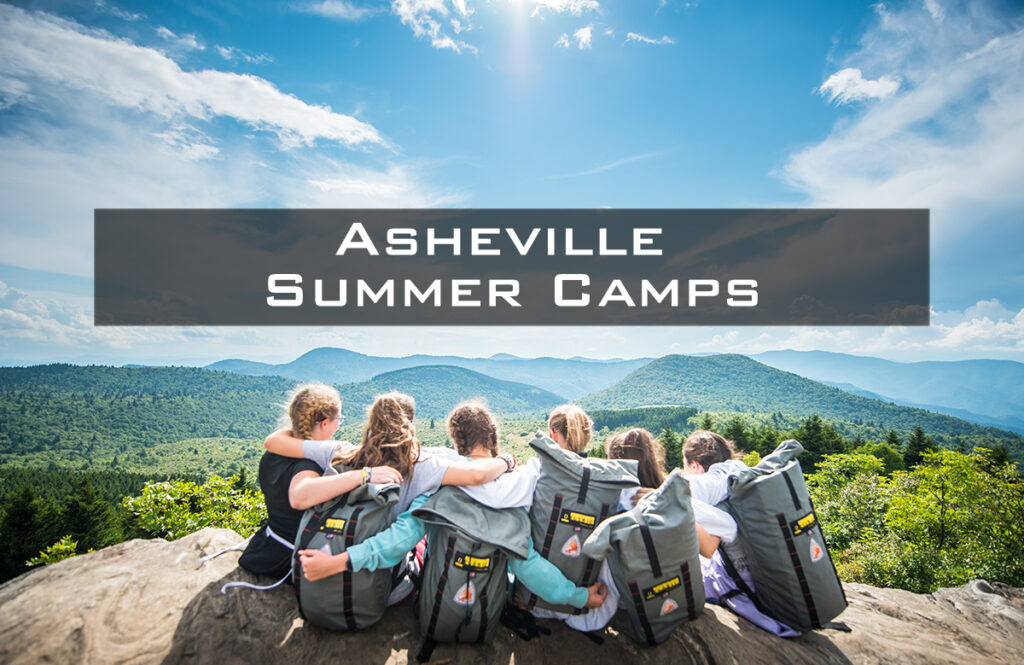 Summer in Asheville, NC, is a glorious season. The days are warm and sunny, with welcome respite provided by overhanging trees and cool river water. The mountains are lush with forest foliage and rhododendron blooms, and opportunities for exploration abound. As daylight fades to twilight, lightning bugs illuminate the dark and constellations become visible overhead. It's the ideal environment for building friendships, making memories, and going on adventures – which is why Asheville is home to many incredible summer camps for kids of all ages.
From day programs to summer-long camp experiences, the area has many options that will suit your family, schedule, and budget. Keep reading to find out more about Asheville summer camps.
Since 1945, Camp Merri-Mac for Girls has pursued its mission of growth through friends and adventure in the mountains of Western North Carolina. Photos, including header image, courtesy of Camp Merri-Mac.
Sleepaway Summer Camps in Asheville, NC
Camp Merri-Mac & Camp Timberlake
Located in the mountains of Black Mountain and Marion, North Carolina, Camp Merri-Mac for girls and Camp Timberlake for boys are traditional, Christ-centered camps that have pursued their mission of growth through friends and adventure since 1945. Both owned and operated by the Boyd family, the two camps have the same opening and closing dates, and are located about 30 minutes apart.
Campers from ages 6-16 can enjoy a wide variety of activities, ranging from mountain biking, fencing, and lacrosse to guitar, cooking, and pottery. They even offer puppy training! Campers have the opportunity to explore the Blue Ridge mountains daily through off-site backpacking, rock climbing, and kayaking excursions.
Camp Timberlake for Boys, located about 40 minutes east of Asheville, recently built a brand new camp on 200 beautiful, rolling acres. The design for the camp development was informed by their 35 years of camp experience. Photos courtesy of Camp Timberlake.
Camp Cedar Cliff
Camp Cedar Cliff is an overnight camp with three tiered age groups (2nd-4th graders, 4th-6th graders, and 7th-10th graders). The camp has a Christian focus and is located in East Asheville (accessible through the Billy Graham Training Center at The Cove). Campers enjoy horseback riding, swimming, hiking, climbing walls, slip 'n slide, and more while making friends and building confidence.
Camp Cedar Cliff has a day-camp program for rising K-5th graders as well.
Camp Pinnacle
Camp Pinnacle is located in Flat Rock, NC, about 40 minutes from Asheville. This camp focuses on campers' personal growth, friendships, and traditional summer camp fun. Kids ages 7-15 can stay for two- or three-week sessions, enjoying activities such as capture the flag, fishing, community-building activities, a 200-foot mountain slide, "The Blob," and more.
The Adventure Center of Asheville runs two day camp programs, a Bike Camp and an Adventure Camp. The Bike Camp serves kids ages 5-15. Photos courtesy of the Adventure Center.
There are dozens of well-known independent summer camps in Western North Carolina, and far too many to discuss them all in this post. The North Carolina Youth Camp Association is a great resource for parents that are trying to find the right camp for their family.
YMCA Summer Camps in Asheville
YMCA of Western North Carolina offers many different camp options, including half-day and full-day camps as well as the sleepaway Camp Watia. Day camp options include:
Discovery Camp (rising 1st-rising 6th graders; with theme weeks exploring art, science, and sports)
Adventure Camp (ages 10-14; a field-trip based camp with hiking, swimming, and nature activities)
Explorer Camp (ages 4-13; a traditional outdoor camp with ropes courses, archery, forestry, swimming, and more).
Counselors in Leadership Training Camp (ages 13-15; teens learn leadership and basic job skills).
Because the YMCA has been running emergency childcare since the beginning of the Covid-19 pandemic, employees and volunteers are now well-versed in maintaining safe conditions for children through social distancing, health screenings, and mandatory face coverings.
Camp Watia offers kids the chance to unplug, meet new friends, and explore the outdoors. They offer three camp experiences: Traditional Camp (grades 2-10), Watia Adventures (trip-based, grades 7-10), and Teen Leadership (grades 10-12). To ensure the safety of all campers, camp enrollment for 2021 has been capped at 75% capacity for the time being, but a waitlist is available for interested families and enrollment may reopen in spring 2021.
Asheville Community Movement Summer Camp
Asheville Community Movement offers summer camps that encourage kids to move, play, explore the outdoors, and make friends in a nurturing environment. Their Movers and Shakers Summer Camp has weekly themes from "Folk Art and Wildcrafting" to "World of Hogwarts" to "Grub Week," so kids can choose exactly the theme they find most fascinating.
Regardless of the theme, every week campers enjoy group games, music, outdoor water play, gymnastics, dance, archery, soccer, frisbee, scooters, trampoline, and more. Campers also participate in activities that focus on community-minded living, sustainability, and conflict mediation.
The Adventure Center of Asheville (ACA) offers an Adventure Camp with access to all the Adventure Center has to offer — zip lines, whitewater rafting, and more. Photos courtesy of the Adventure Center.
Sports Summer Camps in Asheville, NC
Asheville Buncombe Youth Soccer Association (ABYSA) offers soccer "FUNdamentals" camps each summer. If you have a budding soccer star in your family, sign them up for a week-long day camp where they can learn soccer basics, make friends, and enjoy time outside while honing their skills.
The Adventure Center of Asheville (located just a few minutes from downtown) will hold biking summer camps this year, with a kiddie camp for ages 5-7 and a more advanced program for ages 8-15. The kiddie camp focuses on bike basics, while older campers ride on purposefully-built mountain biking trails, building confidence on their bikes and practicing jumps and other skills in a safe environment. Kids can bring their own bikes or rent bikes at camp. Experienced bike counselors accompany and coach young riders to ensure safe fun is had by all.
Each day in the Adventure Center of Asheville's Adventure Camp, campers experience a different adventure at the center, including fun at the Asheville Treetops Adventure Park, KidZip, and a trip down the Pigeon River with Wildwater Ltd. Whitewater Rafting.
Asheville is Fun for Non-Campers, Too!
Asheville's summer camp industry has played a key role in the area being "discovered." After the terror attacks of 9/11, many parents no longer wanted to send their kids on a plane to attend camp. So, those families began driving to Asheville to bring their children to camp, stayed for a week or two (or longer), then returned home after camp was over. Since then, more and more "camp families" have invested in Asheville real estate, either by buying a vacation home or moving to Asheville permanently. Of course, for families with camp-aged kids, it makes sense to consider Asheville school districts and school rankings, as well as the best places to live in the Asheville area.
In the meantime, while your kids enjoy the splendor of summer at an Asheville area camp, you can enjoy the scenery by taking a brewery tour or hiking to a waterfall off the Blue Ridge Parkway? Asheville's culture, history, food, and natural beauty is waiting for you. If you've fallen in love with Asheville, let us know and we'll help you find your dream home in the mountains.