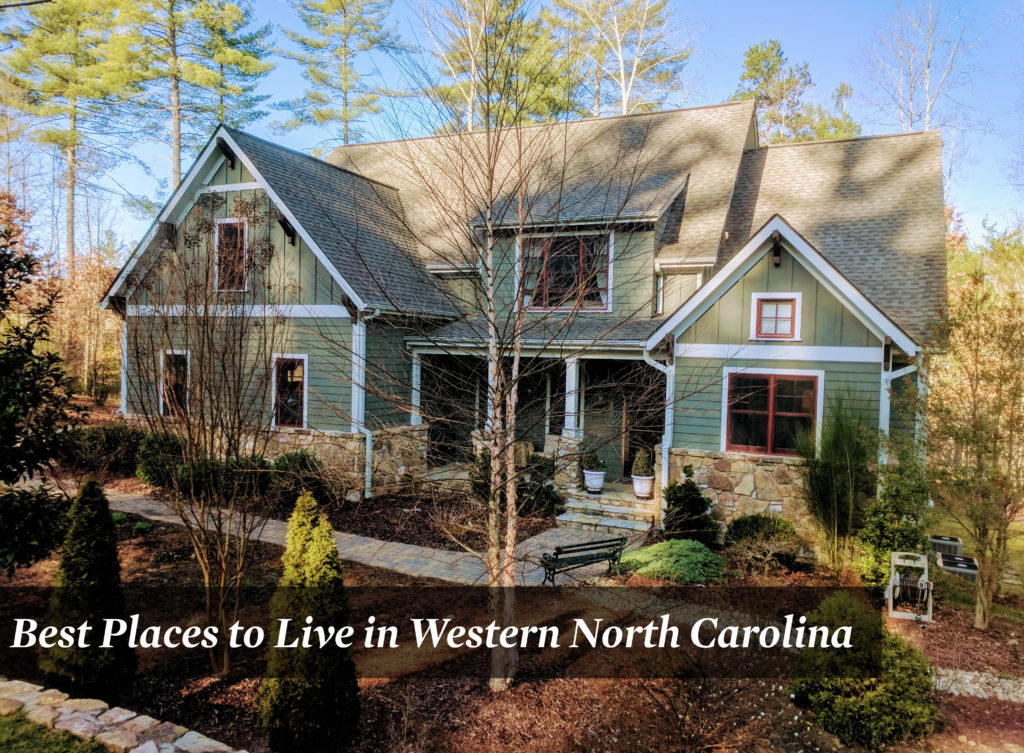 Western North Carolina is no longer a well-kept secret. Visitors flock to this area all throughout the year, and many of them come here with the hope of finding real estate to buy. In this article, we'll look at some of the best places to live in Western North Carolina, and why those places are so great!
What is Considered Western North Carolina?
Western North Carolina, or "WNC," consists of the mountainous areas west of Charlotte, NC all the way west to the Tennessee state line, as far north as the border with Virginia, and as far south as the South Carolina state line. The largest city in Western NC is Asheville, which sits right in the middle of Buncombe County.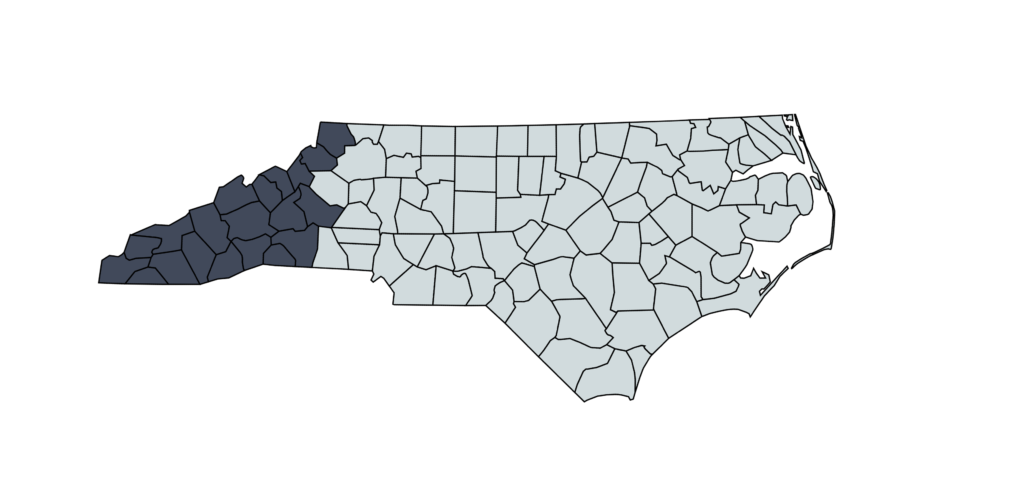 Why Live in Western NC?
Outdoor Adventure
The Blue Ridge Mountains that cover Western NC provide a lifetime of outdoor adventure! The countless rivers and streams offer world-class whitewater for paddlers, as well as tranquil trout streams for both fly fishing and conventional fishing tackle.
There are also literally thousands of miles of hiking and mountain biking trails, and many are also suitable for equestrian use. At the end of some of these trails are rock climbing and bouldering sites!
If you consider that other national forests and recreation areas in upstate South Carolina, Eastern Tennessee, and Southwest Virginia are also within just a couple hours' drive, there truly is more than you could explore in a lifetime!
Did We Mention the Beer?
Asheville is consistently ranked as a top destination for beer drinkers, and its booming brewing industry is now a major provider of area jobs. While Asheville has deservedly been named Beer City USA for several years and is SmartAsset.com's Top City for Beer Drinkers, many nearby towns also have their own quality breweries. Morganton's Fonta Flora, Brevard's Oskar Blues, and Fairview's Whistle Hop are some of our favorite WNC breweries.
Four Seasons
It's almost impossible to write an article about Western North Carolina without talking about the weather. The seasons here are incredibly distinct, and each one is very enjoyable.
Spring brings countless rhododendron and mountain laurel blooms, as well as cool nights to complement days in the '60s and '70s. Summer offers ideal weather for outdoor recreation, with highs rarely exceeding 90 degrees. The nights could still be cool enough to warrant a light jacket while walking around a downtown area like Asheville, Black Mountain, or Brevard.
Fall is what Western North Carolina is known for, with some of the most spectacular fall colors anywhere in North America, and the days are still warm enough for outside activities and dining alfresco. There may even be light snow in late fall, but usually just enough to remind us that winter is not far away.
Winters are mostly mild, except in the higher elevations. Opportunities for skiing and snowboarding are abundant at WNC's local ski resorts. Ski season usually runs from December to March.
Highest Mountains in the East
The mountains of Western NC offer incredible hiking and mountain biking with spectacular views! You can climb as high as 6,684 feet elevation at Mount Mitchell, the highest point in the Eastern United States! There are also countless other high peaks in the area, such as Max Patch, a wide-open grassy bald at 4,600 feet with 360-degree views, Black Balsam along the Blue Ridge Parkway (6,214 feet), and Grandfather Mountain (5,946 feet) near Linville, NC.
Dog-Friendly
With so much public land around, it's no wonder Western NC is known for being dog-friendly. But it's not just the national forests that will make your pup feel welcome. Urban areas here are also very pet-friendly. Many restaurants allow well-behaved dogs to accompany their owners while they dine outdoors. Shops put out bowls of water and offer treats for dogs, and several breweries have outdoor areas where dogs are allowed. Dog-friendly businesses are now more of the rule rather than the exception. Many offices even have at least one dog on staff, including ours!

Where to Live in Western NC? Popular Towns in Western North Carolina?
Asheville
Asheville is the de facto capital of Western North Carolina. It's the largest city in the region, and also the cultural center. A vibrant downtown and central location make Asheville a great option for those wanting more city amenities but with easy access to nearby national forests.
Black Mountain
Voted the Prettiest Small Town in America by TripAdvisor, Black Mountain is a must-see small town just east of Asheville. Also known as the "Front Porch of Western North Carolina," Black Mountain has a very walkable downtown full of shops, restaurants, art galleries, and breweries.
Weaverville
Another small town outside of Asheville, Weaverville offers a walkable downtown with a quaint feel. Smaller than Black Mountain, Weaverville is a great option for golfers (see Reems Creek Golf Community) or those looking for a more rural feel but not too far from Asheville.
Montreat
Montreat, NC may be the most unique town in this list. Montreat is home to a college, a conference center, and the town itself, and all share the same name. Montreat's incredible hiking trail system is open to the public and is also home to the famous Mt. Mitchell Challenge, a 40-mile trail race that attracts runners from all over the United States.
Brevard
Located in Transylvania County about 30 minutes west of Asheville Regional Airport is the outdoor paradise of Brevard, NC. Brevard is often called "Land of Waterfalls," as it is surrounded by Pisgah National Forest, and is home to approximately 250 waterfalls! Brevard is also home to many summer camps, and that's one reason so many families from the southeast know the area and vacation there.
Brevard is another quintessential mountain town with a cute downtown, offering a variety of restaurants and shopping. Brevard College also brings a lot of events to the town. There are also several breweries, including one of our new favorites, Brevard Brewing Company.
Hendersonville
Going south towards South Carolina will take you right through Hendersonville, North Carolina. Hendersonville is a medium-sized town by Western NC standards (population 14,000 in 2017), but still offers a lot of amenities and a rather large downtown area. Hendersonville is another summer camp hotspot, and its proximity to Dupont State Forest makes it a good option for outdoorsy people.
Waynesville/Maggie Valley
In Haywood County (west of Asheville) is the Waynesville/Maggie Valley area. These two towns are located very close to the Great Smoky Mountains National Park, making them a popular vacation area in the summer. Maggie Valley is more seasonal, focusing more on tourism than Waynesville. It also has the Cataloochee Ski Area, a winter favorite among locals due to its easy access, especially from Asheville. Waynesville's downtown is one that is well worth checking out, as we frequently hear folks say they were pleasantly surprised at how nice it is.
Marshall
Nestled along the banks of the French Broad River, Marshall, NC is an old mill town with several buildings listed on the National Register of Historic Places. In recent years, the downtown area has been revitalized. It's a very convenient location for people that work in Asheville and want their own community in a quieter, slower-paced town.
Morganton
The largest town in Burke County, Morganton has become increasingly popular in the last few years. Lake James is not far away, and there are great amenities in a town like Catawba Meadows Park.
Lake Lure
About an hour from Asheville is the well-known town of Lake Lure. The movie Dirty Dancing helped put it on the map, but the incredible golfing, hiking, and boating keep tourists and real estate buyers coming back.
Boone
Boone is a college town (home to Appalachian State University) just north of the Blue Ridge Parkway. At 3,333 feet elevation, Boone has cooler summer weather and several nearby ski resorts to take advantage of its more alpine winter environment.
Marion
Located in McDowell County (west of Asheville), Marion is a growing town with still relatively affordable real estate, lower elevation (1400 feet), and easy access to Lake James. If you're looking for a lakefront property or public lake access, Marion should be on your list.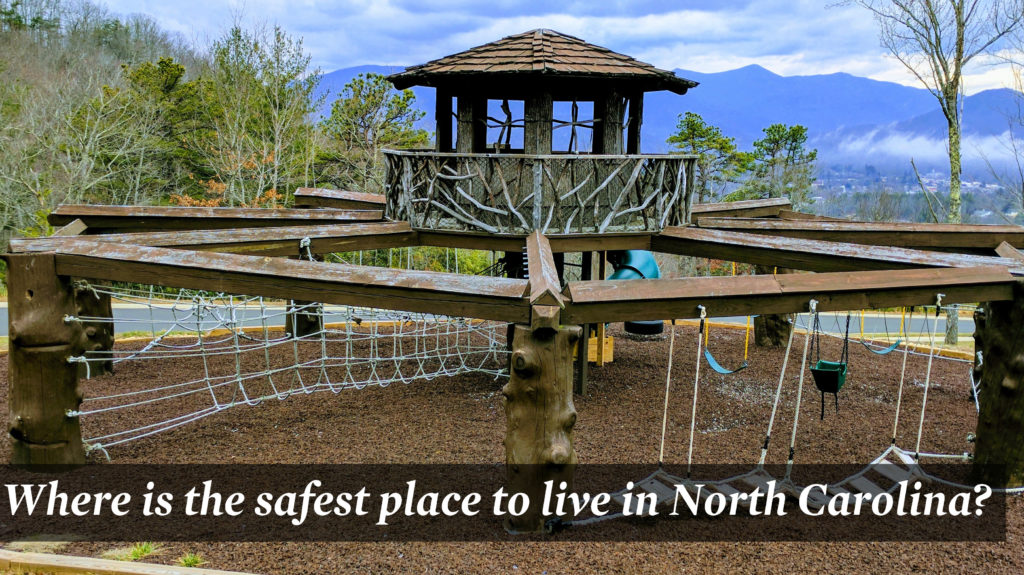 Where is the Safest Place to Live in North Carolina?
In 2018, home security company Safewise released a list of the safest towns in North Carolina. Several Western NC towns made the list, including Fletcher (#3), Woodfin (#12), and Black Mountain (#20). Similar lists have been published by other websites, including this one that also includes Boone, Brevard, and Morganton.
One contributing factor to the overall safety of Western NC may be the small size of the towns and cities here. As mentioned earlier, Asheville is the largest city in Western NC, and its population is only 92,000 (based on 2017 data). And since so many of our towns have walkable downtown areas, it really helps create a sense of community.

Are there any Counties in Western North Carolina where Real Estate is Still Reasonable?
It's no secret that real estate in Asheville, NC has taken off! The average price for a single-family home for sale in the Asheville continues to increase. And if you talk to a builder, there's a good chance they can't start a new project for several months. But real estate is still relatively affordable in the more rural surrounding counties, including Madison, Haywood, and McDowell Counties.

Finding Your Best Place to Live in WNC
Of course, there are many other towns and several other counties in Western North Carolina to consider. But these are some of our favorites and represent a wide mix of prices in our real estate market. If you're new to the area, we highly recommend an exploratory visit or two. We'd love to discuss these areas with you and give you some direction as you learn which areas best fit your lifestyle and budget. Contact us to find the best place to live in the greatest part of North Carolina!