Log Cabins/Homes for in Sale Asheville NC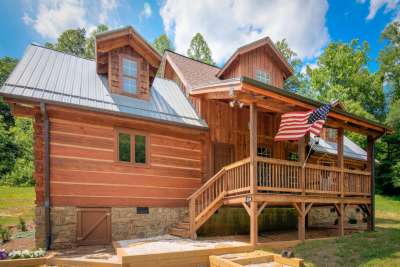 When you imagine living in the mountains of North Carolina, do you picture a cozy log cabin in a peaceful wooded setting? If so, we're not surprised; the log cabin is the quintessential mountain vacation home. You'll find log cabins for sale throughout the Asheville, NC area. Some are located on secluded, private lots surrounded by dense forests that are far away from the city, and others are much closer to all the city has to offer. While some are small and rustic, others are far more grand. You'll find large log homes, timber-frame homes, mountain chalets, and A-frames to suit every around the Asheville area.
Why Buy an Asheville NC Log Cabin for Sale
Buying a log cabin comes with plenty of perks, and when you buy a log cabin in Asheville, you'll enjoy even more benefits. While they do require additional maintenance and cost more to insure, the pros of owning a log cabin far outweigh the cons. When properly cared for, log cabins can last for many years (as evidenced by log cabins that have been standing for over 100 years). Log cabins in Asheville are ideal for income-generating vacation rentals, and you can offset some of the costs of owning a log cabin as your vacation home by renting it out as a part-time Airbnb or VRBO.
Your log cabin near Asheville will provide you with close proximity to tons of outdoor activities, such as hiking and biking on mountain trails, fishing in nearby creeks and streams, and camping under the stars. Additionally, you'll be able to take advantage of all the amenities that Asheville has to offer, including award-winning restaurants, great breweries, endless shopping, and amazing live music venues – when you feel like venturing into town. Maybe you'd rather spend the evening by a fire pit or in the hot tub on the deck of your log cabin!
Popular Areas with Log Cabins for Sale Near Asheville NC
Log cabins near Asheville are typically located in the small towns surrounding the city. These small towns range in proximity to Asheville, with some as close as 25 minutes away and others closer to an hour away from downtown. We recommend checking out cabins for sale in Black Mountain, Waynesville and Maggie Valley, Old Fort, Leicester, Lake James and Nebo, Marion, and Hot Springs.
While you're searching for your ideal cabin, take a look at the pages below to get an idea of the variety of cabin types throughout Asheville and the surrounding area:
Current Log Cabins for Sale in Asheville NC
Find your rustic (or regal) log cabin for sale near Asheville in our current listings below or browse all cabins for sale in/near Asheville. Contact us today and schedule a tour of Asheville's best log cabin properties!
Asheville Log Cabins for Sale