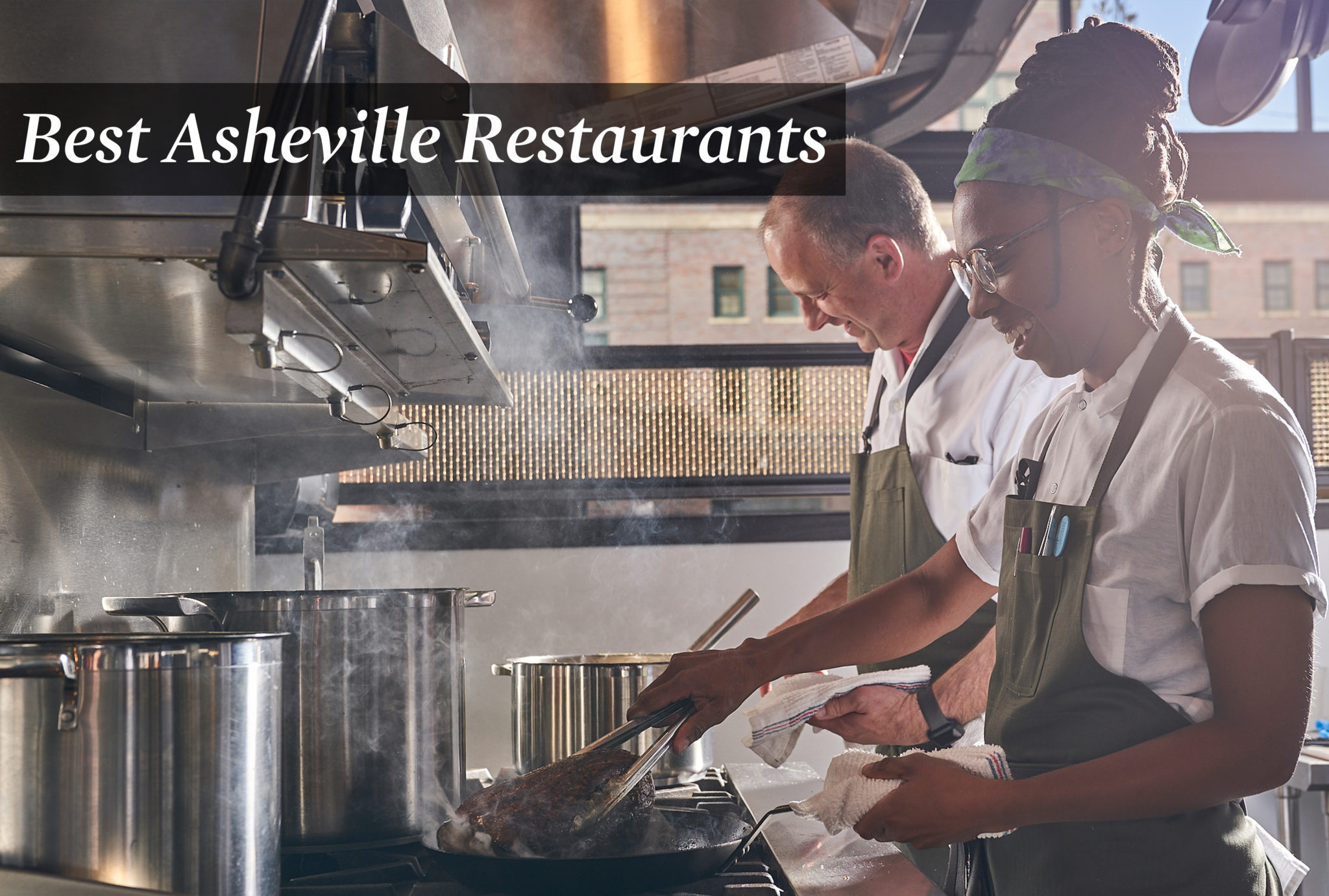 Asheville serves up some of the best of North Carolina cuisine, from pork barbecue to fried green tomatoes. But along with these regional favorites, Asheville is known for its award-winning restaurants and chefs who serve dishes from around the world.
Don't know where to start out of Asheville's 123 full-service restaurants to choose from? Never fear: we've gathered some of the very best below — the places where locals go. They're listed by type of cuisine and price, so you can quickly find what you're craving, from fine dining to casual spots. We've also included info on which places to eat are dog-friendly, and which have vegan and vegetarian options. Asheville's distinctive, delectable dining scene is one of the top reasons Asheville is so popular. Enjoy!
Downtown Asheville
Cúrate | Spanish tapas | $$$
Cúrate is Asheville's home for authentic Spanish cuisine: from tapas and vermouth to jamón Ibérico and an array of delicious wines. Chef Katie Button believes in the curative nature of enjoying food with others, and her dishes have attracted praise from the New York Times. Reserve a table for dinner, or simply walk in to enjoy drinks and snacks at the bar anytime. Vegetarian options available.
Serving elegant Italian farm-to-table cuisine, Cucina24 offers antipasti, pizza, and pastas, decadent desserts, and expertly-crafted plates for your table to share. Their menu features traditional Italian ingredients paired with locally-sourced produce and meats, and offerings are updated seasonally. Vegetarian options available.
Rhubarb | Regional American | $$$ | Dog-friendly
Rhubarb's menu of elevated Appalachian cuisine rotates to include ingredients from dairies and farms around Asheville, with fresh-baked breads, local cheeses and meats, and seasonal vegetables in the spotlight. Owner and chef John Fleer was named one of the "Rising Stars of the 21st Century" by the James Beard Foundation. Vegan/vegetarian options available.
Benne on Eagle | Appalachian soul food | $$$
Benne on Eagle serves soul food on a whole new level. Chef de cuisine Ashleigh Shanti takes everyday recipes, like gumbo, fried catfish, and spoonbread, and elevates them into extraordinary dishes, presenting familiar flavors in exciting new ways. Try a hand-crafted cocktail with your dinner, too. Vegetarian options available.
Nine Mile's specialty is Caribbean food, but their menu also includes pasta, seafood, and many vegetarian and vegan options. Begin your meal with their much-loved natty bread before enjoying the bold flavors of coconut curry or jerk-rubbed chicken, fish, or tofu. Along with their original location in downtown Asheville, there are also West Asheville and South Asheville locations. Vegan/vegetarian options available.
Chai Pani has gained national attention for its unique takes on Indian "chaat" – bright, flavorful street snacks – and "thalis" – comforting, home-cooked meals. Their affordable menu landed them on the Huffington Post's "Top 10 Cheap Eats in The U.S." list, and chef/owner Meherwan Irani has been nominated for James Beard awards four times. Vegan/vegetarian options available.
Wasabi | Japanese | $$
Wasabi is located in the heart of downtown Asheville and features a full menu of high-quality sushi, soups, hibachi, and sakes. Check out their lunch specials for a delicious meal that won't break your budget. Vegan/vegetarian options available.
Biltmore Village
Andaaz | Indian | $$$
Andaaz is located near the entrance to the Biltmore House, so it's the perfect place to have lunch or dinner after you tour the house and grounds. No matter what you choose from Andaaz's menu – from tandoori prawns to chicken tikka masala – you'll get the best of Indian cuisine in the heart of historic Biltmore Village. Vegan/vegetarian options available.
The Corner Kitchen | Farm-to-table bistro | $$ | Dog-friendly
The Corner Kitchen is an integral part of Biltmore Village, nestled amidst boutiques, serving breakfast, lunch, and dinner every day. They put a fresh, urban spin on Southern classics, and Asheville's been loving their delicious creations for sixteen years. Vegetarian options available.
North Asheville
What's better than freshly-made pizza and a great movie? Asheville Pizza and Brewery has all this and more. Check out their website to see what discounted, recently-out-of-theaters movies they're showing at their North Asheville location. Plus, they have a kid-friendly game room, cold beer on tap, tons of food beyond pizza, and quirky, colorful interior design. Vegan/vegetarian options available.
Plant | Vegan | $$
Plant serves multicultural dishes using only ingredients sourced from the earth. The pictures on their website tell the whole story: colorful, fresh vegetables, fruits, herbs, and grains show that vegan food can be delicious and accessible to all. All offerings are vegan and plant-based.
South Asheville
12 Bones Smokehouse | Barbecue, ribs, and Southern sides | $$ | Dog-friendly
12 Bones advertises "tender butts and sweet racks" – in reference to their delectable smoked meats, of course. Barbecue, ribs, and sides good enough to feed the president (which they did, when the Obamas came through Asheville in 2010). 12 Bones also has a location in the River Arts District, and both locations are only open for lunch.
131 Main | Steak and seafood | $$$ | Dog-friendly
If you're looking for traditional surf and turf, head out to 131 Main. Located in Biltmore Park Town Square in South Asheville, this steakhouse has outdoor seating, a hickory wood fire grill, and close proximity to boutiques, hotels, and the Biltmore Grande movie theater. Open for lunch and dinner.
West Asheville
Sunny Point Cafe | Upscale comfort food | $$ | Dog-friendly
Sunny Point has earned a reputation as one of Asheville's very best by serving delicious breakfast food and Southern classics since 2003. A West Asheville staple, the restaurant made Yelp's "Top 100 Places to Eat in America" list. (Check out their fried chicken & waffles!) Vegan/ vegetarian options available.
Fresh | Wood-fired pizza | $$ | Dog-friendly
Needless to say, the pizza, sandwiches, and salads at Fresh are, well, fresh – and delicious. Cooked in a wood-fire oven, their pizza crust is baked to perfection, with tons of unusual topping combos. Fresh is located in the River Arts District, within walking distance of shops and art galleries, and they have a Black Mountain location as well. Vegan/vegetarian options available.
Biscuit Head | Southern brunch | $$ | Dog-friendly
With biscuits "as big as cat heads," Biscuit Head's breakfast and lunch menus include classics like gravies, eggs, bacon, and fried green tomatoes, as well as new creations like gouda fries and veggie "chorizo." They don't take reservations, so if you go on a weekend, make sure to plan ahead – it's a popular spot! Vegan/vegetarian options available.
East Asheville & Swannanoa
Okie Dokies is a must-visit location for barbecue lovers. Located between Asheville and Black Mountain (and just a few minutes off I-40 exit 59), this unassuming smokehouse serves delicious pulled pork barbecue, ribs, fried pickles, hushpuppies, and more. Call ahead to order takeout or drop by to dine-in.
Moments Coffee Bar is a great place for a morning coffee or a sandwich for lunch. The warm, cozy atmosphere and friendly service will have you coming back regularly!
Are you hungry yet? As you plan your trip to Asheville, be sure to check out our list of brewery tours you can't miss, as well as places to hear great music . Asheville's got a lot to love, and if you're considering moving to the area, we can help with that too. Just let us know by using the form below – we'd love to hear from you!