Cabins for Sale Black Mountain NC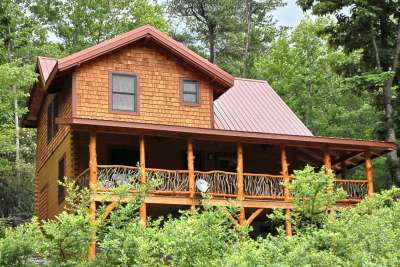 Homebuyers often come to Black Mountain, NC in search of their ideal mountain home: a storybook log cabin in the woods, or perhaps one perched on an overlook with incredible views of the valley below. You'll find cabins like these in Black Mountain, but that's not all – you'll have a variety of styles, sizes, and prices to choose from. While there are some cozy chalets and A-frame cabins, others are grand post-and-beam or timber-frame homes with tons of space for guests.
Why Choose Black Mountain Cabins for Sale
While nearby Asheville, NC also has cabins and log homes for sale, you'll find many unique benefits to choosing a cabin in Black Mountain (about 25 minutes from Asheville). Black Mountain was named "The Prettiest Small Town in America" by TripAdvisor – and for good reason. With a walkable, welcoming downtown area, plenty of local shops and restaurants, and a stunning natural setting, you can enjoy the small-town atmosphere (without being far from daily amenities) by choosing Black Mountain. Plus, this town's zoning is vacation-rental friendly, making it a great place to consider investing in a short-term rental or AirBnb.
Popular Areas with Cabins for Sale in Black Mountain
You'll find cabins for sale in a variety of Black Mountain neighborhoods, including Creston, Laurel Ridge, Catawba Falls Preserve, and more. Because there are so many Black Mountain neighborhoods with cabins, there are always cabins that are well-suited for year-round residences. Cabins in town are convenient to Black Mountain area schools, downtown shopping, and more.
If you're dreaming of a log cabin or luxury cabin, check out our specific pages on them below:
Current Cabins for Sale in Black Mountain NC
Browse the current cabins for sale below to find your ideal home in Black Mountain, NC. If you're considering a Black Mountain cabin, please contact us for more information. You can also set up a saved search to be notified of newly listed cabins and visit our Black Mountain statistics page to keep an eye on the latest Black Mountain real estate trends.