The Asheville area is world-famous for its national forests and endless opportunities for outdoor adventures. But what about recreation within the towns and neighborhoods in Asheville, Black Mountain, and other communities? Asheville has many great options for kids, young families, and even adults, many of which are completely free.
In this post, we'll explore Asheville's public parks, playgrounds, and sports complexes. These facilities are just another reason that Asheville is such a great place to live!
Map of Asheville's Best Public Parks and Playgrounds
Best Playgrounds in Asheville
We would be remiss to discuss parks without focusing on playgrounds. As a father of 2 kids, I have become somewhat of an expert on Asheville's playgrounds. While many of the public parks discussed in this article have playgrounds, we'll just highlight a few of our favorites here.
Tempie Avery Montford Center
The playground at Tempie Avery Montford Center is one of Asheville's newest. Located in the heart of Montford and convenient to downtown Asheville, this community center also hosts events and activities throughout the year.
Robert Lake Park (Montreat, NC)
In the summer, there may be no better place to take your kids than Montreat's Robert Lake Park. Two streams come together in the middle of the playground. On a warm day, you'll probably see more children playing in the creeks than on the playground equipment!
Roy Pope Memorial Park (Woodfin, NC)
This park in Woodfin offers a great playground and covered pavilion that is great for picnics and birthday parties. And since the park is not far from I-26, it's convenient from Asheville and Weaverville.
Lake Julian Park (Arden, NC)
Arden's Lake Julian Park has an incredible playground. Actually, it has 2 playgrounds, but the larger, newer playground is one of Buncombe County's finest.
In addition to these playgrounds, Lake Julian Park offers paddleboat and jon boat rentals, docks for private fishing boats and sailboats, picnic pavilions, a volleyball court, and a disc golf course.
Lake Louise Park (Weaverville, NC)
Lake Louise Park is just a stone's throw from Downtown Weaverville. The park is 15.5 acres with a 5-acre lake. The playground is one of the area's best! In addition, there is a walking track and outdoor exercise stations. For family gatherings, this park features picnic facilities and grills.
For those interested in fishing, Lake Louise has bass, catfish, sunfish, and trout. All you need is a North Carolina fishing license, and you're good to go!
Asheville Sports Parks
Aston Park Tennis Center
Aston Park Tennis Center is located between Downtown Asheville and the River Arts District, and within an easy walk to Chicken Hill. The facility offers 12 lighted clay courts and a clubhouse. There is even a small playground for kids to enjoy, but it's geared more towards older kids than toddlers.
Buncombe County Sports Park
Buncombe County Sports Park is a popular multi-use facility located very close to the Biltmore Lake community. Known for its seven soccer fields, BCSP is always busy on the weekends accommodating Asheville and Buncombe County soccer leagues.
But there's more than just soccer fields. There's an 18-hole disc golf course, a playground, walking & jogging trails, volleyball and bocce courts, and even a community garden.
Murphy-Oakley Park
Another centrally located park in Asheville is Murphy-Oakley Park. Located between the neighborhoods of Beverly Hills and Oakley, this complex offers facilities for several different sports. There is a playground, a lighted basketball court, a lighted baseball & softball field, and 3 lighted tennis and pickleball courts.
Carrier Park
In terms of amenities, Carrier Park is hard to beat. It features some very unique amenities, including a cycling velodrome. There are also several other sports facilities, including an inline hockey rink, a basketball court, volleyball courts, and a lawn bowling court.
In addition, Carrier Park has an incredible playground, a picnic shelter, and connects to French Broad River Park via the French Broad River Greenway. This makes it another awesome location for a good run or a dog walk.
Asheville Dog Parks
Azalea Park
Located in East Asheville along the Swannanoa River, Azalea Park is absolutely full of amenities! The most well-known amenity is the John B. Lewis Soccer complex. Many soccer leagues in Asheville use these fields, and it's especially busy on the weekends.
Azalea Park also has an off-leash dog park with two separate fenced areas—one for small dogs and one for large dogs.
French Broad River Park
West Asheville's French Broad River Park is another park that has a lot of amenities, including a dog park with two separate fenced areas—one for small dogs and one for large dogs. In addition, there is a ton of open green space with trees, restrooms, and a scenic greenway for walking or jogging along the French Broad River. As with many other parks in Asheville, there is also a playground.
This park is very popular, and one reason is its convenient location not far from the River Arts District. This makes French Broad River Park a great location for use any time of day, including a quick lunch break getaway for those who work in or near downtown Asheville.
Asheville Parks with Trails
Many public parks around Asheville have trails for walking, jogging, biking, or pushing a stroller. Here are a few of our favorites.
Charles D. Owen Park (Black Mountain, NC)
Situated off the beaten path in Swannanoa, Owen Park has a little bit of something for everyone. There is a playground, two fishing ponds, basketball courts, softball and baseball fields, and covered picnic pavilions.
The North Carolina Wildlife Resources Commission stocks the ponds with several species of fish. The park sits alongside a hatchery-support section of the Swannanoa River, offering yet another opportunity for anglers. To top it off, there is a flat trail that circles both ponds.
Alexander Mountain Bike Park
Conveniently located just north of Asheville, Alexander Mountain Bike Park features approximately 7 miles of trails. Two main loop trails, along with the road from the parking lot, make up the trail system.
Because this mountain bike trail system is so close to Asheville, there are several good spots nearby for a post-ride meal or beer.
Lake Tomahawk Park (Black Mountain, NC)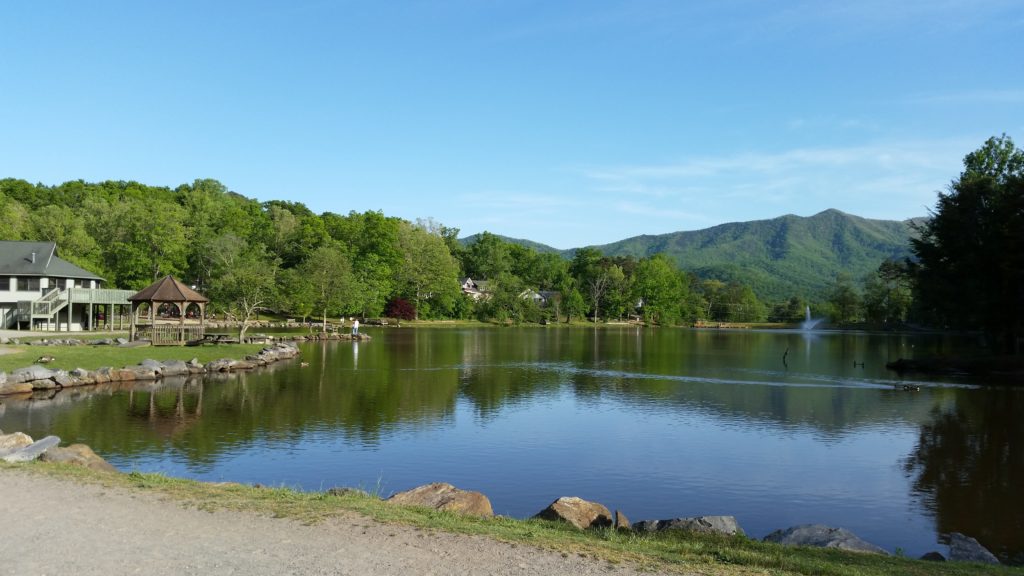 This popular park sits right in the center of Black Mountain. With views of the Seven Sisters (the mountain range that rises out of Black Mountain), Lake Tomahawk Park is a picturesque setting that has something for all ages.
First, there is a .55-mile walking trail that encircles the lake, making this park a popular destination for dog owners. The lake is full of bass and catfish, and even receives trout stockings in the winter.
In the summer, the public pool is a popular destination, and there is a summer concert series called "Park Rhythms" that is free to the public. Add in a playground, two tennis courts, and the Lakeview Center for Active Aging, and people of all ages will find something fun to do here.
Asheville's Urban Parks
Pack Square Park
Home of Asheville's famous "Shindig on the Green" summer bluegrass concert series, Pack Square is a great park right in the heart of downtown Asheville. Even when the concerts are taking place (they start "along about sundown" on Saturday nights), there is still plenty of green space for kids to run around and play.
One of my family's favorite summer weekend activities is to walk around downtown, eat dinner, grab some ice cream, then set up our camp chairs and listen to some good bluegrass music at Pack Square. This gives the kids plenty of time to run and play and burn off some energy!
On hot summer days, be sure to pack the kids' bathing suits and let them enjoy Pack Square's splash fountain, appropriately named "Splashville."
Pritchard Park
Another park located in downtown Asheville, Pritchard Park is relatively small, but it's central location means there is almost always something going on. This triangle-shaped, tree-lined park sits right between Haywood Street, College Street, and Patton Avenue. That's pretty much the center of all things Asheville.
There are many special events and street performers at Pritchard Park, but it is surely best known for its Friday night drum circle. On warmer nights, anyone who wants to can bring their own bongos, congas, tambourine, or hula hoop and play and dance all evening. The Pritchard Park drum circle is a popular attraction for tourists and locals alike.
Food Lion Skate Park
Downtown Asheville's Food Lion Skate Park is a great place to sharpen your skateboarding skills! On any given day, you'll see kids and adults of all ages taking advantage of this great addition to Asheville's public recreation facilities. With 20,000 square feet, this skate park is loaded with features for all skill levels.
Weaver Park
This small park in North Asheville offers residents in this area a lot of amenities in a small space. There are two tennis courts, a basketball court, a baseball field, a playground, and the Weaver Park Trail. This trail connects the sidewalk systems from the residential side of the park on Murdock Avenue to the commercial side on Merrimon Avenue.
Nature Parks in Asheville
Sports complexes and playgrounds are great, but sometimes you just want to enjoy nature. This may mean walking along a scenic trail, learning about wildlife, or enjoying a botanical garden. Several Asheville area attractions offer the perfect way to do all of these things.
North Carolina Arboretum
The North Carolina Arboretum features 65 acres of botanical gardens, 10 miles of walking and biking trails, and an event center. Seasonal exhibits and education programs highlight the Arboretum's offerings, but the Winter Lights display is one that you surely don't want to miss!
WNC Nature Center
For visitors and locals alike, the WNC Nature Center is always a crowd-pleaser. The Nature Center is a small zoo with animal species native to Western North Carolina. The Nature Center is located in East Asheville, making it a great option for a half day excursion before or after a meal at a nearby Asheville restaurant.
Beaver Lake Bird Sanctuary
Beaver Lake is an 8-acre wetland in North Asheville. This park is a major reason that Lake View Park is such a popular neighborhood. A boardwalk lets visitors observe birds and other animals.
State Forests and National Forests near Asheville
The cities, towns, and municipalities in Buncombe County surely offer a great number of public parks. But there's no question that our nearby national and state forests are as good as any in the country. These crown jewels are one of the main reasons people move to Asheville. Here are the closest ones to Asheville.
Pisgah National Forest
Over half a million acres of the eastern mountains near Asheville are part of Pisgah National Forest. There is literally a lifetime of trails, streams, and waterfalls to explore! Different sections of Pisgah lie to the north, the northeast, and the southwest of Asheville. A map of the national forest shows just how much of Western NC it covers.
Dupont State Forest
With nearly 100 trails, over 10,000 acres, several streams, and countless waterfalls, Henderson and Transylvania County's Dupont State Forest is one of our area's most diverse forests. Mountain bike trails here include everything from singletrack to rare slickrock trails. For anglers, Little River is stocked with trout and several lakes offer fishing from the banks or from kayaks and canoes. Dupont is also popular among trail runners, horseback riders, and hikers.
Bent Creek Experimental Forest
Bent Creek is actually located within Pisgah National Forest. The oldest experimental forest east of the Mississippi River, Bent Creek is over 6,000 acres in size! Scientists here study things like ecosystem restoration, fire ecology, and invasive plant species.
In addition to these programs, Bent Creek provides nearly 30 miles of mountain biking trails. If you add in the trails available for hiking only, there are even more miles of trails. And some are even open to equestrian use.

Asheville area Parks with Disc Golf Courses
The Asheville area is chock full of disc golf courses, including some of the ones we've mentioned above. But in this section, we'll focus on some of our favorite disc golf courses in the region.
Richmond Hill Park
In northwest Asheville on a wooded knoll above the French Broad River is the hidden gem known as Richmond Hill. Richmond Hill is best known for its disc golf course. It's tight and wooded and will challenge even the most skilled player. Richmond Hill Park also offers mountain biking trails. These twisty trails take advantage of the limited amount of land at the park, offering a great option for an after-work ride close town.
Bill Moore Community Park (Fletcher, NC)
The exact opposite of the Richmond Hill course, Fletcher's 9-hole Crookston Disc Golf Course is wide open and even features some wetland water hazards. Crookston is located at Bill Moore Community Park, which would easily fit into just about every category in this article. There are sports fields, a playground, walking trails, a dog park, and more.
Veterans Park (Black Mountain, NC)
Black Mountain's Veterans Park is another multi-use park, complete with walking trails and sports fields. Its 18-hole disc golf course plays like 2 separate courses. The front 9 features several holes along the Swannanoa River, and you could easily end up wading into the stream to retrieve your disc. The back 9 is in a large meadow and is very open.
Asheville Neighborhoods with Playgrounds
Asheville's vast parks and playgrounds provide countless opportunities for people to enjoy the great outdoors. But for a little added convenience, many
Asheville neighborhoods have their own playgrounds
. There are also many
neighborhoods with trails
. Homes and lots for sale in these communities are available in all price ranges. To explore Asheville real estate in more detail,
contact us
or
begin your search
for your Asheville home.