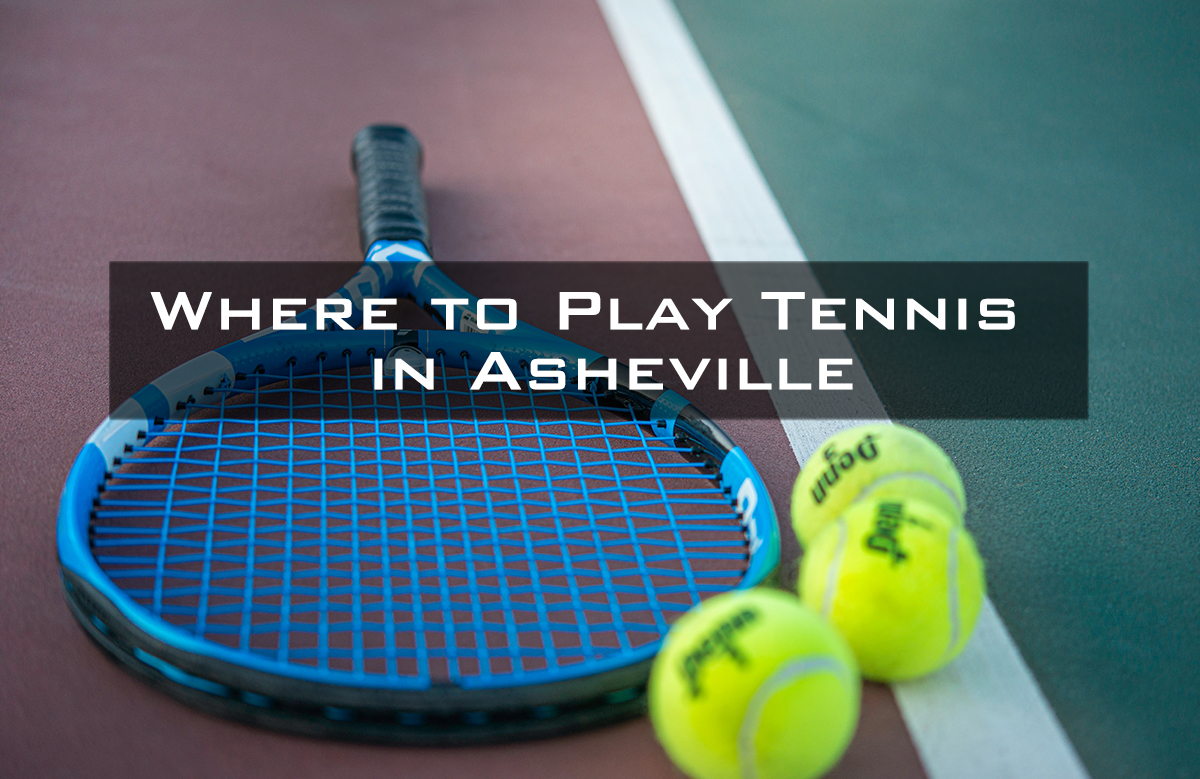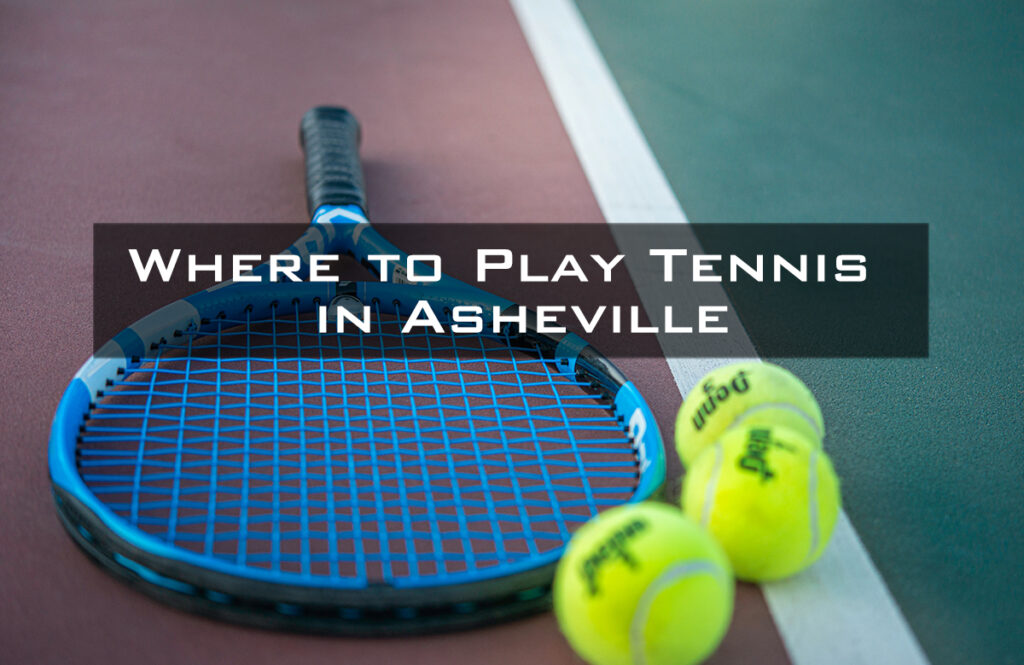 Tennis is thriving in Asheville, NC. Throughout the city, there are tennis courts and opportunities for learning, playing, and competition for kids and adults from beginners to pros. Pickleball players are in luck too, as there are also many pickleball courts in Asheville. Whether you want to join a club or just want to find a place to play today, we can help you find the best places to play tennis in Asheville. Check out our list below of the best Asheville tennis courts and racquet clubs.
Where can I play tennis in Asheville, NC?
Asheville has many options for tennis courts, whether you want to play indoors or outdoors on hard or clay courts. You can also join one of the area's racquet clubs and access many other health and wellness benefits. Below is an interactive map of Asheville's best tennis courts and racquet clubs:
If you've never played tennis (or if it's been years since you've played), check out a Try Tennis program. You can easily learn basic strokes, how to rally, how scoring works, etiquette, and more. Try Tennis is offered at Asheville Racquet Club (both locations), Aston Park Tennis Center, and Warren Wilson College.
Tennis Courts in Asheville, NC
Black Mountain's Lake Tomahawk Park has recently resurfaced tennis courts that are free and open to the public, and the view cannot be beat.
Tennis Courts in Black Mountain and Montreat, NC
Lake Tomahawk Park is located in Black Mountain, NC, a small town 20 minutes east of Asheville. This park has a gorgeous lake at the center, along with two hard tennis courts, a playground, a pool, walking path, and lots of local flora and fauna. There is no fee to play on these courts.
The Creekside Racquet Club, located minutes from downtown Black Mountain, has six Har-Tru clay tennis courts (two lighted) as well as a two-court indoor tennis facility. Creekside also offers a full-service pro shop, and a staff of tennis and pickleball professionals. If you'd like to give Creekside a try, it costs $15 per visit for guests to use the outdoor courts, and $30 per visit for the indoor courts.
Robert Lake Park is part of the Montreat Conference Center (in Montreat, NC, a small town located adjacent to Black Mountain). This park has tennis courts that are open for morning and afternoon play. The fee is $3 per person per hour. If you explore the rest of the park, you'll find walking trails, a playground, and the picturesque Lake Susan. Call 828-357-8556 to reserve a court.
Creekside Racquet Club, just around the corner from our Freestone Properties office, offers a number of well-maintained indoor and outdoor courts.
Asheville Racquet Club
Asheville Racquet Club (ARC) offers a wide range of fitness and wellness amenities for members at the club's two locations (in the South Slope area of downtown and off of Hendersonville Road in South Asheville). Tennis is offered at both locations and pickleball is offered at the South location. Here's a breakdown of what's offered at each location.
Asheville Racquet Club Downtown has ten outdoor clay courts, six outdoor hard courts, and four indoor courts. Access to the tennis courts is included in the platinum membership. ARC has ten tennis pros on staff that offer half-hour or full-hour lessons (with prices varying depending on the coach). There are also junior tennis classes and lessons for kids ages 4-18. The club hosts social events, clinics, USTA leagues, winter interclub leagues, challenge ladders, triples, tournaments, and more.
Similarly, the South Asheville location offers access to tennis courts for platinum members with prices for private lessons varying with each coach. This location has 14 outdoor clay courts, three outdoor hard courts, and six indoor courts. Social events and opportunities for competition are available as well. This location also has eight newly-constructed pickleball courts which gold and platinum members may access for free. Silver members can play pickleball for $15.
In addition to the tennis and pickleball courts, ARC members can access locker rooms and showers, indoor and outdoor pools, soccer, golf, walking trails, spas, steam rooms, jacuzzis, gym equipment, childcare, fitness classes, camps for kids, social events, dining and cafe treats, and more. ARC membership provides access to both locations.
How much is the Asheville Racquet Club?
The ARC has three membership tiers – silver, gold, and platinum – as well as various prices for families, individuals, students, seniors, and members of the military. Contact them directly for the latest rates.
For ARC Platinum and Gold members, pickleball is included in the membership. For Silver members, the cost is $15 to play pickleball. Non-members can use a guest pass three times per year at $15 per guest pass.
For access to the tennis courts, a platinum membership is required. But guests can use the courts three times per year.
The Asheville Tennis Association hosts the Asheville Open Tennis Championship each year for adults and youth.
Asheville Tennis Association
The Asheville Tennis Association (ATA) is a nonprofit that offers community outreach programs and provides an inclusive and fun way for people of all ages, backgrounds, and abilities to enjoy tennis. ATA hosts the annual Asheville Open Tennis Championships for adults and juniors, along with other tennis tournaments, camps for kids, and clinics throughout the year. The ATA provides a roster of experienced instructors available for private lessons for kids and adults as well.
The organization is committed to making tennis accessible and offers low-cost tennis clinics for kids from underserved communities. Kids with autism can learn to play through ATA's adaptive tennis program, ACEing Autism, and the ATA also holds Special Olympics Tennis events at the Asheville Racquet Club Downtown. If you're interested in volunteering with ATA, click here.
Where can I play pickleball in Asheville?
Pickleball is a fast-growing and fun sport that has often been called a cross between badminton, table tennis, and tennis. You can play pickleball at the locations below:
The Montreat Conference Center, located just north of Black Mountain, has both tennis and pickleball courts available, and hosts Pickleball camps.
What neighborhoods in Asheville are close to tennis courts?
Montford, South Slope, Downtown Asheville, Oakley, Kenilworth, and Grove Park are all neighborhoods close to the public tennis courts mentioned above. Neighborhoods near the South location of ARC include Biltmore Park, Biltmore Forest, and other residential areas along Hendersonville Road. If you're interested in moving to a new home in Asheville that is close to tennis courts, you might consider a neighborhood that has its own tennis courts. Click here for current listings with tennis courts in the neighborhood.
Beginners and pros alike will find many ways to play tennis and find community with other tennis lovers in Asheville. The city is full of opportunities for health and wellness, whether it's on the tennis court, on a mountain trail, or just while walking through your neighborhood. If you're interested in moving to the Asheville area, let us know! We'd love to help you find your dream home in the mountains.