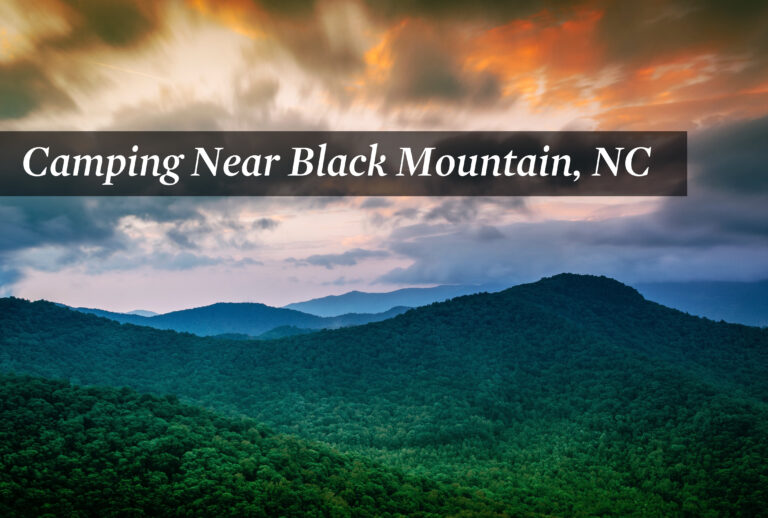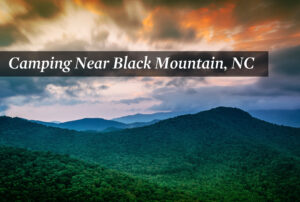 Black Mountain, North Carolina is a small town with quaint, walkable streets and some of the area's best mountain views. Located about 20 minutes from Asheville, Black Mountain moves at a slower pace, offering visitors a chance to relax, shop, hike, and enjoy delicious biscuits, coffee, beer, and more. If you're looking for a place to camp in the area, check out our list below of the best campgrounds near Black Mountain and find a spot to pitch a tent or park your RV within a few miles drive.
Black Mountain offers numerous camping opportunities near town, whether you're interested in tent camping or pulling up your RV for a stay.
Note: If you're checking Google Maps to locate campgrounds, you may see the Black Mountain Campground/Briar Bottom Group Campground listing. Though these campgrounds are fantastic, they're located in Burnsville, NC, about an hour away from the town of Black Mountain. If the town is your main destination, you may want to find a closer campsite.
Montreat | 7 minutes northeast of Black Mountain
Montreat, NC is directly adjacent to Black Mountain, making it the closest option for camping. This town is home to Montreat College, the Montreat Conference Center, and Lake Susan, and there are hiking trails throughout the area.
The Montreat Wilderness Family Campground is part of the Montreat Conference Center, but you don't need to attend an event to camp there. Just make a reservation online to book one of their 28 tent/small pop-up campsites. Amenities include picnic tables, fire pits, and grills. This site is best for those with smaller camping setups, as it doesn't offer electrical or water hookups, though they do have water spigots and two bath houses. The Montreat Wilderness is close to many hiking trails, and you can book a guided hike with the conference center's wilderness ranger staff. Stop by the Nature Center to pick up a trail map (and see some native creepy crawlies!). Pets are allowed.
Swannanoa | 10 minutes west of Black Mountain
The small town of Swannanoa, NC is located between Asheville and Black Mountain, and camping here gives you convenient access to main roads, grocery stores, and restaurants.
The Asheville East KOA is located right off of Highway 70, a main road which connects Swannanoa and Black Mountain. This campsite is part of the KOA chain and includes tons of amenities and onsite activities, such as tubing on the Swannanoa River, volleyball, basketball, paddleboat rentals, horseshoes, a game room, and more. This KOA has campsite options for tents, trailers, RVs, and more, or you can book a cabin instead. Pet-friendly areas are available.
The Asheville East KOA is a well maintained campground with many features, including a beautiful lake, pool, playground, and more.
Mama Gertie's Hideaway Campground is also close to Highway 70, but this campground is a bit more secluded, offering RV parking (including premium sites with breathtaking mountaintop views), cabins, and tent camping. They also have a small, on-site store, and most areas are pet-friendly.
Old Fort | 10 minutes east of Black Mountain
The charming small town of Old Fort, NC is located just over the mountain of the same name. As the area is more rural, you can expect peace and quiet while camping in Old Fort, while still remaining only a few minutes from Black Mountain.
Catawba Falls Campground is located near the 100-foot tall Catawba Falls (part of Pisgah National Forest), so this campsite is perfect for hikers, waterfall hunters, and nature enthusiasts. The Catawba River flows through the campground with a canopy of trees overhead, making the area a peaceful place to rest and relax. This family-style campground offers cabin rentals, RV campsites, and tent camping. Pets are allowed on leashes.
Camping near Catawba Falls proves to be a peaceful retreat in all seasons, and there's an easy hike to get to the base of the falls.
Curtis Creek Campground is a bit farther away from downtown Old Fort, located on National Forest land at the site of an old Civilian Conservation Corp (CCC) camp. This campground is nestled in the mountain hardwood forest near a trout stream, where visitors can fish, swim, and hike. This is a great campsite for those who want to be surrounded by the scenery of the Blue Ridge, from blooming mountain laurel and rhododendrons in the spring to vibrant fall foliage. The campsite has amenities such as fire pits, bathrooms, and a campground host onsite to assist visitors.
The rushing water sound of Curtis Creek makes its campground a lovely place to set up your tent and relax. Noteworthy fishing along with great swimming holes provide a great spot for the whole family.
Bat Cave | 30 minutes south of Black Mountain
Located in Hickory Nut Gorge, this town is named for Bat Cave, the largest-known granite fissure cave in North America and home to the endangered Indiana bat. The cave is now part of an 186-acre preserve protected by the Nature Conservancy. Visitors enjoy strolling downtown Bat Cave and browsing quaint shops full of local art, homemade gifts, and regional goodies.
Creekside Mountain Camping is a great place to camp with kids. They offer a clubhouse with pool tables, pinball, and video game machines; a swimming pool; and trout fishing in the campground stream. The area is surrounded by the forest and is only a short drive from both Chimney Rock Park and Lake Lure. The campground offers cabins, RV camping, and tent camping. Pets are allowed. (Note: this campsite is different from Creekside Campground, a private campsite in Black Mountain that appears on Google Maps).
---
You can truly "get away from it all" while camping in Western North Carolina. After you've slept under the stars, strolled downtown Black Mountain, and enjoyed the food and culture of the Blue Ridge Mountains, you may get a craving to make the area your new home. Let us know! We are happy to help you buy or build your dream home. Contact us to let us know you're interested in the area and view the current real estate listings in Black Mountain.