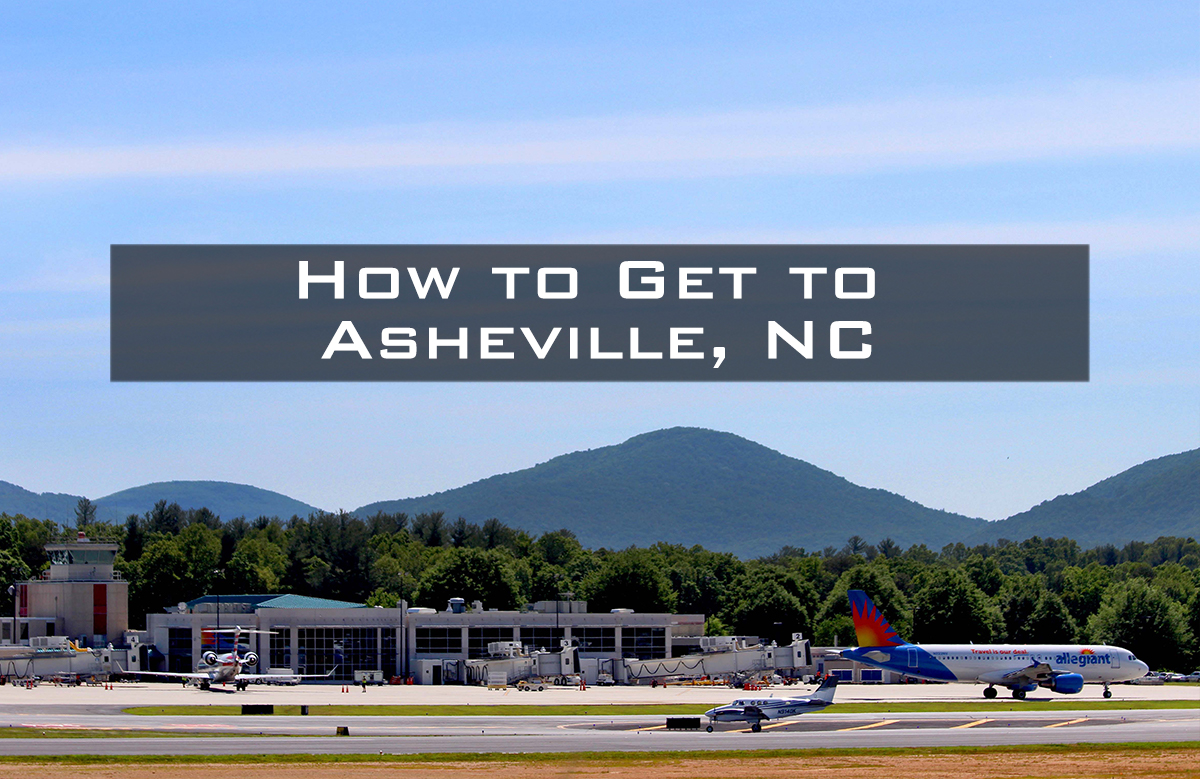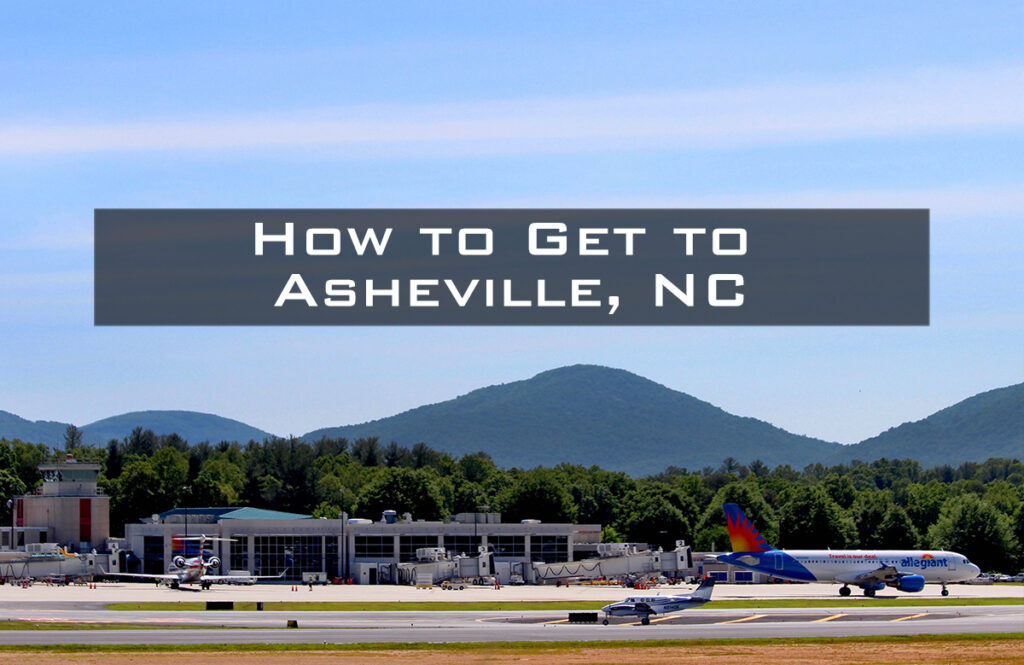 As one of the southeast's most popular travel destinations, Asheville, North Carolina, attracts visitors from all over the United States and the world. In a typical year before COVID-19 restrictions, 11 million people on average flocked to Asheville annually to enjoy the city's unique culture, history, and natural splendor as part of the Blue Ridge Mountains. It's easy to travel to Asheville, as the city is easily accessible from all directions. If you're planning a trip, read on to find out how to get to Asheville, NC, and the best ways to get around while you're there.
Getting to Asheville, NC
Flying to Asheville, NC
Asheville has its own airport, and there are other airports within easy driving distance. Depending on your budget, schedule, and airline preferences, you can fly direct to Asheville or fly into a nearby city, then drive to Asheville.
The Asheville Regional Airport is a traveler favorite — quiet and simple to navigate, yet easily accessible from other cities around the country.
What airport do you fly into for Asheville, NC?
Asheville Regional Airport, located about 25 minutes from downtown Asheville, is the city's hometown airport. You can easily find nonstop flights into Asheville as well as connections through many of the country's biggest hubs, such as Atlanta, Newark, Chicago, Baltimore/D.C., and LaGuardia. Once you've landed, rent a car, grab a bite to eat, or find more information about Asheville at the airport's cozy, welcoming terminal.
The next closest airports are Greenville-Spartanburg International Airport (1 hr 15 minutes); Charlotte Douglas International Airport (2 hrs); and Hartsfield-Jackson Atlanta International Airport (4 hrs). Check these airports for a wider variety of flight times, airlines, and prices, especially if looking for last-minute flights. Once you've arrived, you can rent a car and make the highway drive to Asheville from any of these airports.
What airlines fly direct to Asheville, NC?
The following airlines have nonstop flights from select cities into Asheville Regional Airport:
Allegiant
American Airlines
Delta
United
Click here for more information.
Driving to Asheville, NC?
Asheville is an easy drive from many cities along the east coast. Highways I-40 and I-240, I-26, U.S. 19/23, 70, and 74 all pass through Asheville. In some cases, travellers can choose a route with scenic mountain driving or an easier, less hilly approach to the city, depending on their preference.
Asheville is two hours or less from the following cities:
Johnson City, TN
Knoxville, TN
Pigeon Forge/Gatlinburg, TN
Greenville/Spartanburg, SC
Charlotte, NC
Hickory, NC
Hendersonville, NC
Cullowhee, NC
Boone, NC
Blowing Rock, NC
Can you take a bus to Asheville, NC?
For thrifty travelers, catching a bus to Asheville might be just the ticket. Asheville has a Greyhound bus station located about five minutes from downtown, and Greyhound offers one-way or roundtrip tickets to Asheville from many cities throughout the nation.
Does Amtrak go to Asheville, North Carolina?
Though Asheville doesn't have its own Amtrak train station, there are stations in Charlotte, NC, Greenville, SC, and Spartanburg, SC. Because of these cities' proximity to Asheville, it is perfectly feasible to take the train, rent a car, and then make the drive to the mountains.
Now That You're Here: Getting Around in Asheville, NC
How do you get around in Asheville, NC?
There are many enjoyable ways to get around Asheville, such as walking, biking, driving, trolley rides, and even Segways. Asheville does have a bus system but no other major public transit, so the aforementioned options are your best bet.
A walk in Downtown Asheville meanders past local shops and notable eateries, such as Rhubarb, with farm-to-table fare, and Sunshine Sammies, offering the best ice cream sandwiches in town.
Is there Uber in Asheville?
Yes – both Uber and Lyft operate in Asheville. These services are ideal for rides to and from the airport, breweries, hotels, and even just around town while seeing the sights.
Is Asheville, NC a walkable city?
Yes. Downtown Asheville is ideal for walking, with closely-arranged streets, shops and restaurants to explore, and local musicians performing in the open air. Due to its mountain setting, some areas of sidewalk include hills, but for the most part downtown is widely accessible.
Is Asheville, NC bike-friendly?
Downtown Asheville is bike-friendly in some areas, though not many streets have bike lanes and there are some hills to contend with. However, there are many areas around downtown that are very bike-friendly, such as Carrier Park, Riverside Drive along the French Broad River, and areas of the River Arts District. And of course, biking on the Biltmore Estate or along the Blue Ridge Parkway is always a stellar way to spend a day outdoors.
Award-winning Gray Line Trolley Tours offer some of the best sightseeing tours in Asheville.
Trolley Tours in Asheville
One of the best ways to experience Asheville is by taking a Grey Line Trolley Tour. Since 2007, this locally-owned and operated branch of the Grey Line brand has been providing some of the best sightseeing tours in the city. (In fact, Grey Line Trolley Tours of Asheville has won TripAdvisor Certificates of Excellence every year since 2012).
Choose from a 90-Minute Overview tour (fully-narrated); a Hop-On, Hop-Off tour; or a spooky Haunted History and Murder Mystery Ghost Trolley Tour. (Check the Grey Line site for more details).
Segway Tours in Asheville
If you've always wanted to try riding a Segway, try it out on your next trip to Asheville! Moving Sidewalk Segway Tours offers guided Segway trips through downtown Asheville. These tours are for ages 10 and up, and participants receive a Segway training session before departing for the tour (so no experience required!).
Now that you know how to get to Asheville, why not make plans for your time in the city? You might want to check out some local breweries (or even take a brewery tour on the Amazing Pubcycle), or eat at some of the southeast's best restaurants while you're here. For lovers of the outdoors, hiking to waterfalls and enjoying views from mountain peaks might sound appealing. Whatever you end up doing in Asheville, you're sure to fall in love with the area.
If your trip makes you dream of moving to the area, let us know! We'd love to help you find your perfect home in Asheville.