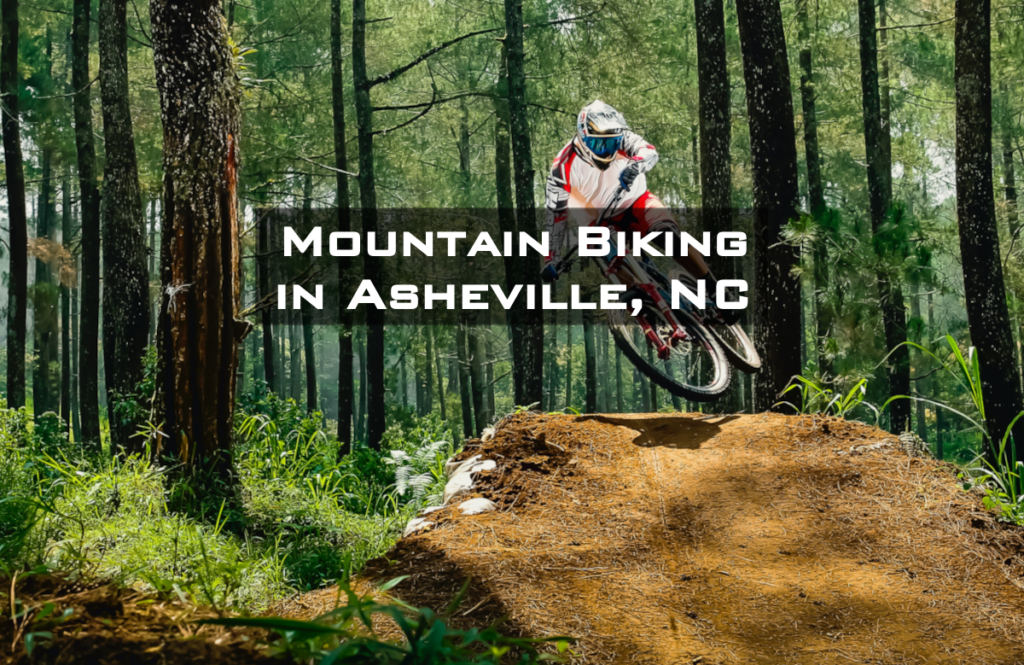 Mountain bikers and cyclists of all kinds flock to Asheville, North Carolina, for the area's plentiful biking trails. Winding through the Blue Ridge, cyclists can find both challenging and relaxing rides that are a great way to enjoy the natural beauty and panoramic mountain views of Appalachia. If you're planning to bike while visiting Asheville, check out our article below for bike shop recommendations, bike rental information, and the best mountain biking trails in Asheville, NC.
Getting Started
Bike Shops in Asheville, NC
Does your bike need a tune-up? Are you looking for your new perfect bike? Visit these Asheville bike shops to get local tips on the best trails and great service!
Founded in 1980, Liberty Bicycles is a staple of the Asheville cyclist community. This shop is located on Hendersonville Road in South Asheville (about 15 minutes from downtown). They offer bike sales, trade-ins, and tune-ups. Bring your bike to Liberty to have it cleaned and adjusted with tires inflated and chains oiled. (This service is especially important if your bike hasn't been ridden in a while).
Asheville Bicycle Company also offers bike servicing and repair and trade-ins, as well as a wide selection of bikes for sale that will suit riders of all ages and abilities. Located on Merrimon Avenue, this shop is a great option for visitors staying in downtown Asheville. Have questions about biking in the area? The shop's knowledgeable staff will help you out.
If you are in Black Mountain just east of Asheville, check out a new shop called Pisgah Bike Works located in the WNC Outdoor Collective. The Collective is also a meet-up spot for local cycling group rides. Also be sure to check out Epic Cycles, a great local shop in the heart of Downtown Black Mountain. Epic Cycles has been around since 1999 and offers sales, rentals, and repairs.
The WNC Outdoor Collective has become the locals' go-to spot to begin group rides and enjoy an after-ride beverage. It's also home to Pisgah Bike Works.
Asheville Bike Rentals
It's easy to rent a bike for a day of trail riding – just check out one of these shops offering bike rentals.
Youngblood Bikes is located on Merrimon Avenue, near downtown Asheville, and they offer trail bike rentals by the day. If you have your own bike, Youngblood also offers bike parts and repair services.
Carolina Fatz also offers mountain bike rentals and sales out of their shop on Brevard Road in South Asheville. They rent Jamis bikes with a wide range of capabilities that make them ideal for riding mountain trails. Plus, the staff of Carolina Fatz are diehard mountain bikers with a deep knowledge of the area and can answer any questions you have about biking around Asheville.
The Biltmore Estate also offers over 20 miles of mountain bike trails for guests, and provides bike rentals as well at the Biltmore Bike Barn on a first-come, first-served basis.
If you're looking for an introduction to mountain biking in a safe, approachable atmosphere, check out Kolo Bike Park just outside of Downtown Asheville. Part of the Adventure Center of Asheville, Kolo Bike Park has four miles of mountain bike trails and areas of rolling terrain where riders of all skill levels can practice and have fun. (They refer to the park as a "mountain bike sampler-pack"). Kolo offers Striders, Hard Tail and Full Suspension bikes for rent, as well as helmets. This is a great option for families, as Kolo offers special rates for children and has a bike park specifically for kids.
The Adventure Center of Asheville has a bike park with four miles of mountain bike trails for riders of all skill levels. They also offer summer bike camps.
Where Can I Ride My Mountain Bike in Asheville, NC?
Asheville Mountain Biking Trails
The mountain biking trails around Asheville offer challenge, excitement, and beautiful mountain views. Read on to learn more about some of our favorite trail systems and bike parks, and check out our interactive map below for even more places to ride in Asheville and the surrounding mountains.
Bent Creek provides terrain for riders of all ages and abilities.
Bent Creek Experimental Forest is the oldest experimental forest east of the Mississippi River. Part of Pisgah National Forest, these 6,000 acres are used for research related to rehabilitating deforested land and practicing sustainable forestry. Since 1925, the land has been used for scientific study related to forest management. The trail system that runs through the Bent Creek Experimental Forest includes everything from easy paths to very difficult terrain. Check this trail map of the forest to see trail difficulty ratings and which ones are accessible by bike.
Located within Bent Creek Experimental Forest is the North Carolina Arboretum, which contains easy, intermediate, and difficult hiking and biking trails of its own. (Don't miss a stroll through the Arboretum's spectacular gardens while you're there). The Arboretum is closer to downtown Asheville – about 20 minutes away – while the rest of the forest stretches farther southwest of the city.
Neighboring Mountain Bike Trails
East of Asheville and near the small town of Old Fort is Kitsuma Peak and Point Lookout, a popular destination in Pisgah National Forest for experienced hikers and mountain bikers. Beginning at the trailhead, the route begins gently but quickly becomes challenging as the trail takes a sharp turn upwards. After fourteen punishing switchbacks, riders are rewarded with a ride past views of Mount Mitchell followed by a speedy and heart-pounding descent towards the trail's end at the Old Fort Picnic Area. Mountain bikers who have ridden this trail have described the descent as "legendary" and "grin-inducing" – definitely worth the grinding ascent up to the peak.
While you're east of Asheville, check out the trails running through Montreat, NC. This small town is home to the Montreat Conference Center and these trails are part of their campus but accessible to all visitors. Ranging from easy to strenuous, some trails are marked for hikers only and some allow hiking and biking. Click here for a trail guide.
Ride Kanuga is a mountain biking park in Hendersonville, NC (about thirty minutes south of Asheville). Made by bikers for bikers, this park is designed to be welcoming to new riders and seasoned pros alike. Their twelve downhill-specific trails cover a variety of skill levels, and they offer an interactive trail map that will help you decide which trail is right for you. They offer both day passes and monthly memberships. Bring your own mountain bike or rent one there (Ride Kanuga also offers ebike rentals).
DuPont State Recreational Forest is slightly less than an hour from Asheville, so it's a good option for a full day excursion. This forest is known for its waterfalls (including High Falls, Hooker Falls, and Bridal Veil Falls), as well as its trail system. On the forest's website, you can choose a trail based on your desired experience: short or long bike rides, biking trails with the best mountain views, waterfall trails, and more. The trails are used by hikers, bikers, and horseback riders, so visitors are encouraged to practice good trail etiquette while encountering others.
Another incredible biking option is The Riveter, located in Mills River, NC. The Riveter offers a canopy-covered bike park, an outdoor bike park, a rock-climbing gym, yoga, a fitness studio, and cold beer for post-ride refreshment.
Incredible mountain biking is waiting for you in the Asheville area. Whether you bike regularly or you've been looking for a reason to get your old bike out of the garage, these trails are the perfect way to enjoy the beauty of the Appalachian mountains. Even if you're a beginner, don't let the more intense trails intimidate you – Western North Carolina has a mountain biking experience for everyone. If planning a mountain biking trip to Asheville has left you dreaming of moving to the area, let us know. Your perfect home is waiting for you, and we'll be happy to help you find it.