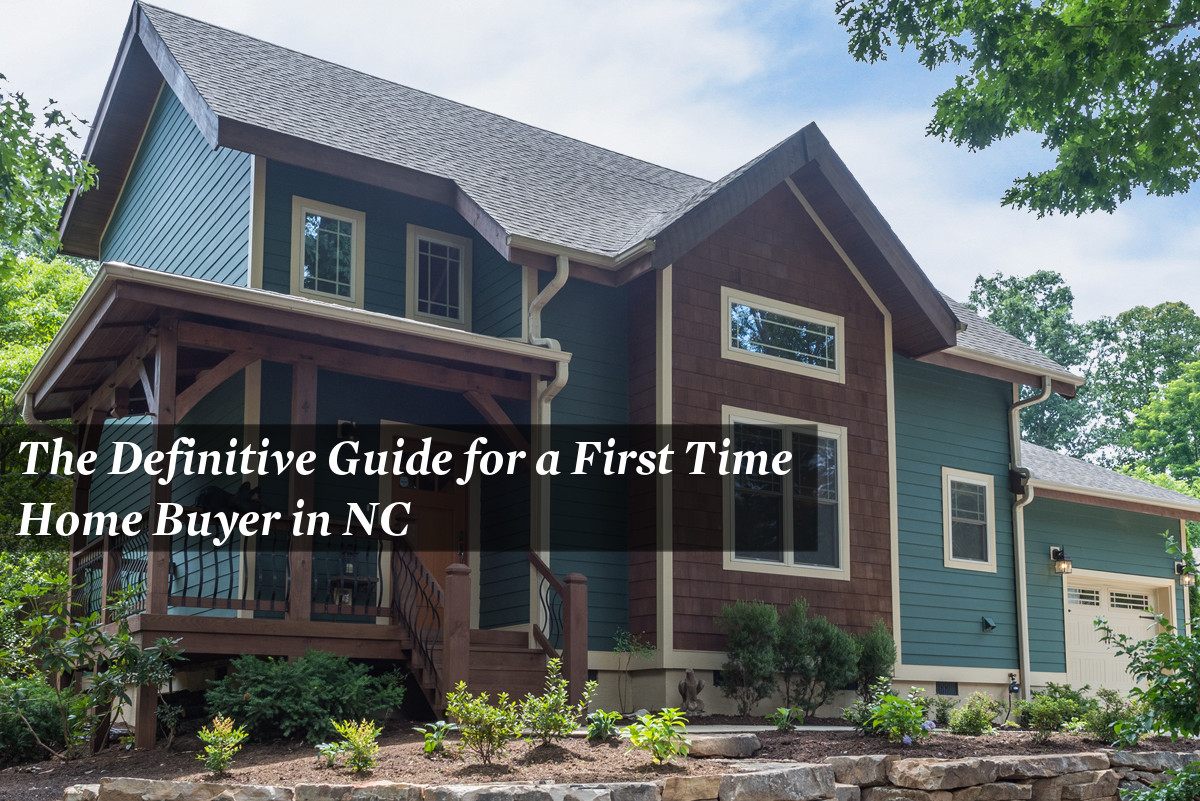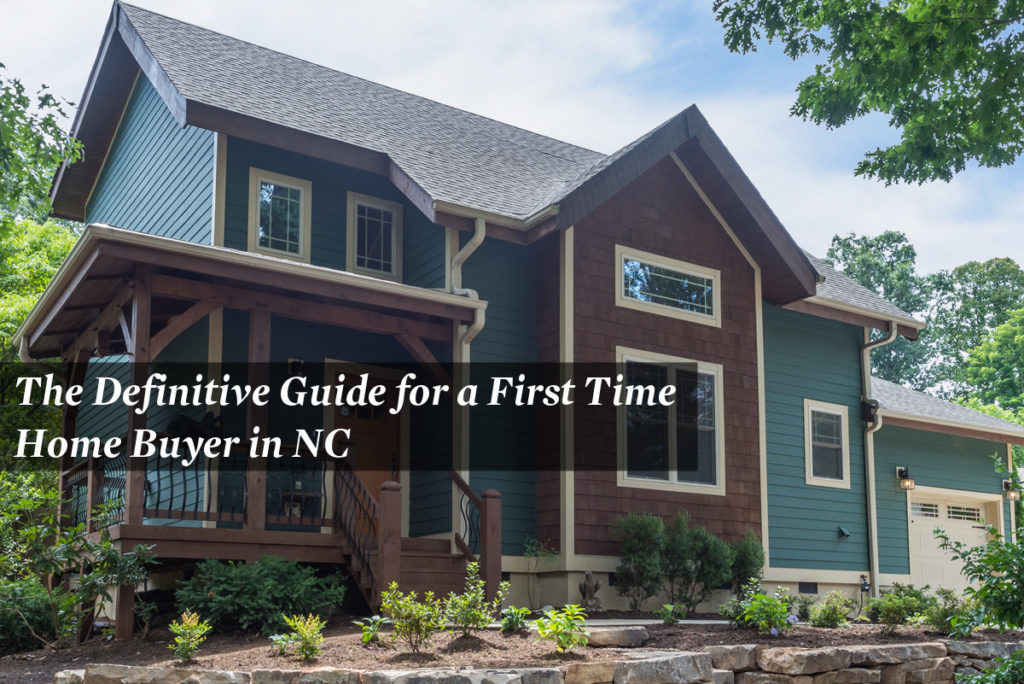 Buying a home in North Carolina for the first time may seem like a daunting process, especially for first time home buyers. But it can actually be an enjoyable process, especially if you have a good understanding of how the process works, what type of financing programs you can choose from, and what down payment assistance is available.
The first step to buying a home is to get pre-qualified or pre-approved for a home mortgage. But you also need to know what your options are for financing, as well as what type of home you want to buy. In this article, we'll focus on mortgage programs that are available to first time home buyers, and explain the pros and cons of each one. We'll also discuss the types of homes that many first time buyers consider.
What Kind of Mortgage Programs are there for First Time Home Buyers?
First Time Home Buyer NC Programs
There are several very attractive financing options for North Carolina first time home buyers. Many of these programs are also available to other buyers, but they're especially popular among first timers. We'll start by discussing mortgage programs that aren't limited to first-time buyers.
FHA Financing
FHA loans are insured by the Federal Housing Administration and are available from most banks and mortgage lenders. They require a lower down payment and lower credit score than many other mortgage programs, making them a good option for buyers that have saved a smaller down payment and have low to moderate income.
Another attractive feature of FHA mortgages is that they only require a 3.5% down payment, and that down payment can actually be a gift, such as from the buyer's parents.
The downside to FHA mortgages is that they require a mortgage insurance premium to be paid up front (at closing) as well as monthly. This makes FHA loans more expensive in the long run. However, as property values appreciate, the borrower's credit improves, and income (hopefully) increases, most borrowers will refinance into a conventional mortgage and eliminate the extra costs of the FHA loan.
How Do I get a FHA Loan in NC?
FHA mortgages are available through most banks and mortgage lenders. This means that you can contact your regular bank's mortgage person to see if you qualify for FHA financing. However, it's always a good idea to compare lenders. Even if the mortgage interest rate is the same among lenders, their lender fees may vary significantly. We highly recommend working with a local bank or mortgage lender, and we are always happy to provide recommendations. Contact us here or at the bottom of this page to get a list of our favorite lenders in the Asheville area.
USDA Financing
USDA loans are guaranteed by the U.S. Department of Agriculture's Rural Development Program and are available through a lender or directly from USDA. This may sound like these loans are for farms and very rural areas only, but in reality that's not the case.
In the Asheville, NC real estate market, many areas are eligible for USDA financing. As a general rule, if the home you are considering is outside of the City of Asheville, there is a good chance it is eligible for a USDA loan. USDA makes it easy to determine eligibility for a particular address with their online eligibility map. This means that towns near Asheville, such as Black Mountain, Swannanoa, and Weaverville are generally USDA-eligible.
The big perk of a USDA loan is that it is 100% financing, so no down payment is needed! The downside is that these loans, similar to FHA loans, have mortgage insurance. But they don't call it that….USDA calls it a "guarantee fee." It's charged up front (at closing), but is usually rolled into the mortgage (more on this later when we discuss closing costs). It's also collected monthly in the borrower's monthly payment.
Adjustable Rate Mortgages
As a general rule, first time buyers don't use adjustable rate mortgages (ARM). At least, this has been our experience. But there is one exception. The North Carolina State Employees Credit Union (SECU) offers a "First Time Homebuyers Mortgage," which is a 5 year ARM with 100% financing. This means that the adjustable rate is fixed for the first 5 years, and then it adjusts annually after that.
The SECU mortgage also has no mortgage insurance requirement and relatively low bank fees. It's one of the most attractive lending options in our market.
The downside to any SECU mortgage program is that you have to meet eligibility requirements to be a member of the credit union. Those requirements are available on the SECU website.
VA Loans
VA loans are another 100% financing program with very attractive terms, especially the interest rate. Of course, since VA loans are guaranteed by the Department of Veterans Affairs, they are only available for military veterans.
In addition to very good interest rates, VA loans require no mortgage insurance and borrowers can qualify with lower credit scores and have higher debt than in other loan programs.
Conventional Mortgages
A conventional mortgage is the most common type of mortgage in our market, and they remain popular among first time homebuyers.
Conventional mortgages typically require a down payment between 10% and 20% of the purchase price. Borrowers also usually need a higher credit score than might be needed for FHA or USDA financing.
These loans are fixed rate loans, with a 30-year loan term being the most common. However, we do see 15 and 20 year terms as well. This is also the type of mortgage that most buyers refinance to after buying a home with FHA or USDA financing.
Mortgage Assistance Programs for First Time Homebuyers
Now that we've discussed some of the more common mortgage programs available for North Carolina first-time home buyers, let's talk about mortgage assistance. This can be in the form of down payment assistance or tax credits.
The North Carolina Housing Finance Agency offers several great programs for first-time home buyers. But you don't have to be a first timer to qualify for all of their programs. Some of their programs are available for veterans as well. And the NCHFA defines a first time buyer as someone who hasn't owned a home in the last 3 years that was their principal residence. Benefits offered through NCHFA are available for borrowers who meet certain income limits.
NC Home Advantage Mortgage
The North Carolina Home Advantage Mortgage is a 30-year fixed rate mortgage that includes down payment assistance. The amount of down payment assistance is up to 5% of the loan amount and depends on the type of mortgage. So the amount will vary depending on if the mortgage is FHA, VA, USDA, or conventional. So you can still choose from the loan programs discussed above, but with down payment assistance through the NCHFA.
The down payment assistance is actually a second loan with 0% interest and no monthly payment. If the borrower remains in the home long enough, they don't even have to pay back the down payment assistance! This requires staying in the home 11 years before the balance owed goes down, and at the end of year 15 it is completely eliminated. But even buyers that sell or refinance prior to this time may have accumulated enough equity in the home to pay off the down payment assistance without cash out of pocket.
NC 1st Home Advantage Down Payment
Another program similar to the NC Home Advantage Mortgage is the NC 1st Home Advantage Down Payment. This program provides for $8000 in down payment assistance for first-time homebuyers or military veterans. So instead of a percentage of the loan amount (as is the case in the NC Home Advantage Mortgage), the NC 1st Home Advantage Down Payment is a flat $8000.
NC Home Advantage Tax Credit
The NC Home Advantage Tax Credit is another great perk for first-time buyers and military veterans. Keep in mind that the term "first-time home buyer" actually means buyers who haven't owned a home in the prior 3 years as their principal residence.
This program provides a Mortgage Credit Certificate or "MCC" based on a percentage of the mortgage interest paid on the loan for every year you live in your home. The tax credit is 30% of the mortgage interest paid for an existing home, or 50% for a newly built home! And you can still deduct the remaining portion of the interest paid! Home buyers have long benefited from a mortgage interest deduction on their taxes, but it is unusual to also have a tax credit. This is why the NC Home Advantage Tax Credit is such a great program!
How Do I Apply for Down Payment Assistance and Tax Credits Offered Through the NCFHA?
The North Carolina Housing Finance Agency works with "participating lenders" to offer their mortgage programs. Many of the lenders that we recommend are on this list. Contact us for some recommendations, or check out the NCHFA Participating Lenders list.
Asheville and Western North Carolina Mortgage Assistance Programs
While the previously discussed programs are available statewide through the North Carolina Housing Finance Agency, there are also programs unique to Asheville and Western North Carolina.
Mountain Housing Opportunities
Mountain Housing Opportunities (MHO) is a well-respected non-profit group that offers several mortgage assistance programs for people that meet certain income criteria. MHO offers assistance on properties located in Buncombe, Madison, Henderson, and Haywood Counties.
MHO's Turn-Key Homeownership Plan provides "deferred financing" up to 30% of the purchase price, but it's only available on homes offered for sale by MHO. These homes are also available in MLS, but inventory is limited.
Down Payment Assistance is also offered by MHO. These funds can be used for a down payment or closing costs.
MHO also offers a Self-Help Homeownership Program, in which homebuyers actually partner with other homebuyers to build several new homes. These homes are financed with USDA loans, but the "sweat equity" put in by several qualifying families lowers the overall costs of the homes.
For more information about home buying assistance programs offered by Mountain Housing Opportunities, call us, your local lender, or check out the MHO website.
City of Asheville Down Payment Assistance Program
In February 2019, the City of Asheville approved a Down Payment Assistance Program (DPA) to provide $1.4 million for low-income residents. The funds come from 2 sources – $1 million from Affordable Housing Bond money and $400,000 in a partnership with the Federal Home Loan Bank of Atlanta.
The $1 million fund is available for qualifying first-time homebuyers to purchase a home within the Asheville City Limits.
The $400,000 fund is available for qualifying full-time Asheville City employees, including police, firefighters, and employees of Asheville City Schools. To obtain these funds, buyers need to work through a qualified mortgage lender or bank.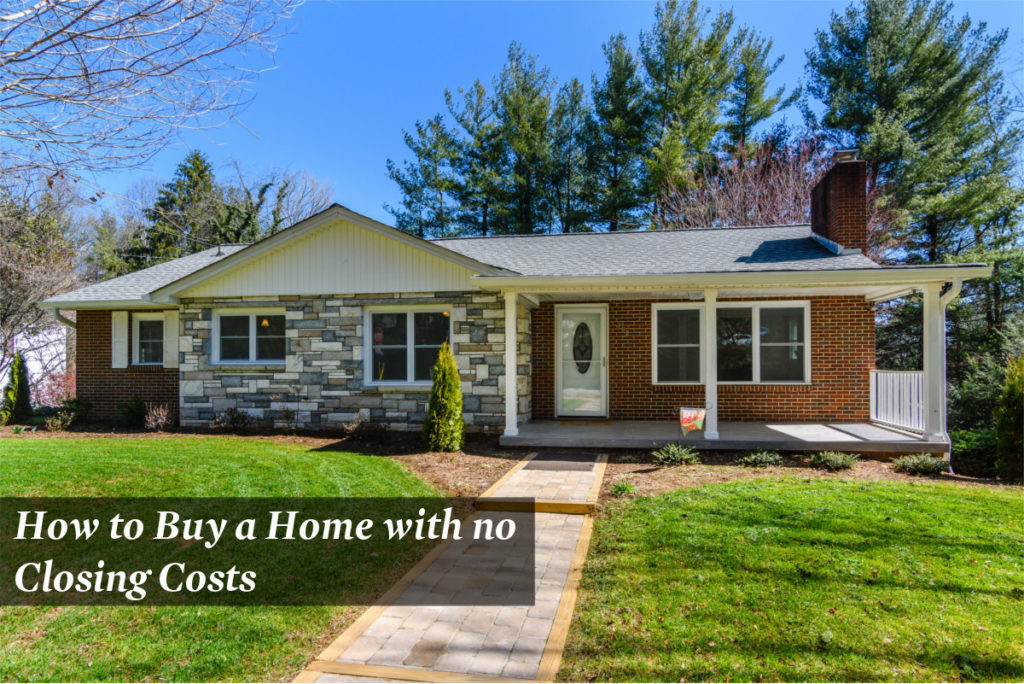 How to Buy a Home with no Closing Costs
First-time home buyers are often concerned with the amount of money they will need in order to buy a home. In real estate, we call this "cash to close." Cash to close means the amount of the down payment plus closing costs necessary to purchase a home.
We've discussed several home loan programs that require little or no down payment, as well as several down payment assistance programs. But we can also minimize (and sometimes eliminate) the amount of cash needed to pay for closing costs. While some of the programs mentioned above provide funds that can be used for either down payments or closing costs, not all first-time buyers will qualify for these programs.
Fortunately, we can use the standard North Carolina real estate contract to address the buyer's closing costs. We can negotiate closing costs into the deal to be paid by the seller. Sellers typically will agree to this if the net purchase price (the contract price less the closing costs credit) results in an acceptable amount to the seller.
Even on a desirable property in a hot market where the seller doesn't need to negotiate the price, we often see the sale price exceed the listing price in order to include the buyer's closing costs. In other words, the final purchase price would be equal to the listing price plus the amount of closing costs needed by the buyer.
As long as that higher price is still a value that will be supported by the buyer's appraisal, the seller will usually agree. This strategy does increase the borrower's loan amount (and monthly payment), but it greatly reduces the amount of money due at closing (typically by several thousand dollars).
What type of Home Should a First Time Home Buyer Purchase?
For first time home buyers, it usually makes sense to work well within your budget and not purchase at the absolute maximum of what you can afford. Remember, you'll still need to budget for repairs, maintenance, future upgrades, and future increases in property taxes.
For this reason, many first-timers look for new or well-maintained homes. That's not to say that a house that needs some work is off limits. Just be sure if you choose a house to fix up that you're aware of the potential expenses. Buying a fixer-upper is a great way to build equity by doing some of the work yourself, but we strongly encourage you to only take on the type of projects that you have the funds or know-how to take on.
How Long Does it Take to Buy a Home?
Most home purchases, including those for first-time buyers, take about 30-60 days to close. If USDA financing is involved, the process may be longer – perhaps 60-75 days. These time frames start once you have a contract on the home.
But when the market is very hot, first-time buyers should be prepared to spend more time shopping and making offers, as many affordable homes will have multiple offers from other buyers. So there's a chance you'll need to go through the shopping and offer process more than once.
Where are the Best Options for a First Time Home Buyer in Asheville, NC?
While Asheville offers a wide variety of real estate for sale, there are several areas that are popular among first-time buyers. This is not an exhaustive list, but it's a good start and shows a variety of homes.
How to Purchase a Home for the First Time in NC?
The number of options for a first-time buyer to finance a home can seem overwhelming! But it doesn't have to be. A short conversation with a local mortgage lender can quickly narrow down the best options. The lender can then pre-qualify or pre-approve the buyer. Then, it's time to go house shopping! For more on the next steps after getting pre-qualified, check out our guide to the home-buying process in Asheville, NC.
And remember, even the most experienced real estate buyers and investors were once first time buyers. Having the right people helping you is imperative. We have several very good lenders that we highly recommend for their exceptional customer service and smooth loan processes.
We don't recommend online lenders for first time home buyers. Buying your first home is a huge step, and it makes sense to form a relationship with a local bank or mortgage lender that is invested in your community, readily available (even in person) to answer your questions, and who truly wants to help you find the best mortgage option for your needs.
It's also important to work with a Realtor that is experienced in working with first time home buyers and whose approach is one of an advisor, not a salesperson. A pushy agent is never a good thing, and this is especially true for first time buyers. Our Asheville real estate agents have helped many first time buyers, and we'd love to help you, too! Please use the contact form below to contact us and schedule an introductory call or meeting with one of our agents. We are here to help you!