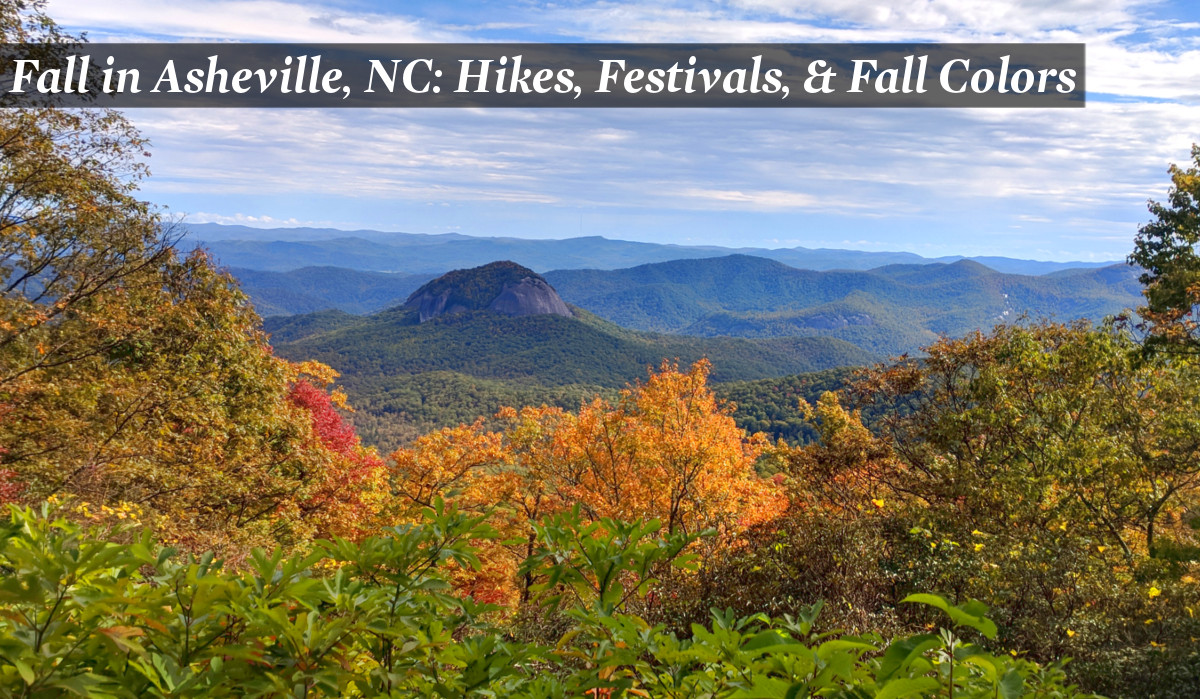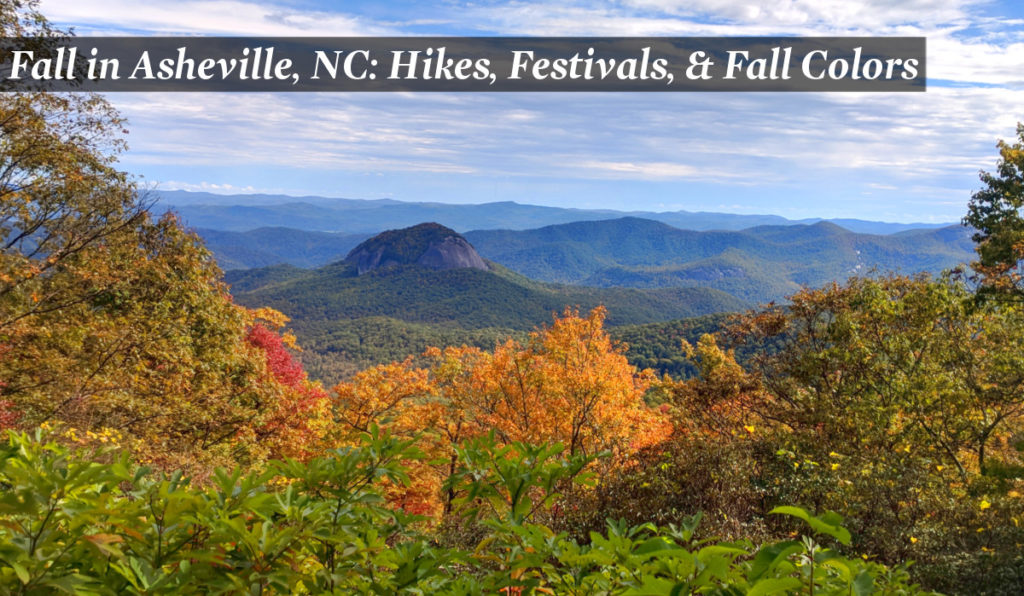 Fall in Asheville, NC is the favorite time of the year for many residents and visitors alike. The heat of summer has finally broken. The days are still moderately warm but the evenings are markedly cooler. And, there are still just as many outdoor activities to enjoy in the fall as there are in the summer.
Not only does fall offer some of Asheville's best weather of the year, along with it comes lots of outdoor events and Asheville's famous fall foliage!
When do the Leaves Change in Asheville?
Visitors to Asheville often try to time their trip to catch the fall colors at their peak. Asheville's fall colors typically start to show in the higher elevations around mid-October, with peak colors appearing later in the month. Of course, all of this is dependent on how much rain we had throughout the year, temperatures, and other factors. Western North Carolina has a lot of variation in elevation, and the colors change the soonest at higher altitudes. So, there are always some options to find eye-popping fall color on a fall hike during the second half of October and even into early November.
There are also a number of fall color reports available online that can help you plan your day. If the reports say the colors are near peak up high, such as at Mt. Mitchell, it would be worth a drive up the Blue Ridge Parkway to see the incredible differences between the colors in town and colors at 6700 feet above sea level.
Of course, a hike is one of the best ways to explore Asheville's fall colors. And in addition to world-class hiking, Asheville offers great fall festivals and other seasonal events that are worth coming back to year after year!
Here are some of our favorite fall hikes, festivals, and other ways to take in the colorful leaves of the fall season.
4 Great Asheville Hikes for Fall Colors
When talking about our favorite local hikes, we could literally write volumes! But if you're looking for fall color, these are some that should be near the top of your list. These hikes are great in the spring and summer, but they are especially beautiful in the fall. These are some of our favorites, but of course this is by no means an exhaustive list. The mountains surrounding Asheville offer a lifetime of hiking trails, and all of them are beautiful when the foliage turns in the fall.
Lookout Trail in Montreat, NC
Montreat, North Carolina offers an incredible trail system to the public. Located just north of Black Mountain, Montreat's trails are maintained by the Montreat Conference Center. During the summer, Montreat's conference season brings many people to town, and that means more crowds on the trails. But autumn is less crowded, and if you can find time during the week to go for a hike, you may only run into a handful of people on the trail. In fact, my wife, my dog, and I hiked Lookout earlier this week, and we passed less than 10 people and had the summit all to ourselves.
The trail is well-marked, and there are handrails and wooden stairs at some of the steeper sections. The very top is a scramble up some rocky terrain, but the view at the top is worth it!
How to Get There
From I-40, take exit 64 (Black Mountain/Montreat). Go north off the ramp on Highway 9, through downtown. You'll drive 3 miles north from the interstate, eventually entering the Town of Montreat. Take a right on Lookout Road, and go a half mile to the trailhead on the right.
After the Hike
This is a pretty steep hike, so you might be thirsty at the end of it. Drive back into nearby Black Mountain, where there is an incredible number of great restaurants and watering holes. Check out Black Mountain Brewing for a post-hike beer, followed by dinner at the Black Mountain Ale House, Trailhead, or Ole's Guacamoles!
Max Patch Mountain on the Appalachian Trail
If it's long-range views you're after, Max Patch is about as good as it gets! Max Patch is a massive "bald" that was used as a pasture in the 19th century. Today, it's a 350-acre parcel of wide open land with views for dozens of miles in every direction!
Max Patch is so big and open that it's an ideal place to bring a picnic lunch, as well as a frisbee or a kite. Be sure to bring the dog and the kids, and let everyone run wild until you're all ready for a nap. The Appalachian Trail goes through Max Patch, so you can spend some time hiking a portion of the AT.
How to Get There
Take I-40 to exit 7 (Harmons' Den). From there, go north on Cold Springs Road about 6 miles. Turn left onto Max Patch Road and go 1.5 miles to the parking area on the right. Most of the road after you exit the interstate is gravel, but it's usually well-maintained.
After the Hike
You'll need to head back towards the interstate to find any post-hike activities, but once you're back in civilization, check out the Pigeon River Grille and Bearwaters Brewing Company in Canton, NC (on the way back to Asheville).
Graveyard Fields on the Blue Ridge Parkway
There may be no more ecologically diverse hike than the Graveyard Fields area off the Blue Ridge Parkway. Located off the Blue Ridge Parkway, Graveyard Fields provides easy access to the Mountains-to-Sea Trail, as well as Upper Falls and Lower Falls on Yellowstone Prong, the mountain stream that runs through this area.
Graveyard Fields is very popular, so try to hit it on a weekday. If you go on a weekend, you may have to hunt for a parking spot, so try to arrive early.
How to Get There
Follow the Blue Ridge Parkway to milepost 418.8 (southwest of Asheville). Coming from Asheville, the parking area will be on your right.
After the Hike
For anyone exploring along this section of the Blue Ridge Parkway, the Pisgah Inn is a must-visit for a good meal and incredible views! Located just 10 miles from Graveyard Fields, it's already on your way back into Asheville. But be sure to get there during peak leaf season, as Pisgah Inn is closed after October.
Dupont State Forest
Dupont State Forest is located in northern Henderson County, between Hendersonville and Brevard, NC. And it offers way more than just one hike. In fact, there are about 90 miles of trails, with many hikers, mountain bikers, horseback riders, and fly fishermen using them. Dupont is a mecca for waterfall lovers, and there are trails of all difficulty levels.
How to Get There
From Asheville, take I-26 east and take the Asheville Airport exit (#40). Drive south on NC Highway 280 for about 16 miles. Turn left on US-64 East for 4 miles. Take a right onto Crab Creek Road for about 4 miles, then right onto DuPont Road. Follow DuPont Road for 3.1 miles.
After the Hike
After a day of hiking or biking, make the short drive back into Pisgah Forest, NC for dinner at Hawg Wild BBQ and a cold beverage at Ecusta Brewing on the banks of the Davidson River. If it's a warm day, it's always worth a trip to Dolly's Dairy Bar for dessert!
Asheville NC Fall Festivals and Events
Autumn in Asheville brings with it a lot of other activities as well.
For families with kids, there are also a ton of great fall festivals in the Asheville area. These festivals are a great way to spend some time outside, but without being too far away from things that make excursions with kids easier, namely food options and indoor plumbing!
There are also a number of music and art festivals. In fact, there are too many to list, but here are some good ones that have a reputation for being worth coming back to each fall.
Black Mountain Home for Children Fall Festival
If you haven't ever visited the Black Mountain Home for Children, you're surely in for a treat! Founded in 1904 to care for children in Western North Carolina, the Black Mountain Home offers an annual Fall Festival that includes free music, games, and rides, plus a truly incredible silent auction and smoked bbq lunch. The campus of the Black Mountain Home is one of the most spectacular pieces of property in the Asheville area, and it's worth a tour if only to see the mountain views!
Eliada Home Corn Maze
The Eliada Home is another children's home in Buncombe County. Located in Asheville, Eliada Home's best-known fundraiser is its annual corn maze! The corn maze is HUGE, and it's well worth the modest ticket fee to support a great cause and have a great time outside enjoying Asheville's fall weather.
LEAF Festival
The Lake Eden Arts Festival is held twice a year at Camp Rockmont in Black Mountain – once in May and once in October. The fall version of LEAF is held during the peak of "leaf season," so it's a great time to listen to live music, browse local art, and enjoy great food outdoors!
Craft Fair of the Southern Highlands
Billed as the "largest craft fair in the Southeast," the Craft Fair of the Southern Highlands offers an impressive array of local artists and craftsmen. While this is an indoor event, it's a great way to avoid the occasional rains that come in October. And when you're done, you'll be in downtown Asheville, where you'll surely stumble upon a good restaurant, some live music, or a cozy coffee shop.
Summary
We're often asked, "when is the best time to visit Asheville in the fall?" The answer is that you really have about 4-5 weeks to see fall colors, depending on elevation. But Asheville offers so many other fall activities, that any time in the fall is a good time to come visit. From a real estate standpoint, fall is also a busy time. It's a great time to list property for sale, as buyers are back in town, and listing inventory isn't as competitive as it is in the spring. It's also a good time to buy, especially if you're considering land. Once the leaves drop, land becomes much easier to see, and it's easier to walk the property when the temps are cooler and the underbrush has died back.
If you're considering making the move to Asheville, contact us and let us know how we can help!