New Salem Heights – Eco-Friendly Swannanoa NC Homes for Sale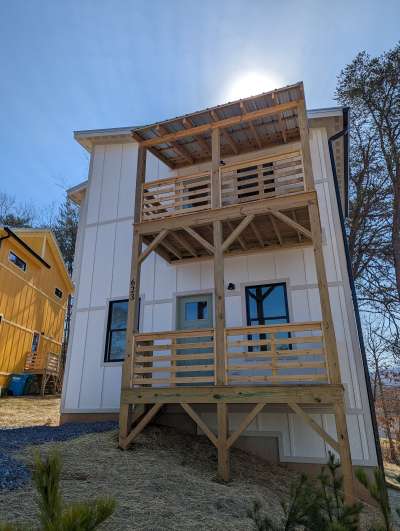 New Salem Heights is a community of new, eco-friendly homes in Swannanoa, NC. Located close to Interstate 40, this neighborhood offers easy access to both Asheville and Black Mountain, NC. The homes in New Salem Heights are bright, modern, and perfect for a variety of homebuyers – from young professionals to families to empty nesters looking to relocate to the mountains.
New Salem Heights is filled with brightly colored, vertically oriented homes with decks that face gorgeous mountain views. Built with the environment in mind, these homes contain energy-efficient appliances and were constructed in accordance with Energy Star guidelines. Inside, you'll find wood floors, stainless steel appliances, open floor plans, and lots of natural light. If you're looking for a home that's comfortable and efficient at the same time, you'll find it in New Salem Heights.
Homes for sale in Swannanoa, NC are popular for their close proximity to Asheville, as the city is just 15 minutes away to the west. As mentioned, Black Mountain, NC is just 10 minutes away to the east, so the area has lots of things to do, restaurants, breweries, and coffee shops to try, and outdoor destinations to explore. An Ingles grocery store and pharmacy is less than five minutes away from this neighborhood, as are some great local restaurants, including Loott House (serving burgers, comfort food and Southern classics) and Okie Dokies Smokehouse (serving classic NC barbeque).
Browse the modern homes for sale in Swannanoa, NC in the New Salem Heights neighborhood below.