Legacy Park – Arden NC Real Estate for Sale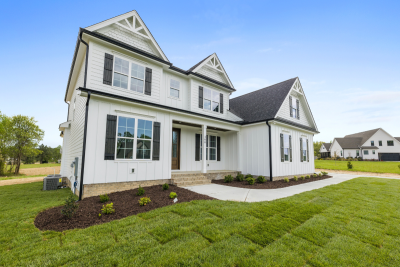 Looking for a new home near Asheville, NC? Legacy Park in Arden, NC may be perfect for you. This charming community of newly built homes is located near a variety of restaurants, shops, and attractions. Legacy Park sits adjacent to Hendersonville Road, Arden's main thoroughfare, which makes getting to work and school a breeze. However, the neighborhood is slightly removed from this highly busy road, and it has no through traffic, so you won't have to worry about letting kids and pets play outside. Legacy Park's walkable streets are lit with street lights, so you can easily and safely go for a walk whenever you'd like. Plus, Jake Rusher Park is within walking distance of the neighborhood as well. Many homes for sale in this neighborhood were built in 2022, though some were completed as recently as 2023. Legacy Park's homes are characterized by their modern craftsman/farmhouse-style design, and you'll find highly desirable features throughout homes in the neighborhood.
The real estate for sale in Arden, NC is in high demand, in large part because of the town's proximity to Asheville. Downtown Asheville is only 20 minutes away from Legacy Park, and both Interstate 40 and the Blue Ridge Parkway are easily accessible from this community. Asheville Regional Airport is only 10 minutes away as well. Arden offers plenty of fun for families, both outdoors (at Lake Julian Park, Collier Cove Nature Preserve and Lakeview Putt & Play) and indoors (at two nearby movie theaters as well as Mountain Play Lodge and Launch Trampoline Park). Legacy Park is close to a variety of grocery stores, pharmacies and restaurants, both local and chain. We recommend Rocky's Hot Chicken Shack and Post 25 Kitchen & Lounge, two great places to eat near this community.
If Legacy Park sounds like a good fit for your family, take a look at this neighborhood's real estate for sale in Arden, NC below.
Homes for Sale in Legacy Park