Mountain Meadows Asheville – Homes for Sale in Town Mountain
If you're searching for a luxury home in Asheville, NC, check out the Mountain Meadows Asheville neighborhood. Located slightly northeast of downtown on Beaucatcher Mountain, Mountain Meadows Asheville is positioned directly adjacent to Town Mountain Road (NC 694). This area, known as Town Mountain, is one of Asheville's most prestigious areas, containing expansive, gorgeous homes with breathtaking views of the Blue Ridge Mountains. High above the city – but close enough that you can enjoy a night out whenever you'd like – Mountain Meadows Asheville will provide the altitude you need to breathe deeply and enjoy life to the fullest.
The high-end mountaintop residences in Mountain Meadows Asheville are made to satisfy every desire you have for your new home. Large windows that bring in the outdoors are common features, as are design elements that incorporate natural elements like wood and stone. If you want a gourmet kitchen, a sprawling deck, and an open floor plan, you'll easily find it in one of these homes for sale in Town Mountain. Many properties also feature attached garages for two or more cars. Surrounded by nature, each home provides a serene escape from the world.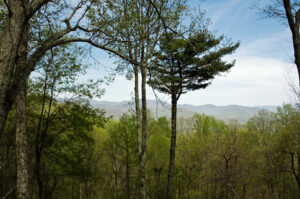 Speaking of nature, Town Mountain Road connects to the Blue Ridge Parkway, so taking a hike, bike ride, or drive on the historic road will be convenient. Downtown Asheville, which is full of gourmet restaurants, local breweries, concerts, events, art galleries, and much more, is just ten minutes away from Mountain Meadows Asheville. If you're a fan of golfing, you might want to consider joining the Country Club of Asheville, which is 15 minutes away in North Asheville.
Find the perfect luxury home in the mountains by browsing the homes for sale in Town Mountain, NC below.