Deer Run Estates | Black Mountain NC Homes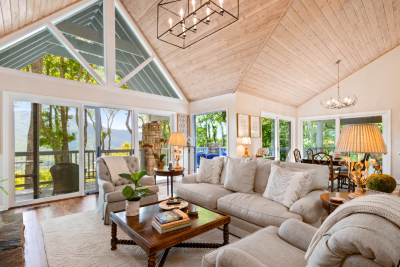 Deer Run Estates is a gated community just south of Black Mountain, NC. Located on a mountain top, this neighborhood's location alone is sure to make you fall in love. Panoramic views of the surrounding Blue Ridge Mountains will greet you every morning as you look out your window, and you'll love the peace and quiet you find in this hidden gem of a community. The Black Mountain homes for sale in Deer Run Estates are nothing short of spectacular, and each one has its own personality to discover.
Most homes have two to three bedrooms and two to three bathrooms, though you may see larger homes up for sale occasionally. Though Deer Run Estates is a gated community, you won't feel crowded by your neighbors since there's plenty of space to spread out. Long-range views of the mountains are visible from each home, and most come with large decks and even wrap-around porches for enjoying the gorgeous vistas.
Downtown Black Mountain, NC is about 35 minutes away from Deer Run Estates, and the small town of Bat Cave is only 15 minutes away. Past Bat Cave, you'll find some of Western North Carolina's most treasured natural attractions: Chimney Rock State Park and Lake Lure.
If you're a nature lover, you'll be truly spoiled by all the opportunities to get outdoors near Deer Run Estates. Besides Chimney Rock and Lake Lure, we recommend checking out Eagle Rock if you're looking for a great place to hike. More interested in a casual stroll to enjoy the scenery? Dittmer-Watts Nature Trail Park and Florence Nature Preserve are for you. When it comes to daily necessities (such as groceries and gas), you'll find what you need in the town of Lake Lure. And when you want to hit the town and enjoy all Asheville itself has to offer, the city is only 45 minutes away.
Find your personal sanctuary in this gated community. Just take a look at the homes for sale in Black Mountain, NC in Deer Run Estates below.