Edgewood | Homes for Sale in South Asheville NC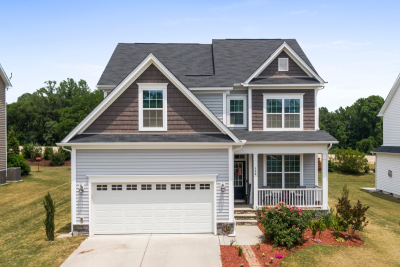 If you're on the hunt for a brand-new home for sale in South Asheville, NC, you're in luck. Located right off of Sweeten Creek Road in South Asheville, Edgewood is a new, planned community by Windsor that's conveniently placed near shopping, dining, and plenty of fun things to do. This neighborhood is made up of 24 homesites, each of which contains a brand-new home. There are currently four floor plans to choose from, ranging in size from 1,300 to 1,400 square feet, so you can pick the Edgewood home that best fits your family.
In this cozy neighborhood of only 24 homes, you'll have neighbors nearby without feeling lost in a sea of cookie-cutter homes. Each home type in Edgewood differs visually from the others, so you can choose the one that fits your design preferences. They also all come with one-car garages (with the option to upgrade to a two-car capacity), plenty of yard space, and a new home warranty. You can even add an optional sunroom or screened porch to your home. These are perfect starter homes for young families, especially those with young children, since some of the floor plans place all bedrooms on the first floor for easy access.
Edgewood is in one of the most desirable areas surrounding downtown Asheville, and if you choose this neighborhood as your new home, you'll only be 15 minutes away from the heart of the city. Sweeten Creek Road runs directly adjacent to Edgewood, and you can take this road into Biltmore Village, to the Biltmore Estate, and even gets you close to downtown. Hendersonville Road, one of South Asheville's main thoroughfares, runs parallel to Sweeten Creek, and you'll find just about everything you need there: grocery stores, pharmacies, restaurants, shops, a gym, a movie theater, and more. Hendersonville Road can also be taken north into downtown or south to Arden, Fletcher, and the town of Hendersonville. That means that Edgewood is a great home base for those needing to commute to just about anywhere in the Asheville metro area – and for those needing to fly, Asheville Regional Airport is only 15 minutes away.
If this neighborhood of new homes for sale in South Asheville sounds like the right fit for you, take a look at the current listings in Edgewood below.