Lakeview Estates in Asheville NC | Buncombe County Homes for Sale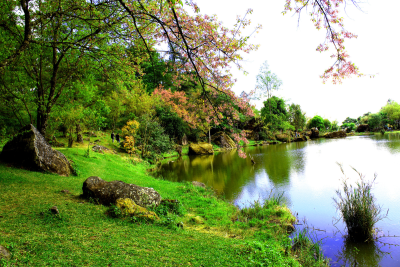 Timeless luxury, modern conveniences, and views of a shimmering lake – with all of this and more, Lakeview Estates is one of North Asheville's most attractive, elegant neighborhoods. Homes for sale in Lakeview Estates Asheville face Beaver Lake, a small, picturesque man-made lake that's surrounded by a walking trail and bordered by a bird sanctuary on its east side. Beaver Lake's trail is within walking distance from most homes in this neighborhood, so you'll have no trouble getting outside for some fresh air and exercise whenever you please. The Beaver Lake area is quiet and peaceful, but you won't feel isolated if you move to Lakeview Estates, as it's less than 10 minutes from downtown Asheville via Merrimon Avenue.
These homes range in age; some homes were built as early as the 1930s, while others were constructed in the 1960s-1980s. Their architectural styles differ accordingly, as do their interior designs. Their sizes range as well, but you'll find some over 2,000 square feet in size (and some far beyond that). Some common features include wood floors, fireplaces, generous lawns, large windows, backyard seating or deck areas, and other premium amenities. Needless to say, the history within these homes give them plenty of charm and personality, and they are truly some of the most unique homes for sale in Buncombe County. Choosing Lakeview Estates is choosing to become part of Asheville's rich history.
Lakeview Estates sits just north of downtown Asheville, so if your lifestyle requires you to commute into the city, you'll have no problem doing so. Daily errands will be a breeze, since grocery stores, pharmacies, local shops and even a library are all located on Merrimon Avenue. When you're ready for a night out, we recommend catching a movie while enjoying pizza and locally brewed beer at Asheville Pizza and Brewing, then stopping by The Hop for some delicious ice cream afterward. Looking for something dairy-free? Plant is one of Asheville's best vegan restaurants, and it's just a few minutes from Lakeview Estates Asheville.
Claim your piece of history and enjoy the luxury you've been dreaming of. Find your new home in Lakeview Estates today.